The Inaugural Epcot International Festival of the Arts
by Debra Martin Koma
AllEars® Editor
Feature Article
This article appeared in the January 17, 2017 Issue #904
of ALL EARS® (ISSN: 1533-0753)
Editor's Note: This story/information was accurate when it was published. Please be sure to confirm all current rates, information and other details before planning your trip.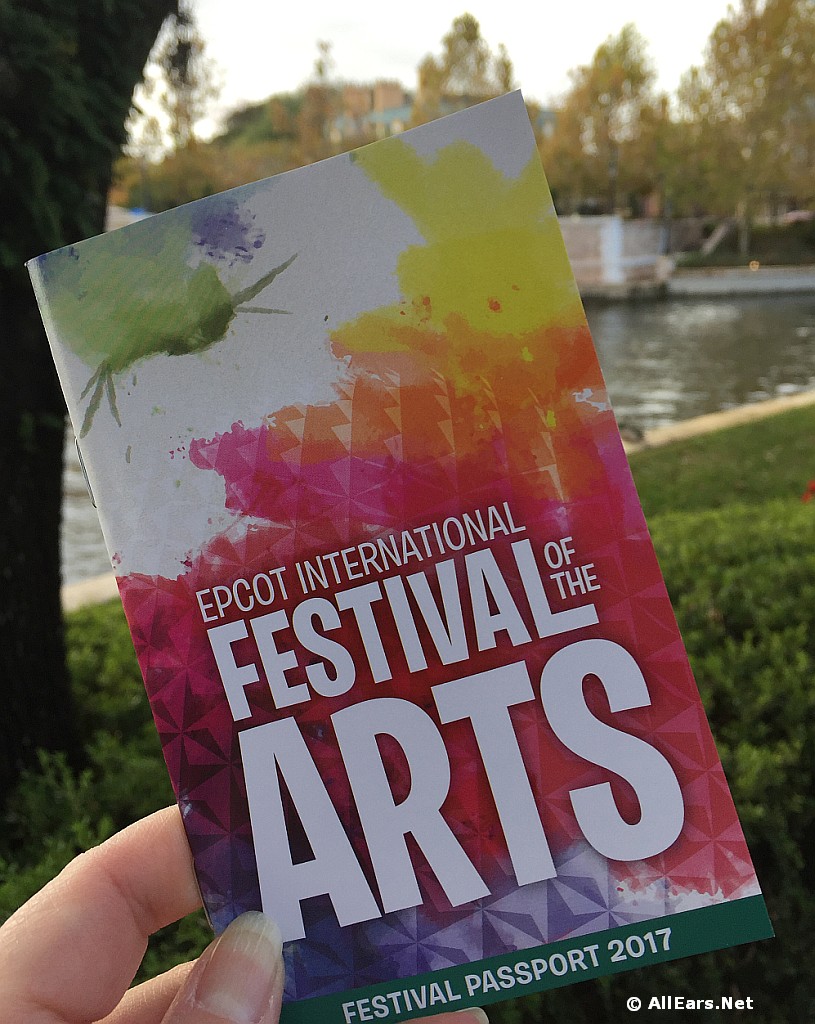 You've probably heard the saying, "I don't know art, but I know what I like." Well, I know what I like — and right now it's the inaugural Epcot International Festival of the Arts.
As someone who has spent the better part of the last 20+ years following all things Walt Disney World, I get inordinately excited when something NEW is announced. So imagine how I felt when Disney Parks Blog teased details about a brand new festival dedicated to the arts back in November.
Promising to be a celebration of visual, performing and culinary arts, the festival was set to be held on six successive weekends, Fridays through Mondays, from January 13 through February 20.
The very first of these weekends has just passed and I was in Epcot to investigate whether this festival lives up to its promise.
Visual Arts
I thought that the visual arts component would be the toughest "sell" at this new festival. How do you convince people who are running from ride to ride (or from beer to beer, in the case of those drinking their way around World Showcase) to stop and LOOK at something? To appreciate the beauty in a work of art? I was surprised to find that the festival succeeds.
First of all, there's a lot of interaction. There are several photo ops that allow you to put yourself into the middle of a masterpiece, such as the Luncheon of the Boat Party by Renoir, and the famous scene of George Washington Crossing the Delaware by Leutze. There's also the Expression Station, with a huge color-by-number mural sponsored by Glidden at the World Showcase Plaza. This activity allows you to paint a few numbered squares and then stand back to watch how the final picture fills in over the course of the day. Then there's the Walking Chalk Gallery. Chalk artists pop up in the various World Showcase pavilions, recreating famous masterpieces on the sidewalks, encouraging you to stop and speak with them about what they're doing. There are even workshops (both paid and free-of-charge) during which you can practice your handiwork or learn more about visual art techniques under the eye of an expert.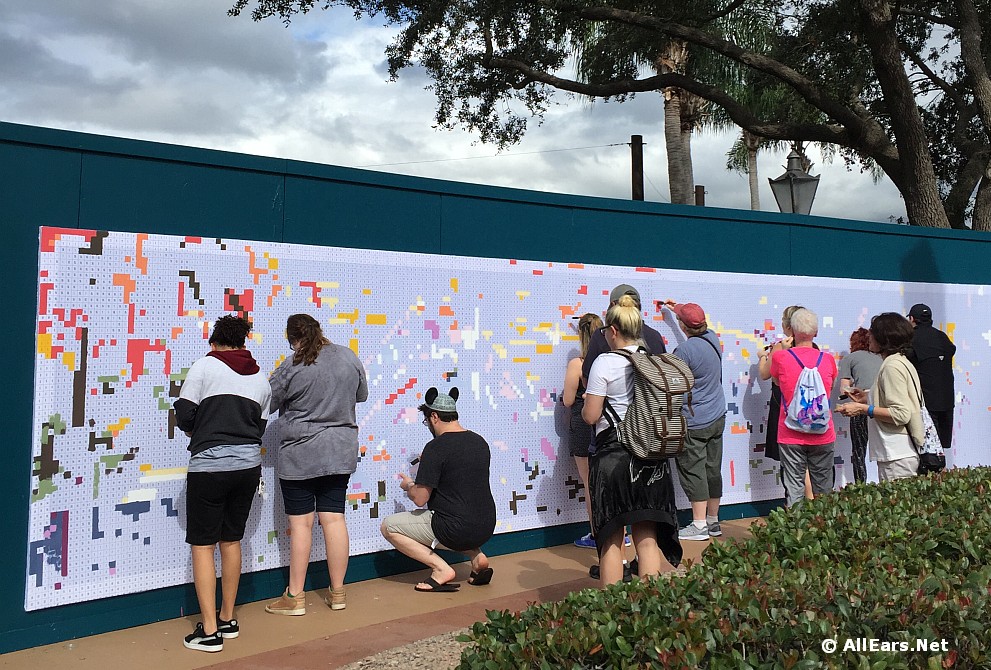 Also, scattered around the park are 15 or so merchandise tents with eye-grabbing artwork for sale by artists who are household names… at least to Disney households. Here's a chance to actually buy some of their work, and, in some cases, have the pieces autographed by the artist, because throughout the festival they will be on hand creating new works right in front of you.
For those who are fans of the artists of the past, the Festival Showplace, located in the Odyssey (just after the Mexico pavilion on your way into Future World) has small galleries dedicated to Disney Legends Mary Blair ("it's a small world" dolls and the Contemporary Resort's Grand Canyon Concourse mural) and Herb Ryman (probably best-known as the artist whose sketches from 1953 served as the images that became Disneyland).
These elements together add up to a wonderful tribute to the visual arts for even the least artistically inclined, yours truly included.
Culinary Arts
Not only is food the foundation of Epcot's long-running Food and Wine Festival in the fall, it's become an integral part of the springtime's Flower and Garden Festival, too. It seems natural that the culinary arts should be on display during the Festival of the Arts, as well.
Over the years, I have heard many chefs emphasize the importance of a dish's presentation by saying, "First, you eat with your eyes." And it's true, isn't it? Who wouldn't prefer to dine on pretty food, thoughtfully plated, over something carelessly thrown on a paper plate with greasy smudges? That's one of the main concepts behind all the dishes being prepared at the eight Food Studios found around World Showcase during the Festival of the Arts.
"This festival is truly a labor of love for us," said Mike Deardorff, executive chef of Epcot, at a media gathering for the new event. "We are proud of what we're doing and we want you to watch us prepare your food as you wait."
Chef Mike went on to explain that at one Food Studio, called The Masterpiece Kitchen, the charcuterie board takes 14 steps to prepare. The lengthy process would be common in a fine dining establishment, but is almost unheard-of in a "fast food" setting.
It's an ambitious plan, but this particular aspect of the festival faltered, in my opinion. While I do find it interesting to watch food prep (hence my hours in front of the television devouring programs like Top Chef and Bizarre Foods with Andrew Zimmern), when I'm hungry and hot and standing in line at a theme park all I really want is my food. Now. Plus, given the set-up of the Food Studios, the crowds and my 5'1″ stature, there's not really much one can see behind the plexiglass as the young chefs hunch over their plates with forceps trying to place microgreens just so. Labor-intensive dishes like the charcuterie "palette" and pork roulade were simply delicious, but waiting 10-15 minutes for them to be assembled, after having waited 15 or more minutes in line before that, was not. Granted, it was the first weekend and some kinks need to be worked out, but I think a much better scenario would be to have the chef behind a large window or glass wall, preparing the items steadily, so that I could still see the preparation, but didn't have to wait for the made-to-order experience of my dish, and those of everyone ahead of me.
That said, nearly every festival food and beverage item I sampled was excellent. Be sure to pick up a Festival passport at the park entrances or any of the shops to see where the goodies are located. The aforementioned charcuterie palette and pork roulade were fantastic, the scallop with chorizo was tender and tasty, the savory croissant donuts were delicious if a bit messy, and the braised beef short rib melted in my mouth (even though the accompanying parsnip puree threatened to ruin the dish for me — not a parsnip fan!). On the sweet side, the Pop't Art sugar cookie was so much fun to look at you had to smile and the white chocolate puzzle was just plain fun to play with — you can encourage your kids to play with their food on purpose! The triple chocolate mousse pyramid with gold leaf was elegant, decadent and divine — and almost worth every penny of its $9.25 price tag. I don't say that lightly, because so often mass-produced chocolate desserts may be beautiful, but they are lacking in flavor. Not this one.
Even the beverages are beautiful, with artistic presentations that elevate them above the norm. The classic sidecar with a chocolate twist was a real surprise — the traditional orange peel twist replaced by a curl of orange-tinted white chocolate. I also thoroughly enjoyed the Cloudem Silver Sparkling Wine. The Perla Santa coffee-flavored wine tasted rather like chocolate milk with a slight kick, but I didn't care for its $9.50 price. And I thought I had died and gone to heaven when I tried the Callebaut Belgian Sipping Chocolate Flight — three tiny cups of white, milk and dark warm, chocolatey goodness. Too rich for one person to finish alone, but definitely a special treat for the chocoholic in your life.
There were only a few menu items that left me cold. The Margherita Flatbread with basil pesto and balsamic drizzle was one, because it was, in fact, cold. I'm not entirely sure it was meant to be. I think the flavors, which were good, would have been much better had they been warmed up. I will say, though, that this was a generous size for $5.25, and two could have easily snacked on it. The only other negative on the culinary side was that a few times I couldn't try the items I wanted because they were simply not available. The Cuisine Classique studio was out of the poached pear when I attempted to order it Saturday, and there was no Mushroom Risotto on another day. And by Monday they were cutting up full-size croissant donuts to use in place of the minis for the savory trio offered at The Painter's Palate. Clearly, these miscalculations are to be expected on opening weekend — who knew how popular those chocolate pyramids would be? — but it was a little disappointing that I missed out on some goodies as I don't think I'll have a chance to revisit Epcot before the festival concludes.

Performing Arts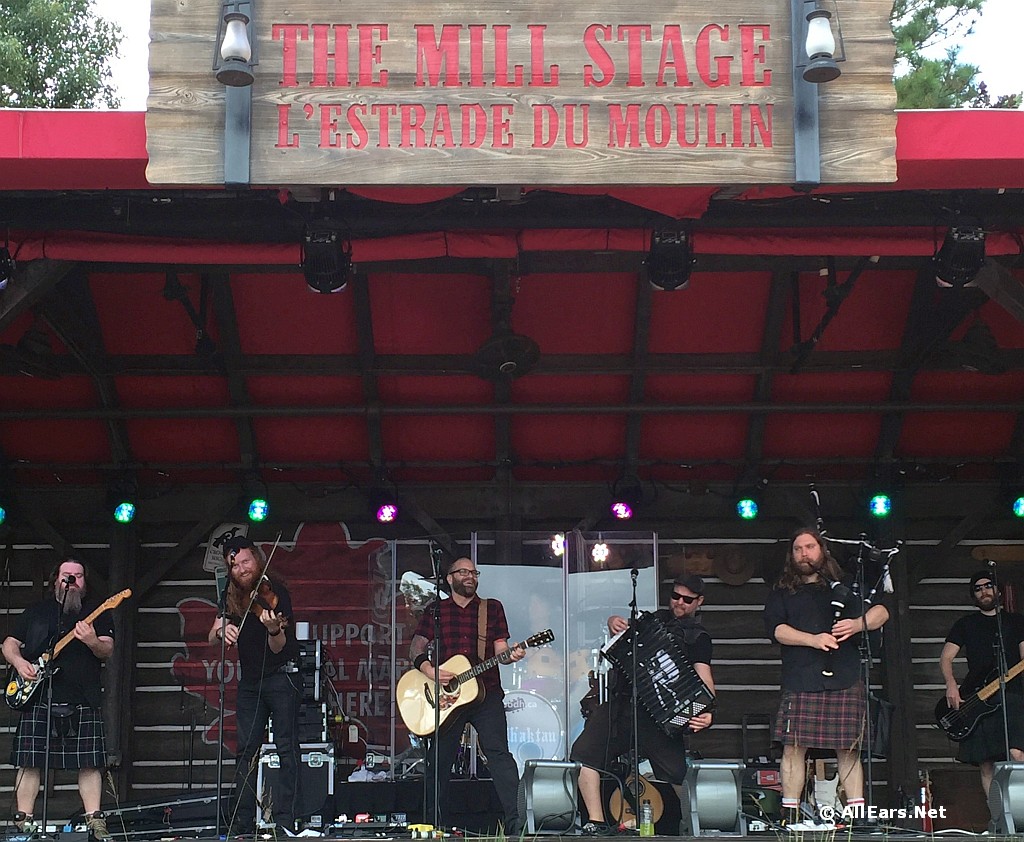 The performing arts is something at which Epcot, and Disney in general, always excels, so it's no surprise that this component of the festival is a real winner.
You can start the day with a performance from a local music group on the Fountain View Stage — I caught the talented Melbourne High School Jazz Ensemble, and an array of regional high school and other performing groups are scheduled for the coming weeks. Follow that up with The Living Statues, performance artists who can strike a pose so permanent you're not sure if they're still breathing. Due to some rainy weather, I was never able to see the Living Statues this trip, but I understand that they represent the various pavilions in Epcot.
If you've been to Epcot before, you know that each country pavilion has some kind of live entertainment, but this festival is an excuse for World Showcase to introduce three new acts:
Bodh'aktan, a kilt-wearing, award-winning band from Montreal with a fiddle, accordion, bagpipes and more, that just might remind you of another group that once took to the Canada pavilion's Mill Stage (Off Kilter).
Matboukha Groove, which presents "World Music" and a fusion of musical styles, from Armenian to Saharan to Latin to Mediterranean, in the Morocco pavilion. The group features Grammy-winning producer and percussionist Archie Pena.
Wies N Buam, a group of young men (their name means "Oktoberfest Boys") from Munich, Germany, who play Bavarian folk music in the German pavilion.
I had a chance to enjoy a set from each of these groups and found that each brings a new energy to the live performances around the park.
"These groups all represent a new generation of artists," explained Marsha Jackson-Randolph, show director for Walt Disney Creative Entertainment. "There's a heightened diversity and a resonance from culture to culture. They all have an excitement for sharing their cultures with our guests."
She added that Wies N Buam will be staying in Epcot beyond the Festival of the Arts, in fact, into the upcoming Flower and Garden Festival, with a change of repertoire.
Finally, the jewel of the performing arts piece of the Festival is the Disney on Broadway series, which is bringing bona fide Broadway stars to the America Gardens Theatre for three shows each event night. There will be two performers for every two weeks of the festival: last week and Jan 20-23: Ashley Brown and Josh Strickland; Jan. 27-30 and Feb. 3-6: Kerry Butler and Kevin Massey; and Feb. 10-13 and 17-20: Kissy Simmons and Alton Fitzgerald White.
We were so lucky to see Brown and Strickland perform twice this past weekend, and I do believe we could have sat through the set several times more. Brown was the original Mary Poppins in Disney's theatrical production, while Strickland was the original Tarzan in that show, and the duo clearly have a strong rapport. (I saw them perform together a few years ago at a D23 Expo event.) Their performances were enthusiastic and enthralling, and garnered well-deserved standing ovations. The Epcot Festival of the Arts was worth the trip just to see these fine actors and musicians up close and in person. I only regret that I won't get to see the remaining shows and those of the future performers.
As you can see, a lot of the Festival of the Arts "features" are elements that are in place at Epcot year-round. The live entertainment around World Showcase, for example, is one reason I love Epcot so much. And World Showcase has a number of permanent art galleries, like The American Heritage Gallery in the American Adventure, the Stave Church in Norway, and the Bijutsu-kan Gallery in Japan, which you can visit on any given day. But what the Festival of the Arts has done is draw special attention to these often passed-by, less splashy attractions.
Further, the Festival of the Arts has attempted to transcend those everyday experiences by adding special touches — the extremely beautiful and carefully prepared food at the Food Studios, the outstanding Broadway-caliber talent, the numerous hands-on and interactive experiences. Yes, there were a few glitches — running out of certain merchandise or food items, problems with delayed service, etc., but these are minor quibbles.
All in all, I found the Epcot International Festival of the Arts well-conceived and executed, with as much fun for kids as there is for adults. I can only hope that this inaugural season is truly the first of many. As I said, I may not know "art", but I know what I like. And I'd like to see where this "passion project," as so many of the cast members called it, goes in the future.
DISCLAIMER: I visited the Festival of the Arts as a member of the invited media on Friday, but returned on Saturday and Sunday as an independent guest. My opinions are my own.
= = = = = = = = = = = = =
RELATED LINKS
= = = = = = = = = = = = =
Epcot International Festival of the Arts
Food Studios: Menus with Prices with more photos coming soon!
-o-o-o-o-o-o-o-o-o-o-o-
Editor's Note: This story/information was accurate when it was published. Please be sure to confirm all current rates, information and other details before planning your trip.