Step Back: March/April: Midget Autopia at Disneyland
by
Joan Feder
Feature Article
This article appeared in the March 30, 2021 (#1130) edition of ALL EARS®
Editor's Note: This story/information was accurate when it was published. Please be sure to confirm all current rates, information and other details before planning your trip.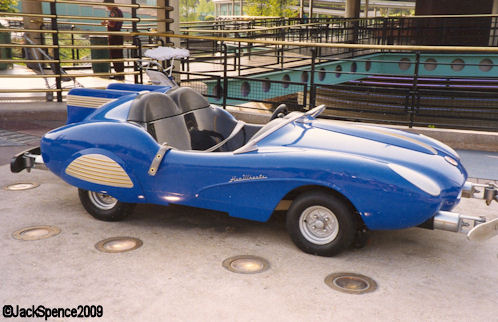 Join us on our monthly journey into the past as we explore the history of Walt Disney World and the Walt Disney Company. This time we look back to April 1957, when Midget Autopia opened at Disneyland.
Autopia is a Disneyland attraction that lets guests drive a "souped-up coupe" around an enclosed track. It is the only existing Tomorrowland attraction that dates back to the park's opening on July 17, 1955.
Disneyland's Autopia was an instant success. So much so that in 1956, it was joined by the slightly smaller Junior Autopia located in Fantasyland.
This still wasn't enough to meet demand, so Midget Autopia debuted on April 23, 1957. The ride was located in Fantasyland, next to the Storybook Land Canal Boats.
This third, smallest version of Autopia was meant for young guests only. Adults weren't allowed on the attraction.
The two-seat ride vehicles were smaller and cuter than the other Autopia cars, but they had some realistic touches. The hood ornaments came from a 1957 Chevy. The headlights were parking lights from a 1956 Pontiac.
Unlike the other Autopia vehicles, these cars had two steering wheels. This gave every passenger a chance to "drive".
No worries though, the kids weren't actually steering. The cars were on an electric track, that controlled their path.
The track itself was themed as a winding country road. It even went right through a miniature yellow barn.
Unfortunately, the ride had low capacity and took up a lot of prime Fantasyland real estate. It closed on April 3, 1966.
The track was paved over to make way for a new attraction. It became part of the walkway that leads to It's a Small World.
But it wasn't over yet for Midget Autopia. After it closed, Walt and Roy Disney donated the ride to Marceline, Missouri, their childhood hometown.
The attraction, located in the Walt Disney Municipal Park, was dedicated on July 4, 1966. It is the only ride to ever leave a Disney park to operate elsewhere.
Midget Autopia ran in Marceline for 11 years, until the ride vehicles became impossible to maintain. The concrete track was used as a walkway/bicycle path until it was demolished decades later.
Still, it wasn't the end for Midget Autopia. There were plans to recreate the ride in Marceline in the late 2000s. When funding faltered, a new concrete trail was installed behind the Walt Disney Hometown Museum instead.
Opened in 2019, the path includes an overview of the ride and the dedication marker from 1966. Pedal cars give young visitors a chance to drive the track which older guests can stroll.
Inside the Museum, there is an exhibit detailing Midget Autopia's history. One of the retired cars is part of that display.
Not going to Missouri? You can still see a Midget Autopia artifact when you visit Disneyland.
Head to Tomorrowland and ride Autopia. On a pedestal along the track, there is a statue of a small car. That's not a sculpture. It's a bronzed ride vehicle—one that used to cruise the roads of Midget Autopia.