May 2018 Walt Disney World Bits and Bites
Feature Article
This article appeared in the April 24, 2018 Issue #970 of ALL EARS® (ISSN: 1533-0753)
Editor's Note: This story/information was accurate when it was published. Please be sure to confirm all current rates, information and other details before planning your trip.
= = = = = = = = = = = = = = = = =



STEP BACK IN TIME
= = = = = = = = = = = = = = = = =
by Joan L. Feder
AllEars® Staff Writer
We hunt through our archives for this monthly featurette, which looks at the history of Walt Disney World and The Walt Disney Company. This month we go back more than two decades to the opening of the Fantasia Gardens and Fairways Miniature Golf.
Potential concepts for Walt Disney World's first miniature golf course ran the gamut from Alice in Wonderland to Roger Rabbit. Eventually the 1940 film Fantasia was picked as the theme. A location near the Swan Resort was chosen so that it could be enjoyed by conventioneers and park-goers alike. "Fantasia Gardens" had been bandied about as the possible name for several different Disney attractions over the years; at various times it was going to be a boat ride at Disneyland, the Magic Kingdom, or the Beastly Kingdom, which was never built at Animal Kingdom. On May 20, 1996, Minnie and Mickey were on hand to open the 11-acre complex. Fully named Fantasia Gardens and Fairways, it is two very different courses: one for the whole family and the other for the skilled golf enthusiast.
The Fantasia Gardens course is a traditional miniature golf experience plussed by special Disney magic. This 18-hole course is full of interactive obstacles featuring Fantasia's settings and characters, including tutu-clad hippos, Sorcerer Mickey and Mount Olympus. Music from the movie enhances the theme of each hole, and includes several surprises. For example, at hole 9 if you "putt straight and true", a faun from The Pastoral Symphony plays a tune!
The Fairways at Fantasia Gardens, on the other hand, are NOT for the faint of heart. With an emphasis on skill, it is not a Putt-Putt experience, so much as a conventional golf course that has been miniaturized by about one-third. The holes range in length from 63 to 109 feet long, and are par three or five, with an overall par of 72. The challenges include those of a full size course including rugged terrain, water hazards, and sand traps. It has been touted by many, including Tiger Woods, as one of the toughest golf courses in the world. Yet it still has a touch of Disney whimsy related to the Fantasia theme. For instance, hole 15 warns: "The trick here is to make like plumed ballet dancer from Dance of the Hours and get Upanova the bridge."
The Fantasia Gardens and Fairways are within walking distance from any of the Epcot area resorts. Telephone reservations are not accepted, but must be made in person. There are discounts for multiple rounds played on the same day. DVC members and Annual Passholders should also ask about discounts. Currently, adults cost $14 per person, while kids, age 3 to 9, are $12 each. A unique Disney experience whether you are a skilled duffer or just looking to putt around, Fantasia Gardens and Fairways is a great way to spend a couple of hours.
RELATED LINKS:
Walt Disney World Chronicles: Fantasia Gardens
Fantasia Gardens Miniature Golf
= = = = = = = = = = = = = = = = =


HIDDEN MICKEYS ALERT
= = = = = = = = = = = = = = = = =
Steve Barrett, author of the Hidden Mickeys Field Guide books and webmaster of HiddenMickeyGuy.com, visited Disney's Animal Kingdom recently and checked out The Boneyard. Some Hidden Mickeys have disappeared from this playground, but a few good ones have stuck around.
1. A tiny Lightning McQueen has made an appearance here! Look for him in a screened-in display on the right side of the Dig Site, to the left of the fan-and-hard hat classic Mickey. (Note: It seems that Lightning moves around at times.) (Thanks to Bill and Kari Middeke.)
2. Upstairs to the rear left in a fenced-off archeology display, a small full-body Mickey figurine sits on the horizontal bar of a red bicycle. Hopefully, he won't be going anywhere for a while!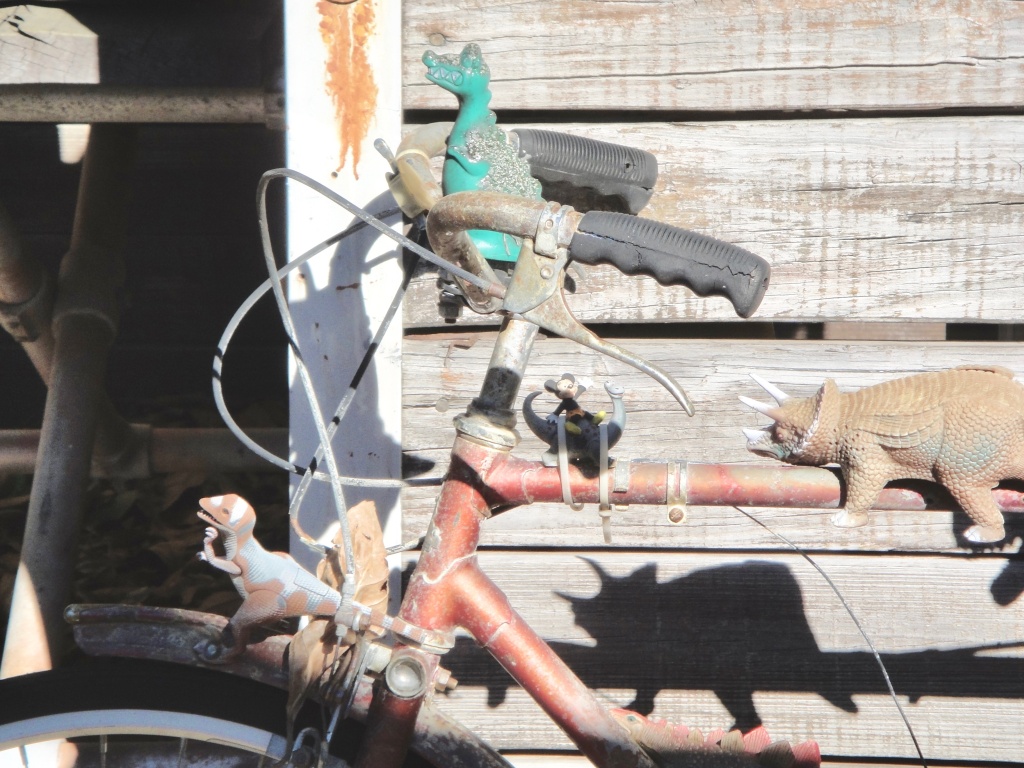 3. I'm sure you remember the coin classic Hidden Mickey on the table to the left of the bicycle Mickey figurine; the original coin image was a decent three-circle Mickey. This is a recent photo of the tabletop. Unfortunately, now the coins are all similar in size — not a convincing Mickey image to me. What do you think?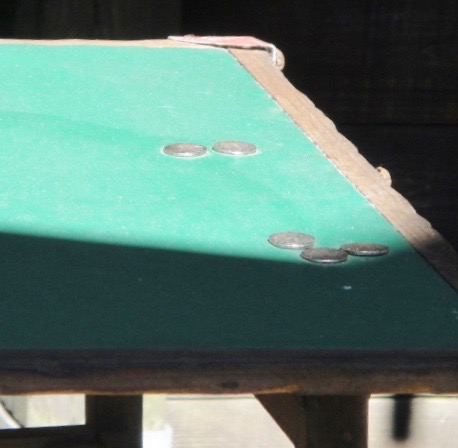 =-=-=-=-=-=-=-=-=-=-=-=-=-=-=-=
You can find an archive of past Hidden Mickey Alerts HERE.
And check out our latest Searching Disney with Steve blog.
= = = = = = = = = = = = = = = = =



SOUVEN-EARS
= = = = = = = = = = = = = = = = =
by Kristin B. Ford
AllEars® Staff Writer
It should come as no surprise that as "Disney-Bounding" has become more popular these past few years, the Mouse would want to get in on the action and offer guests its own themed clothing.
For those who are not familiar with the term "Disney-Bounding," it refers to Disney fans paying homage to their favorite Disney characters with fashion. The term took root when blogger Leslie Kay started a Tumblr page about five years ago to showcase the Disney-inspired outfits she put together. It's a place, she says, "where fashion geeks and Disney nerds collide." Kay, a self-professed fashionista and Disney fan, searches for just the right clothes and accessories to create a character look. Then, artist Phillip Light creates an illustration for her website, and links to online stores are added so admirers can purchase the looks they love.
The Disney Parks certainly have seized upon this trend, offering beautiful women's dresses that are designed to recall popular Disney attractions and characters. The first collection debuted about this time last year when The Dress Shop inside the Marketplace Co-op at Disney Springs opened and quickly sold out. Among the offerings were dresses that were inspired by The Haunted Mansion, Tower of Terror, Pirates of the Caribbean, Enchanted Tiki Room, "it's a small world," Orange Bird, Cinderella, Snow White, Minnie Mouse and more. Coordinating accessories, such as handbags resembling an apple, the White Rabbit and a Hollywood Tower Hotel suitcase, also were released.
Many of those original pieces still can be purchased at Walt Disney World and Disneyland and online at shopDisney.com and on the Shop Disney Parks app. But now, another round of retro-looking dresses have been added to the collection. Among them, you will find:
** A doors print dress representing Monsters, Inc.
($128)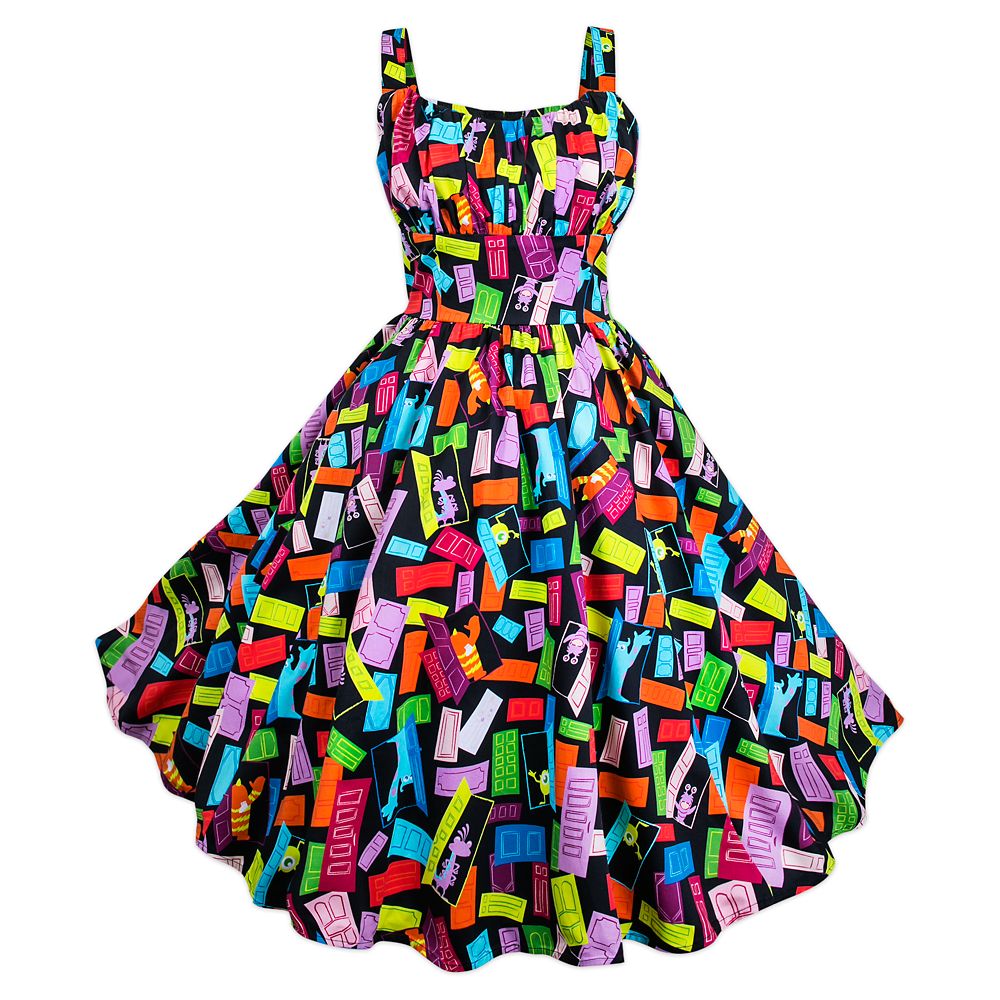 ** A new Haunted Mansion dress in black and lilac ($128)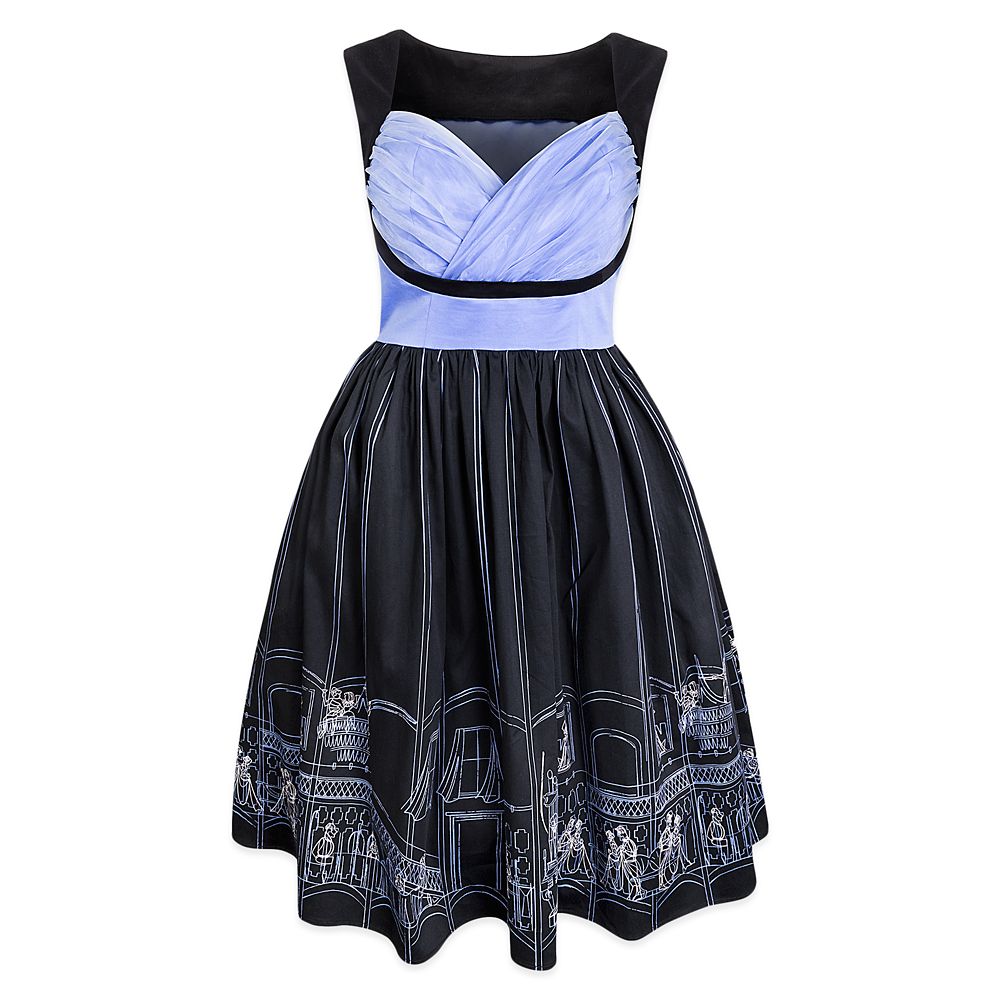 ** Haunted Mansion Ballerina Dress with short cape ($168)
** A red and white Mary Poppins dress with penguins along its hem ($108)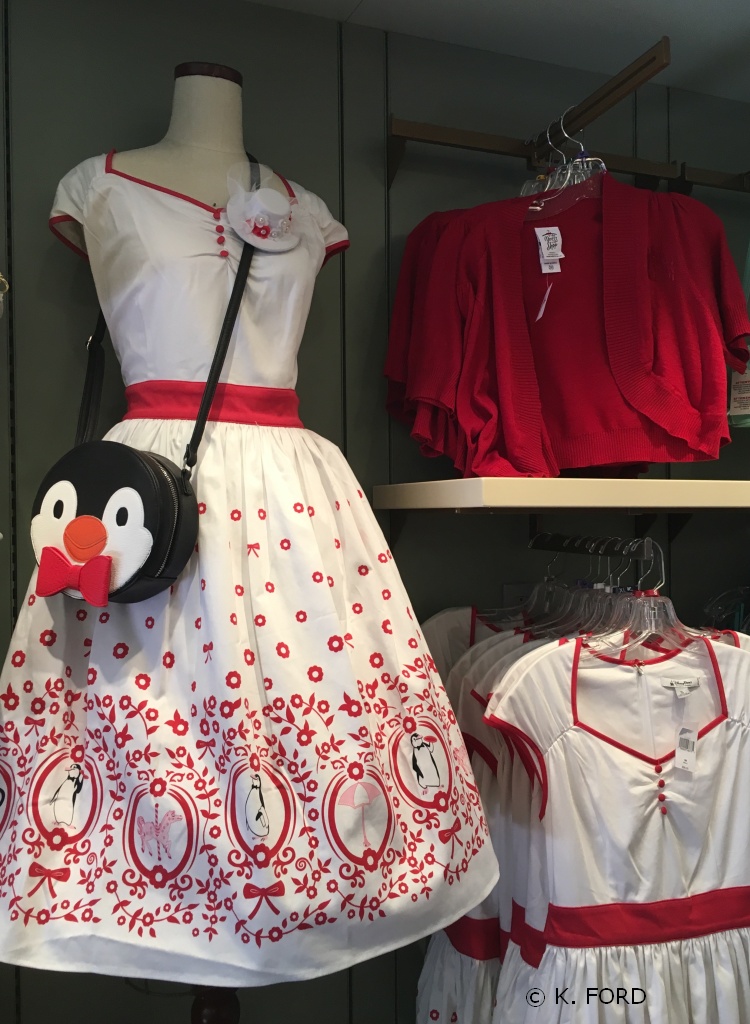 ** A new Orange Bird dress ($128)
** A Magic Kingdom print dress ($108)
** Teacup skirt in blue or pink ($78)
** Coordinating short-sleeve Shrug Sweaters ($58)
** White crinolines to go under the dresses and skirts ($48)
The dresses, skirts and shrugs come in a wide range of sizes — from adult extra-small to extra-extra-extra-large. Plus, there are even more accessories! In addition to the cute purses ($30-$88), there are hair accessories (most $10-$16) and so many pieces of adorably themed costume jewelry. From Orange Bird and Enchanted Tiki Room earrings, bracelets and necklaces to parasols ($29) in a range of hues, everything is ready to complete your look.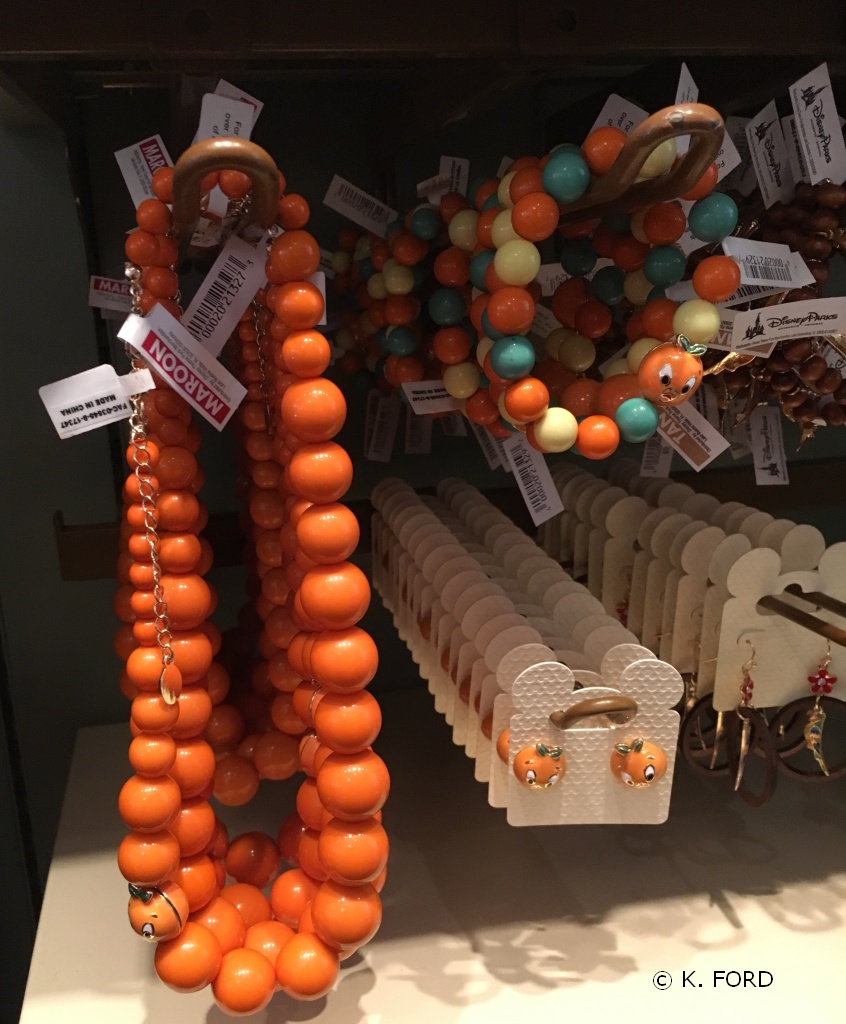 For men who would like to add a little character to their outfits, Disney has introduced ties ($39.99) that coordinate with some of the character and attraction dresses. I've spotted Orange Bird, Enchanted Tiki Room and Haunted Mansion prints so far.
With Dapper Day at Walt Disney World coming up, what are you waiting for? Happy Shopping!
= = = = = = = = = = = = = = = = =


MONTHLY REMIND-EARS
= = = = = = = = = = = = = = = = =
Through May 5: Party for the Planet/20th Anniversary Celebration — As part of this celebration, the park is offering animal encounters, family-friendly activities, specialty desserts, Tiffins Talks, and more.
Through May 28: Epcot International Flower and Garden Festival. See "News Bites" below for more details.
May 13: Mother's Day. A number of restaurants around Walt Disney World will have special dining menus on this day set aside to honor mothers. Remember to check the site and the AllEars newsletter for updates.
Check our Events page for a full schedule of upcoming events.
-=-=-=-=-=-=-=-=-=-=-=-=-=-=-=-=-=-=-
Resort-Wide
Disney Skyliner construction: Walt Disney World is in the process of creating a new transportation system, Disney Skyliner, which will give you a bird's-eye view of the resort while traveling via gondolas. During this time, construction noise will be seen or heard throughout the resort, but noise should not be heard from Disney hotel rooms between dusk and 9 a.m.
Star Wars: Galaxy's Edge — Work is under way on the 14-acre Star Wars-themed land at Disney's Hollywood Studios that was announced during the 2015 D23 EXPO. It's set to open sometime in 2019.

Toy Story Land — Construction is under way for the new Toy Story Land that will open in Disney's Hollywood Studios on June 30, 2018.
Liberty Square Riverboat closed for refurbishment on January 8, 2018. No reopening date has been announced.
Kringla Bakeri og Kafe in the Norway Pavilion closed February 26, so that seating and overall shop space can be enlarged. While it's closed, a temporary kiosk called Midnattssol is open to sell the spot's most popular items (including School Bread). No reopening date has been announced.
Duck Pond Pool is closed for refurbishment through Spring 2018.

The entire resort is undergoing a major room refurbishment that will continue until late 2018.
Art of Animation Resort is currently undergoing some general refurbishment projects. During this time, the resort will be in full operation with all amenities available, including dining, merchandise and recreation locations. It is possible that construction may be seen or heard, but noise should not be heard from guest rooms between dusk and 9 a.m. No end date for these projects has been announced as yet.
Through Fall 2018, Old Port Royale Food Court, Shutters at Old Port Royale, Cabana Pool Bar and Calypso Trading Post will be undergoing refurbishment. A variety of dining options will be available for all meals. Centertown will serve breakfast and dinner. Grab 'n' Go options will be available in three island markets: Aruba, Jamaica, and Martinique.

In addition, buildings in Barbados and Martinique islands have been demolished to make way for new construction, the Disney Riviera Resort.
The resort room "hard goods refurbishment" at Coronado Springs has been extended to continue throughout summer 2019.
Disney's Old Key West Resort is undergoing a wholesale refurbishment, which is expected to be completed in 2019. You can see some photos of refurbished rooms HERE.

Turtle Pond Pool, Turtle Shack Snack Bar and Flying Fish Gameroom will be unavailable until early July due to refurbishment. The resort's Sandcastle Pool, which features a waterslide, kiddie pool and a variety of dining and recreation locations, will be open.
Pop Century resort rooms are currently undergoing refurbishment, with work expected to be completed by Summer 2018. In addition, there are a number of other refurbishment projects going on around the resort, but all amenities are available.

Bowling Pin Pool is closed for refurbishment through May 2018.
Rooms at the resort are undergoing refurbishment, including a soft goods refurbishment, through late Spring 2018.
The Yacht and Beach Club Convention Center is undergoing expansion and renovation throughout 2018. No end date has been specified.
Portobello Country Italian Trattoria at the Disney Springs Landing closed last year. Terralina Crafted Italian is due to open on that site in Spring 2018.

World of Disney at Disney Springs Marketplace is being "reimagined" this year. Work is being completed in phases so guests can continue shopping during construction. Shops in Town Center at Disney Springs, such as Ever After Jewelry Co. or The Disney Corner carry select merchandise during renovations.
-=-=-=-=-=-=-=-=-=-
A complete list of known rehabs can be found HERE.
= = = = = = = = = = = = = = = = =


MAGICAL MOMENTS
= = = = = = = = = = = = = = = = =
Each month, we like to share a few heart-warming Magical Moments brought to us by the amazing Disney cast members!
Jennifer L.: Our group of two families stayed one night at the Bora Bora Bungalows at Disney's Polynesian Village Resort using some extra purchased DVC points. This was a surprise to both families as only the ladies of the family knew about it. We were celebrating three birthdays noted in our reservation. We had stayed the three nights previous at Old Key West with our final night at the Polynesian. We had planned to order the 'Ohana Twilight Dinner and have it delivered to the room. As we were checking in the cast member asked us our plans and we told her all about the 'Ohana dinner. To our surprise she told us that we should order it as soon as we got into our room and that it would be complimentary! What a wonderful surprise! We had planned to pay using the card attached to the reservation, but thanks to this wonderful cast member it was truly magical… and A LOT of food. We didn't put a dent in it. We were able to share what we had as leftovers with the bungalow next to us and they were happy to oblige. Noodles made for a yummy breakfast the next morning, too! Thanks Bailey from the Polynesian, you made our stay very magical!
Renee S.: A couple years ago my dad was diagnosed with esophageal cancer and had 2/3 of his stomach and half of his esophagus removed. It was very traumatic for my mom. She worked very hard caring for him during his recovery. My sister and I wanted to do something nice for her, and to give her a break for the stress of caring for him. Six months after his surgery, she and I decided Mom needed a Disney vacation (it was her birthday, too). We made arrangements for someone to look after my dad (he was able to care for himself by this time, but didn't want my mom worrying about him). My parents live in Florida and go to Disney often, but I wanted to do something she had never done. I wrote a letter to our resort asking about something that might be newer that Mom probably hadn't done. I received a call from a woman at the hotel, who suggested a backstage tour at Magic Kingdom. It was the Magical Memories tour, all about Walt's life and plans for the park. We signed up! When we arrived at our hotel a month later, we found it all decorated for Mom's birthday with balloons and lots of Pop Century stuff. That isn't the best part. My dad called us a couple days later to tell us that he got a get well card and autographed photo from Mickey Mouse. He thought we had done it, but it was the resort. It was so touching that they would go to the trouble for this. I love Disney World.
Sheila C.: We were on our way to Rivers of Light at the Animal Kingdom when my husband's rented scooter decided to stop working. Since he can't walk long distances, this was a problem. We asked a cast member for advice and she immediately got her supervisor, Brandon. Even though we did not get the scooter through Walt Disney World, he went out of his way to help. He brought us a wheelchair that we could take to the park entrance and said to change it there for one we could take to the parking area. He checked on us during the show and again at the end of the show to see if he could give us any more assistance (like a cast member to push the wheelchair!). Since we had four other family members with us, it was fine and we got back to our car without any more issues. Brandon was so helpful and let us know that we could count on him for any help we may have needed. We love the magic of a WDW vacation and this is just a sample of why. Thank you, Brandon!
-=-=-=-=-=–=-=-=-=-=-=-=-=-=-=
EDITOR'S NOTE: Did you know that you can turn the tables and create a Magical Moment for your favorite cast member on Twitter? Simply send a tweet to @WDWToday with the hashtag #castcompliment and they'll make sure your cast member gets some special recognition for making your day Magical!
We just bet you have a story to tell about an unforgettable moment during your Disney vacation! Please send your favorite memory for inclusion in a future AllEars® via our Contact Us page. Thank you all for sharing!
-o-o-o-o-o-o-o-o-o-o-o-
Editor's Note: This story/information was accurate when it was published. Please be sure to confirm all current rates, information and other details before planning your trip.