Mater's Junkyard Jamboree Cars Land Disney's California Adventure
Introduction | Attraction | Touring Tips | Kids/Characters | Dining | Shopping | Interesting Facts
INTRODUCTION
On the outskirts of Radiator Springs is Mater's Junkyard Jamboree. It's a hoedown for the baby tractors as they swing their trailers round and round to the songs on Mater's jukebox.
ATTRACTION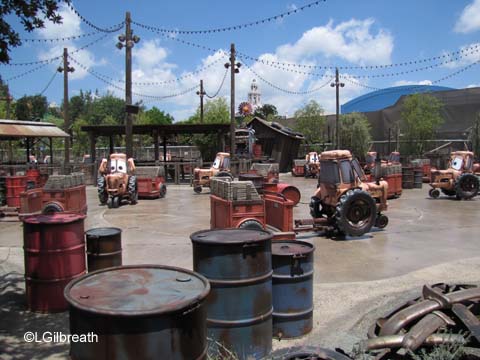 This may look like a kid's attraction but don't let that fool you – it's deceptively thrilling and will make you smile. Guests ride in the trailers attached to baby tractors. The bench seat will accommodate up to two adults and one child, secured by a single lap belt.
The tractors move around in a figure-8 on two interlocking turntables, while the trailers swing from side-to-side behind them. It's not a traditional spinning ride – more like a crack-the-whip type of motion and you'll slide sideways on the seat occasionally. The sides of the trailer are high, so there's no danger of sliding out, and the lap belt provides plenty of security.
The queue is outdoor but shaded, and winds through some of Mater's junkyard treasures, such as his collections of hubcaps and license plates.
At the end of the line you'll be directed to the loading area on either the right or the left. There's no difference: both load and run at the same time. Once the gate opens, enter the "dance floor" and choose one of the 11 trailers and fasten your seat belt. All of the baby tractors are slightly different.
Mater (voiced by Larry the Cable Guy) makes all of the announcements, with a few bad jokes thrown in. He gives the safety spiel in both English and Spanish.
The music is provided by Mater's Jukebox. You'll see it next to the fence beyond the loading area. It plays seven original songs, such as "Welcome to Radiator Springs", and "Let's Go Driving", all sung by Mater.
The ride is about a 90 seconds long. At the end, Mater will remind you to "grab all yer stuff" as you exit.
TOURING TIPS
The line is usually fairly short – about 20 minutes or less, except on very busy days. At park opening it's a walk-on.
There is a height requirement of 32 inches for this attraction.
Disney classes this as a "Mild but Wild" attraction. Most people do not report being dizzy afterwards, but those prone to motion sickess might want to watch it before deciding to ride.
Wheelchairs and ECVs enter the attraction through the regular queue then transfer to the trailer.
Taller people may find the trailer uncomfortable as there is limited knee room.
Restrooms are located between Flo's and Sarge's Surplus Hut building.
KIDS AND CHARACTERS
Mater and Lightning McQueen appear frequently throughout the day at the Cozy Cones. Next to the entrance to the junkyard is Mater's Petting Zoo where guests can pose for photos with a baby tractor.
DINING
Flo's V8 Cafe is nearby.
The Cozy Cones are next to Mater's Junkyard Jamboree.
Disney's California Adventure
Restaurants At A Glance
Menus from Around the Disneyland Resort
SHOPPING
Sarge's Surplus Hut – Cars toys and merchandise.
Radiator Springs Curios – Radiator Springs souvenirs, t-shirts, pins and accessories.
Ramone's House of Body Art – Apparel and Radiator Springs-specific merchandise.
Disney's California Adventure Shopping at a Glance
INTERESTING FACTS
Mater's Junkyard Jamboree opened with Cars Land on June 15, 2012.
There are seven original songs recorded by Larry the Cable Guy, backed by Billy Hill and the Hillbillies. In a "blooper" version of "Welcome to Radiator Springs", Mater seems to forget the words and sings "dad gum" over and over instead.
The queue contains a number of items from the Mater's Tall Tales Car Toons.
If you have comments or tips to share with others about touring Disney's California Adventure, please email us. Thank you.