Luigi's Rollickin' Roadsters Cars Land Disney California Adventure
Introduction | Attraction | Touring Tips | Kids/Characters | Dining | Shopping | Interesting Facts
INTRODUCTION
Luigi's cousins from Carsoli, Italy are visiting him in Radiator Springs. To celebrate Race Day, they demonstrate some of the tradiitional dances of their village at the Casa della Tires in Luigi's Rollickin' Roadsters.
ATTRACTION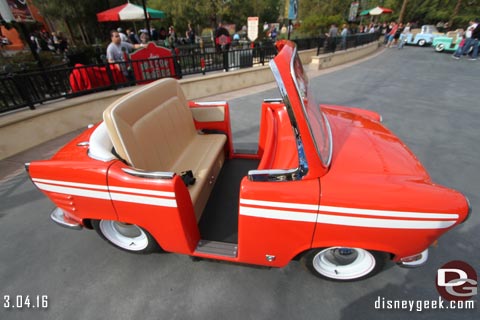 Guests ride in one of the cars. The bench seat will accommodate up to two adults, secured by a single lap belt.
This attraction uses a trackless vehicle system – the cars are independent units that whirl and spin around each other as they traverse the dance floor. The cars can move in all directions, they also spin around and move side-to-side. Each ride is different: there are 18 different paths for them to follow, and they will switch paths on every ride. Sometimes they dance in formation, and sometimes with each other. In addition, each car has its own signature moves and there are also variations depending on which song is playing. There's lots of honking.
Riders have no control over the vehicles.
There are twenty "cousins", all with different colors, paint styles, and accessories. Each is unique. Note the mustache grills on the "men". Up to sixteen are on the dance floor at any given time.
The ride is about 90 seconds long.
The first part of the queue is inside the Casa della Tires showroom, where there are lots of Fettuccini tires on display. The outdoor part of the queue is mostly shaded and winds around a garden area.
The attraction features five different songs, some sung by Luigi, some by the cousins. They include "Rollicking Night and Day", "Mambo Italiano", and "The Tire-antella".
Luigi's Rollickin' Roadsters Ride-through
TOURING TIPS
There is a height requirement of 32 inches for this attraction.
Wheelchairs and ECVs enter the attraction through the regular queue. There are two cars available for guests with motion disabilities, which will be swapped in for one of the other vehicles. Guests must be able to transfer to the ride vehicle.
The nearest restrooms are located between Flo's and Sarge's Surplus Hut.
KIDS AND CHARACTERS
Mater and Lightning McQueen appear frequently throughout the day at the Cozy Cones. Red the Firetruck can often be found near the entrance to Luigi's Rollickin' Roadsters or along the road towards Flik's Fun Fair.
Children under the age of 7 must be accompanied by a person 14 years or older.
DINING
Flo's V8 Cafe and The Cozy Cones are nearby.
Disney California Adventure Restaurants At A Glance
SHOPPING
Ramone's House of Body Art offers attraction-themed merchandise as well as apparel and other Radiator Springs-specific items.
Radiator Springs Curios – Radiator Springs souvenirs, t-shirts, pins and accessories.
Sarge's Surplus Hut – Cars toys and merchandise.
Disney California Adventure Shopping at a Glance
INTERESTING FACTS
Luigi's Flying Tires, a flying saucer type of ride, was originally built on this site. It closed in early 2015.
Luigi's Rollickin' Roadsters is the first example of trackless vehicle technology to open at a Disney park in the United States. It opened on March 7, 2016.
Tony Shalhoub provides the voice of Luigi.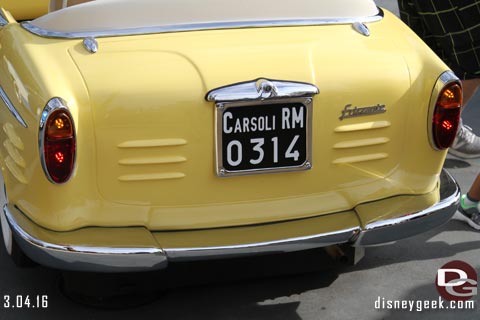 All of the cars have their own names and looks, except for the two coral-colored cars that are sisters, and even then Rosa has green eyes and Gina has blue eyes. The cars are: Salvatore, Lorenzo, Giovanni, Carlo, Angelo, Rosa, Pasquale, Sergio, Sophia, Vito, Tony, Elisabetta, Niccolo, Carina, Gina, Lucia, Carmela, Carlotta, Francesca, and Isabella.
Luigi is a Fiat 500, but his cousins are Frizzante autos, inspired by late 1950s micro cars.
Luigi's garden includes an "autopiary" of his favorite Italian Formula Racer, Francesco Bernoulli.
In honor of his cousins coming over to Cars Land, Luigi ordered the Fettuccini tire company's newest model in dancing tires, the Danza.
If you have comments or tips to share with others about touring Disney California Adventure, please email us. Thank you.