Buena Vista Street Disney California Adventure
Introduction | Attractions | Touring Tips | Dining | Shopping | Interesting Facts
INTRODUCTION
Walt Disney came to Los Angeles in July, 1923, arriving with a "frayed cardboard suitcase" and "just forty dollars." Buena Vista Street recalls the Los Angeles that he might have experienced in the 1920s and 1930s, with the same kinds of shops and businesses. Disney fans will recognize quite a few names that are inspired by people and places from Walt Disney's life as they walk along the street.
At the end of Buena Vista Street stands Disney California Adventure's new icon: the Carthay Circle Restaurant, inspired by the Spanish Colonial Revival architecture of the Carthay Circle Theatre where Snow White and the Seven Dwarfs premiered in 1937.
The Storytellers statue of a young Walt Disney and Mickey Mouse stands in a small park on the edge of Carthay Circle. This statue is on ground level and guests are welcome to touch it and have their photo taken with it.
ATTRACTIONS and ENTERTAINMENT
Red Car Trolley – Step back in time and take a ride on the Pacific Electric Railway's Red Car line. The trolleys travel from the entrance plaza to the Hollywood Tower Hotel.
Red Car News Boys – the news boys roll into town on the trolley and perform an energetic street show featuring period music, dancing, and acrobatics – and even a young Mickey Mouse.
Five & Dime – This musical group features five musicians and their singer "Dime", performing music from the 1920s and 1930s.
Citizens of Buena Vista Street – Look for these colorful characters in their period attire and be sure to ask them about their stories.
TOURING TIPS
The Storytellers statue is a PhotoPass location, but guests may have their photo taken with their own cameras, also.
Disney characters participate in Meet and Greets wearing their very best 1920s attire.
Be sure to pick up a copy of the Buena Vista Bugle. This free newspaper is available at the Chamber of Commerce and on racks near the Red Car Trolley staion. A new edition is published several times a year.
The Red Car Trolley's service is interrupted during the Red Car Trolley News Boys show.
Watch the candy makers at work in the Trolley Treats show kitchen.
PLACES TO EAT
Carthay Circle Restaurant– A fine dining experience with a menu designed by Napa Rose Executive chef Andrew Sutton. Lunch and dinner service, reservations recommended.
Carthay Circle Lounge – Full service bar offering a selection of appetizers plates and desserts. Tables are first come, first serve.
Fiddler, Fifer, & Practical Cafe – Enjoy a full selection of Starbucks beverages along with baked goods and grab-and-go items.
Clarabelle's Hand-Scooped Ice Cream – Ice cream cones and sundaes, and hand-dipped ice cream bars made to order.
Mortimer's Market – Fruit market with both cut and whole fruits, bottled water, juice, and soft drinks.
Restaurants At A Glance
Menus From the Disneyland Resort
PLACES TO SHOP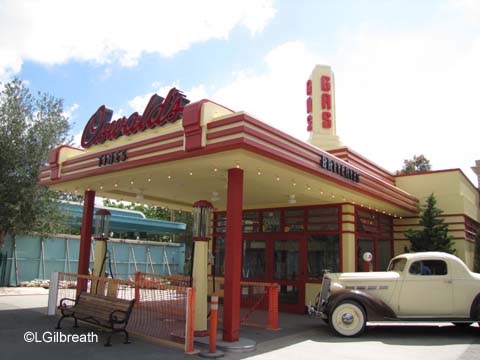 Oswald's – Hats, travel mugs and other car accessories.
Los Feliz Five & Dime – Souvenirs, plus hats, t-shirts, fleece, many of which can be embroidered there.
Big Top Toys – Plush, games and other toys.
Elias & Co – Large department stores offering apparel for kids and adults, park-specific merchandise, watches, jewelry and other accessories, and handbags, including Dooney & Burke.
Kingswell Camera Shop – PhotoPass headquarters. Photo accessories such as frames, photo albums, memory cards, cameras, and batteries are also available.
Julius Katz & Sons – Kitchen accessories, gadgets, utensils, towels and dinnerware.
Atwater Ink & Paint – Coffee, tea, cups, and mugs.
Trolley Treats – Housemade fudge, marshmallows, taffy, apples and other treats available individually, as well as a selection of pre-packaged candy and snacks.
Disney California Adventure Shopping at a Glance
INTERESTING FACTS
Buena Vista Street was major element of Disney California Adventure's "re-imagining", and its grand opening was June 15, 2012.
The Carthay Circle Restaurant is 89.5 feet tall, 12.5 feet higher than Sleeping Beauty Castle.
The two Red Car Trolleys have slightly different designs, representing different series and time periods. The 600 series car is number 623, with "23" for 1923, the year Walt Disney arrived in California. The 700 series car is number 717, for Disneyland's July 17 birthday.
Buena Vista Street Landmarks and Names – Buena Vista Street represents a "Los Angeles that never was" though the buildings are based on design elements of the time. The Imagineers chose many of the shop names with the idea that Walt Disney might have seen similar names and been inspired to name some of his creations after them.
Hyperion Bridge – the Disneyland Monorail travels across this bridge modeled on the Glendale-Hyperion Avenue bridge near Disney's early Hyperion Animation Studios.
Oswald the Lucky Rabbit was one of Disney's earliest successes.
The Los Feliz area was near the site of Disney's Hyperion Studios.
Big Top Toys is inspired by the film "Dumbo."
Elias in Elias & Co was the name of Walt Disney's father, as well as Walt Disney's middle name.
Kingswell Avenue was the site of a Disney Animation Studio.
Julius the Cat (Julius Katz & Sons) was an animated cat in Disney's live-action "Alice in Cartoonland" shorts.
Atwater Village was a hangout of early Disney Studio animators.
In the window of Trolley Treats is Rock Candy Mountain, an attraction designed for Disneyland but never built.
Mortimer was the name originally given to Mickey Mouse.
Clarabelle Cow is a character in many classic Disney cartoons.
Fiddler, Fifer, and Practical were the names of the Three Little Pigs in Disney's Silly Symphony cartoon.
If you have comments or tips to share with others about touring Disney's California Adventure, please email us. Thank you.