Pre-Opening Videos and Announcements Pandora the World of AVATAR Animal Kingdom Officially Opens May 27, 2017
ABC NIGHTLINE EXCLUSIVE LOOK AT PANDORA
More Details about the Flight of Passage – March 10, 2017
PLACEMAKING PANDORA – Released March 8, 2017
COMMERCIAL – Released March 6, 2017
PANDORA THE WORLD OF AVATAR
WITH JAMES CAMERON
Released February 26, 2017
HOW PANDORA CONTINUES THE VALUES OF ANIMAL KINGDOM
Joe Rohde
Released February 21, 2017
AVATAR FLIGHT OF PASSAGE and NA'VI RIVER JOURNEY
Released February 20, 2107
BEHIND THE SCENES OF PANDORA
Joe Rohde, Jon Landau, and James Cameron
Released December 25, 2016
During the Walt Disney Company Q1 FY17 Earnings call on February 7, 2017, CEO Bob Iger shared the exciting news that Pandora – The World of Avatar will open at Disney's Animal Kingdom on May 27, 2017.
NEW Preview Video Released December 25, 2016
"In which I confess that I thought this was impossible at first." (Joe Rohde)
November 2016 Destination D Announcements
Pandora opens Summer 2017
Na'vi River Journey Announced Japan D23 Expo 11/6/15
The World of AVATAR will bring a variety of new experiences to the Park, including a family-friendly attraction called Na'vi River Journey. The adventure begins as guests set out in canoes and venture down a mysterious, sacred river hidden within the bioluminescent rainforest. The full beauty of Pandora reveals itself as the canoes pass by exotic glowing plants and amazing creatures. The journey culminates in an encounter with a Na'vi shaman, who has a deep connection to the life force of Pandora and sends positive energy out into the forest through her music.
Na'vi River Journey will open with Pandora – The World of AVATAR in 2017.
Joe Rohde, James Cameron and Jon Landau
Pandora the World of AVATAR
VIDEO OF ENTIRE PRESENTATION
D23 Expo August 2015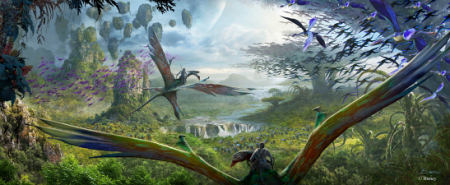 Walt Disney Imagineering and James Cameron's organization have come together. Both of which embrace the idea of gripping story, stunning visual design and radical technical innovations.
Disney's Animal Kingdom guests will journey into the magnificent world of Pandora at this new AVATAR-themed land – a world that includes floating mountains, a bioluminescent jung;e and the winged creatures known as Banshees, giving guests a transformational experience they will never forget.
Pandora the World of AVATAR and it will be a world! The adventure is YOURS to have on the planet!
AVATAR Flight of Passage – Fly with banshees! This E-ticket (thrill ride) attraction, the centerpiece of Pandora, allows guests to soar on a Banshee over a vast alien world. The spectacular flying experience will give guests a birds-eye view of the beauty and grandeur of the world of Pandora on an aerial rite of passage.
Water Based Ride – very fluid, very romantic into the bioluminest forest. Designed to allow the whole family to experience and is very beautiful
"We are building a world where you are the protaganst. All of us want this experience to be not just fantastic and not just thrilling but meaningful to people. We're creating a transformational experience that you'll remember for the rest of your life."