I make YouTube videos that help people go to Disney World so I've met every single character you can meet.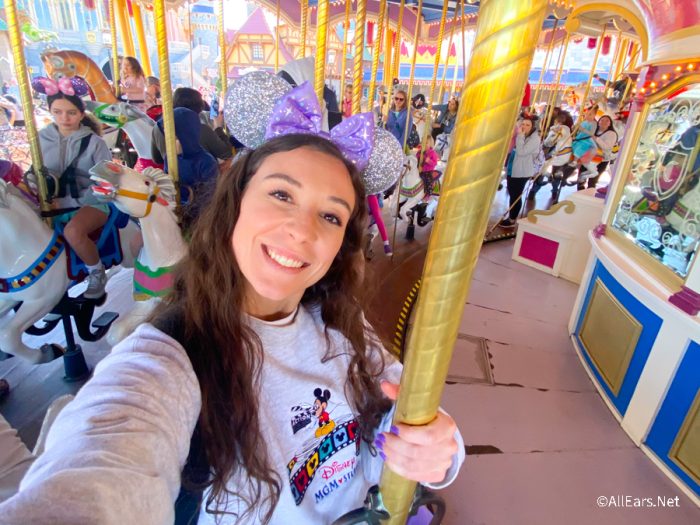 Character meet and greets are an iconic piece of a Disney World day. Meeting Mickey is often a pillar memory for families and lots of kids dream of meeting their favorite princesses. But meeting a character isn't always easy, in fact it can be awkward and even scary (for kids and adults alike). So, I'm bringing you my five biggest tips for meeting characters in Disney World!
Before we dive in, you can see me meet a TON of characters in my latest Disney World challenge! Watch it here!
So now, let's talk about those tips!
Have something to talk to them about in mind.
One of the most daunting things about meeting characters is actually speaking to them. Some characters, like Cinderella, can speak while others, like Mickey cannot. This can make interactions feel a little awkward!
One of our favorite tips is to have something in mind to talk to them about. Think of their movie and ask a question relevant to their story! For instance, asking Cinderella about her pumpkin carriage could be fun or talking to Mickey about the time he climbed a beanstalk and saw a giant!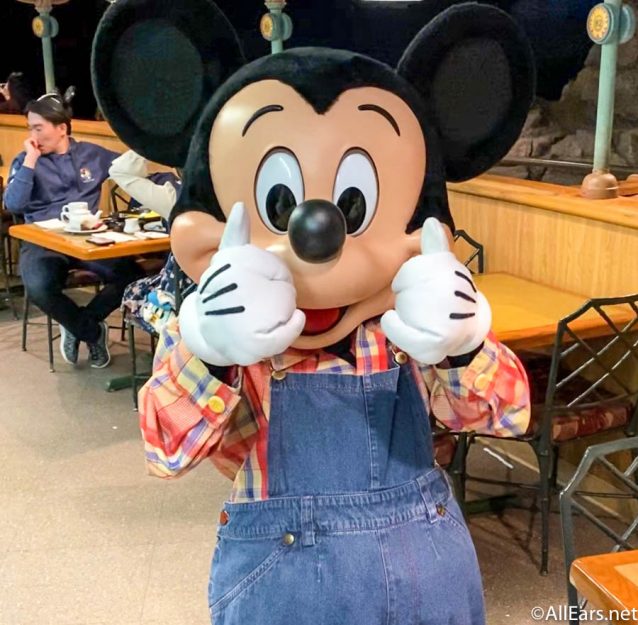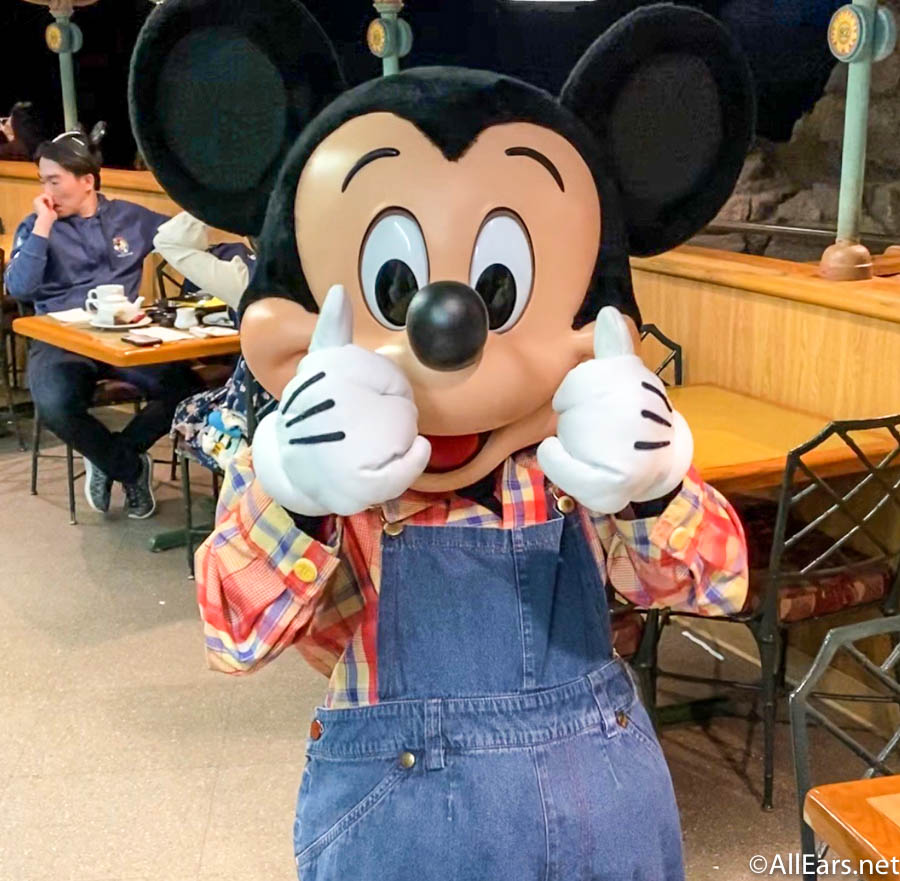 If you don't know something to ask from their story, you can ask them about another character they might know! The characters know the Disney universe, so go ahead and ask Tiana if she's seen Mickey lately. Of course, you could ask her how Naveen is too. And, if all that doesn't work, go with something easy like your day or the weather.
Having a conversation topic prepared can help you feel a lot more comfortable when interacting with characters.
Make autographs easy!
Meeting characters often means getting their autograph, and a big tip here is to be ready with what you want signed. If you have an autograph book, make sure it's open to the right page that you want them to sign by the time you get to the front of the line.
Its also a good idea to get a large pen. Mickey's gloves can make it harder to hold little pens so big pens or markers can be a lot easier for characters – just make sure it doesn't bleed through the page!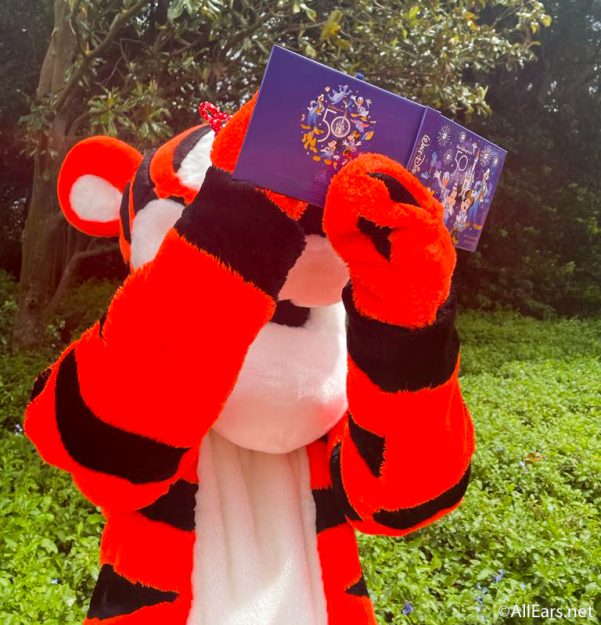 Characters can also sign other items as long as they don't have a brand name (or a few other exceptions). So if you're going to have them sign a hat or picture frame, make sure it's ready when you get to the front of the line.
Get in line early.
If you have a character you really want to meet, make sure to get in line early! Character meet and greets are popular, and the lines can move slowly so that each family gets enough time with the characters. Getting in line early means you'll have shorter waits and ensures you'll meet the character!
Some characters only meet a few times in a day, and if you miss those times, you might miss your chance to meet them at all. If you've got a kiddo who loves Sleeping Beauty, you're going to want to be at her meet and greet in the France Pavilion in EPCOT a few minutes before it starts.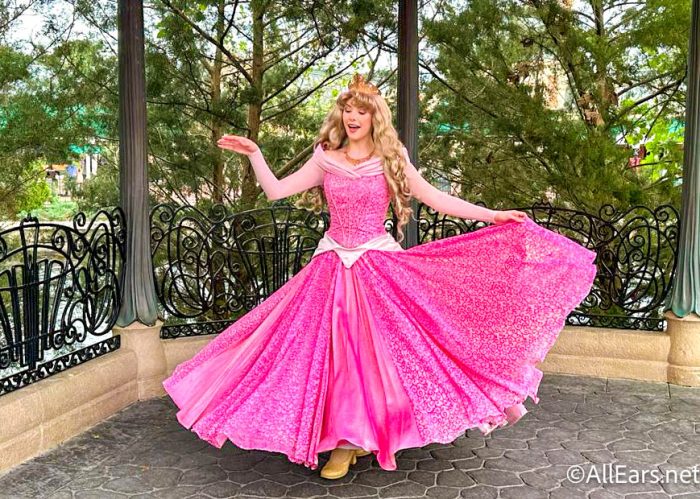 Especially mid day, character lines can fill up before the character even comes out on busy days. So check the times and get there early. That actually brings us to our next tip…
Check the app for times!
This is a big one! Some characters meet and greets occur continuously through the day but others are at very set times. If there's a character you want to meet, make sure to pull up the My Disney Experience app in the morning.
On the park map tab you'll be able to see all of the characters meeting in the park. Select a character and you'll be able to see the times that they meet in the app. That way you know when to arrive so that you don't miss your favorite character.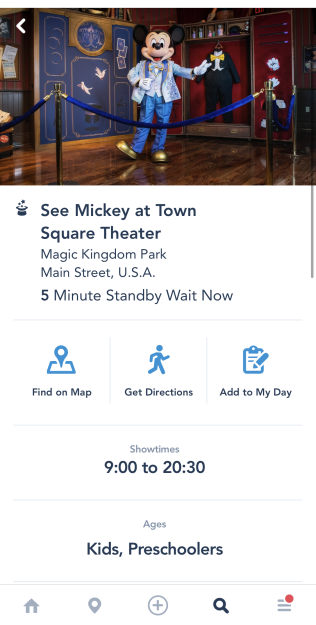 Even for the characters that meet continuously, I recommend checking the app for times. Character meet and greets often close a few hours before the park does so if you wait too long you could miss one. And some meet and greets offer Genie+, so checking them out in the app could let you know which lines you might be able to skip.
Be prepared to take your own pictures too.
Most characters have either a Disney Photopass photographer or an automatic camera. If you're purchasing your Disney photos, you'll be able to access these after your meet and greet in the app.
Warning! With the automatic camera, you can sometimes end up with the wrong family's photos but don't panic! Head to the Photopass location for the park (usually near the entrance) and Cast Members can help you get your photos back.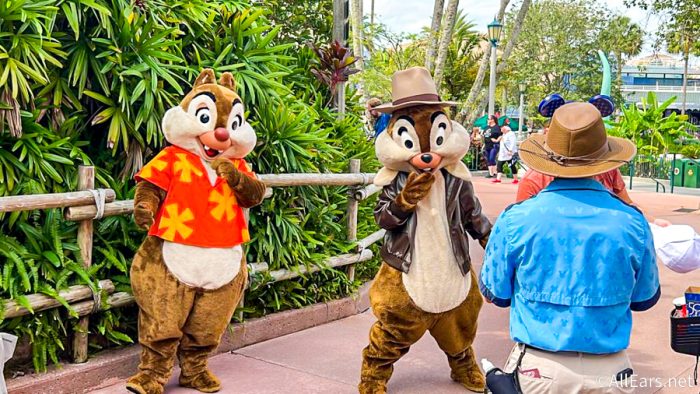 Now, some locations do not have Photopass so be prepared to take your own photos! Ask a Cast Member if they can take pictures with your phone or take turns taking photos of each other. Selfies can be really fun too!
Even if there is a photographer, it can still be a good idea to take your own photos if you don't plan on paying for pictures or just to make sure you have more chances of getting the perfect shot.
Those tips should help make meeting characters a breeze! Don't forget to come back and tell me any fun meet and greet stories and stay tuned to AllEars.Net for more!