Over the last 65+ years, the Walt Disney Company has opened 12 theme parks, 3 water parks, several shopping districts, and over 50 resort hotels. However, there's arguably no more unique Imagineering project than Pleasure Island.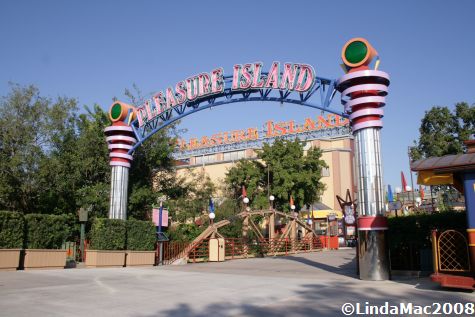 When the nightclub district opened in 1989, it was the first Disney project to be geared toward adults, and for nearly two decades was a cornerstone of the Walt Disney World experience… until, like many other Disney World attractions, it was gone!
Today we'll be looking at the history of Pleasure Island: Its real-world origins birthed from competition in Orlando, each of the island's clubs, the fictional backstory that spearheaded the creation of SEA, the reasons for its inauspicious closure, and what it's become.
Why Did Disney Build Pleasure Island?
To understand why Disney built Pleasure Island, one must learn about Church Street Station, a nightclub complex in Orlando. Entrepreneur Bob Snow opened Rosie O'Grady's Good Time Emporium in the Church Street Station rail station on July 19, 1974. Over the next decade, the Station became a massive draw for Floridians and tourists — including those visiting Walt Disney World, eventually becoming a massive entertainment complex offering admission to multiple themed nightclubs for a single price.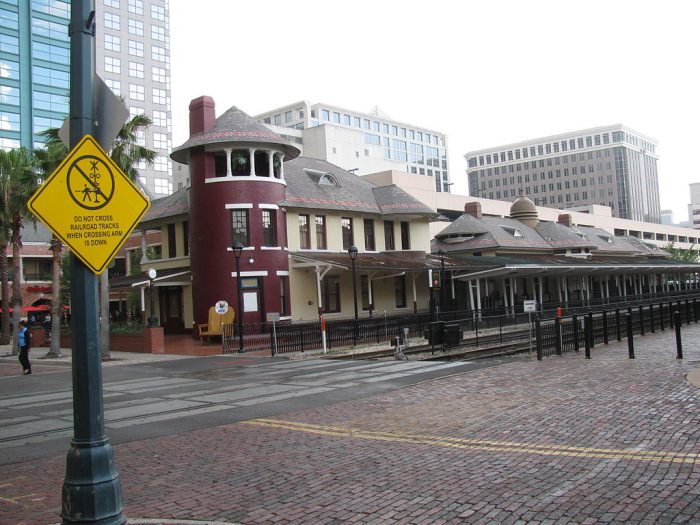 When Michael Eisner and Frank Wells took control of Disney in 1984, they had two major goals for the company's theme parks: Change their image to appeal to a "hipper" and younger audience and — specifically in Walt Disney World — keep guests on property longer. Given those goals, the success of Church Street Station — and its propensity for drawing younger Walt Disney World guests off of Disney property at night — did not go unnoticed and eventually led to competition. 
In an attempt to compete with Church Street, Disney announced they would be opening a nightclub district of their own on land near the Disney Village Marketplace as part of a massive expansion that would also see the Disney MGM/Studios theme park and Typhoon Lagoon water park opening. However, Pleasure Island would have a very Disney-spin on the concept, with a massively in-depth backstory that still wows fans to this day. 
Who was Merriweather Pleasure?
According to the backstory Disney Imagineers cooked up, Merriweather Pleasure was a fun-loving and adventurous industrialist who moved his family to Florida in the early 1920s to start a sailmaking and yacht construction business on a small island. In the story, Pleasure built a litany of buildings on the island to house various building materials, as well as a club for his adventurer friends (we'll get there) before being lost at sea. His children attempted to keep the business going, but the whole island was ravaged by a hurricane in the 1940s. This led directly to Pleasure Island.
Pleasure Island's Backstory and Atmosphere
The fictional story of Merriweather Pleasure plays directly into the backstory for Pleasure Island as it opened in 1989. According to the "legend" devised by Disney Imagineers, the company acquired the island. It turned Pleasure's previously built/hurricane-damaged infrastructure into a series of nightclubs, with each specially themed to the building it was set in. 
This in-depth Pleasure Island lore was told through a series of plaques scattered around the island that were purportedly erected by the fictional Pleasure Island Historical Society. Each plaque explained the "original purpose" as well as doling out details about Merriweather Pleasure.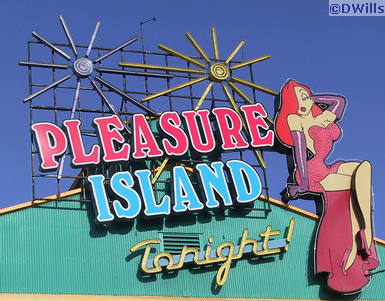 The whole island had much more "adult" vibes than anywhere else on Disney property, as exemplified by the gigantic Jessica Rabbit figure that sat atop the island for most of its lifespan. 
The Pleasure Island Nightclubs
When Pleasure Island opened, each of its heavily-themed clubs offered dancing, music, and alcoholic beverages (with one exception) all for one entrance fee during the evening. Over the years, some of the clubs were closed and altered, cutting their tenuous link to the Merriweather Pleasure theme. 
Videopolis East
An East Coast location analogous to Disneyland's original Videopolis — the park's teen dance stage area that was wildly popular in the late 1980s and today is best remembered as the first Michael Eisner-originated project to open at a Disney theme park — this club played popular New Wave music on over 170 screens for an alcohol-free, under 21 crowd. According to its story plaque, the building housing Videopolis East had been Pleasure's son Henry's "artificial intelligence laboratory."
Within two years, the club closed and was replaced by Cage, a adult dance club. Cage lasted until 1993, when it was closed and replaced by 8Trax, a 1970s and 80s-themed dance club that remained open until Pleasure Island closed in 2008. 
Neon Armadillo
A country and western-themed bar which featured live country music performances. According to its plaque, the Neon Armadillo's building had been Pleasure's greenhouse, and its name came from a family of armadillos who'd called it home. 
This venue was open until 1998, when it was closed and replaced by the BET Soundstage club. This hip-hop and R&B friendly venue was open until 2008.
Comedy Warehouse
One of Pleasure Island's most popular venues, the Comedy Warehouse, featured a company of players performing a show entitled "Forbidden Disney" during its initial years. However, the club generated so much repeat business that its show was changed to an improv format in order to keep things fresh. According to its plaque, the comedy warehouse had served as the island's power station, as well as the home base of a theatrical troupe operated by Pleasure's wife Isabella.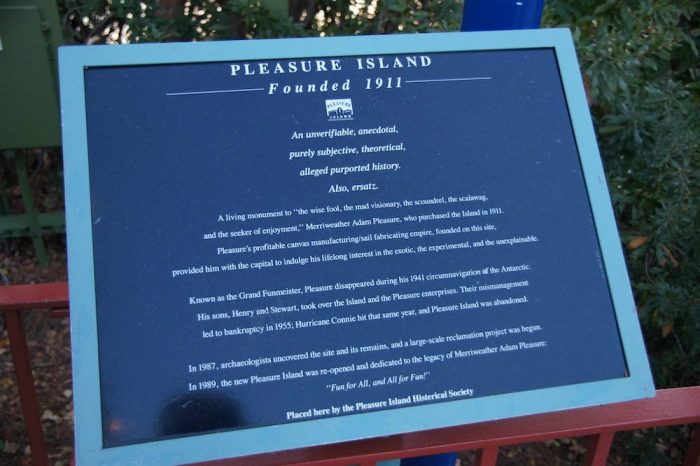 The show and its cast only became more popular thanks to this change, and the club remained beloved until it was closed in 2008.In the years following its closure, the Warehouse has remained a nostalgic favorite for fans, and the cast has reunited for various conventions and other charity events in the intervening years. 
Mannequins Dance Palace
Mannequins was a techno and electronica dance club best known for its revolving dance floor, synchronized light shows, and live performances by human "mannequins" who would move to the music. According to its plaque, Mannequins was initially the home of Pleasure's "famous canvas fabrication works" and was was converted to a soundstage for Invincible Pictures in the 1930s. The club was a favorite until the island's closure in 2008.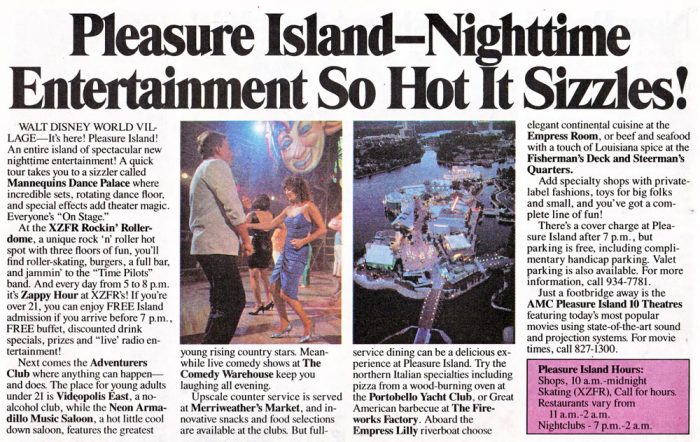 Fireworks Factory
Fireworks Factory was a themed restaurant that was housed in the "ruins" of Merriweather Pleasure's fireworks storage warehouse, according to its plaque. In line with this theming, numerous areas of the restaurant were designed to look "damaged" by pyrotechnic explosions. 
In 2001, the Fireworks Factory was closed and replaced by Motion, a club that featured current popular music videos on large screens. This venue remained open until 2008. 
XZFR Rockin' Rollerdrome
One of Pleasure Island's shortest-lived venues, the XZFR Rockin' Rollerdome was a rock & roll dance club that featured an area where guests could roller-skate to their favorite rock music. Very quickly, common sense — or Disney's lawyers — stepped in, and the venue was retooled into the Rock 'n' Roll Beach Club, a similar venue that featured live cover bands. According to its plaque, this building had been the hangar for Pleasure's X-Thing, a "super amphibious aircraft that could harness the power of the wind."
Pleasure Island Jazz Company
A jazz club that opened in 1993, and was closed in 2005 to make way for the Raglan Road restaurant. 
Adventurers Club
Pleasure Island's most famous and beloved venue, the Adventurers Club, was also its most heavily themed. The club, identified on its plaque as a club for Pleasure's globe-trotting friends, as well as a place to display his expansive library and trophy collection. This backstory led to a heavily-detailed environment, featuring props, animatronics, and a group of improv performers portraying specific characters who garnered a large fan following of their own.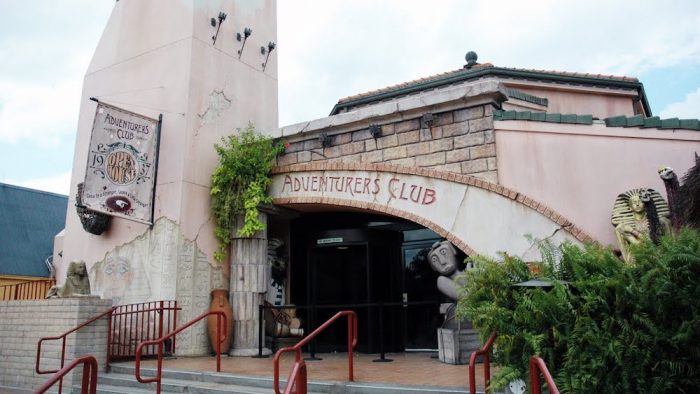 The club's closure in 2008 drew the most outrage of all the Pleasure Island's closures, with many fans begging Disney to bring the club — and its beloved performers — back to this day. While the company has yet to acquiesce, the Adventurers Club's legacy lives on in a massive way. 
What Is the S.E.A.?
As we've detailed extensively in the past, the Adventurers Club has retroactively become the first example of S.E.A. — or the Society of Explorers and Adventurers — seen on a Disney property. The group is described as such on a mission statement visible on numerous attractions: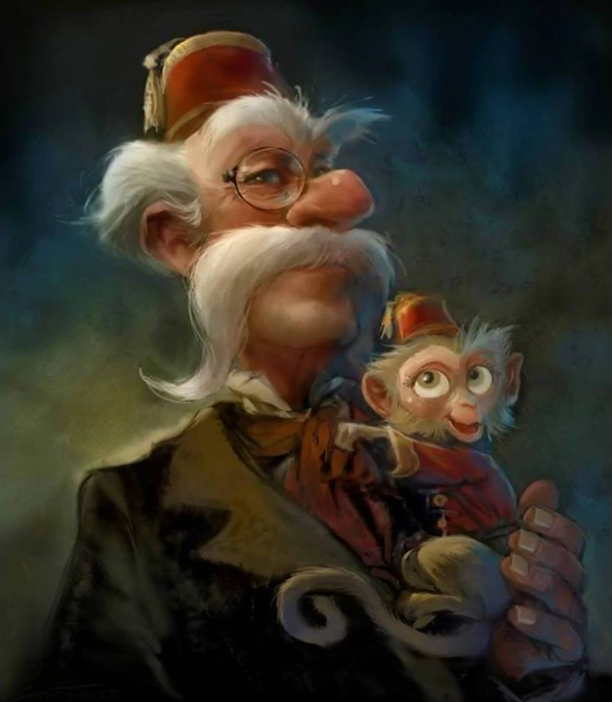 "The mission of the Society of Explorers and Adventurers is to collect, conserve, and curate valuable cultural and artistic artifacts from around the world and make them available to the public in an artistically pleasing and sensitive manner. It is furthermore the mission of the organization to equip and mount socio-cultural expeditions to discover, explore, chronicle and protect the artistic achievements of human society, past and present, exalted and forgotten."
This fictional group has become a lynchpin of Disney's theme park universe, forming part of the backstories for attractions and rides at parks around the world.
Why Did Pleasure Island Close?
While Pleasure Island was initially a massive success — and, for all intents and purposes, achieved its goals of mitigating the Church Street Station complex and keeping younger adult Disney guests on property — it began to lose its luster by the mid-2000s. 
The elimination of the entry fee in 2004 — instead, most of the clubs had their own admission — curtailed the earning power of several of the venues while at the same time attracting an "undesirable" element to the island. Due to these factors, Disney announced the closure of Pleasure Island in July of 2008, and the complex closed after an emotional final night that September. 
According to the company, the closure was "in response to customers who desire more broad-based dining and retail opportunities."
What Is Currently on the Pleasure Island Site?
The area where Pleasure Island once sat is now part of the larger Disney Springs complex and has been named "The Landing." The area includes Raglan Road (which survived the transition), Jock Lindsey's Hangar Bar, and The Boathouse.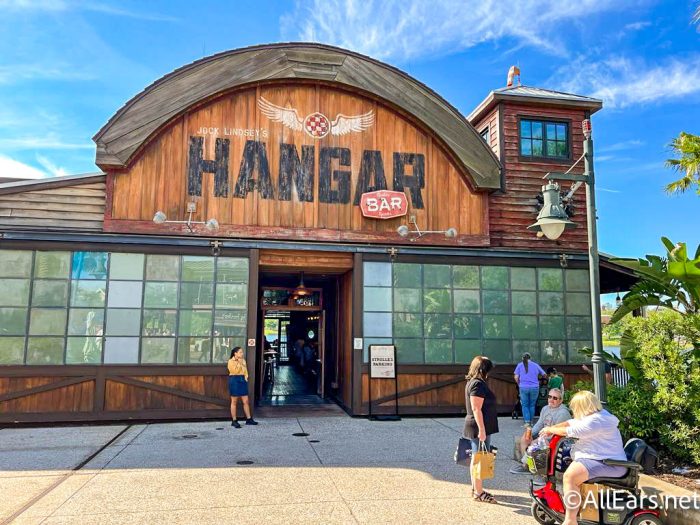 Do you have fond memories of Pleasure Island, and wish it still existed, or do you find Disney Springs an improvement? Let us know in the comments below.