DISCLOSURE: This post may contain affiliate links, which means when you click a link and make a purchase, we receive a commission.
While we may still be in the midst of celebrating Disney World's 50th anniversary, we've got ANOTHER big birthday celebration that recently started.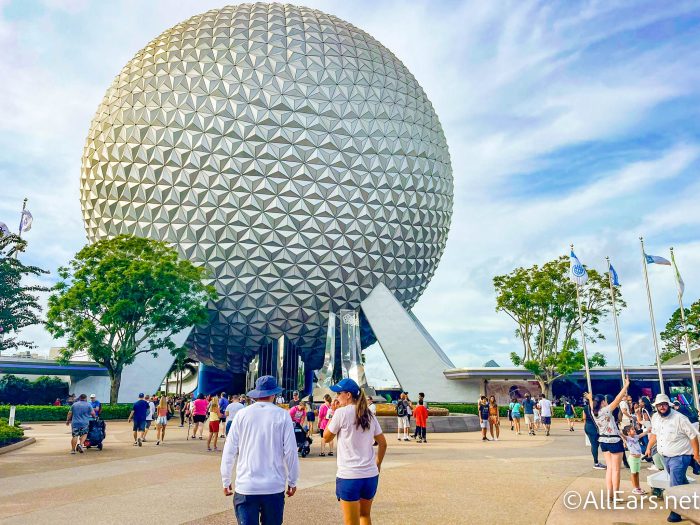 As EPCOT continues to undergo its multi-year transformation, we need to take a moment to celebrate its BIG 40th birthday today, October 1st! And if you plan on visiting EPCOT during its big 4-0, we've got a few outfit picks for you to celebrate the "Experimental Prototype Community of Tomorrow"!
In our NEW site section, AllEars Style, we have outfits for ALL your Disney World and Universal needs. Whether it's the perfect outfit to wear to Magic Kingdom, or a subtle Disney-inspired look to wear to the office, we've got you covered! Below check out a few of our TOP picks for EPCOT's 40th anniversary.

A Spaceship Earth-inspired backpack plus a Food and Wine tee? Yes, please!
Stay comfy and look stylish in this very EPCOT-inspired look, one that is perfect to help get your 20,000 steps in around World Showcase.
Looking for something a little more World Showcase-inspired? Pair this "winning" tee with a pair of comfy leggings — you can even switch them out for another of our favorite pairs!
We think the shirt goes perfectly with some red sneakers, and finished off with bright red Minnie Mouse earrings!
Okay, yes, Orange Bird could absolutely be taken as a Magic Kingdom-specific character (he is featured in Adventureland, after all). However, as a major symbol for the Flower and Garden Festival, we couldn't help but think an Orange Bird-inspired outfit is perfect for warmer days in EPCOT!
Go all in on the orange with an orange plaid dress paired with an Orange Bird denim jacket. Finish off the look with an Orange Bird MagicBand+, phone case, and your choice of a plush bag or tote!
Figment fan? We've got you. Pair a One Little Spark t-shirt and rainbow-trimmed black skirt for a subtle nod to the purple dragon.
Finish off the look with some luminescent earrings and a backpack, along with rainbow Minnie Ears and a Figment MagicBand!
What EPCOT look would be complete without celebrating the EPCOT Food & Wine Festival? This look is an easy one — and it's perfect for fall!
Pair a Food & Wine Vibes t-shirt with a very practical mustard yellow skort. Finish off the look with an adorable Button Bow pair of Minnie Ears!
Get ready to wine and dine around World Showcase! Start your look with a cute and comfy simple black dress, paired with a pop of color from the Mexico Pavilion Ears.
You're going to want to get ready to walk, so make sure you've got a solid pair of shoes, and pack a big ol' bottle of water in your Spaceship Earth-themed bag!
Looking for MORE on EPCOT? Check out our latest construction update from the Moana attraction, along with a look at the EPCOT's 40th anniversary merchandise collection. PLUS, read about the 40th anniversary treats coming to EPCOT, and about the upcoming Figment meet and greet!
Will you be visiting EPCOT during its 40th anniversary? Let us know in the comments!