We're at Avengers Campus, and we're trying out all the new things this land has to offer!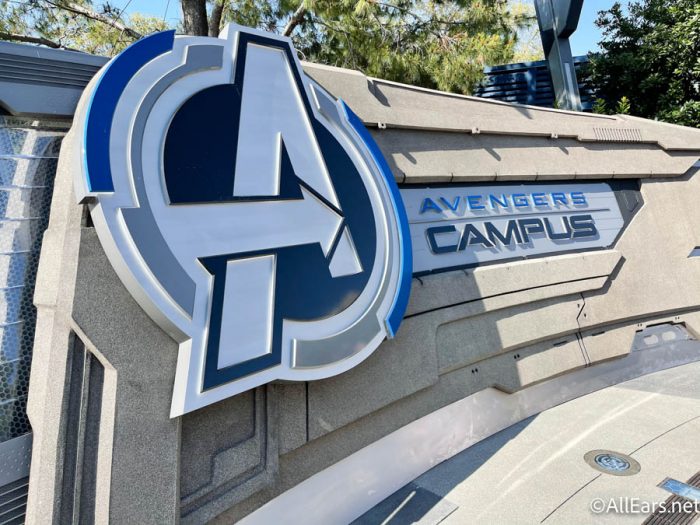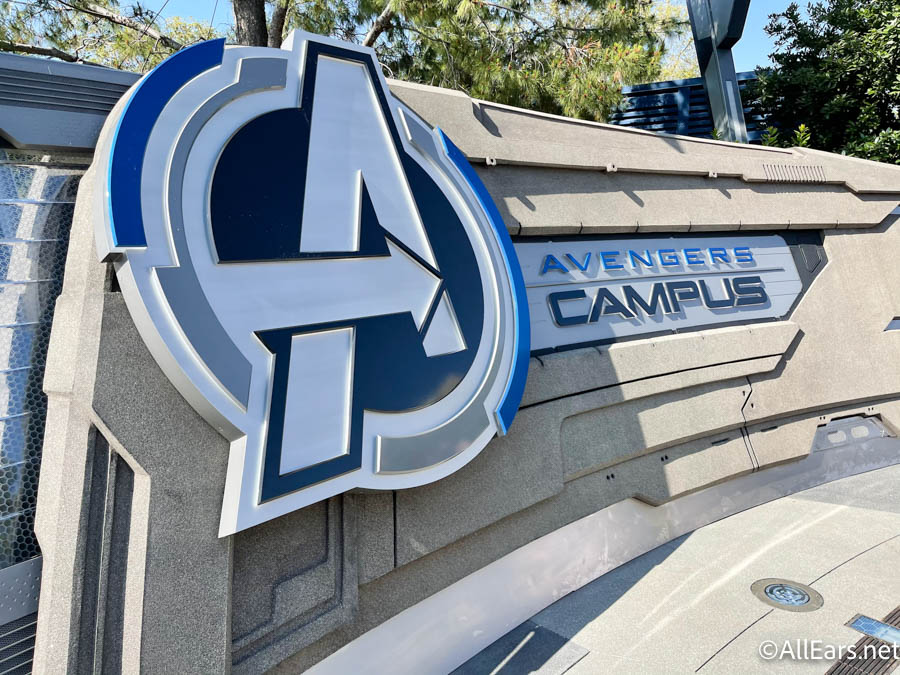 One thing we were really excited to check out was WEB Slingers: A Spider-Man Adventure! We've been hearing many cool details about this ride over the last few months, and we FINALLY got to check it out…and we were equipped with the $60 enhancements to see how it impacted our ride experience!
This new 3D attraction will allow guests to use the abilities of Spider-Man himself, slinging webs from their wrists on a "test-run" of the new WEB Slingers vehicles. The ride's tech recognizes body movements and gestures (think Toy Story Mania, but with only the power of your own arm motion!).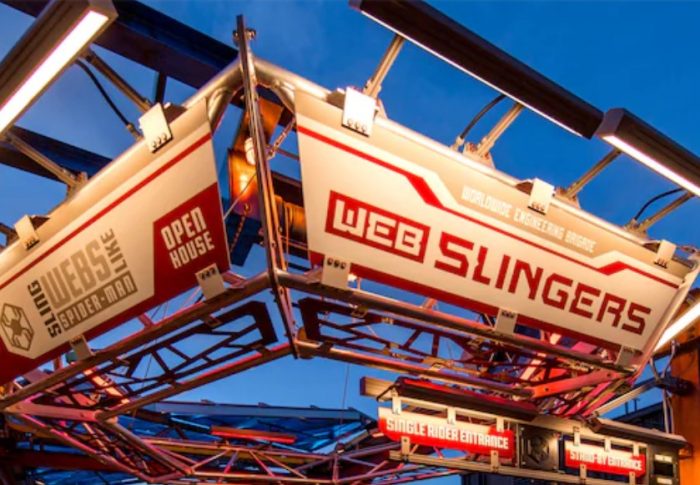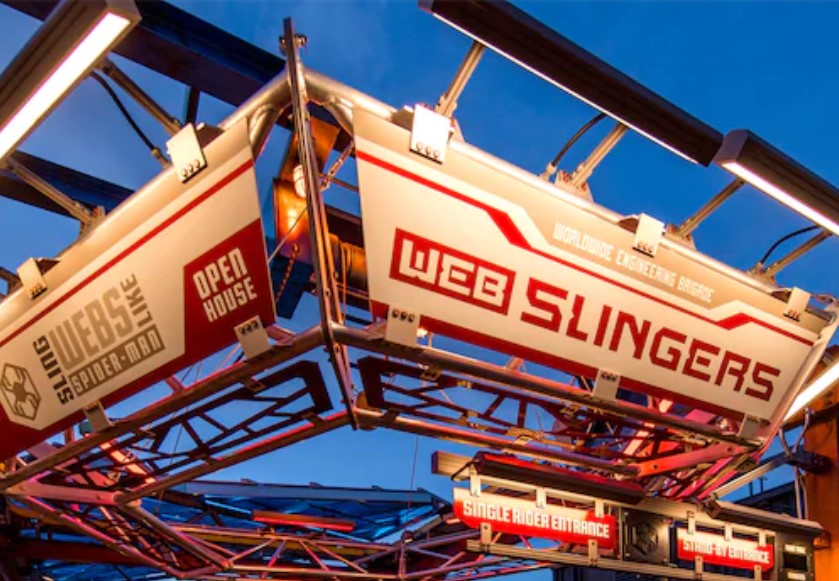 Guests can experience this ride without purchasing anything extra, but if you'd like to customize your web-slinging abilities, you can buy some cool new accessories. First, you can buy the WEB Power Band for $34.99 to get started. If you'd like to upgrade and use the abilities of  Spider-Man, Ghost-Spider, Iron Man, and Rescue, you can buy add-ons for $29.99.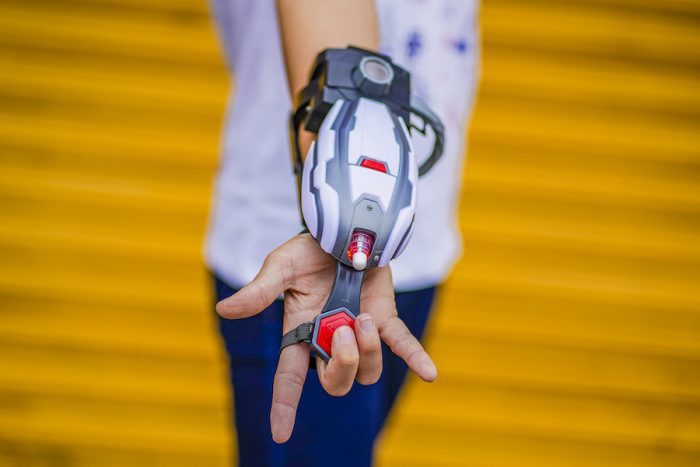 But what's the difference between doing the ride with and without these additional purchases? Today, we're hopping on WEB Slingers to find out!
Riding With vs Without the Power Bands
Whether you wear the Power Band or not, each guest on the ride performs the same web slinging motions in order to shoot webs and score points. By the end of the ride, EVERYONE'S arms will be a little tired, trust us.  The Power Bands give you some cool abilities, but we would have had just as much fun without the Power Band!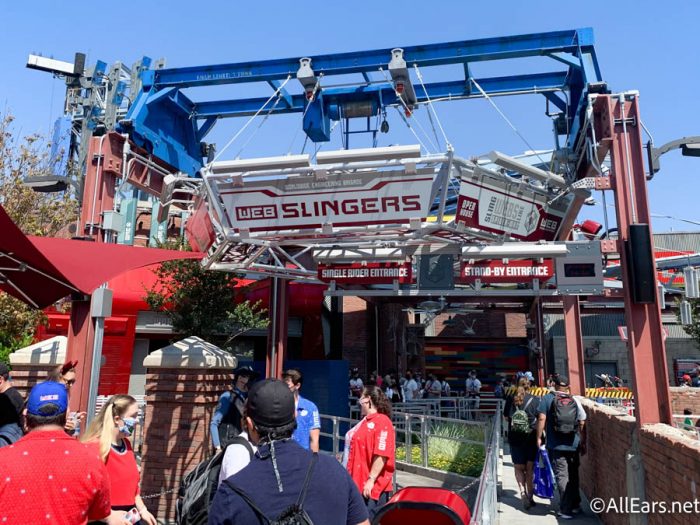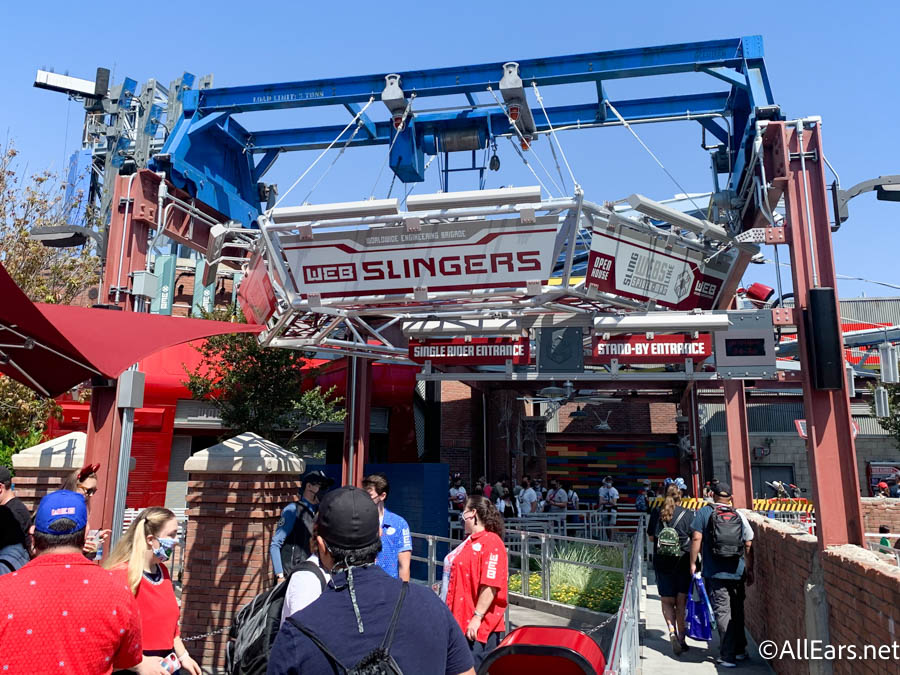 One big thing we noticed is that your arms move pretty fast during the ride, and the Power Band started to bother us about half way through the ride — we may have been more comfortable if we didn't have the Power Band on.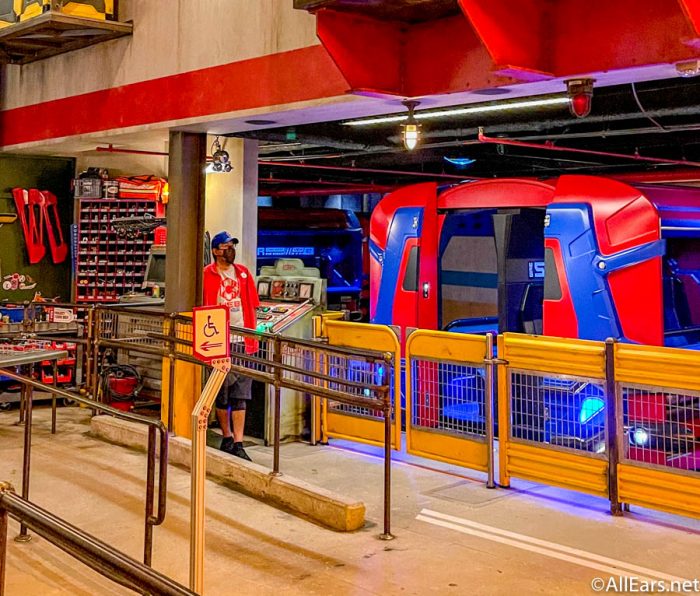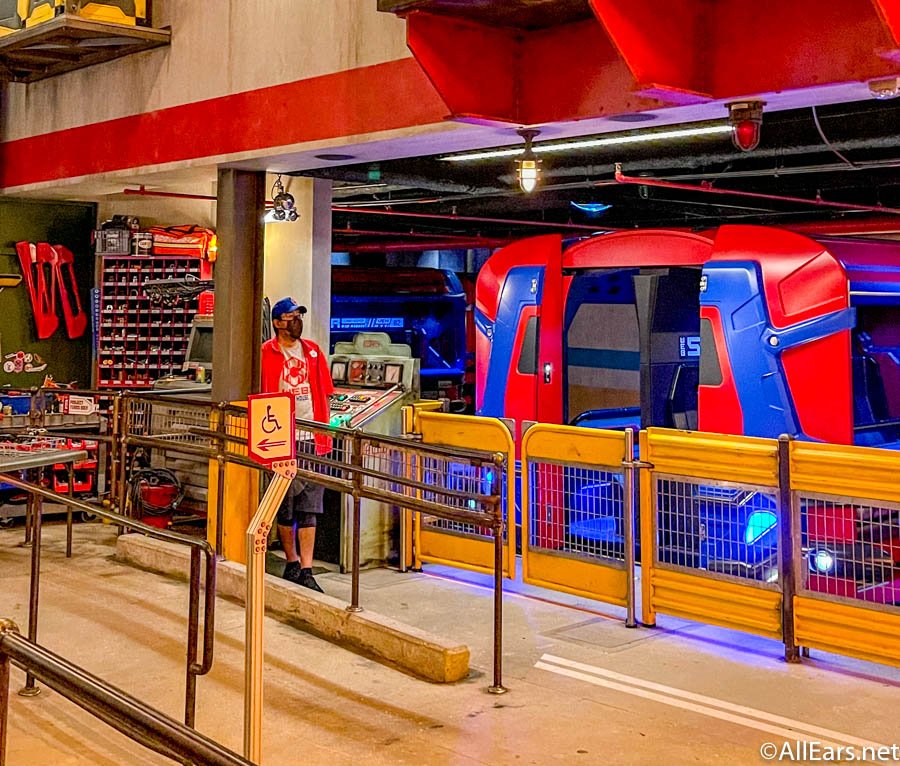 In the end, we couldn't tell a huge difference during the ride our first time through between those with and without the Power Bands on. This may become more apparent as we continue to ride and learn more about the unique techniques and capabilities of the Power Bands and all of the add-ons, but we really only thought about what difference $60 made once we looked at our score at the end of the ride.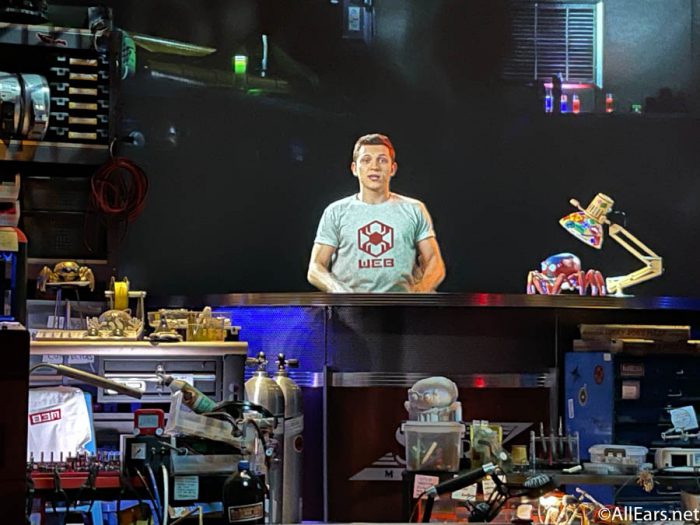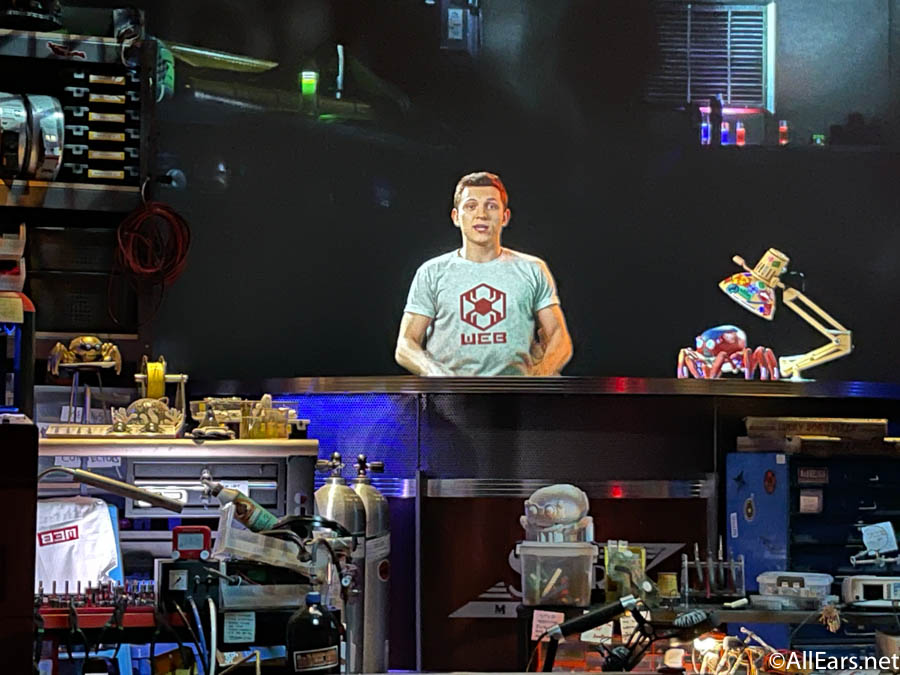 So, the importance of your score is definitely a determining factor in whether or not it's worth it to invest $60 before hopping on WEB Slingers!
Are the Add-Ons Worth it?
Is WEB Slingers itself better once you spend $60? No, not necessarily. Will your score go up? Probably! While the Power Bands and add-ons can definitely enhance your experience on the ride, ultimately spending $60 doesn't really make your time on WEB Slingers drastically different or more "fun." If the high score is what you're after, then you'll definitely want to stock up on these accessories.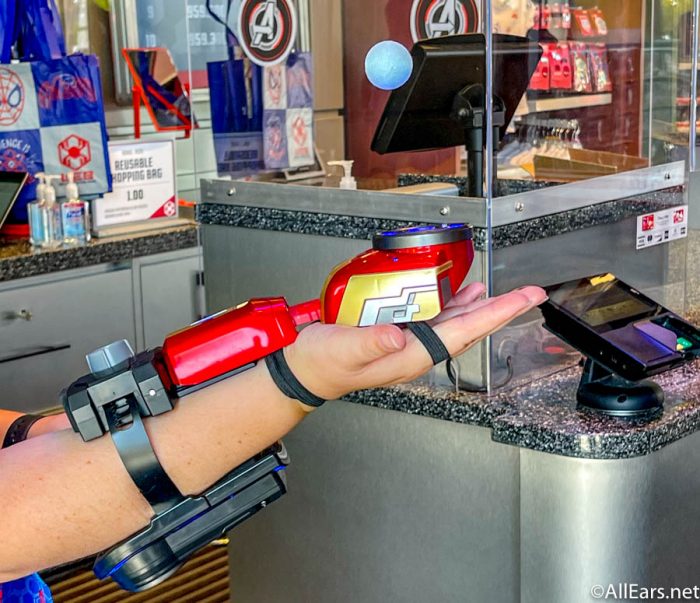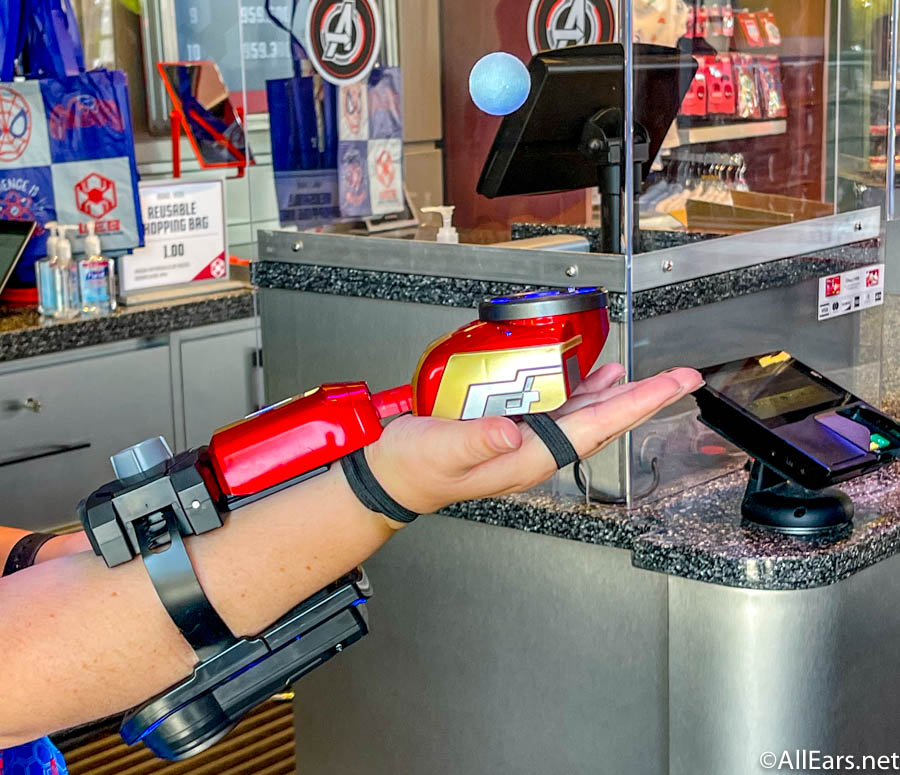 The ride is on the shorter side, and there's a LOT to take in while you're slinging webs. You may not even notice that you have the Power Band on in the first place! You'll still enjoy your time on WEB Slingers regardless of whether you have extra equipment or not.
There you have it, that was our ride experience! Stay tuned to AllEars for more updates from Avengers Campus!
Would YOU buy the add-ons to experience this ride?
Join the AllEars.net Newsletter to stay on top of ALL the breaking Disney News! You'll also get access to AllEars tips, reviews, trivia, and MORE! Click here to Subscribe!