There's been so much Star Wars: Galactic Starcruiser news recently that we feel like we've got a LOT of catching up to do, friends!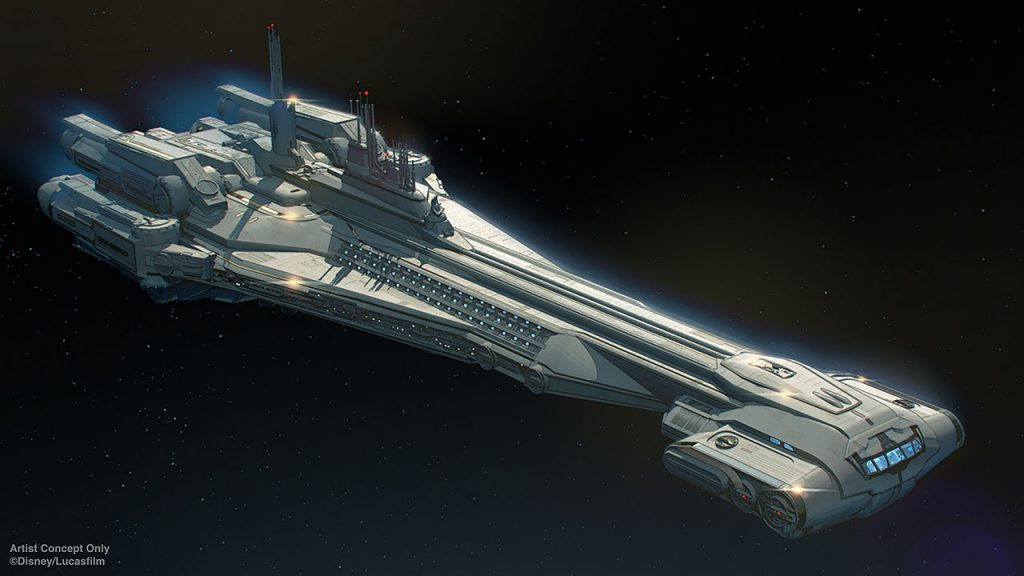 The new Star Wars hotel located next to Disney's Hollywood Studios will be more like a cruise with a two-night, immersive experience. And, we're breaking down EVERYTHING you need to know about the Galactic Starcruiser as Disney makes it a priority project!
Opening Date
While Disney originally planned for the Star Wars: Galactic Starcruiser to open in 2021, the grand debut has been pushed to 2022 instead.
Ahead of its opening, though Disney World has already put the Starcruiser on the My Disney Experience map! Guests can zoom in and explore features of the hotel, as well as see how close it will be to Star Wars: Galaxy's Edge.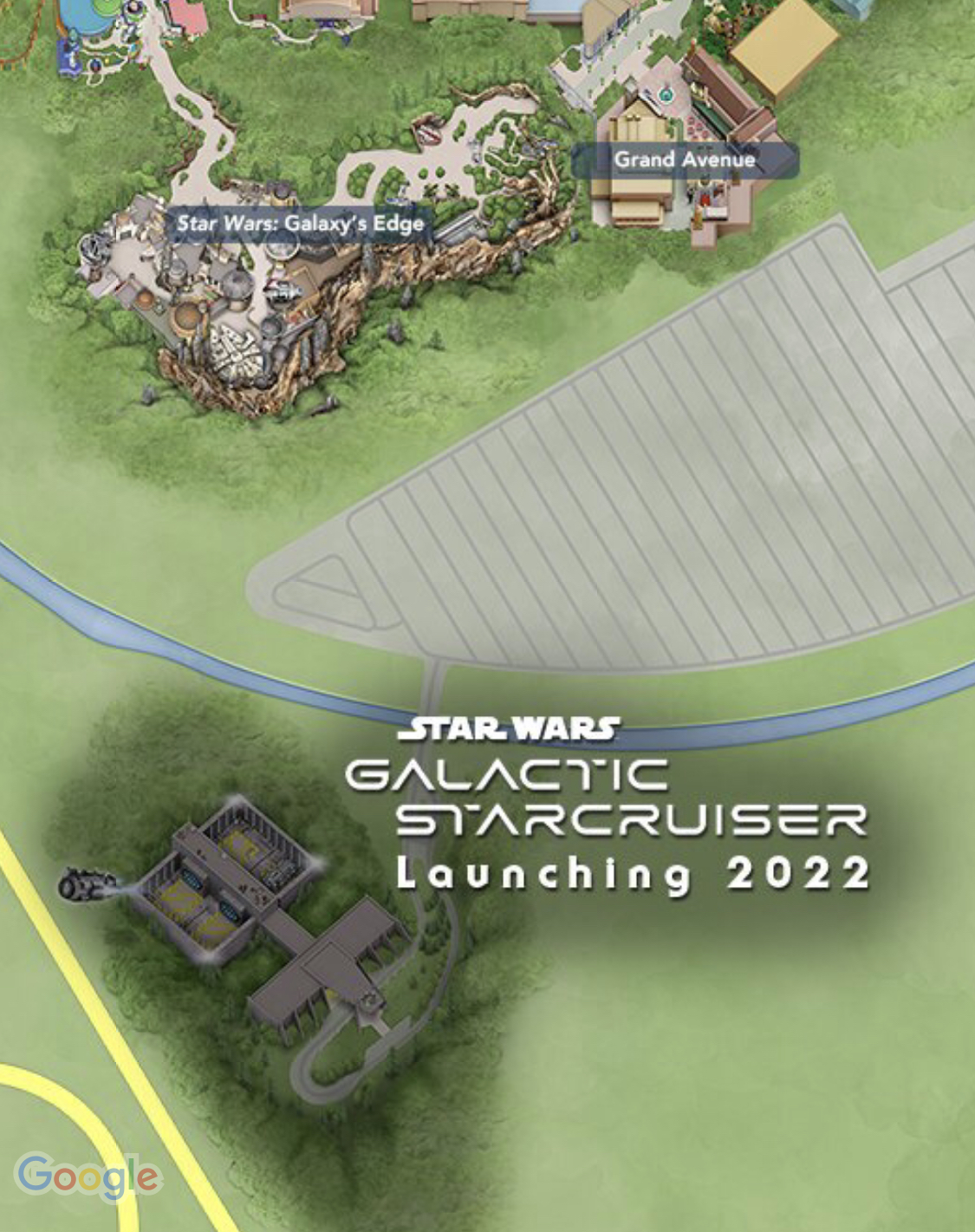 Guests can also visit the Halcyon model over at Walt Disney Presents in Disney's Hollywood Studios for a full view of the space craft they will be traveling on soon!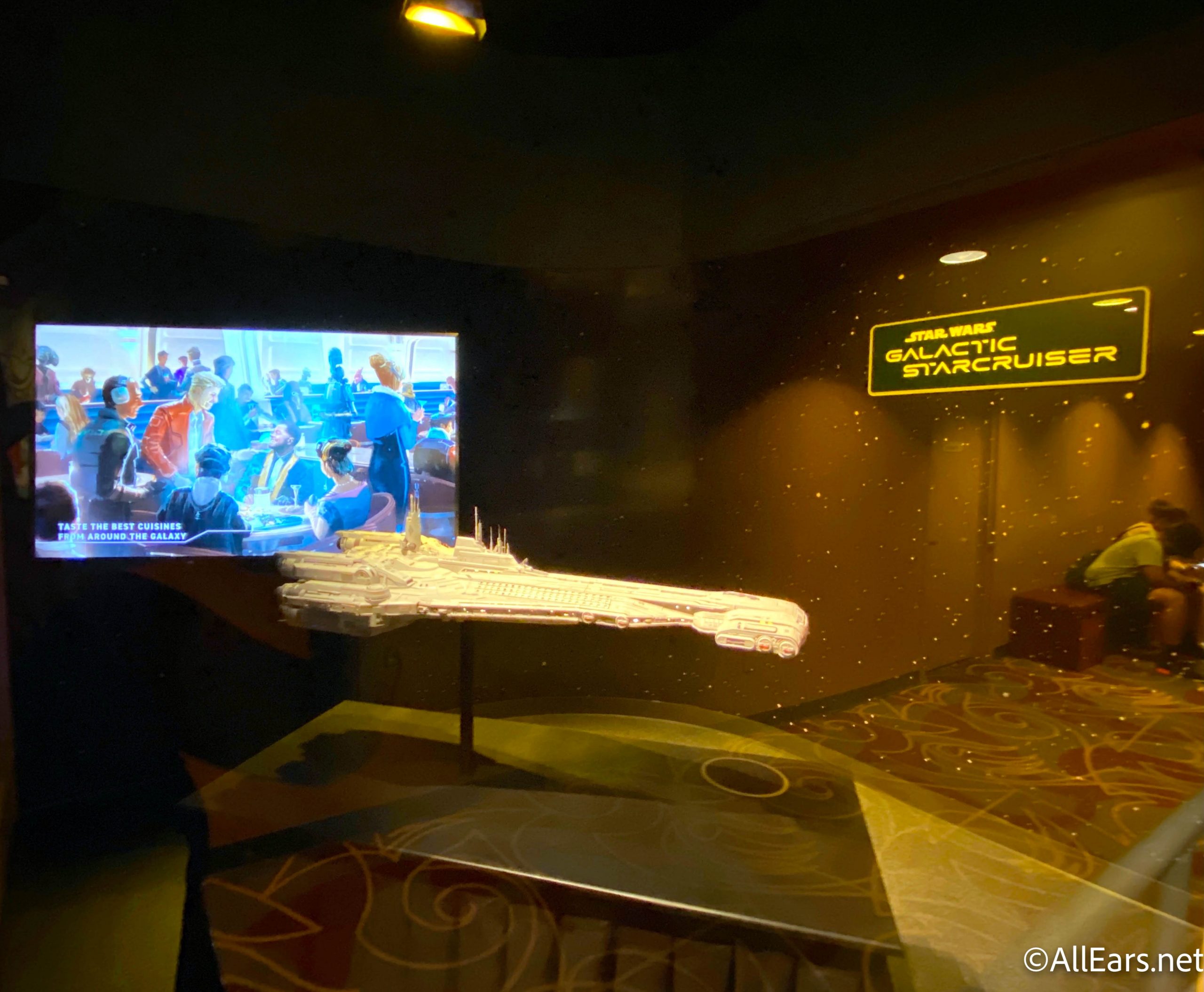 Entrance
Guests will first pull up to the transport area of the Star Wars: Galactic Starcruiser since they will need to be "flown" over to the actual Halcyon ship to start their journey.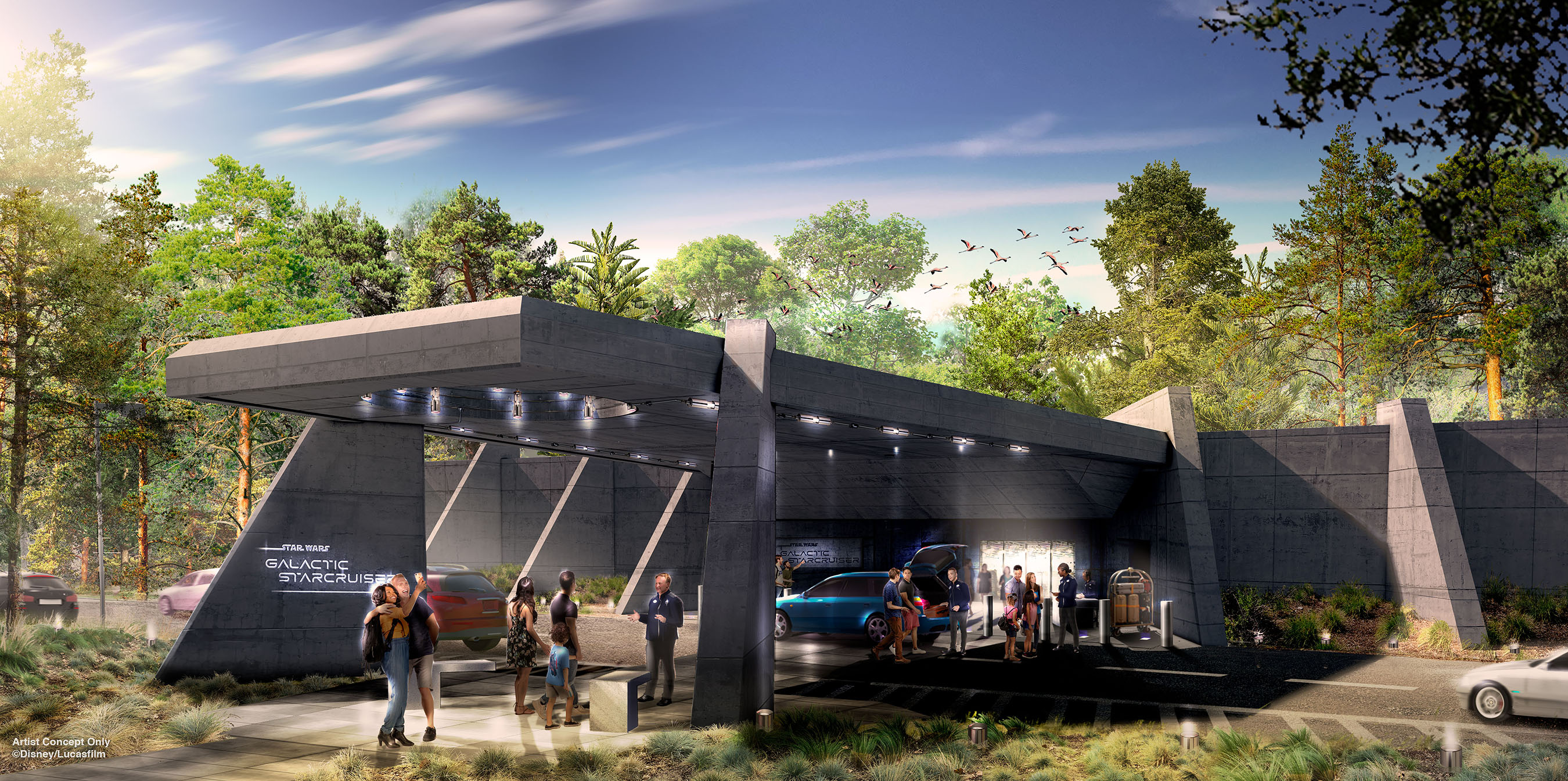 Families will be checked in before they board their "launch pods," which will give motion simulation that guests are actually moving through space.
Advanced technology screens like the ones we've seen used at the Millennium Falcon: Smugglers Run and Rise of the Resistance will also be incorporated for visual effects as well.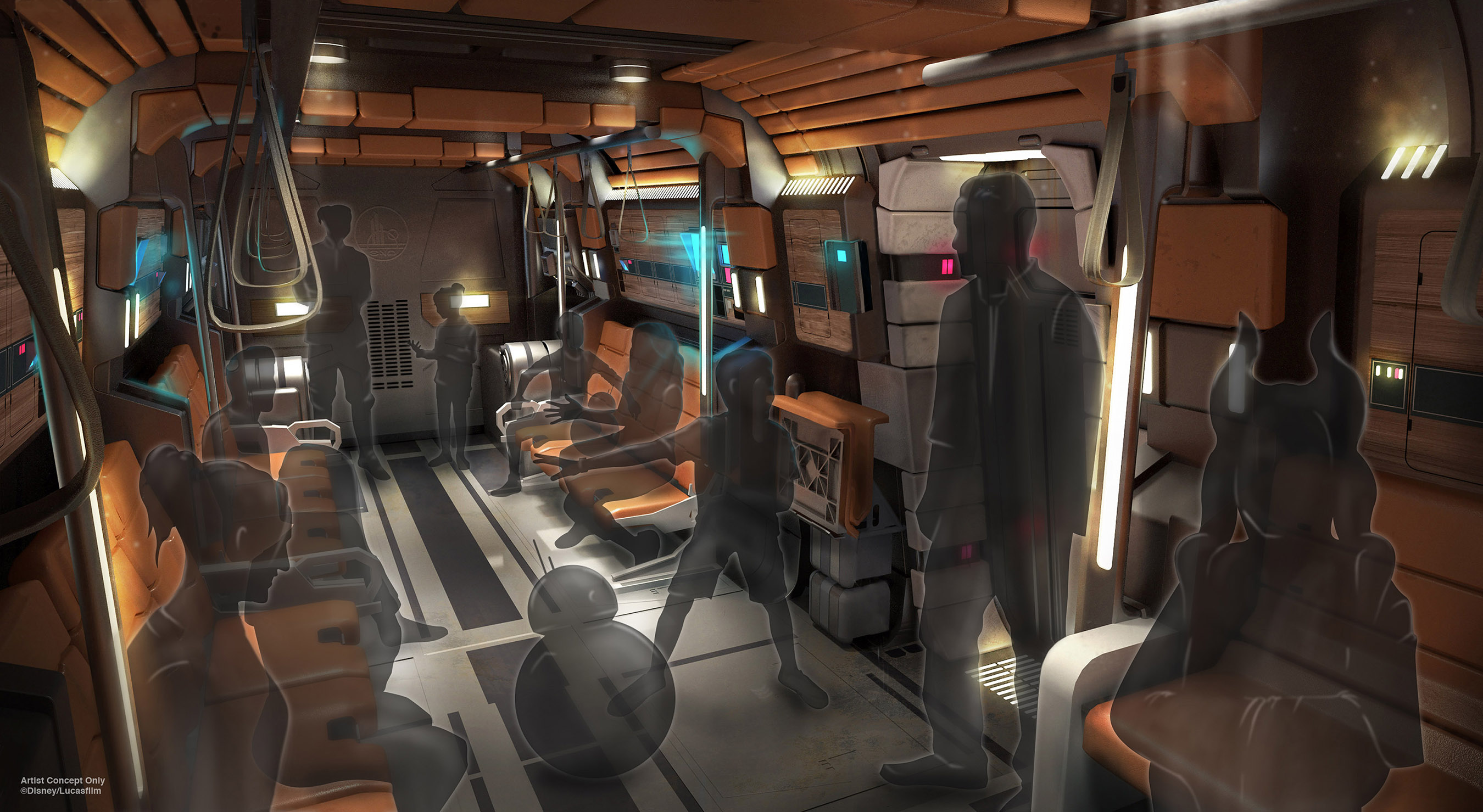 Rooms
Disney has FINALLY debuted a first look inside the staterooms of the Galactic Starcruiser! Families will feel like they are actually cruising through space as the "windows" have a view of space with a digital map to provide details about the journey as well.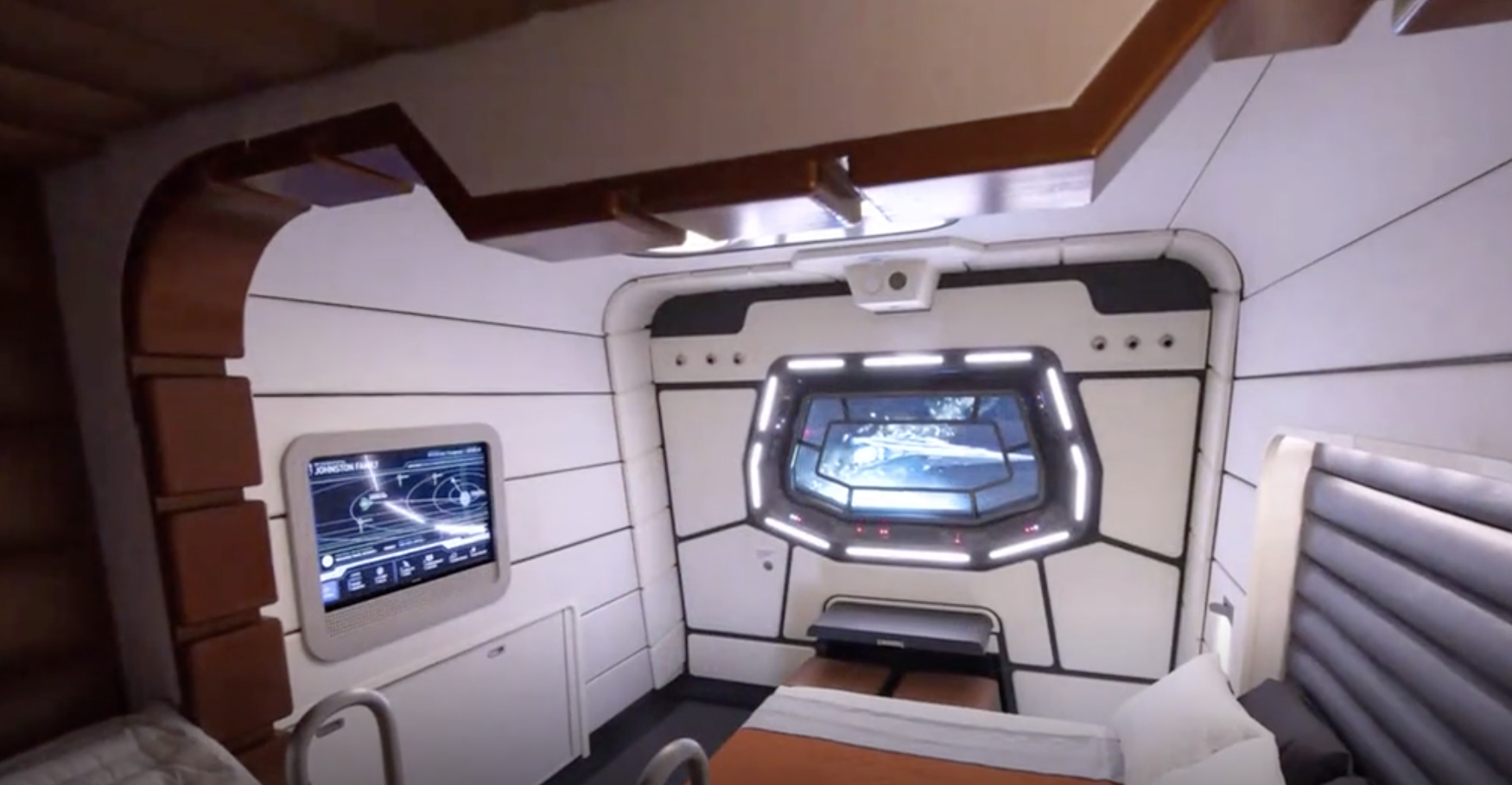 There will be bunk beds similar to pods on top of the master bed. Plus, the bedding will have the Galactic Starcruiser logo that will fully immerse you, even when you're relaxing.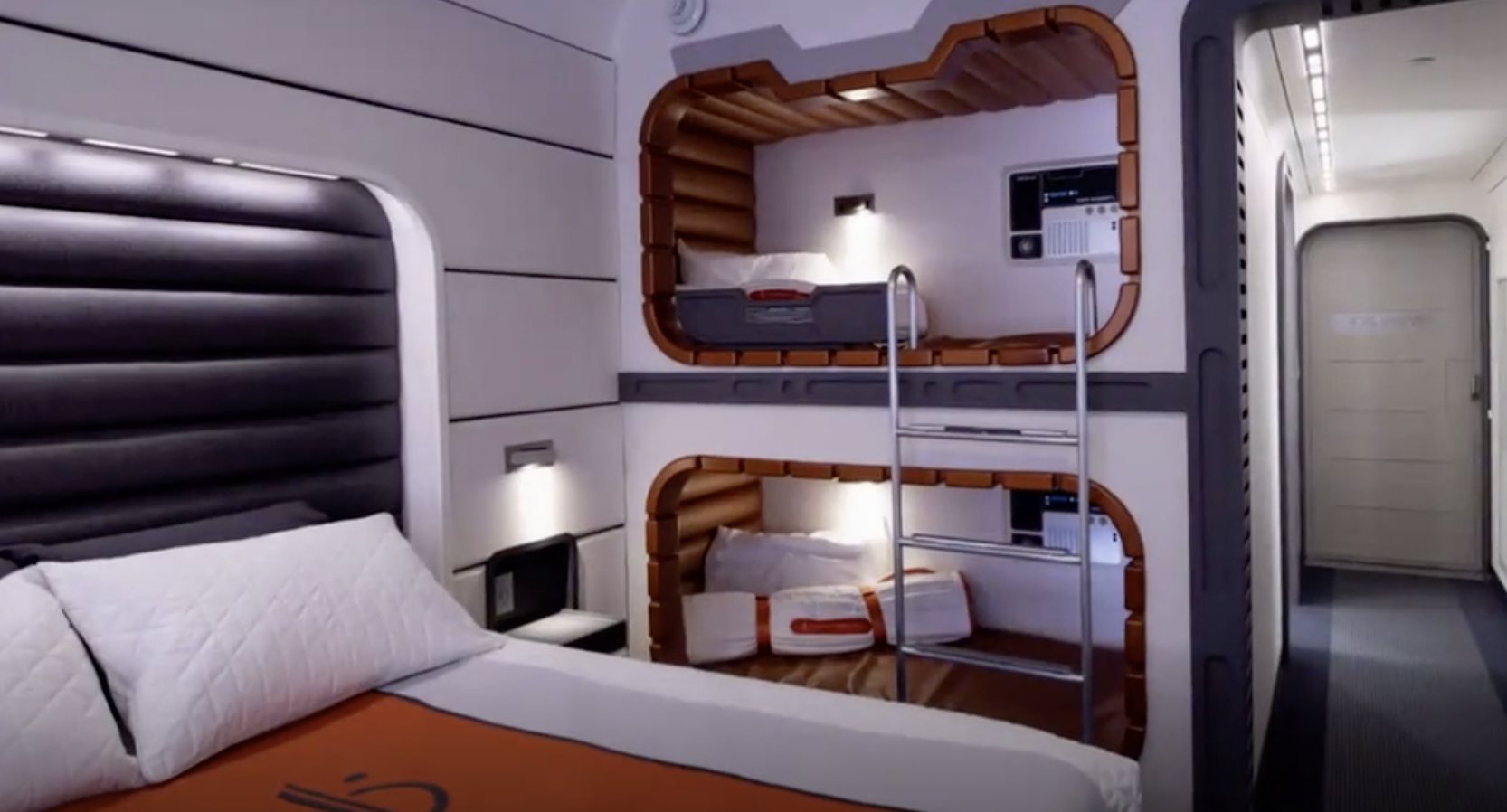 Anybody else SUPER excited for their stay in the Star Wars hotel now?!
Dining
Back in 2019, Disney previously announced that The Silver C Lounge would be a feature for guests of all ages. However, now Disney has updated its name to change it to The Sublight Lounge instead! There will be both a bar for adults, as well as game tables for families to interact together.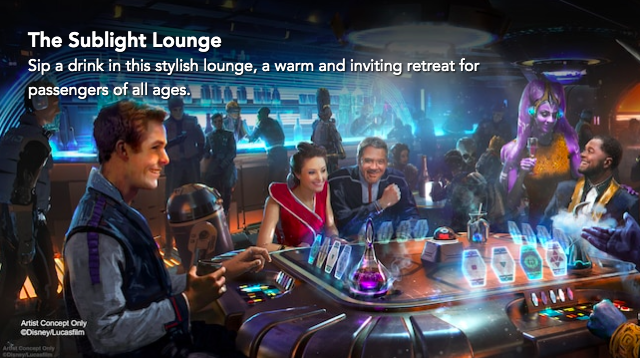 Along with the lounge, there will be a fantastic dining experience that is almost like a dinner theater show as well!
The Crown of Corellia Dining Room will feature both breakfast and lunch in an open hall before becoming a hot dinner spot with "a lavish multi-course menu of both otherworldly and familiar origins." During the dining experience, you'll even be able to watch a performance from one of the new characters aboard — a galactic superstar Twi'lek!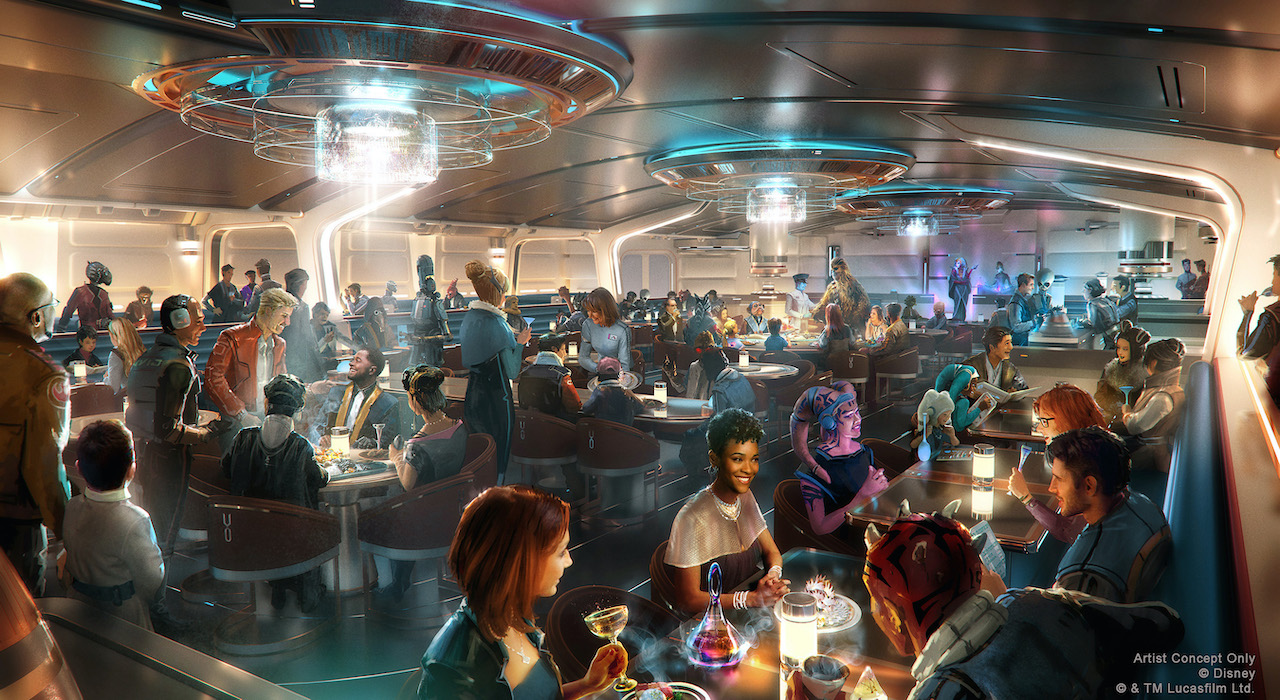 The name "Corellia" is inspired by the planet know for its shipyards that brought ups the Halcyon, as well as the Millennium Falcon.
Entertainment
When guests are staying at the Galactic Starcruiser, they will step into their very own Star Wars story. They will be making choices that affect the outcome of their Light or Dark Side paths. Everyone on board will interact with characters and locations to help their stories unfold. Yet, in the midst of those events, there are also various entertainment options around the hotel!
When guests first enter the hotel, they will gather in the main lobby, The Atrium. There will be seating, appearances from characters, and a main stage for performances throughout the day that are a part of passengers' stories.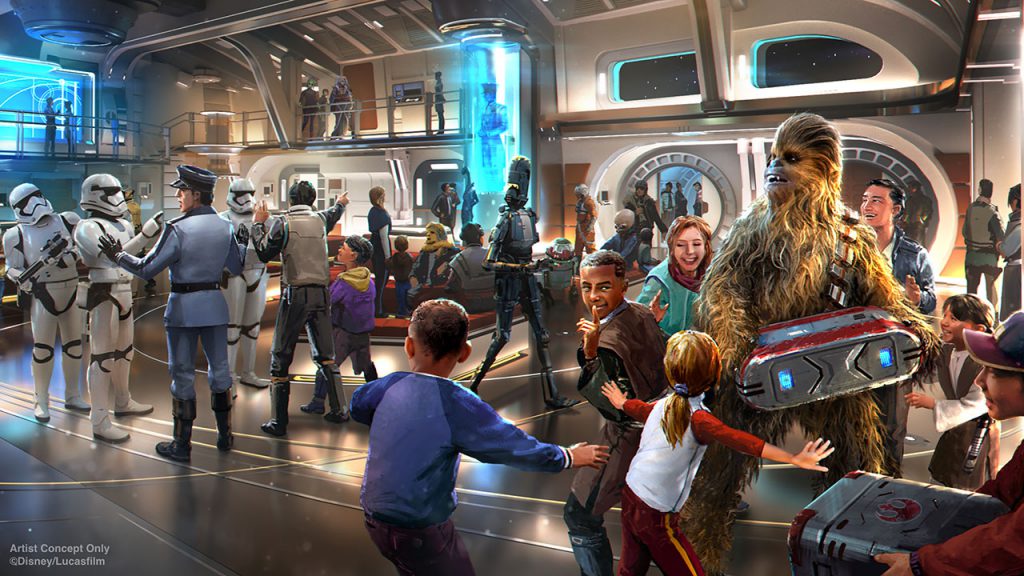 Guests can even operate the systems of The Bridge under the crew's guidance! The ship's navigation and defense systems are managed here, which will also be a battle station during a First Order attack.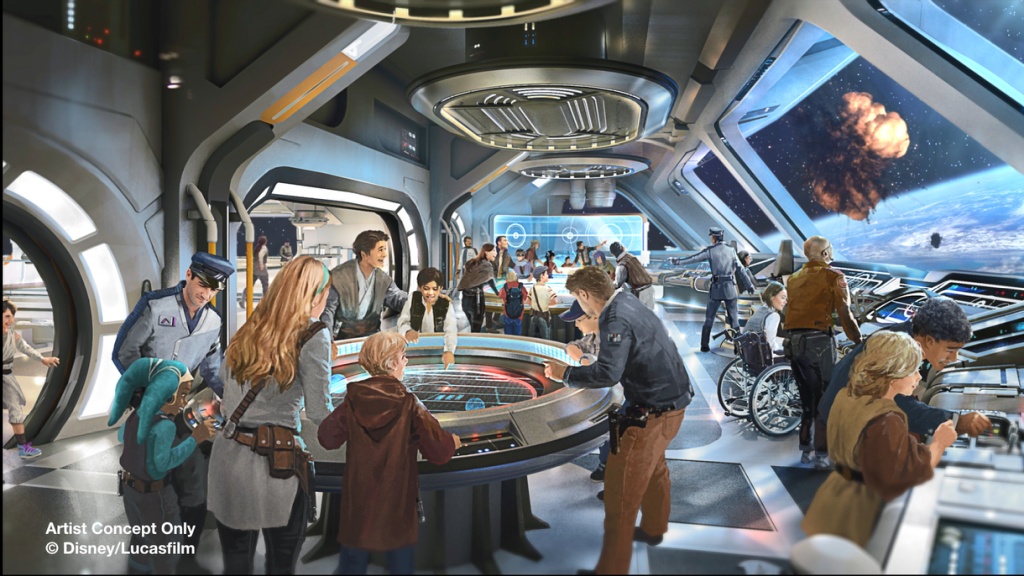 Plus, the Engineering Room will be a children's play area, where younger guests can crawl around and help perform maintenance on the ship's vital systems.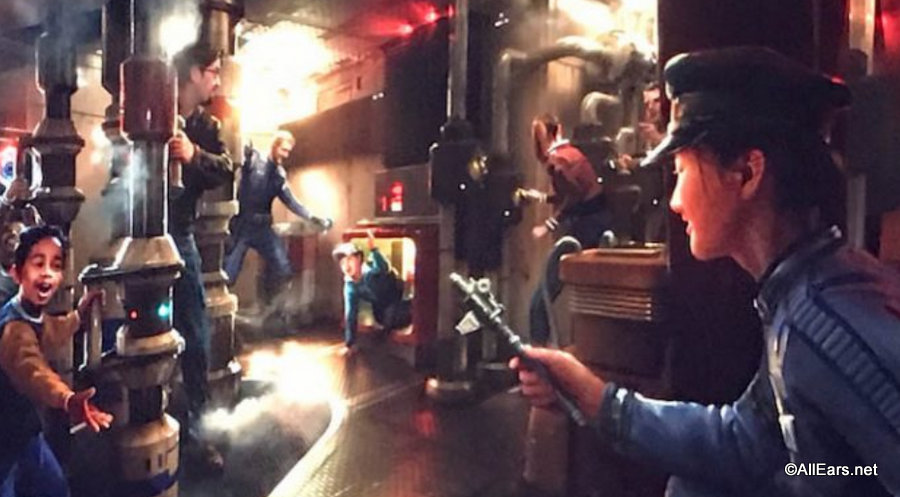 Guest can train with REAL lightsabers that will debut for the first time in Disney history…
…
possibly using the Force
over at the
Lightsaber Dojo
as they practice deflecting blaster bolts with a saber.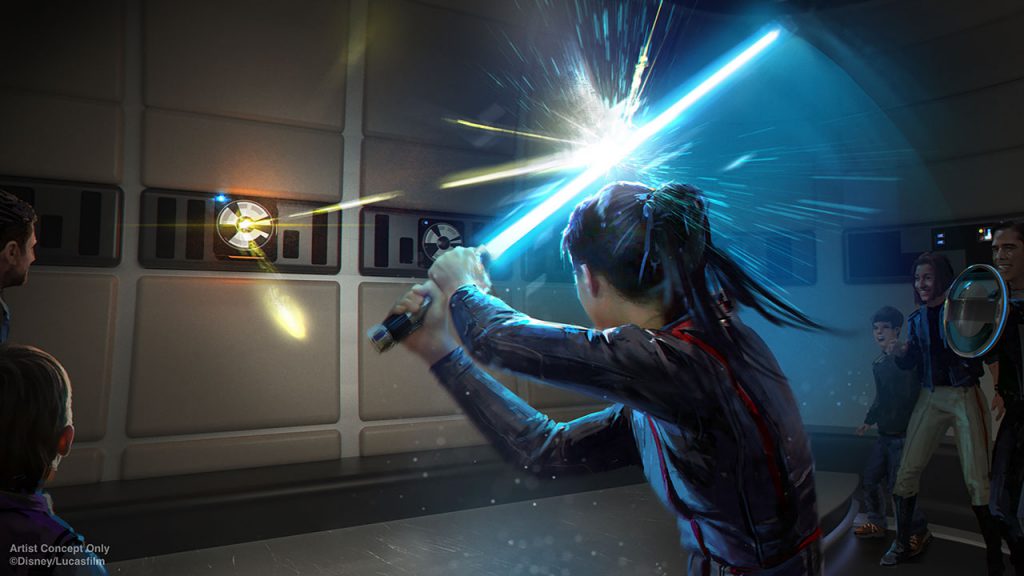 One day, guests will head into Batuu for a "port day" in Star Wars: Galaxy's Edge with a simulated landing the park. Batuuans will also respond to your actions performed on the ship to continue the interactive experience!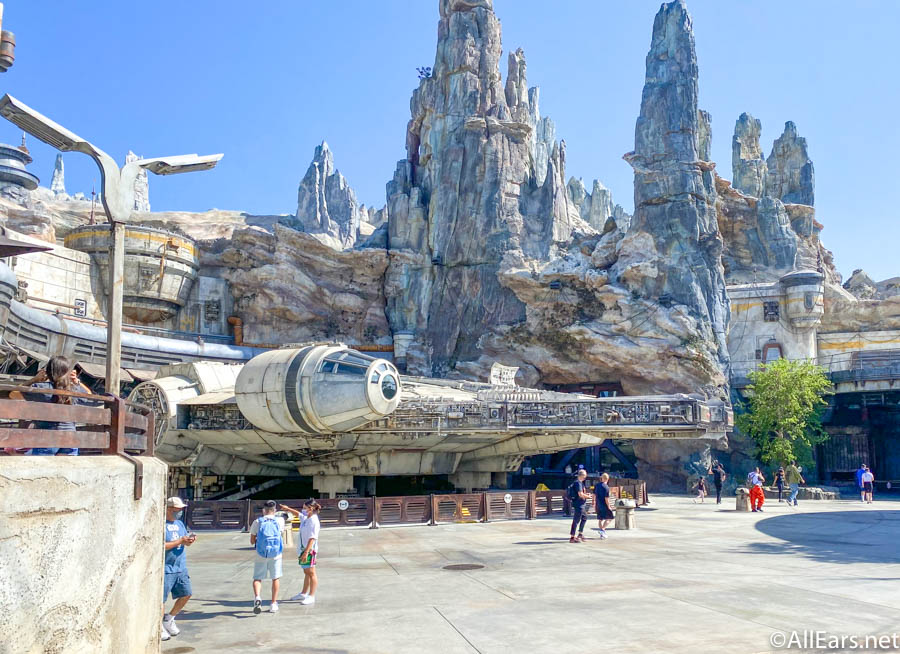 Characters
Disney has been on the lookout for people to join the cast of the Galactic Starcruiser! We recently noticed online that they are hiring the "Actors With Stunt/Combat Abilities" to play Kylo Ren and Rey.
So, that could mean we might watch an epic battle between the two Force-sensitive characters at some point during our voyage on the Halcyon!
There are also available roles as the Galactic Starcruiser's Captain, Cruise Director, Ship Mechanic, Fixer…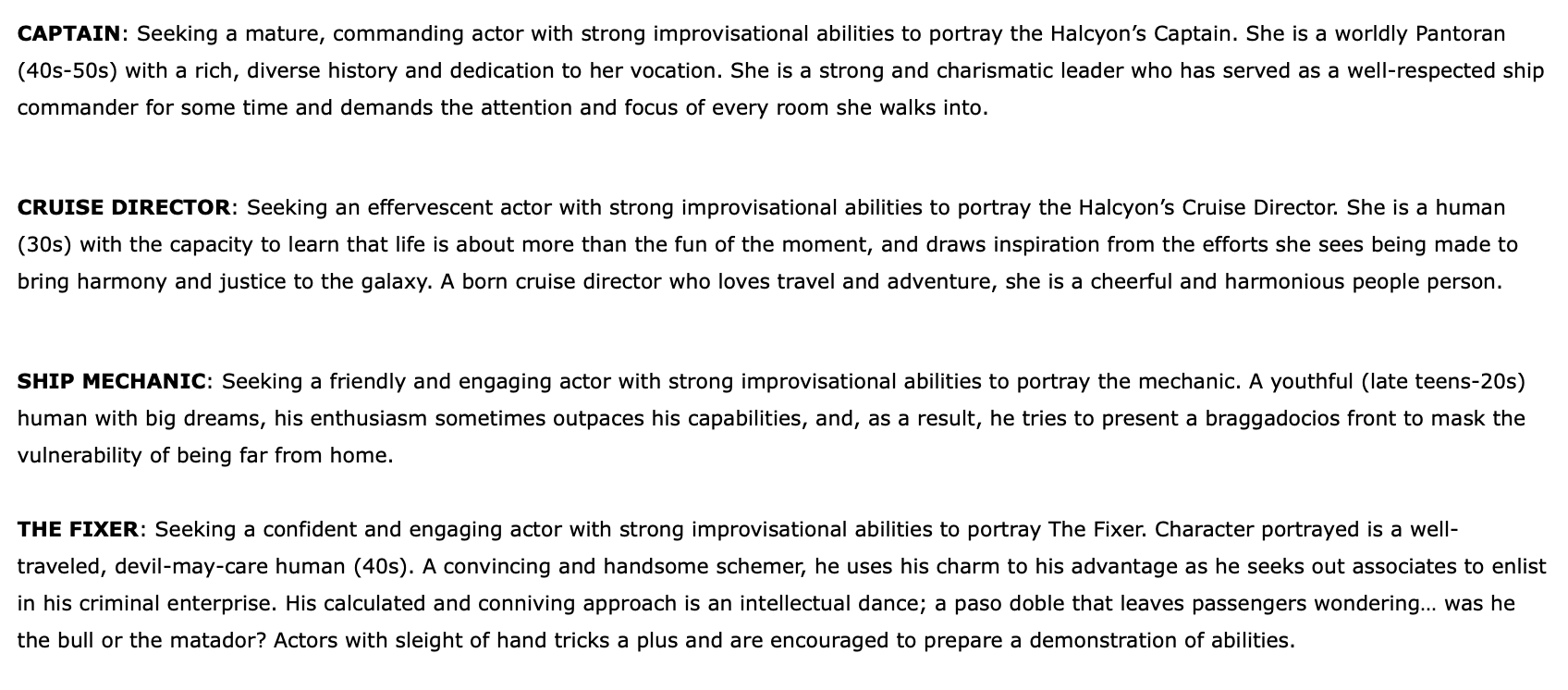 …First Order Lieutenant, and a Saber Trainer!
Actors with musical experience are also open to audition for the First-Time Cruiser and Galactic Superstar too!
Submissions for all of these job listings will be accepted through May 21st, 2021.
As more details about the Star Wars hotel are revealed, we'll be sure to update you on everything you need to know! Stay tuned with All Ears for the latest Disney news!
What are you looking forward to seeing the most at the Star Wars hotel? Let us know in the comments below!