The first release in Marvel Cinematic Universe's fourth phase, WandaVision, will debut on Disney+ this Friday, January 15th!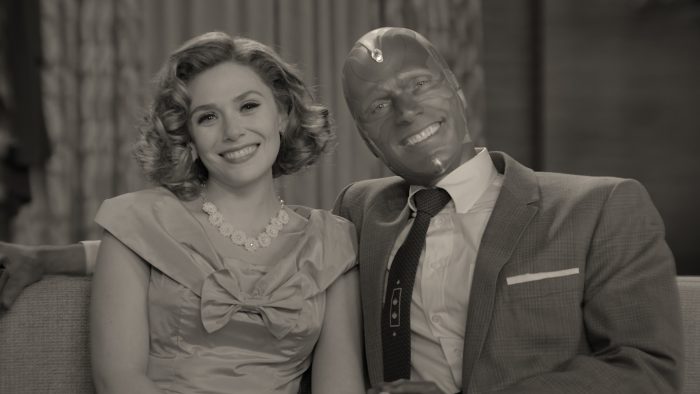 Ahead of the back-to-back episode premiere, D23 shared some behind-the-scenes information on how this new series is brought to life, and what we can look forward to every Friday!
WandaVision certainly seems to be a mind-bending series in more ways than one! We'll need to wait until the show arrives to really see how this unique combination of the past and present will flesh out, but what we DO know is that WandaVision was inspired by several beloved sitcoms of the 1950's, 60's, and 70's, including I Love Lucy, The Dick Van Dyke Show, I Dream of Jeannie, and Bewitched! Elizabeth Olsen (Wanda Maximoff) also shared that she was inspired by Lucille Ball with all the physical comedy that we'll see in WandaVision.
It sounds as though as the episodes evolve, so will its approach to comedy and the shows by which WandaVision was inspired. The first couple of episodes will reflect more of the comedy style seen in the 1950's, and was even filmed in front of a live studio audience. Once you reach the 1960's, however, television sitcoms began to be filmed like movies, with the live audience removed and canned laugh tracks put in its place. This will all be reflected in WandaVision!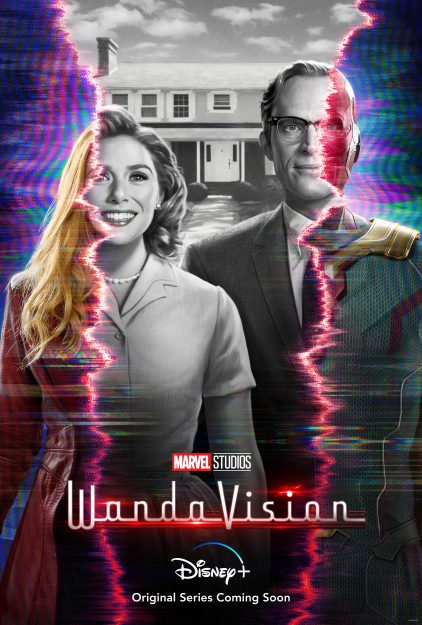 Another show of that time period was a big influence on WandaVision: The Twilight Zone. When Wanda and Vision begin to sense that something is "off" about the world they live in, the tone of the show changes from those comedic-style sitcoms to something akin to that which is found "beyond the fifth dimension." Director Matt Shakman noted, "We were thinking about, 'What were the period shows that addressed the odd and the strange, and how could we embrace that?'"
The eras in which these sitcoms were produced inspired WandaVision is even more ways than that! To stay as authentic as possible, many practical effects were used in lieu of CGI or more modern-day effects. Elizabeth Olson commented, "To watch our special effects team—who usually blow things up, set things on fire, and create wind and smoke—these guys became like puppeteers of things floating in the sky and dealing with magnets and different ways to make things spin. It was just so incredible to watch our special effects team adapt to the era specific ways of creating these practical effects by doing the research."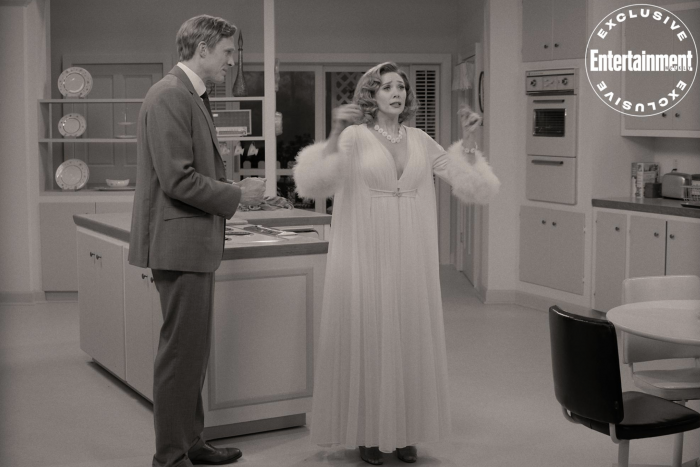 The show, of course, brings back fan favorite characters Wanda Maximoff and Vision to the small screen, after Visions' tragic demise in Avengers: Infinity War. In true MCU fashion, WandaVision will surely play with the timeline in new and interesting ways, which was helpful in Paul Bettany's portrayal of Vision. He commented, "He's [part] J.A.R.V.I.S., he's part Ultron, he's part Tony Stark. He's omnipotent, but he's also this sort of naïve ingenue."
In addition to being reunited with Wanda and Vision, we'll have some new (and somewhat new) faces joining the MCU family. We'll meet a grown version of Monica Rambeau, first introduced in Captain Marvel, played by actress Teyonah Parris. We'll also be introduced to Wanda and Vision's nosy neighbor Agnes, played by Kathryn Hahn.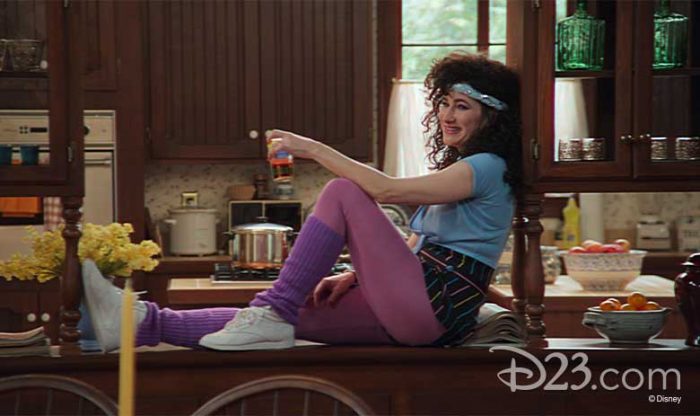 And of course, in true MCU fashion, WandaVision will be full of Easter Eggs! Be sure to keep your eyes peeled, especially during the "commercials." Tons of references will be made across the MCU, from HYDRA to Stark Industries.
Will you check out WandaVision when it arrives to Disney+ on January 15th? Let us know in the comments!
Join the AllEars.net Newsletter to stay on top of ALL the breaking Disney News! You'll also get access to AllEars tips, reviews, trivia, and MORE! Click here to Subscribe!