We love talking about our favorite Marvel characters — there are so many to choose from, it's hard to pick a favorite!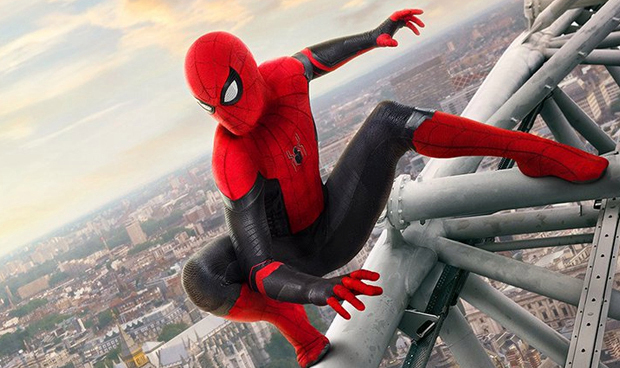 We also love sorting our favorite things based on their enneagram type — so far we've taken a deep dive on Disney attractions, characters, and Harry Potter faves! So it's only natural we examine the Marvel characters and match them with their enneagram types as well! How else will you know your enneagram twin?! This is obviously very important. 😉
Let's find out which Marvel character you are most like based on your Enneagram Type!
Type One: The Reformer/Perfectionist
Type Ones are principled, idealistic, self-controlled, and purposeful — sounds like Captain America to us! Honestly, is there ANYONE more idealistic or principled out there?
In the later movies he does tone down the self-righteousness a bit, but he always remains self-controlled — just think about how long he holds out for Peggy. No one believes in the good of the world or his friends (helllllo Bucky) quite like Cap, which makes him the perfect Type One twin.
Type Two: The Helper/Giver
Type twos are caring, generous, and people-pleasing. Sounds like our friendly neighborhood Spider-man to us!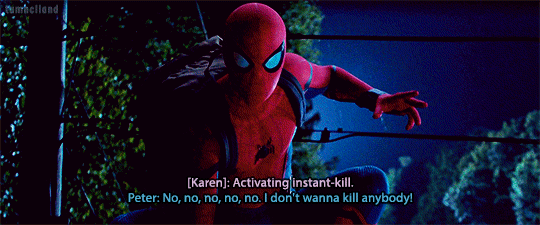 Spider-man wants more than anything to help — whether that be Mr. Stark, the other Avengers, Ned, or his neighbors. He's always introducing himself and wants everyone to like him — think about the airport battle when he's trying to make friends with everyone, even those not on his side.
Also…he introduced himself to a cape. Classic Type 2.
Type Three: The Achiever
Type Threes are successful, driven, and image conscious. You could argue that this describes many Marvel characters but none as much as Iron Man!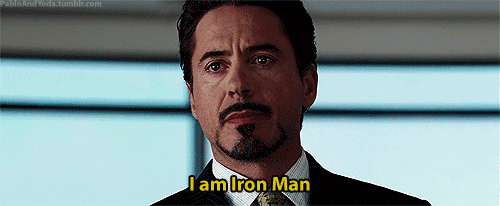 Tony Stark is arrogant and very aware of his image, both as a tech billionaire and Iron Man. He is SO successful and driven — always pushing himself and his suits to be the best possible. He literally won't rest until he figures out time-travel and saves the world.
Type Four: The Individualist
Type Fours are sensitive, temperamental, dramatic, and withdrawn. Sounds like Scarlet Witch to us!
Scarlet Witch is very sensitive — think of her plotline with Vision. She doesn't want to kill him, and it destroys her when she must for the Stone. She can be a bit moody and dramatic as well, making her a spot-on Type 4.
Type Five: The Investigator
Type Fives are perceptive, cerebral, innovative, and isolated. This immediately reminded us of a certain, big, green someone. That's right — the Hulk! (Well, Bruce Banner at least.)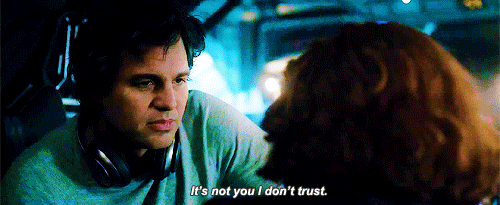 There's no question that Bruce is one of the most brilliant and smart Marvel characters. His inner battle with his alter-ego causes him to retreat and isolate himself, but it also pushes him to innovate new technology and research, making him your Type Five Twin!
Type Six: The Loyalist/Skeptic
Type Sixes are committed, engaging, responsible, and anxious. They are focused on security and can be skeptics of the world around them. Type Sixes can be hard to match — but we thought about Black Widow!
No one is as committed to keeping the Avengers together and working in End Game as Natasha. She also has a very engaging personality, which works well for her friends and poorly for her enemies. Natasha also bears an incredible responsibility to right the wrongs of her former life and is anxious to do so.
Type Sixes, meet your queen!
Type Seven: The Enthusiast
Type Sevens are fun-loving, spontaneous, versatile, and distractible. Sounds like our pal Star-Lord!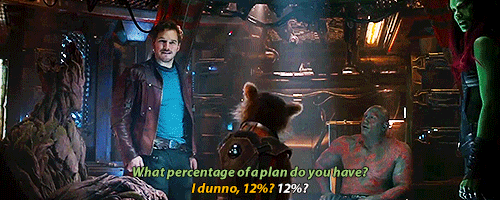 No one has more fun than Star-Lord and the Guardians, always jamming out to great music on the Milano. He wants to have a good time — but also he spontaneously ruins everything in Infinity War (whoops.)
Type Sevens just wanna have a good time and are generally well liked and fun to be around. We gotta say we'd love to hang with Star-Lord and the rest of the Guardians!
Type Eight: The Challenger
Type Eights are powerful, confident, dominating, and confrontational. We think this is a perfect fit for our girl, Captain Marvel!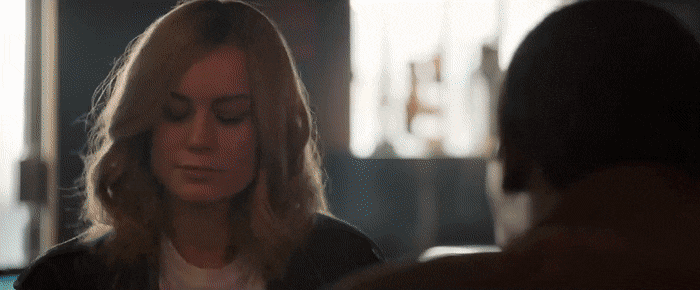 Captain Marvel is very self-confident ("Because before, you didn't have me.") and confrontational. She is READY to fight and dominates the battlefield. Not to mention she is the most powerful Avenger!
Type Nine: The Peacemaker
Type Nines are easygoing, self-effacing, receptive, and reassuring. They want everyone to get along and want to resolve conflicts. We think this is a perfect fit for Black Panther!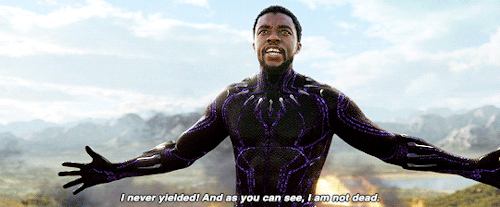 King T'Challa is powerful and a brilliant warrior, there's no question. But he would choose peace over battle every time — he convinces M'Baku to surrender because he doesn't want to kill him, and he even tries to save Killmonger in the end.
Type Nines, enjoy your twin! Wakanda Forever!!
What Enneagram Type are you? Do you agree with our picks? Let us know in the comments!
Join the AllEars.net Newsletter to stay on top of ALL the breaking Disney News! You'll also get access to AllEars tips, reviews, trivia, and MORE! Click here to Subscribe!

For more on the enneagram types described above, click here.