Well HELLO there! Molly here!
I am watching all of the Marvel movies for the very first time (soooo late to the party, I know!) and today it's time for Thor: Ragnarok!
I have heard nothing but good things about this one from readers and friends — which is great considering how boring the first two Thor movies were. (Sorry, not a big Jane fan. Also, not sorry.)
Are you ready to rumble? I am…and you know what that means — it's HAMMER TIME!
88 Thoughts I Had Watching Thor: Ragnarok for the First Time
1. Are we in the Upside Down?
2. HELLLLLLLO Thor.
3. That guy looks like the Balrog from LOTR.
4. LOLOL at Thor slowly turning. This is already way funnier than the other two.
5. OH OK SOUNDTRACK. Who do you think you are? Guardians??
6. "I'm particularly fond of these. I pulled 'em out of a place in Midgard called Tex-as." HAHAHAHA
7. I feel like I know this Skurge guy… *checks IMDB* well, speaking of Lord of the Rings…how are you EOMER?!
8. A LOKI STATUE?! Does that mean we are getting "Loki" this film??
9. Wasn't Loki posing as Odin at the end of the last Thor? Didn't they say Odin is missing at the end of Doctor Strange, and also literally just now? I'M ONTO YOU LOKI. (I think.)
10. LOKI!!!!!!!!!!!!!!! Never thought I'd miss you but SO glad to see you again.
11. Not mad about either brother in street clothes. Just saying.
12. Jane dumped you?? Jane is a fool, but also, I hope that means there is no Jane in this film.
13. Wait, was that Doctor Strange?! *waits 3 seconds* Well that's his address so…yes. Didn't expect him to show up! Even though he's not my fave, I do love a team-up.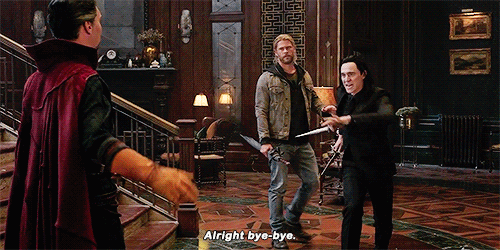 14. I've seen this scene before??? (Flashback to Doctor Strange end credits scene.)
15. LOL at Thor wrecking Strange's house.
16. Odin just staring at the water, cliff-side, a la Ron Swanson at the end of the London Episode.
17. A sister?!! She doesn't sound pleasant.
18. I love that the hammer is an umbrella when he wants to be subtle. Like Hagrid.
19. CATE BLANCHETT IS IN DA BUILDING!!!! This is just a Lord of the Rings reunion!
20. OMG she destroyed the HAMMER?! It is no longer Hammer Time.
21. Oh no, Loki and Thor have both fallen off Rainbow Road.
22. Blonde Flynn Rider! I didn't think we'd get you this one. And now you're dead. (I wonder how much they paid Zachary Levi to be in this movie for 5 seconds?)
23. Is Thor on that horrifying trash island in the middle of the ocean???
24. Who is in this dope spaceship?!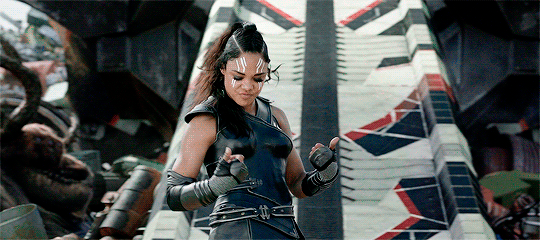 25. Well, she captured Thor.
26. Hela pulling her hair back into her war helmet, is every girl pulling their hair back to do another mile on the elliptical.
27. She's pretty legit. I am sad she murdered all of Thor's buddies though.
28. "What the hell?" Thor, also me RN
29. Oh. My. Chaos Theory…..IS THAT DR. IAN MALCOM I SEE???!!
30. Jeff Goldblum as this kinda evil, but totally chill, blue-eyeliner wearing DJ is perfect. Did he write this role himself?!
31. "You don't need to be afraid, unless you're made of scissors." I have just met you, and I already love you rock monster.
32. BAD GUY (er, lady) MONOLOGUE AND BACKSTORY TIME.
33. Unrelated, but WHAT IS CATE BLANCHETT'S SKINCARE ROUTINE?! I bet she has the same one as Paul Rudd. Is this what they talk about at the Marvel gym I still hope exists?!
34. Hela using her powers to bring back her dog is EXACTLY what I would do.
35. This movie is SO much better than the last two. I'm not saying that's because Jane isn't in it…but also, that's probably not a coincidence.
36. STAN LEE!!!! Cutting Thor's hair LOL.
37. HELLO THOR'S NEW HAIR CUT. Who must you battle in the hunger games?
38. THE HULK?!?!?!?!?!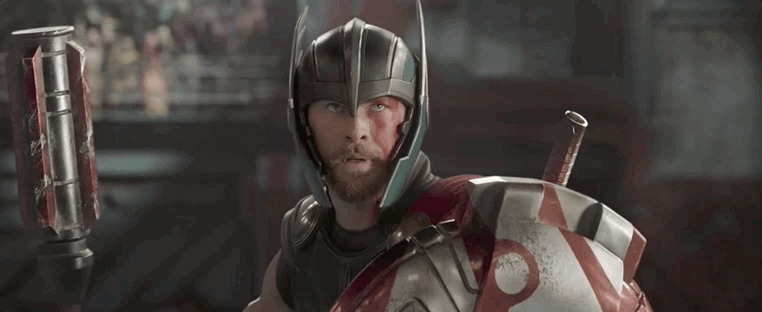 39. "He's a friend from work." LOL. (Author's note: a friend told me later that this line came from a Make a Wish kid who was visiting set, which makes it even sweeter. Read the story here!)
40. HAHAHHAA just as they were doing the dumb Bruce / Natasha hand thing…Hulk smacks him.
41. Wow, what a "to be continued" with the Hulk/Thor fight.
42. Cate is evil, but I gotta appreciate her energy.
43. Oh Em GEE!!!!!!!! IDRIS ELBA!!! He has a real Strider/Aragorn vibe.
44. Is this just Lord of the Rings?!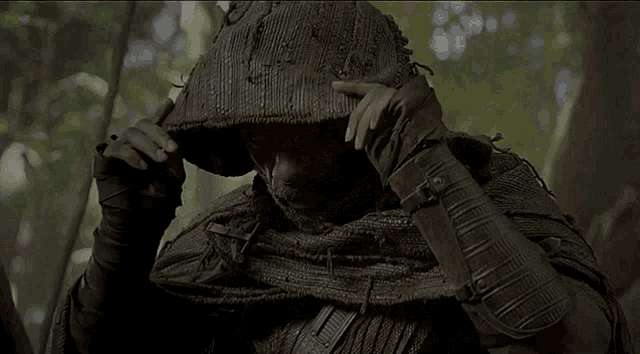 45. TEE HEE. Hulk butt. (I'm 6 years old.)
46. IDRIS ELBA and THOR TEAM UP!!! Into it.
47. "We call you the stupid Avenger." "You tiny Avenger!" HAHHAHA I love these insults.
48. "Another family squabble…" INTERESTING.
49. HAHAHHAHAH when he hits himself with the ball. This movie is v. good.
50. "Strongest Avenger." LOL.
51. Ugh didn't want to bring back the Bruce/Natasha forced romance again, but here we are.  I guess this movie had to have ONE fault.
52. HEY Mark Ruffalo. Glad to have ya back.
53. The image of Hulk illuminating over Bruce's face.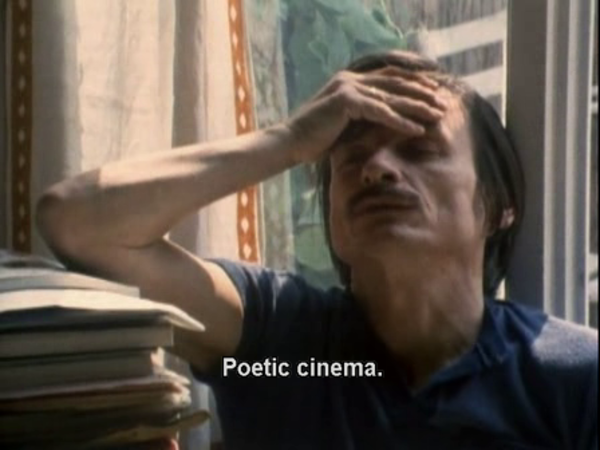 54. "Seductive GOD of Thunder." This movie is so great.
55. Okkkkk Loki and Valkyrie chick, stop fighting and team up with Thor already.
56. "How many PhD's does Hulk have? ZERO." HAHHAA I am enjoying the internal warfare happening inside Bruce.
57. I very much like this flirtation and possible romance 100000000x more than Jane.
58. "The Revengers" sounds like knock-off toys.
59. "It varies from moment to moment." I stan a morally ambiguous character!!!
60. OMG the snake story. *laughing emoji* Loki is my Slytherin brother.
61. No, please, fight side by side forever!!!!!!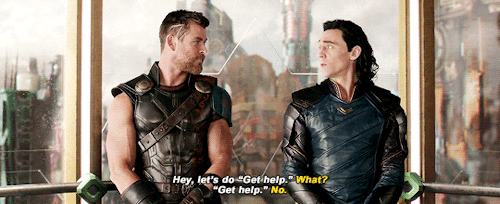 62. Loki pulling a LOKI. CLASSIC.
63. Thor is READY for your shenanigans though.
64. Use one of your PhDs. LOL.
65. Korg + Loki — that's a buddy cop series I would watch. GET ON IT DISNEY+.
66. The giant wolf just furthers my argument from Thor OG that this is just Game of Thrones.
67. "I have a man on the ground." AWWW YEAH.
68. "You're just….the worst."
69. I know the big wolf is bad. But I also hope the big wolf doesn't die.
70. UH HULK? Can you fight the big wolf plz? (But don't kill it.)
71. Idris Elba better not die….KORG!!!!!
72. LOKI!!!!!
73. Thor having his eye ripped out just like pops.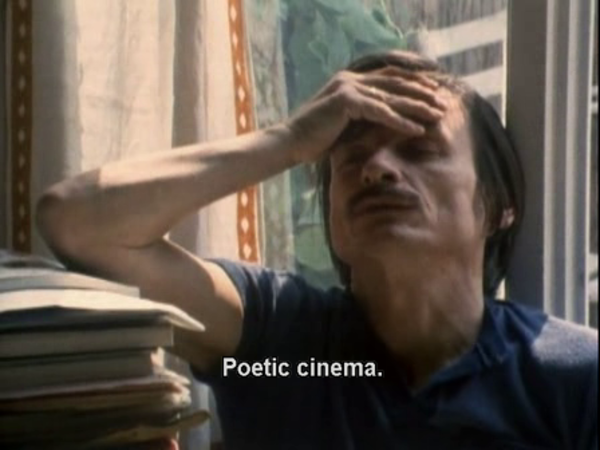 74. YASSSSSSSSSSSS ONE-EYED THOR.
75. Also, Hulk, Loki, Valkyrie, and Idris Elba!!!
76. Pretty sure the big wolf died and I am sad.
77. Is Thor gonna get his eye back or?
78. "Asgard's not a place, it's a people" — a lovely Hallmark sentiment
79. OMG Skurge hiding on the ship like he's Bruce Ismay getting off the Titanic.
80. Des and Troy. Ok, you've redeemed yourself. (Also she killed you which isn't cool.)
81. The BALROG!!!!!
82. "I hate this prophecy." – Valkyrie, also Harry Potter (probably)
83. I love that they talk to Hulk like he's a toddler.
84. Thor rocking the eye patch like Pops.
85. LOKI AND THOR SPIN-OFF. LOKI AND THOR SPIN-OFF.
86. EARTH IT IS. I hope you're going there to team up with the Avengers and not to find Jane.

*skips credits*
87. "I feel like everything's gonna work out fine." *giant ship appears* Me no thinks so. (I assume this is an important and scary giant ship? Perhaps Thanos'? I just assume everything scary is Thanos now.)
*skips more credits*
88. YAY US.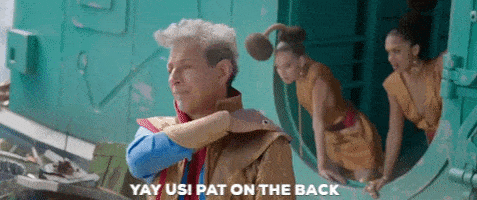 Overall, I greatly enjoyed this one! It's the best Thor film hands down, and I loved the team-up with Hulk!
It was so fun to get a sense of humor and personality out of Thor, plus I am thrilled to see the return of Loki. Also, I am so in love with the rock monster, Korg. We've got so many fun characters across this universe already, but he was a great and super funny addition.
I am very excited to see what happens next for our pals Loki and Thor!
On a scale of 1 – 10, where 1 is accidentally stepping on your dog's tail, and 10 is puppy breath, I award Thor: Ragnarok an 8!
Next up: Black Panther!
Join the AllEars.net Newsletter to stay on top of ALL the breaking Disney News! You'll also get access to AllEars tips, reviews, trivia, and MORE! Click here to Subscribe!