Some of Disney's visionary projects have become brilliant successes while others have fallen to the wayside. A sad case of the latter was DisneyQuest, a virtual reality center that would have taken the Disney Park experience to a different level — and to malls across the United States.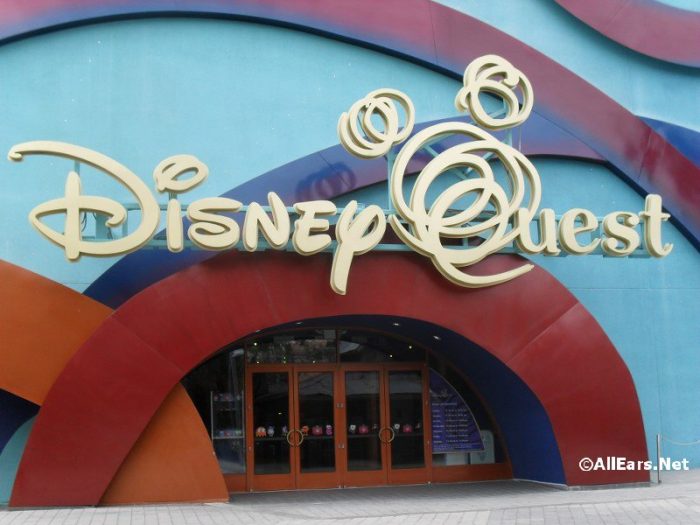 While the plan to expand the concept to malls nationwide never came to fruition, the original DisneyQuest building in Walt Disney World's Downtown Disney (now, of course, Disney Springs) remained open for over 10 years. Now, let's take a closer look at DisneyQuest's fascinating history.
Disney Regional Entertainment and Mall-Based Attractions
In the 1990s, malls were not only highly popular with teens but also were becoming hubs for entertainment complexes. The success of family entertainment centers offered a potential solution to a longstanding challenge in expanding Disney theme parks to new locations.
Creating a new park could wost enormous amounts of space, time, labor, and money. But a small entertainment center could feasibly still recreate the Disney experience while also being capable of mass production at multiple sites, including in suburban areas. For this purpose, Disney founded Disney Regional Entertainment in 1996 to explore entertainment initiatives.
Disney Regional Entertainment's first major project was Club Disney, first opening in 1997. Club Disney was an indoor play center that featured Disney-branded activities and snacks/dining. For instance, kids could participate in "Poohrobics" exercises with Pooh, experiment with animation techniques, and more.
The centers also hosted dance parties, featuring special moves like the Lion King Limbo and the Roger Rabbit Bunny Hop. They even offered fun birthday parties, which sometimes featured magic tricks from Merlin.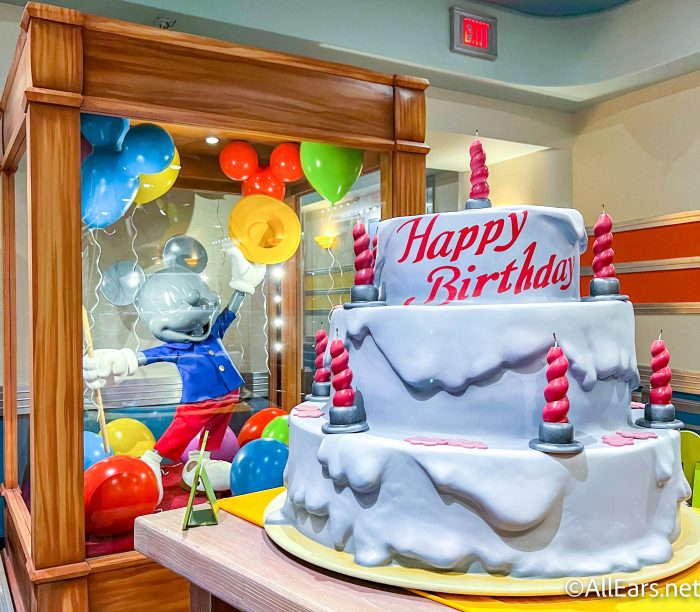 Unfortunately, the Club Disney chain openings in California and later Arizona failed to meet Disney's expectations. Analysts predicted tens of thousands attending the grand opening of the first Club Disney center in Thousand Oaks, California, but only around 1,000 people showed up.
Due to the limited success, Disney scrapped the idea and closed the Club Disney sites; despite initial plans for over 100 Club Disney centers, only five were ever made. However, the Club Disney centers had shown some signs of moderate success before shutting down. If a regular entertainment center wasn't enough, what about one with new Imagineering technology?
Adding Virtual Reality into the Mix
While the Club Disney plan fell through, Disney Regional Entertainment was still hard at work developing more elaborate ideas for entertainment centers. In addition to drawing on the popularity of entertainment centers, the subsidiary also took inspiration from another big fad in the 90s: virtual reality.
Early forms of virtual reality were just starting to emerge during the period, but the high costs of producing the equipment prevented most consumers from purchasing them for personal use. This led to V.R. cafes, much like entertainment centers in general, becoming more popular, making them a prime target for Disney's expansion to urban areas.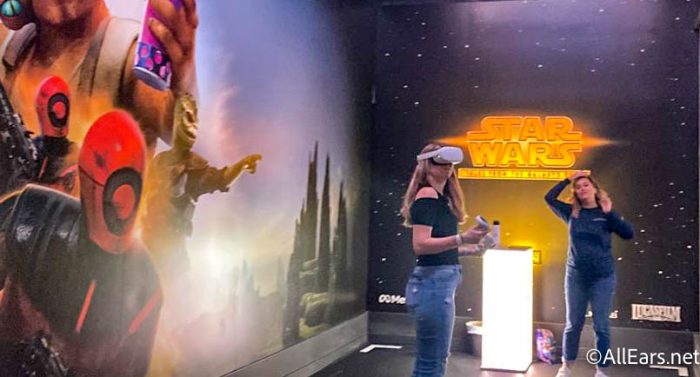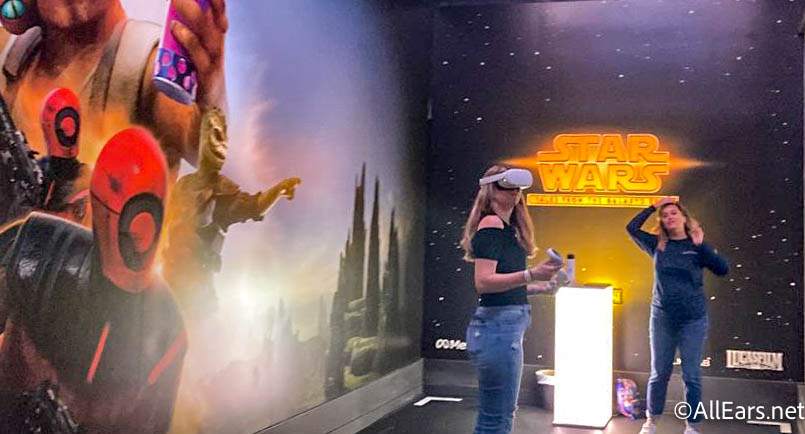 Virtual reality could ideally advance Disney's drive for more immersive storytelling. Club Disney's attractions had been limited due to the confined space for the entertainment centers, making it difficult to bring the same level of spectacle and wonder as the Disney parks. But V.R. technology could potentially change all that, letting guests enjoy engaging, realistic experiences even within limited space.
Using virtual reality for entertainment centers would also challenge Imagineers to explore new angles of the technology. They dreamed of advancing the field and later applying the concepts to Disney park attractions as well. But before mass-producing the V.R. center, Disney would test the concept by launching it at Walt Disney World.
Disney World's Prototypical V.R. Center
On June 19th, 1998, Disney opened the first Disney Quest site within Walt Disney World, specifically in the Downtown Disney area (what is currently Disney Springs). While the large, blue-colored building had already been built a year prior to opening, Disney officials kept mostly silent about the details, and not much was visible from the outside. However, upon entry, guests would find an elaborate, multi-floored complex filled to the brim with engaging virtual reality-style attractions and activities.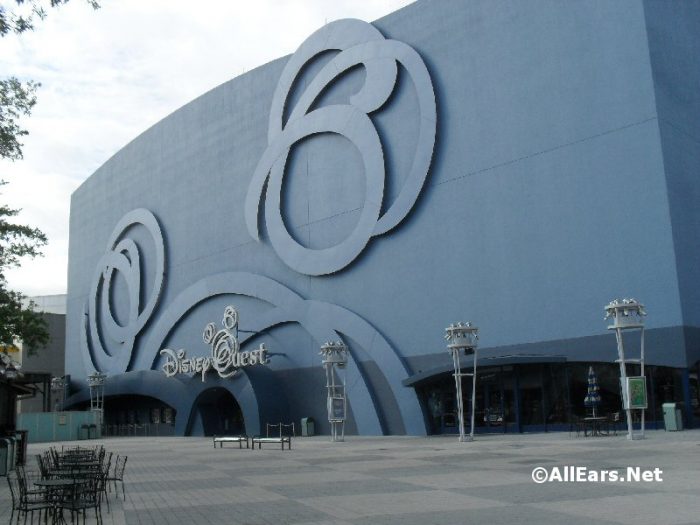 Keep in mind that the Orlando venue wasn't meant to be the main focus for DisneyQuest, Rather, it was a way to test the concept for an indoor V.R. park, in preparation for a full-fledged chain of entertainment centers.
And overall, the early results were positive, with many guests at Downtown Disney visiting DisneyQuest despite the extra fee to enter the building. Certain that the future was promising, Disney Regional Entertainment proceeded with plans for more centers across the country.
DisneyQuest's Set-Up
DisneyQuest consisted of five different floors. Within DisneyQuest were four themed zones, but rather than each encompassing a floor, each zone usually extended vertically through multiple floors. After passing through the ticket lobby, featuring gold busts of popular Disney characters, you actually started out in the "Ventureport" on the third floor.
To get to the Ventureport, you rode a special "Cyrolator" elevator, which featured a fun intro video starring the Genie from Aladdin. The unique elevators helped deepen the immersion and make it seem as if visitors were traveling to a new world entirely. After reaching Ventureport, you could cross bridge-like gateways to the four different zones and begin your adventure.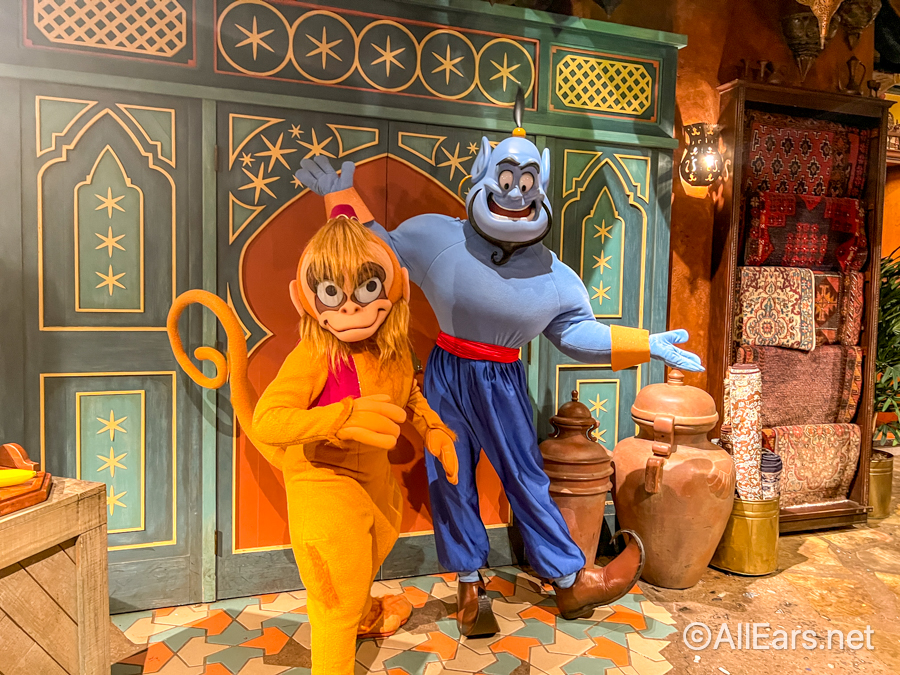 The Replay Zone largely hosted classic arcade games, but it also featured a unique Toy Story attraction called Buzz Lightyear's Astro Blasters. A strange fusion of dodgeball and bumper cars, it had players ram cars into each other while shooting balls from a cannon.
In the Create Zone, visitors could use new technology to sketch their favorite animated characters on digital touch screens at the Animation Academy. Similarly, Radio Disney SongMaker let guests combine and edit music using pieces from numerous different songs. But Create Zone's most amazing ride was Cyberspace Mountain, a rollercoaster simulator where you designed and rode through your own, personally designed rollercoaster. You could even feel the twists and spins during the ride!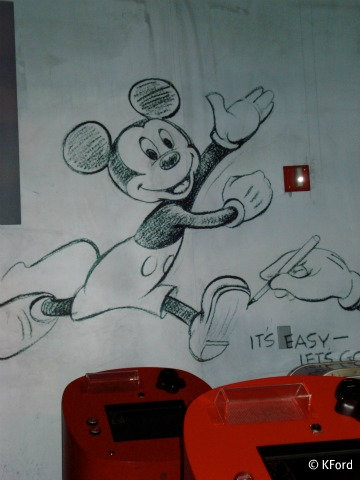 The Score Zone added more virtual reality elements with immersive and fun competitive challenges. For instance, Ride the Comix used a high-tech V.R. helmet to take you into an original superhero adventure, where you'd fight off monsters with a sword.
Another attraction in the Score Zone functioned as a semi-sequel to the now-defunct ExtraTERRORestrial Alien Encounter. In DisneyQuest's Invasion attraction, the greedy, intergalactic corporation X.S. Tech returned and had guests pilot a sci-fi mech to hunt down aliens resembling the one that terrorized Alien Encounter. The multi-angled screens featured 3D graphics and helped create an immersive experience as you piloted the mech to save colonists from the aliens.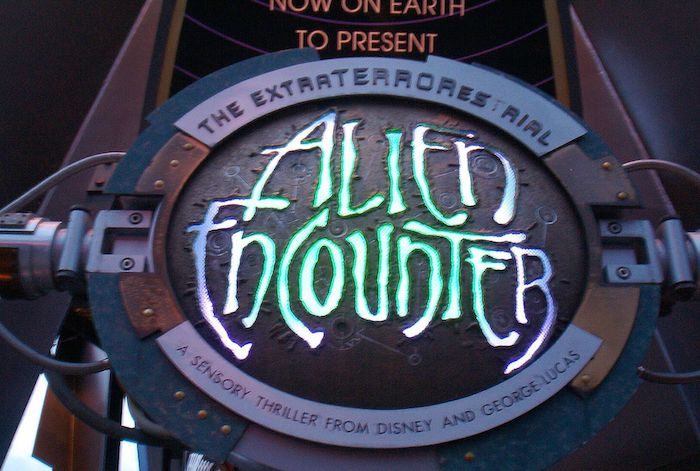 The final zone was the Explore Zone, and it had the strongest focus on virtual reality adventures. Aladdin's Magic Carpet Ride flew you through Agrabah on a quest to save the Genie. Likewise, Hercules and the Underworld had you steer a cart pulled by Pegasus in a fight against Hades. Finally, you could paddle through the Virtual Jungle Cruise – which started out in the basic jungle before transporting you through time to the age of dinosaurs.
While the Virtual Jungle Cruise lacked full immersion – you just paddled toward a screen projecting the adventure – the Hercules and Aladdin rides involved V.R. headsets. And the Virtual Jungle Cruise did have some unique elements, such as shifting the pad to simulate the water flow.
The Real Beginning in Chicago
Disney went all-out for the grand opening of their first chain center in Chicago. When the Chicago complex opened on June 16th, 1999, Disney hosted a spectacular celebration at the site, with fireworks, zipline appearances by Buzz Lightyear and other Toy Story characters, and even a television special about the event.
While the Chicago building's dimensions and attractions were slightly smaller than its Orlando counterpart, it largely followed the same set-up as the first center, with five floors and four themed areas.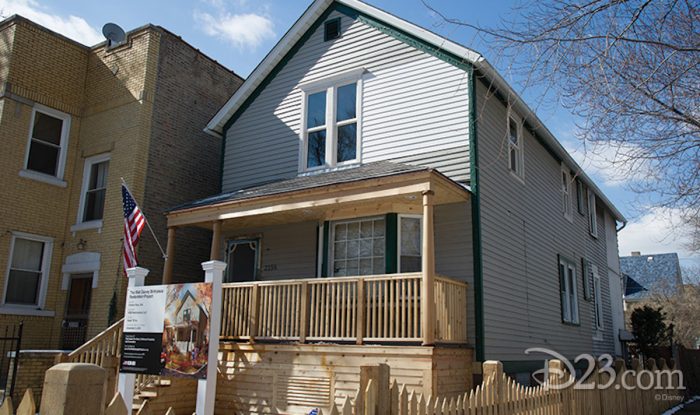 However, by the time the second DisneyQuest opened, consumer trends were shifting away from virtual reality to computers and the internet. Local Chicagoans' interest in the indoor park was curious but limited, not enough to sustain attendance at the park. It didn't help that due to the expensive V.R. equipment, DisneyQuest charged $34 (later $26) for an all-day pass.
Furthermore, Disney had inflated expectations for the Chicago site, anticipating over three million people per year (something only possible if DisneyQuest stayed at full capacity for 17 hours each day). The resulting disappointment marred plans for further expansion.
Scrapped Expansion
Initially, Disney Regional Entertainment planned to open 30 different DisneyQuest sites throughout the U.S., with the next big opening planned for Philadelphia. The virtual reality center would have sat on the city's bustling Market Street. The site was announced just half a year after Orlando's center opened, and the area was cleared in preparation for construction.
However, while the area was originally meant to open in 2000, construction kept being delayed, and the third DisneyQuest center never even got built. The delays and ultimate abandonment of the third site showed Disney's waning interest in continuing DisneyQuest as a whole.
Back in Chicago, interest in DisneyQuest remained limited, with mixed reviews. In addition to the high prices for tickets just to get inside, the tight space for the attractions led to long lines. And while many may have found the immersive V.R. attractions to be incredible, the center as a whole was still a far step from the full-scale wonder found at Disney parks.
Moreover, it took considerable funding to maintain cutting-edge virtual reality tools. It required even more to update them over time so they remained top-of-the-line. As Disney was in a period of budget cuts, they decided to close the Chicago location in September 2001. While plans for expansion were gone, the original site in Disney World remained.
The Decline of the First and Last DisneyQuest
While Orlando's DisneyQuest space stayed open in Disney World even after the Chicago location shuttered, the virtual reality center had already passed its peak.
A key part of the center's appeal had been the innovative, new technology showcased in the virtual reality simulations, but that required consistent updating to keep up with the latest advances. Now that Disney no longer invested in DisneyQuest, improvements and maintenance to the center stagnated.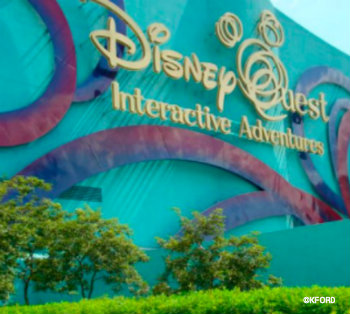 The last big update came in 2000 when both Orlando and Chicago replaced Hercules and the Underworld with Pirates of the Caribbean: Battle for Buccaneer Gold. Based loosely on the original ride rather than the movie franchise, the attraction had guests pilot a pirate ship in a battle against sea monsters and the Jolly Roger.
Individual riders would aim and shoot cannons at targets on the digital screen, trying to survive long enough to beat the challenging game. However, aside from a few Fix-It Felix arcade games later added to celebrate Wreck-It Ralph, this was the last big addition to DisneyQuest.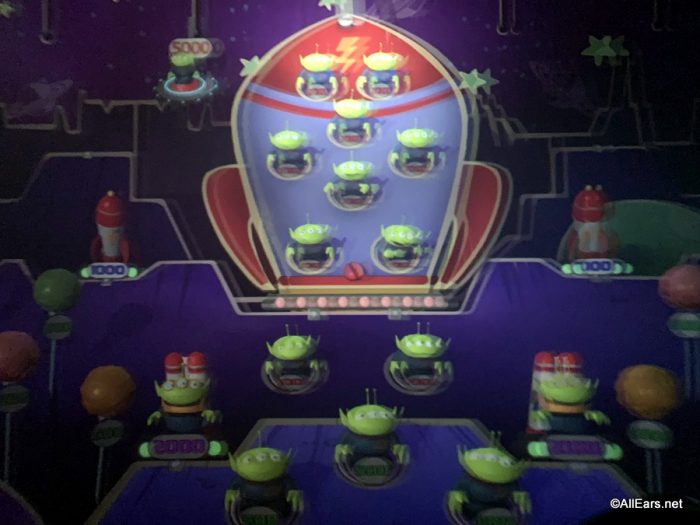 After the Chicago location closed, DisneyQuest Orlando's virtual reality suffered from neglect. This is not to say that Disney was not developing new V.R. technology. Cyberspace Mountain's concept of creating and riding your own rollercoaster, for example, was eventually improved into the 2009 Sum of All Thrills attraction in EPCOT's Innoventions (no longer in existence).
But the advances being made went to attractions at the parks, rather than to DisneyQuest. And in comparison to the newer virtual reality experiences elsewhere, DisneyQuest's attractions – marvels for their time – became outdated (and sometimes cheesy).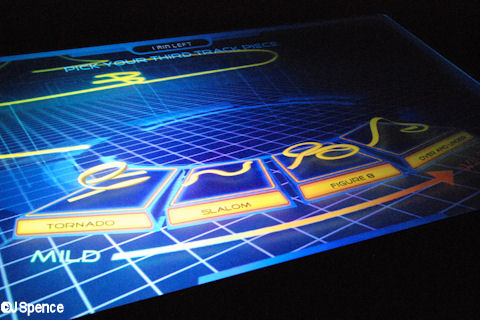 Disney generally didn't really work to fix the existing DisneyQuest attractions, and some things within the spot eventually closed or were done away with. These closures, in turn, took away more and more of DisneyQuest's appeal. For instance, the center's special Cheesecake Factory express service closed in 2008.
In 2011, the Cyberlators stopped showing the intro video with the Genie, taking away the immersive entry into the indoor park. More and more, Disney had to incentivize people to visit DisneyQuest, such as by offering discounts or even offering freebie tickets with certain purchases.
The End of DisneyQuest
As DisneyQuest lingered on uncertainly, Disney Regional Entertainment wasn't doing so well either. In 2010, the subsidiary branch shut down after all but two ESPN Zone restaurants — Disney Regional Entertainment's other big project.
Finally, Disney announced that DisneyQuest would close in 2016 for the new NBA Experience facility. However, DisneyQuest continued to function until a final closing day on July 2nd, 2017.
The end of DisneyQuest was bittersweet but memorable for those fans who attended on the last day. Passholder discounts significantly reduced the final admission price to $19.98 (a callback to the year it opened). In addition, staff on the closing day gave visitors an arcade token and a lithograph in commemoration of the center's end.
Many of the arcade games were auctioned off to Cast Members. After DisneyQuest closed, it was demolished so construction for NBA Experience could get underway.
V.R. Lives On
Even though the plan to expand DisneyQuest into a chain of attractions throughout America failed, the dream of immersive virtual reality experiences lives on at Disney World and other Disney parks.
As noted earlier, Imagineers continued experimenting with V.R. ideas – they just weren't bringing them to DisneyQuest. In recent years, we've seen the fruits of their labors, with many wonderful virtual experiences to enjoy.
For instance, at Disney Springs, you could participate in a couple of fun virtual reality adventures at The VOID until it closed in 2020. One took you into the digital world of Wreck-It Ralph, while the other one sent you into the Star Wars universe for a dangerous mission, culminating with an encounter with Darth Vader himself.
Later, the space offered the limited-time Meta Quest 2 Virtual Reality Experience Featuring ILMxLAB's Star Wars: Tales from Galaxy's Edge.
And at the parks, simulation rides like Avatar: Flight of Passage take virtual reality's magic to a whole new level, making it feel as if you're exploring another world.
In recent years, Disney has utilized virtual reality for special experiences at the D23 Expo. And former CEO Bob Chapek was a big proponent of having Disney become involved in the metaverse in a big way. Some of those plans, however, appear to have changed under returning CEO Bob Iger.
In early 2023, Disney (under Iger) eliminated the next-generation storytelling and consumer experiences unit that was responsible for creating strategies for the Disney metaverse.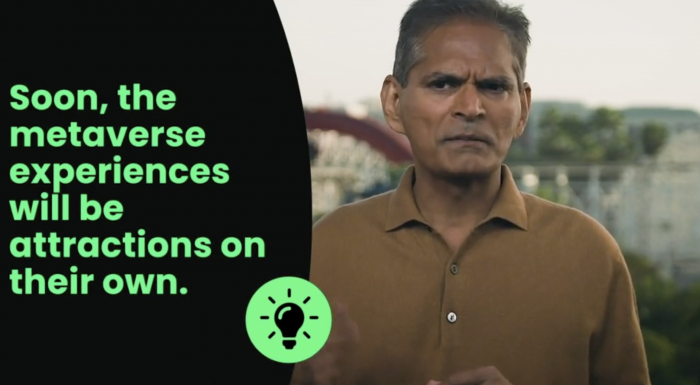 That's not to say that virtual reality won't pop up in other ways throughout the parks or other experiences, but things may be different in the future. While it didn't work out, DisneyQuest was an intriguing concept — both as a hub for V.R. entertainment and as a means to market mini Disney parks to urban areas.
Covering nearly two decades of operation, it remains a key part of Disney's history. Perhaps one day, we'll see a new form of a Disney entertainment center in cities besides the main theme parks.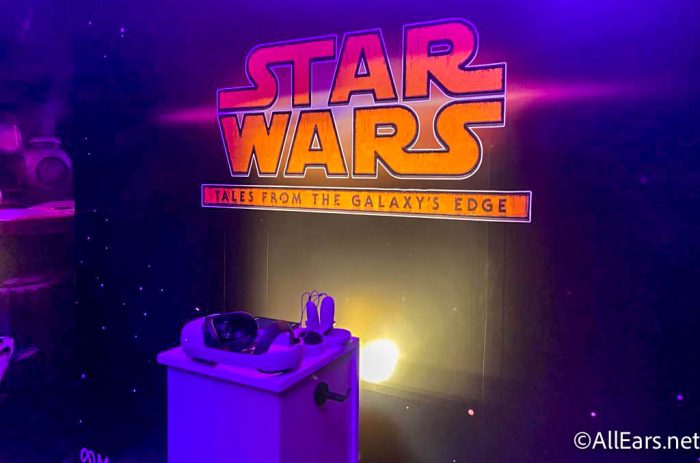 To experience a touch of Disney magic without leaving your city, be on the lookout for shows like Disney on Ice or Disney Junior productions that travel from city to city. You can also watch for traveling museum displays, unique movie-themed exhibits, or immersive experiences that go from city to city. While not the same as DisneyQuest, they can bring some of the fun of Disney to you.
For more Disney history, see our posts below. And stay tuned for the latest updates.
Join the AllEars.net Newsletter to stay on top of ALL the breaking Disney News! You'll also get access to AllEars tips, reviews, trivia, and MORE! Click here to Subscribe!

What sort of Disney-themed entertainment center would you like to see happen? Let us know in the comments.