ARCHIVES Disney Quest West Side Disney Springs
UPDATE 7/3/17: DisneyQuest closed July 3, 2017 to make room for the NBA Experience, which will include a restaurant and basketball-themed activities.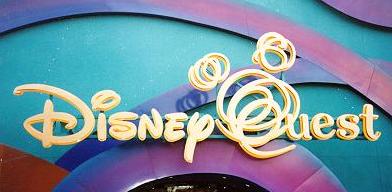 1. What exactly is DisneyQuest?
According to the official Disney Web page, "Create your own adventures in this one-of-a-kind indoor interactive Theme Park bursting with games that give "state-of-the-art" new meaning. Discover five floors exploding with cutting-edge technology, virtual reality and 3-D experiences — all fueled by Disney innovation and imagination. The entry portal, Ventureport, leads to four different zones: the Explore Zone, a virtual Adventureland; the Score Zone, for superhero quests; the Create Zone, for artistic endeavors; and the Replay Zone for nostalgic fun. Anyway you cut it, you're in the Zone at DisneyQuest!"
DQ is entirely contained in a large, five-story building. You might call it the video arcade/virtual theme park/entertainment center of the future, or you might just call it fun! It opened on June 19, 1998.
2. Where is it located and how do I get there?
DisneyQuest is located in the West Side section of the Disney Springs area, near the House of Blues, Cirque du Soleil, and AMC 24 theatres.
To get there from any WDW resort hotel, take the Disney Springs bus and exit at the Pleasure Island Stop (there is no longer a bus stop at the West Side).
There is no direct bus service between any theme park and Disney Springs. You will have to go to one of the resorts and change buses.
From outside WDW, take exit 67 off Interstate I-4 and follow the signs to Disney Springs.
3. What are DisneyQuest's hours?
Sunday – Thursday: 11:30 a.m. – 10 p.m.
Friday – Saturday: 11:30 a.m. – 11:30 p.m.
4. When are the best times to go?
As with many things Disney, it's great to get there at opening time for the smallest crowds. However, crowds are manageable at almost any time except from 9 p.m. to midnight, or on a foul-weather day. Generally, if you go to DisneyQuest on a weekday, in the morning, or between the hours of 4:30 and 7 p.m., you should have no trouble with crowds. Your mileage may vary, though!
5. How much does DisneyQuest cost?
Kids under 3 enter free, but no strollers are allowed inside. Kids under 10 must be accompanied by an adult. You can leave and re-enter any number of times in the same day at no charge; your wrist will be stamped when you first enter the building to prove that you were admitted that day.
As with many things Disney, there are discounts — just ask. Some current discounts include:
For Disney Vacation Club Members: $4 off adults, $3 off children.
For Annual Passholders: $4 off adults, $3 off children.
If you have a Magic Your Way Ticket with Water Parks & More Option, admission to DisneyQuest is included; and if you're on a WDW travel package that includes a "flex feature," you may use the feature for admission to DisneyQuest.
6. Are there any extra charges once I'm inside?
Your admission includes unlimited use of all attractions, except a few arcade-type games in which you can play for a small fee and potentially win a prize like a DVD. (There are no longer games that give tickets to be redeemed for prizes later.)
You'll also have the option to purchase any artistic items you create in the CreateZone (e.g. at the Animation Academy, Magic Mirror, Living Easels or Sid's Create-a-Toy). Playing with these attractions is free in itself, however, and there's no obligation to buy your creation afterwards.
Animation Academy Packages
Artist Kit $5.00
Artist Kit with Collectible Pin $12.00
–additional collectible pin with the purchase of Artist Kit $7.00
Living Easel 5×7 inch photo $5.00
Radio Disney Song Maker $12.00
Cyberspace Mountain video or DVD $12.00
Sid's Create-a-Toy $10.00
7. I have an old DisneyQuest ticket with points still left on it. Can I trade it in toward a new ticket?
Absolutely! When DisneyQuest first opened, it operated on a "pay-per-play" system, with each attraction costing a certain number of points to play. The point system has since been discarded, but if you hold one of those old tickets that still has any number of points on it (even one!), you can trade it for a full one-day admission.
8. Can I enter for free if I don't play any games?
Unfortunately, no. Everyone over the age of 3 who enters the building must have a ticket. Some folks have asked if they can go in just to eat at the restaurants, but this is not permitted.
9. What are the "zones" inside DisneyQuest?
DisneyQuest is divided into four "zones:"
Explore Zone, a virtual adventureland where guests are immersed in exotic and ancient locales.
Score Zone, a superhero competition city where guests can match their gameplaying skills.
Create Zone, a private "Imagineering" studio for artistic self-expression and invention.
Replay Zone, a carnival on the moon where guests experience a retrofuturistic spin on classic rides and games.

When you enter DisneyQuest, you'll board the Cybrolator, an elevator with a few surprises. It will let you off at the Ventureport, which has gateways to each of the four zones. Just choose a zone and start exploring!
10. What games and attractions are available?
Plenty! Here are just a few:
CyberSpace Mountain
With the help of Bill Nye the Science Guy, design your own roller coaster on a touch-screen computer. Physics are no object — this is a roller coaster in space. When you're done, you can jump into a simulator and actually ride your creation in full 360-degree motion! Anyone can create a coaster, but you must be 51 inches tall to ride the simulator.
Virtual Jungle Cruise
Climb aboard a life-sized rubber raft with your friends and family, pick up a paddle and start rowing. On the screen in front of you, you'll see yourselves moving down a river during the age of the dinosaurs. The raft will pitch and roll along with the river, and watch out — you may get splashed!
Aladdin's Magic Carpet Ride
Straddle a magic carpet, put on a virtual reality helmet, and you're transported into the world of Aladdin. Collect precious jewels along the way on your search for the magical scarab, and when you find it, you'll have to reckon with Jafar and rescue the Genie!
Ride the Comix
Mistress Khan, Leader of All Supervillains, instructs you in the pre-show for this attraction. You'll wear a virtual reality helmet and use a laser sword to do battle with supervillains in a 3-D comic strip world. (Here's a picture.)
Invasion! An ExtraTERRORestrial Alien Encounter
In your virtual-reality spaceship, you and your friends will team up to steer the ship over an alien planet, rescue the human colonists there, and destroy hostile aliens.
Buzz Lightyear's Astroblasters
These are the bumper cars of the future. Two people team up in each car — one to steer and one to shoot balls at the targets on the other cars. If you're hit, your car will spin out of control! There's a 51-inch height requirement for this attraction.
Animation Academy
Sit at an electronic drawing pad and take a lesson in drawing a Disney character from a live instructor. You can purchase your drawing when it's finished, if you like.
Mighty Ducks Pinball Slam
In this pinball game, you are the ball! Stand on a giant-sized joystick and watch your progress as you steer yourself among the other live balls on an enormous screen. There's a 48-inch height requirement for this attraction.
Pirates of the Caribbean – Battle for Buccaneer Gold
This attraction, based on Pirates of the Caribbean at the Magic Kingdom, allows you to steer a pirate ship while the rest of your group mans the cannons. Travel over a virtual waterfall and capture gold from the other pirate ships! There's a 35-inch height requirement for this attraction.
11. Are there any activities for younger children?
On the 4th floor there's a section devoted to games for children ages 2-7. Young kids would probably enjoy the Create Zone the most — there are plenty of hands-on activities there that appeal to all ages, like Sid's Create-a-Toy (based on the evil child from the original Toy Story film who liked to make toys from the parts of others). However, most of DisneyQuest's other attractions seem to be best for approximately ages 10 and up. Also, please note that strollers are not allowed inside and the environment can be very loud — toddlers might quickly become overwhelmed.
12. Is there a height requirement for any attractions?
Yes: Cyberspace Mountain, 51 inches (to ride the simulator – anyone can design a coaster); Buzz Lightyear's AstroBlasters, 51 inches; Pirates of the Caribbean: Battle for Buccaneer Gold, 35 inches; and Mighty Ducks Pinball Slam, 48 inches.
13. Are all the attractions accessible to people with disabilities and larger folks?
Nearly all. Larger people may have trouble fitting comfortably in the seats at CyberSpace Mountain, but they should do just fine with any other attraction at DisneyQuest.
CyberSpace Mountain may be a sticking point for people with disabilities as well. There is a wheelchair lift to bring folks to the ride simulators, but it's a bit of a climb up and then down a couple of steps to get into the simulators themselves. They are rather small and confined inside, and some folks with disabilities may have difficulty climbing in and out — I'm able-bodied and petite, and I had to maneuver a bit to get out. Also, anyone who has a fear of small spaces may not be comfortable in the simulators, but there is a "panic button" that you can press at any time to stop the ride immediately.
For the following attractions, guests can remain in their wheelchairs:
CyberSpace Mountain (the design portion)
Animation Academy
Pirates of the Caribbean: Battle for Buccaneer Gold (those in ECV must transfer to a standard wheelchair)
Mighty Ducks Pinball Slam
Aladdin's Magic Carpet Ride (the low, motorcycle-like seat can be adjusted so that guests may remain in their wheelchairs)
Radio Disney SongMaker
Living Easels
Sid's Create-A-Toy
Magic Mirror
The following attractions require guests to transfer from their wheelchairs to a ride vehicle or other seat:
CyberSpace Mountain (the simulator)
Virtual Jungle Cruise (sitting in a rubber raft)
Invasion! An ExtraTERRORestrial Alien Encounter (sitting in a cockpit seat)
Buzz Lightyear's AstroBlasters (sitting in an enclosed bumper car)
Ride the Comix (stationary stool while wearing a VR helmet)
Daytona USA
Classic Arcade Games at Sports Arena Arcade, Underground Arcade
Some attractions, especially those involving virtual reality, may cause motion sickness in those who are prone to it. The most likely culprits include Ride the Comix, Aladdin's Magic Carpet Ride, and Pirates of the Caribbean: Battle for Buccaneer Gold. Of course, the attractions that involve real motion may cause discomfort as well: the CyberSpace Mountain simulators, Virtual Jungle Cruise, and Buzz Lightyear's AstroBlasters.
No smoking is allowed inside DisneyQuest.
14. What food options are available?
At FoodQuest, you can find pizzas, pastas, sandwiches, salads, burgers, hot dogs, wraps, and assorted snacks. (The Cheesecake Factory no longer runs the food concession at DisneyQuest.)
Wonderland Cafe offers various desserts, snacks, adult beverages, and ice cream novelties. When FoodQuest is closed Wonderland Cafe may offer select wraps, salads or sandwiches.
15. Is there a gift shop?
Of course! All manner of DisneyQuest souvenirs can be found in the DisneyQuest Emporium, which is also the only way to exit from the building. The shop, unlike the restaurants, is accessible from the outside. (There may be a 10% merchandise discount for Annual Passholders and DVC members — just ask.)
16. Where I do park my stroller?
Strollers must be parked outside the building in a designated area.
17. Can I let my kids play while I go do something else?
Children 10 years of age and younger must be accompanied by someone 16 years old or older.
18. Where are the restrooms and pay phones?
Restrooms are located on the 1st, 4th, and 5th floors. Pay phones are on the 1st and 5th floors.
READER COMMENTS:
Lisa K. Berton, 2010: Be sure to make use of the complimentary coat check located on the first floor. Believe me, carrying your jacket around with you gets in the way. The Disney Radio SongMaker booths allow you to choose pre-written lyrics, music styles, and vocals to create a song. It doesn't allow you to record your own voice. Don't be afraid to try out the Animation Academy or anything else where you'll find more kids than adults. It's fun for everyone. Check out the interactive computers in the Wonderland Cafe where you can send funny e-cards to your friends and family.
One of the best things we (my wife and I) have found to do on our first night, is to go to DisneyQuest. The first time we went, it was late in the afternoon and definitely too late to go to a park. We wanted something with some fun and excitement to it, so we decided to go to DisneyQuest. It was great! After a little familiarization, we were able to entertain ourselves for several hours. With places to eat inside, it was a self-contained funhouse, to keep us occupied for as long as needed. The first night is a unique experience. You arrive, and you're tired, but there is something that makes you want to make the most of every minute. So, if you want the excitement of a park, without all the price (it does cost to get in), then we would suggest relieving all that built up energy at DisneyQuest. (Rusty Sweezy)
Thanks to [email protected] who originally maintained this DisneyQuest page.
As with everything else around WDW, this information is bound to change at any time. Please send submissions, additions and changes to Deb Koma.