Like Batman's signal lighting up the night sky, the Disney Dining Plan snack symbol is our beacon of hope!
You see, we walk the Disney World parks every day to find the yummiest and best uses for your valuable Disney Dining Plan snack credits. And while it might be tempting to use your credits on favorites like popcorn, fruit, ice cream, cupcakes, or bottled water and soda, we want you to know that there's a better way to maximize the value of your DDP.
Equipped with this list, you can truly dominate the Disney World parks and get the absolute best value for your Disney Dining Plan snack credits!
Funnel Cake from Epic Eats
We're kicking things off when one of the biggest bang-for-your-buck snack credits: the specialty funnel cakes from Hollywood Studios' Epic Eats! These treats cost $8.49 out of pocket, so when you figure that total in, it helps to boost the overall value of your DDP. Plus, you can go with a strawberry topping and soft-serve vanilla ice cream or cookies 'n cream topping and soft-serve vanilla ice cream.
Bonus: they're very shareable, so you can split it with 1-2 of your friends and save us some snack credits for other items on this list!
Colossal Cinnamon Roll from Various Locations
The Colossal Cinnamon Roll is truly a legendary snack, but despite its mythological stature, you'll find it commonly at many quick-service counters throughout Disney World Resort! In fact, it's so big, we don't think you could miss it! And it's a big value for your snack credit, too, at $7.49!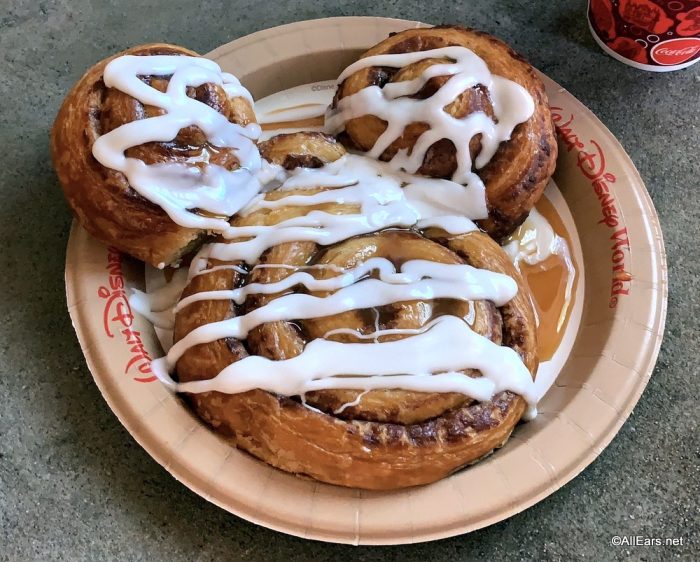 Our go-to spots to pick up this cinnamon roll as big as your head: Kusafiri Bakery in Animal Kingdom and Main Street Bakery at Magic Kingdom.
Pulled Pork Baked Macaroni and Cheese From Eight Spoon Cafe
While Eight Spoon Cafe at Animal Kingdom is only open seasonally, their Baked Mac and Cheese with Pulled Pork for $6.79 or Baked Mac & Cheese with Shrimp and Sweet Chili Sauce for $6.99 can be yours for just a snack credit! These are super filling, and if you go with an option topped with protein (a plain bowl is available, too), it's a small meal that can tide you over until your next ADR.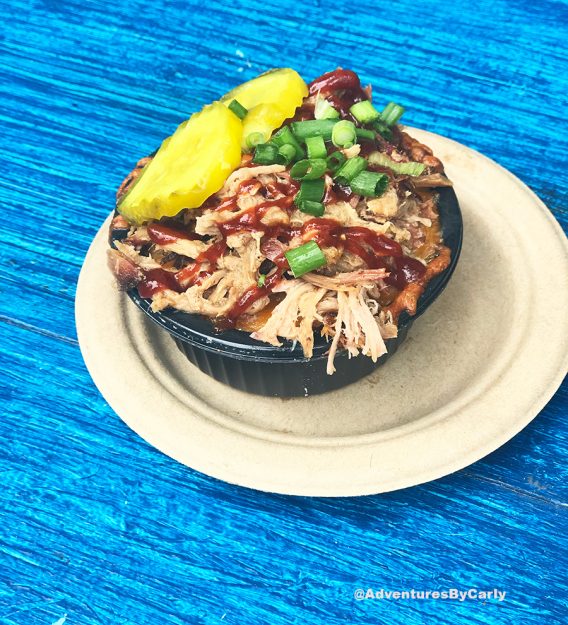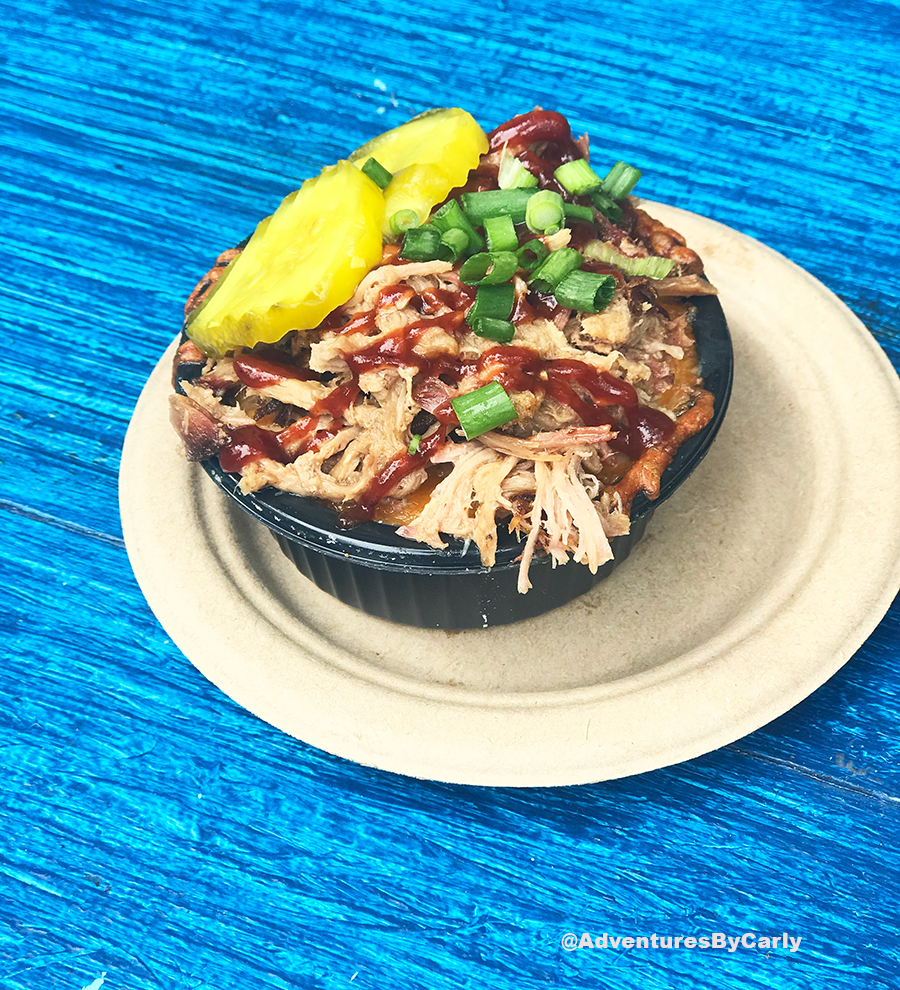 Bubble Waffles from AristoCrepes
You'll find another great snack deal at AristoCrêpes in Disney Springs! Their Salted Caramel and Strawberry Bubble Waffles normally cost $8.99, but they're also snack credit eligible even though they aren't listed as such on the menu! This could change at any time, but for now, you can make them yours for a snack credit!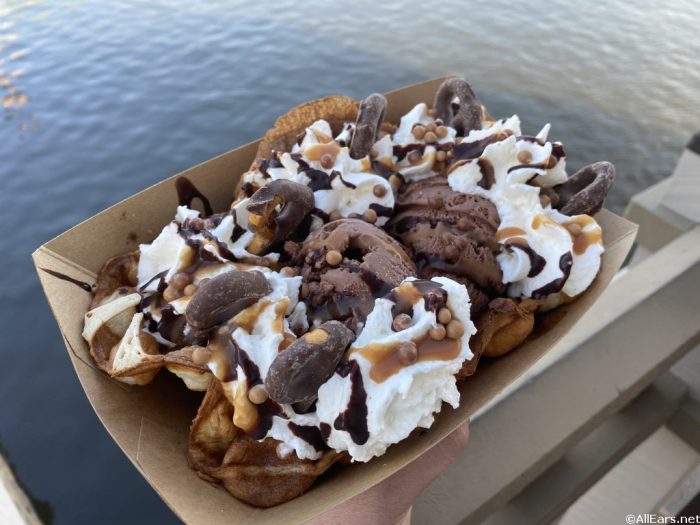 Ice Cream Sundaes from Plaza Ice Cream Parlor
Magic Kingdom's Plaza Ice Cream Parlor is a wonderful place to use up those Disney Dining Plan snack credits! This place has Ice Cream Sandwich Cookies and enormous Specialty Sundaes —most of which you can get for just one snack credit. Although Mickey's Kitchen Sink Sundaes are off the table, almost anything with two scoops or less is up for grabs!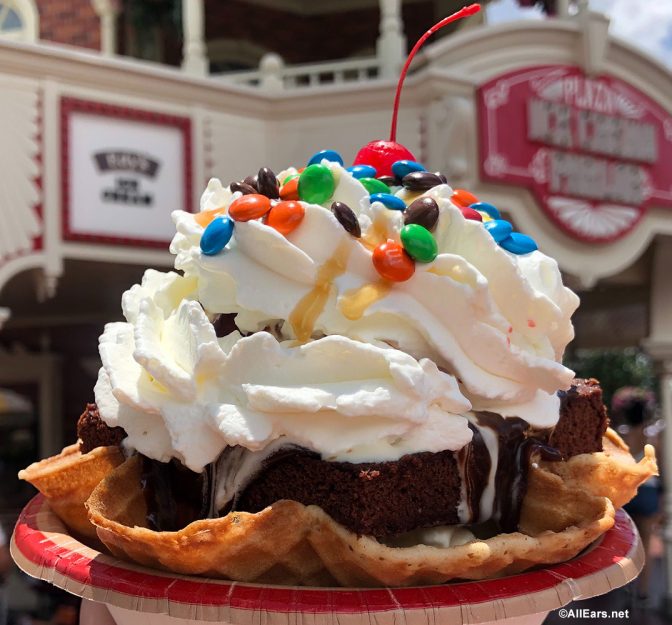 The menu at Plaza Ice Cream Parlor changes often, and you'll find many different seasonal specialties throughout the year. Currently, they're serving a Apple Blossom Sundae which includes a warm apple pie pocket, two scoops of ice cream, caramel sauce, whipped cream, and a cherry for $7.49.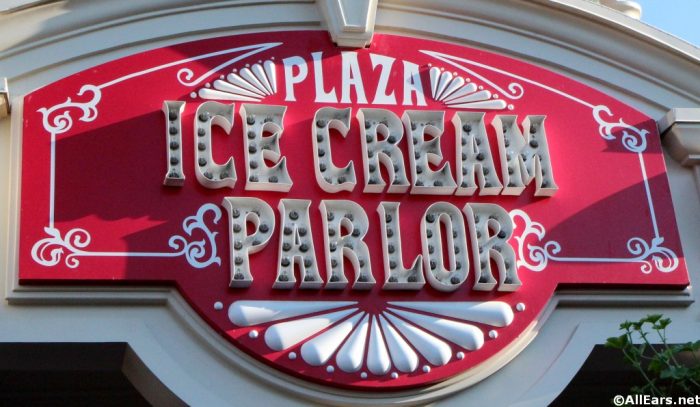 Pulled Pork Cheese Fries From Flame Tree Barbecue
Who doesn't love a big pile of pulled pork served on a  bed of crisp, golden French fries, and covered in cheese sauce? For $7.29, Flame Tree Barbecue's Pulled Pork Cheese Fries are also near the very top of our list for best snack credit foods you can sink your fork into!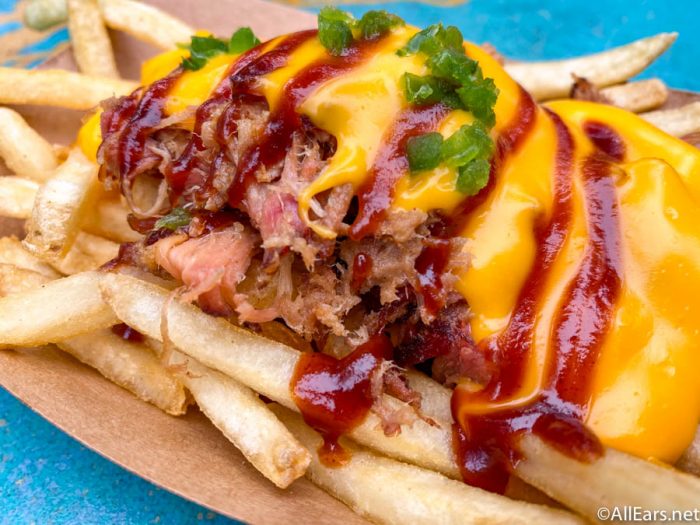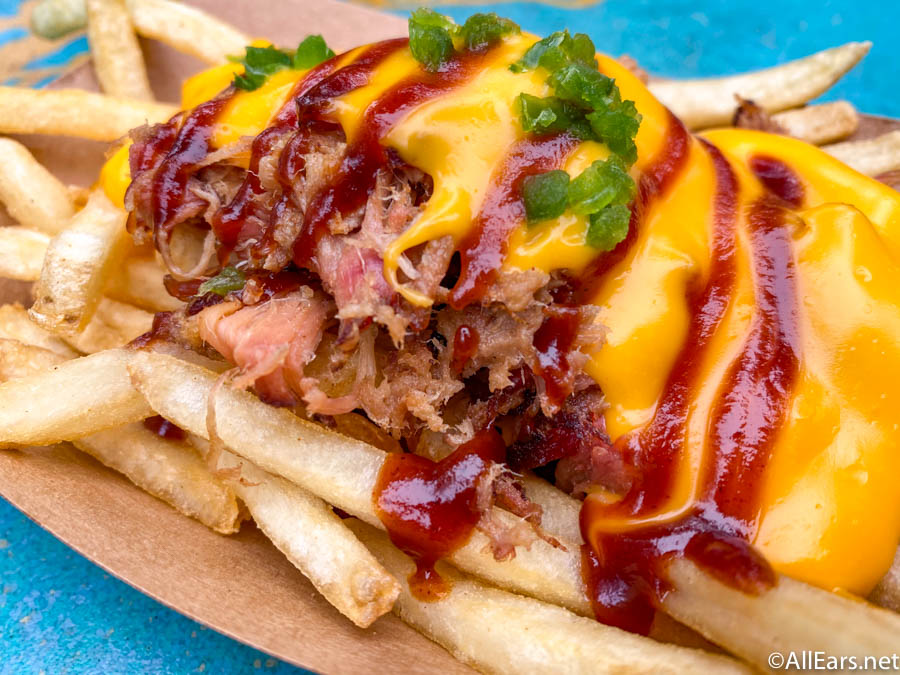 Frappuccinos from Starbucks
Did you know you can use your Disney Dining Plan snack credits at the six on-property Starbucks locations? Yup — it's a thing! Some of their fancy frappuccinos can retail for as much as $7.46, so if you're a Starbs junkie, you can get your caffeine fix while making those snack credits really work for you!
And if you're a Star Wars fan, you can even order the secret menu Baby Yoda and Chewbacca Frappes! To order the Baby Yoda Frappuccino, ask for a Matcha Green Tea Frappuccino with caramel drizzle added to the cup, topped with whipped cream, caramel, and caramel crunchies! The Chewie Frappe is actually their Mocha Cookie Crumble Frappuccino with a caramel drizzle, whipped cream, chocolate sauce, and cookie crumbles!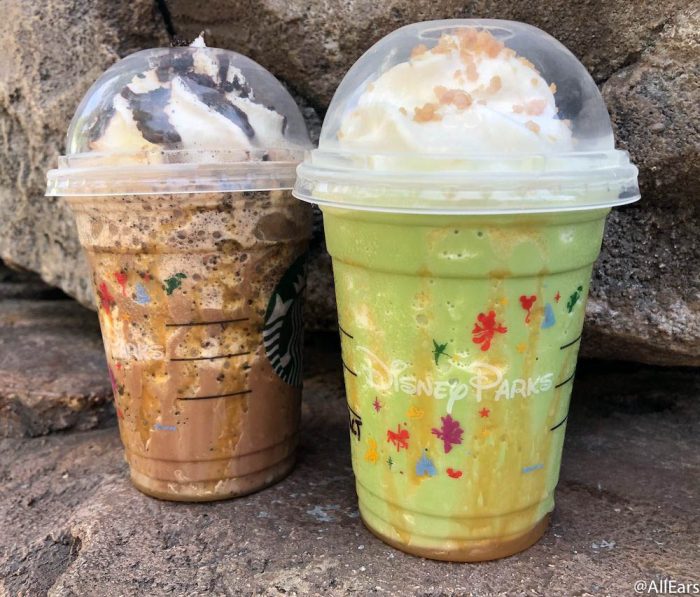 Blue and Green Milk from The Milk Stand
But your Star Wars fun doesn't have to stop there! If you're excited about making your first visit to Star Wars: Galaxy's Edge on your next Disney vacay, you can get a Blue Milk or Green Milk (worth $7.99 each!) with just one of your intergalactic snack credits! There's also a spiked version of the famous Star Wars drink, but you'll have to pony up for that version yourself!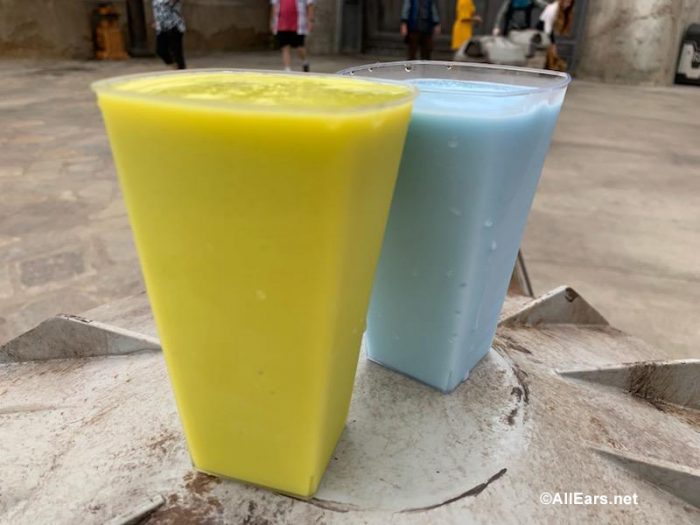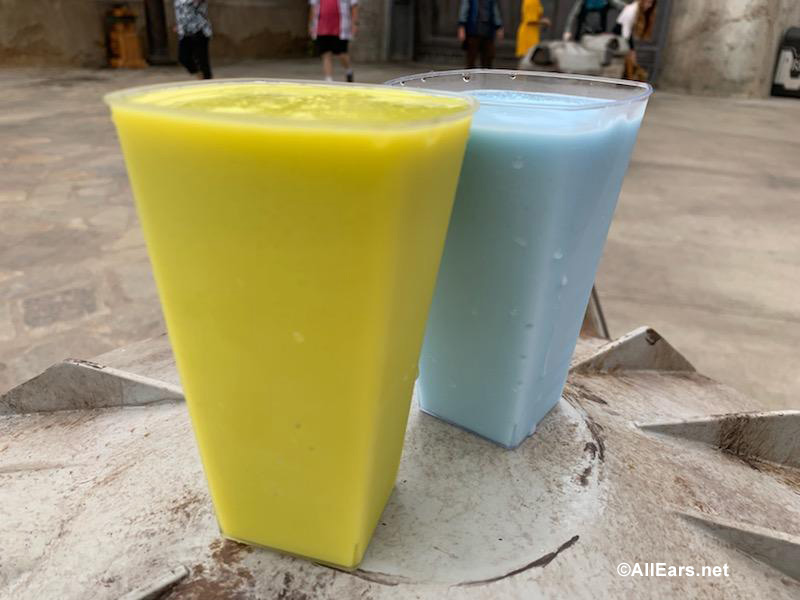 We're curious to know which foods and drinks you like to get with your Disney Dining Plan snack credits! Please tell us about the items you think are a great value (and are really tasty!) in the comments below!