As we detailed in our last installment from our early look at Pixar's Onward, the upcoming modern suburban fantasy tells the tale of two elf brothers and their quest to magically resuscitate their relationship with their late father when a spell to bring him back from the dead goes half-awry.
To reveal some of the magic that took place off-screen, a host of talented filmmakers from Pixar gave us some presentations on the hard work and creative talent that goes into a feature film like Onward.
In FROM THE FANTASTIC TO THE FAMILIAR, Noah Klocek (Production Designer), Adam Habib (Director of Photography/Layout), Johnathan Pytko (Lighting Supervisor), and Catherine Apple (Editor) took a look at how the departments of art, camera, lighting, and editing combine to create an environment somewhere between familiar and fantastical.
In a typical film set in contemporary times, there is a familiar visual language used that is readily recognizable to the average moviegoer.  Different types of people, such as hipsters, are easily identifiable on first glance.  A fantasy movie requires more explanation because we're not familiar with that world.  Part of the art department's job then is to help give audiences context for the movie's distinct visuals in order to help them accept the universe and not meet every scene with questions.
In Onward, the additional challenge is to take the fantasy characters and put them into contemporary settings so that a troll drinking coffee in a cafe is as clearly understood as any hipster equivalent.  To do this, the art department worked hard to create a fantasy world that was both authentic for hard-core fantasy nerds, but accessible for those who are not.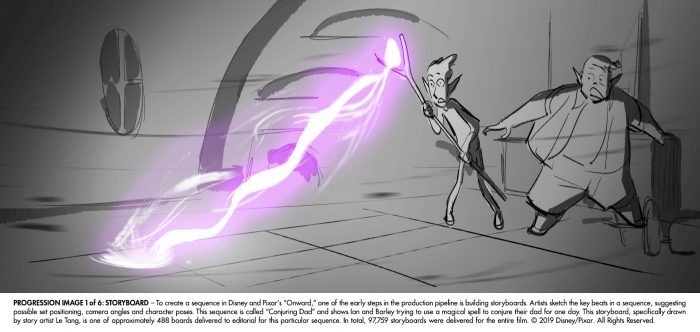 The purpose for having the two worlds intersect was, as is the case for virtually every filmmaker decision, to aid the storytelling process.  The fantasy element was needed so that they could bring the dad back with magic, while the contemporary/scientific element was added to make the boys' task more difficult.  Having their world largely forgotten about magic forces the brothers onto their journey of exploration.  The two sides are mirrored in our two protagonists–Barley, who is a full-blown proponent of the ancient and fantastic, while Ian just yearns to live a normal, mundane existence.

On creating the look of Onward's environment, they initially looked a lot at small towns of the midwest before finally settling on the look of a Los Angeles suburb.  One decision they had to make was how much fantasy and how much familiar made for an acceptable mix?  They ultimately found that a 70:30 ratio of familar: fantasy worked best for them.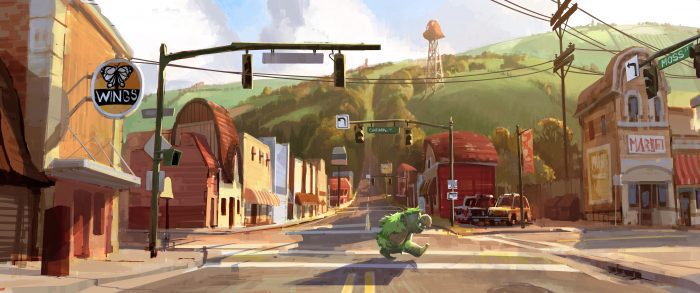 Maintaining the balance proved difficult as the addition of the fantastical characters inhabiting the locations tended to skew everything heavily towards fantasy.  While initial designs for the Manticore's Tavern were closer to an old English cottage, putting elves and gnomes in it made it overly quaint to the point where it needed to be redesigned more like a TGI Friday's or Chili's.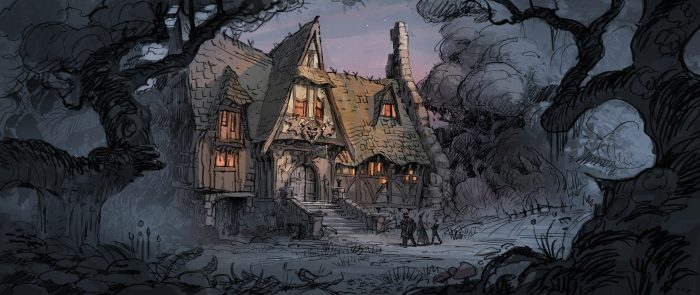 The Department of Photography then works to take the environments from the storyboards to a 3-D visualization with staging and a virtual camera.  Virtual reality was used to get a good view of the sets and check that proportions look right from the audience's vantage.
To better distinguish between the two brothers' chaotic (Barley) and order (Ian) characteristics, the camera moves and virtual lenses differ for each of them–Ian is filmed in a more naturalistic fashion that closely mimics regular vision, while a more anamorphic treatment was given to Barley.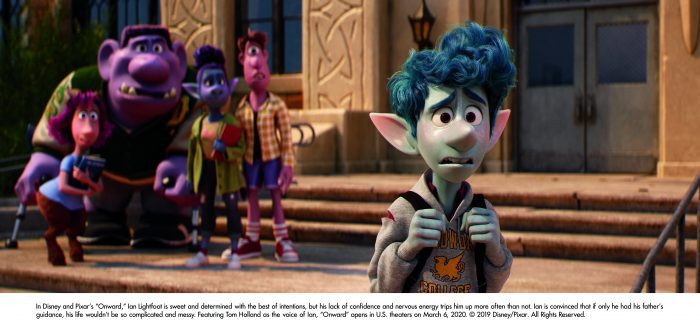 Moving into editing, the team works on getting the scratch dialogue tracks recorded and coming up with the sound and music that will make the film's world come alive.  The mix of modern and fantasy even extends to the sound effects, as Barley's van Guinevere has horse sounds subtly mixed in with the engine noises.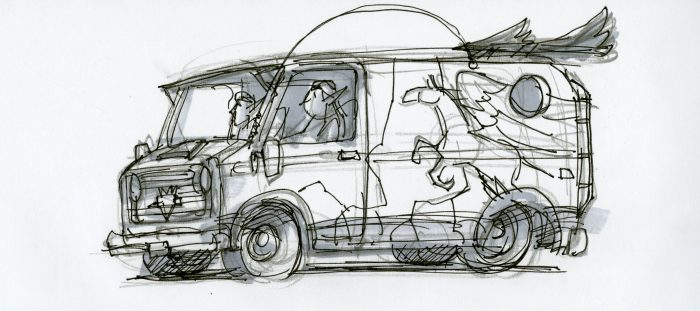 Lighting comes in next, to use light and shadow to add to the tone and setting of each scene and emphasize the different special effects.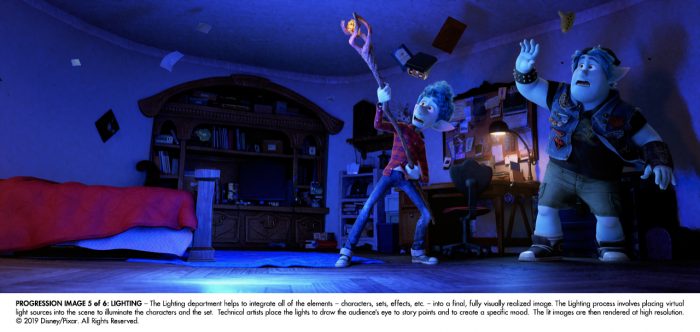 Lighting even extends to the composition of the sky–when Ian is at his school at the beginning of the story, the sky is clear and familiar.  By the time he gets to where he needs to manifest a Trust Bridge over a chasm, there are clouds that help compose the shot with shadows that break up a wide open set piece and serve to heighten the tension.
More to come!
Onward opens in U.S. theaters on March 6, 2020.
Questions?  Comments?  Suggestions?  Drop us a line below.
Be sure to follow @allearsnet on Facebook, Instagram and Twitter!
Check out our YouTube Channel for reviews, news, information and more!
Click below to subscribe to the AllEars® newsletter so you don't miss any of the latest Disney news!

Are you excited for Onward? Let us know in the comments!