Coming up next from Pixar Studios is their 22nd film Onward.  From the mind of director Dan Scanlon (Monsters University) comes a modern suburban fantasy about two elf brothers and their journey to magically reconnect with their late father.
To get an early peek at the upcoming film, AllEars quested up to Pixar Studios in Emeryville, CA to see what the filmmakers had to present.
Director Dan Scanlon and Producer Kori Rae held a press conference in which they fielded questions about the new film.
Scanlon on the genesis of the idea for Onward:  "In development, I knew I wanted to do something personal this time, and so…just started working through things in my own life and asking questions and asking questions of other filmmakers here and telling them about my life and they kind of helped me…pull out certain personal things.  As I'm sure you've heard, my dad passed away when I was a year old, my brother was three, so that was a big question I had–I think a lot of times movies are questions or should start off as questions–my questions were who was he and how am I like him like where am I going?
"And so that's where the idea came from and we thought well wouldn't it be amazing if you had one day with that person and what would you say?  And that's where the idea of magic came from, because we thought well, we need to make a movie where that could be possible, and then the idea was…well I don't want to do a period piece in a fantasy world–I wouldn't feel as close to that–and then thought well why can't it be modern and be a fantasy magical place?  And that led to the humor…and then lastly, they kind of came together when we realized…Ian is this character who is not living up to his full potential, who is, out of fear and comfort, not wanting to explore or take risks.  The world was kind of mirroring that too:  This was a world that maybe got a little too comfortable.  It was never to say that this is a world about science or technology being bad, it's really about baby with the bathwater.  They've lost a little bit of their specialness in taking the easy route.  So over time, over five years, the personal story and the world story came together which I think is ideally is the hardest thing to do and what you want out of a good film.  But that was really the genesis of it."
Rae on casting Tom Holland and Chris Pratt:  "This was a challenging film to cast, actually.  I think because we had a 16-year-old and a 19-year-old and just even from a performance standpoint it's like what age actor do you try to go out to?  You want someone with solid acting chops but someone who still sounds sixteen.
"Finding Tom Holland was fantastic, it took a little while for us, again like I said, but once we met with him and cut in some of his other stuff just to test it out–dialogue from his other films and everything–and realized that he was just right for Ian.  That he had the right amount of nervousness and shyness and yet is such a great actor that he could do the emotional scenes."
Scanlon:  "Then Chris came after that, and everyone was saying 'Star Lord and Spider-Man' but we really didn't give that a lot of thought.  It really was just that Chris embodied the chaotic, wild part of Barley and also he has a charm that allows him to get away with being a little annoying, which he has to be at times.  And he has that big brother quality and it does help that they do know each other and that Chris is a little bit like a big brother to Tom in their relationship."
Next up, the story team talked a little on how they take ideas from the page to the screen in their presentation QUESTS OF YORE.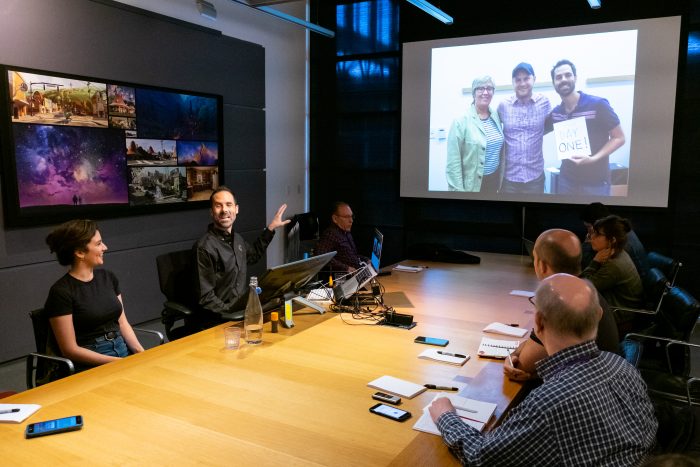 The process for a brand-new original film like Onward starts with a blank room waiting for people to put ideas down on cards and pin them up.
As the script develops, more people get involved as pages are distributed to a small group that go through it and make notes.  After several rounds of rewriting, specific scenes are given out to different story artists so that they can start analyzing how they are going to take it from a script to a visual medium.  Cinematography, writing, character development, acting, staging, editing, humor, design, and composition are all considered as the storyboarding process begins.
A completed storyboard is then pitched by the animator to the director and the rest of the story team.  Notes are received from everyone and changes can be made digitally in real-time to clarify the action or improve the storytelling.  Eventually the storyboards are turned into animatics with scratch (temporary) dialogue voiced by the animators themselves which are then sent to Editing for temporary sound effects and music to illustrate the timing.  Every three months these are combined into a rough version of the film which is screened to the studio at large, who then give input on it.
After all the ideas are collected and compiled for trends (what characters did they like/not like, what was confusing, etc.,) the story team goes back into the story room and attacks the whole thing all over again.  The process continues until the film is completed or released, whichever comes first.
More to come!
Onward opens in U.S. theaters on March 6, 2020.
Questions?  Comments?  Suggestions?  Drop us a line below.
Be sure to follow @allearsnet on Facebook, Instagram and Twitter!
Check out our YouTube Channel for reviews, news, information and more!
Click below to subscribe to the AllEars® newsletter so you don't miss any of the latest Disney news!

Are you excited for Onward? Let us know in the comments!