With the recent acquisition of 20th Century Fox, Walt Disney Studios also obtained a new animated feature releasing on Christmas Day this year–Blue Sky Studio's Spies in Disguise.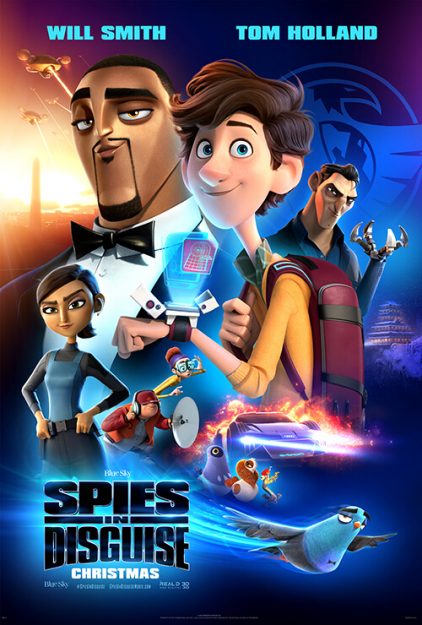 To talk a little about his involvement in the upcoming film, actor Masi Oka (voice of "Kimura") recently participated in some brief roundtable discussions.
Highlights: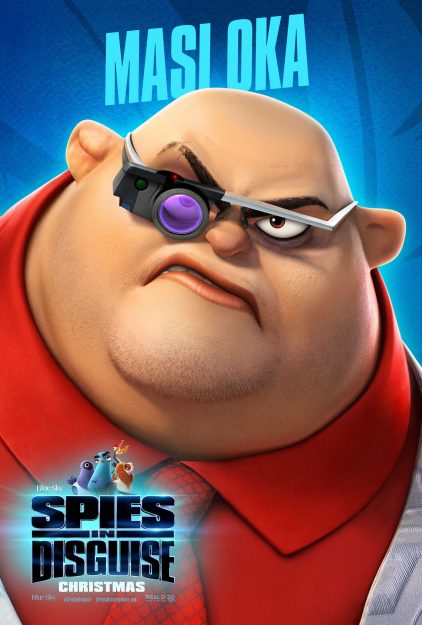 Oka on culturally accurate casting:  "That's what I love about (casting director) Christian–he was so particular about making sure he got the right voices, like he wanted to get someone who was native Japanese speaking, he wanted to get someone who was native Korean to speak, and a native Mexican to speak…you know, because that was really important to him. Like, he could tell us 'oh, that is an Americanized Korean accent.'  We wanted to make sure this was as authentic as possible, so I give a lot of props to Christian for going above and beyond difficult casting sessions trying to find the right people for it.
Oka on how his background in visual effects at George Lucas' Industrial Light & Magic informs his voice over work:  "Having done VFX stuff allows you to have more understanding of the process of where this is going to go to.  So knowing that this is a storyboard and this is a quick animatic…ok, I can fill in the rest in my mind.  I don't need a green screen and I don't need an actual actor to play against.  So I think that allowed me, at least from a technical aspect, to also have a shorthand with a lot of animators and directors, like oh, you don't have to explain to me that you're going to have to comp this here, there's going to be roto here, there's going to be particle effect here…I see what it is and I can visualize what the final product is, so based on that, let me try to adapt my performance to make that work."
Oka on the evolution of Kimura:  "I think in the original, he tended to be a little bit more mean.  But then, I found out the animators at Blue Sky in New York…a lot of people were fans of my work…they said I was a 'fan favorite,' so they started making the character more lovable, which is nice.  So yeah, I think it definitely evolved, fortunately,  even through three sessions."
"Spies in Disguise" opens in U.S. theaters on December 25, 2019.
In case you've missed it, here's the trailer for the new film:
Questions?  Comments?  Suggestions?  Drop us a line below.
Be sure to follow @allearsnet on Facebook, Instagram and Twitter!
Check out our YouTube Channel for reviews, news, information and more!
Click below to subscribe to the AllEars® newsletter so you don't miss any of the latest Disney news!