Marc Davis in His Own Words: Imagineering the Disney Theme Parks
Authors: 
hardcover, 749 pages, Disney Editions, List Price: $150.00
[A copy of this book was provided by Disney for review purposes without restriction on thoughts or opinions.]
"…One of the first things I said was 'Well, I've got an expensive way and a cheap way of doing this.'  And Walt got all the way up from his seat and walked up to the front of the room where I was.  He put his hand on my shoulder and said, 'No.  Marc, look, I don't agree with that.  And I do not worry about whether anything is cheap or expensive.  We only worry if it's good.'"  –Marc Davis
There have been, without question, any number of words written about the making of Disneyland and all its theme park descendants–an interested reader could spend a good chunk of their life just reading everything currently in print, to say nothing of all the new works constantly being produced online on a jillion different official and unofficial webpages.  Anyone not planning on making Theme Park Historian their full-time vocation probably needs to be selective in where they spend their precious reading time.
So it is with deepest pride and greatest pleasure that I can wholeheartedly recommend Marc Davis In His Own Words:  Imagineering the Disney Theme Parks as 100% worth your time and money.  This enormous two-volume set by Pixar's Pete Docter and Imagineer Christopher Merritt takes readers through Disney Legend Marc Davis' career from his entry into the Walt Disney Studios in 1935 to his retirement from contracting work in 1985.  The intervening fifty years are exhaustively documented with never-before-seen artwork and quotes from Marc Davis himself, garnered from audio tapes Merritt made of him throughout their long friendship.
[Merritt spoke a little about the book during the great Haunted Mansion panel at D23 Expo this year: https://allears.net/2019/09/23/d23-expo-celebrating-50-years-with-the-haunted-mansion/]
Volume one covers the time frame from Davis' groundbreaking work in animation, where he created such classic villains as Maleficent and Cruella de Vil as well as ingenues like Alice (in Wonderland) and Cinderella, through his incorporation into the newly established WED and his early forays into theme park design.  Gorgeous concept art and rough sketches show Davis' thought processes on such seminal attractions as the Jungle Cruise, Walt Disney's Enchanted Tiki Room, Pirates of the Caribbean, and Nature's Wonderland, Submarine Voyage, and the 1964-65 New York World's Fair exhibits.  Volume two continues with his work on the Haunted Mansion, Country Bear Jamboree, and America Sings, while also going into depth on some of his painfully unrealized projects such as Western River Expedition, Garden of the Gods, and the Enchanted Snow Palace.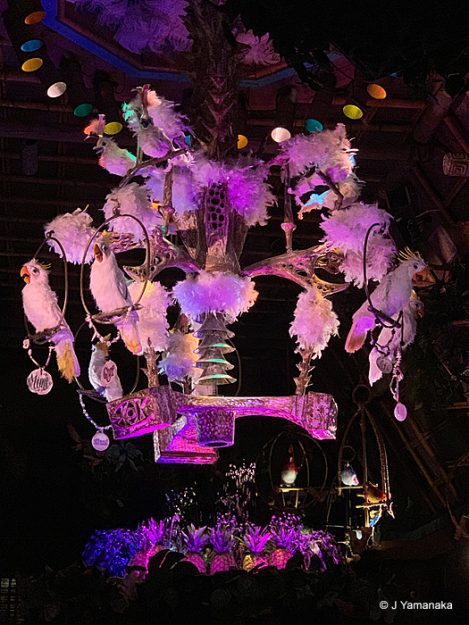 Interwoven with Davis' fantastic art are insightful quotations from other Imagineering legends such as Blaine Gibson, Bob Gurr, Rolly Crump, Marty Sklar, Walt Disney, and of course Davis himself.  While the chance to own and pore over the minutiae of Davis' masterly sketches is fabulous on its own, the ability to read, in his own words, his thoughts and approach to attraction design is an opportunity simply not afforded elsewhere.
"…literally, you're doing the same thing you would do in animation.  That is, tell a story and tell an idea.  But you're not telling a story from the standpoint of the continuity; you're showing a series of experiences."  –Marc Davis
The content of the set is probably about 70% pictures (more than 1,500 pieces from the Imagineering archives) which makes it seem as though it would be a quick read–but it is by no means the usual coffee table book, good for a quick twenty-minute flip through and then relegated to part of the living room decor.  Each piece of art is so detailed that you can spend a considerable amount of time poring over each one and correlating it with the creative insights in the text.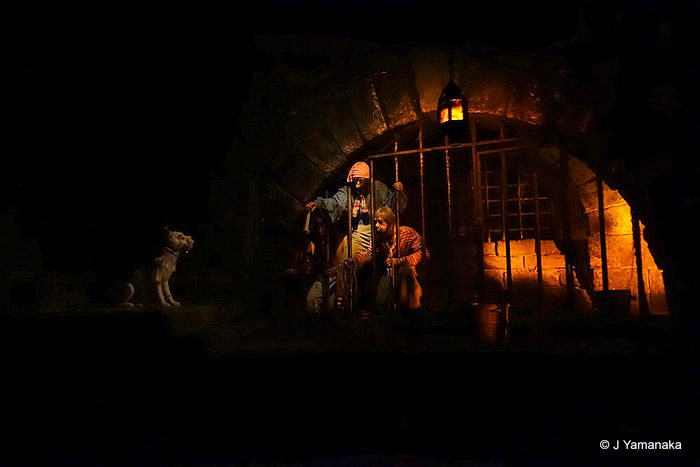 [Please don't let my crummy photos make you think they are in any way representative of the beautiful ones in the books.  I didn't have the rights to reproduce those.]
Right now the availability of the books seems to be dwindling, so I would advise you to get them before they go entirely to the third-party sellers or, Heaven Forbid, Disney memorabilia auctions, where the pricing will likely increase.  If you are a fan of animation or art or theme parks or Disney history (and why would you be here, on AllEars.Net if you were not?) this is required reading.  If you were to only buy one Disney-related book this year, this is the one.
"When you're sitting in a room for the period of time that you are–and suddenly the decorations in the room begin to move and begin to come to life, and the poles that are supporting the place become alive–there's something of a kind of magic.  And this magic is something that I have felt, all the way through, on every show that we have ever done.  And one of the most important things is this thing that 'you do not expect to see.'  You do not expect to be in this room and have everything suddenly come to life.  And this to me is a very very important part of what we're doing."  –Marc Davis
Questions?  Comments?  Suggestions?  Drop us a line below.
Be sure to follow @allearsnet on Facebook, Instagram and Twitter!
Check out our YouTube Channel for reviews, news, information and more!
Click below to subscribe to the AllEars® newsletter so you don't miss any of the latest Disney news!