Epcot, the second of four theme parks to be built on Walt Disney World property since 1971, is currently undergoing a major overhaul, with new shows and attractions in the works to coincide with the 50th anniversary of the opening of The Vacation Kingdom of the World in central Florida.
The Epcot that opened on Oct. 1, 1982, was a far cry from the Epcot envisioned by Walt Disney in the 1960s.
Walt wanted to show the United States a new way to design cities … to give leaders a blueprint for a more idyllic, almost Utopian, urban experience. He called it the Experimental Prototype Community of Tomorrow.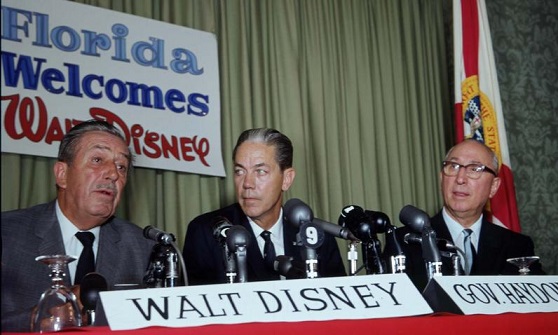 The "city of the future" ostensibly died with Walt in 1966, but the perceptions of what he had proposed lingered for years.
Then, in 1974, then-Disney CEO Card Walker turned to Marty Sklar of WED Enterprises, the forerunner of Walt Disney Imagineering, and asked: "What are we gonna do about Epcot?"
Here's the story of how the Epcot we know today came to be.
——————————-
The last time I saw Marty Sklar in person, it was at his beloved Epcot.
The former leader of Walt Disney Imagineering was in the park in March of 2017 for the inaugural Festival of the Arts, now a winter/early spring fixture at the park.
The last time I spoke to Marty was about a week before his passing in July of 2017. He told me how much he was looking forward to being in attendance for Epcot's 35th anniversary later that year. "That one will be a big one," he told me.
Marty's personal stamp was on Epcot
Of all the Disney parks Marty had a hand in creating – to be sure, his mark is and always will be on all 12 Disney parks worldwide – his personal stamp was perhaps most prominent on the Experimental Prototype Community of Tomorrow.
He was a guiding force in interpreting Walt's grandiose ideas into a working, functional entertainment and educational experience.
The story of Epcot began in the early 1960s, when Walt Disney decided he wanted to do something to change the plight of America's cities. He sketched his early concept for a "city of the future" on a napkin.
Walt dreamed of creating a new kind of urban landscape, an innovative, futuristic metropolis with a dome shielding its inhabitants from heat, rain, and humidity.
Epcot was to champion forward-thinking, clean-running forms of transportation, with monorails and PeopleMovers shuttling residents comfortably and quietly from the center of the bustling city [where citizens would work and entertained] to more bucolic, suburban settings, where those same residents would live and recreate.
At its core, Epcot was to be a bold experiment, one which, it was hoped, would transform the way America designed its cities, forever banishing concrete blight, congested highways and noisy, smog-infested streets.
The people who lived within Epcot's borders would be among the first to experience the latest technological and scientific advances introduced by American industry.
To be built from scratch on Disney's Florida property
Epcot was to be built on some of the 28,000-plus acres of virgin land Disney had purchased in central Florida during the early 1960s, and was, in fact, the focal point of Disney's transition eastward.
Walt put together a film in the fall of 1966 which detailed the company's plans, hopes, and dreams for Epcot. The script for the film was written by none other than Marty Sklar.
But after Walt Disney died on Dec. 15, 1966, the idea of building a Utopian city languished; Walt's trusted lieutenants put Epcot on hold and concentrated on getting the ball rolling on Walt Disney World — starting with the Magic Kingdom theme park, which opened in 1971, in conjunction with resorts and recreational facilities.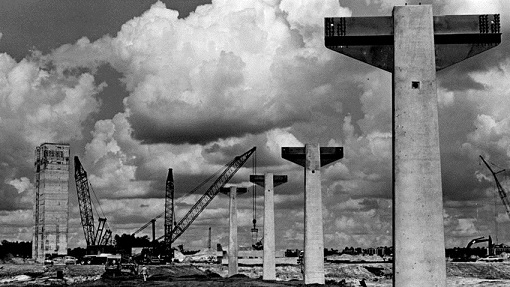 While it wasn't the prototype community Walt had first envisioned, it would become the world's first destination resort, which in itself was a major accomplishment.
In 1974, with Walt Disney World firmly established as The Vacation Kingdom of the World, then-Disney CEO Card Walker – the man who hired Marty Sklar way back in 1955 – boldly took the idea of Epcot off the back burner and asked Sklar a career-defining – if not life-altering – question.
"What are we gonna do about Epcot?"
"That was the start of eight years of figuring out what to do," Sklar said. "And it was a pretty fantastic eight years, I must say."
Walt made revisions on Epcot on his death bed
In the hours before he died in Providence St. Joseph Medical Center, Burbank, Calif., Walt talked about Epcot, mustering enough strength to outline changes he wanted to see to his "latest and greatest dream" as his brother Roy looked on from his bedside.
Walt was very much involved in the early planning and site selection for Walt Disney World. In fact, Walt had personally selected many of the plots of land his company would purchase during flyovers while on board the company's Gulfstream airplane in the early 1960s.
In introducing the world to his grandiose Florida Project, Walt said: "I don't believe there is a challenge anywhere in the world that's more important to people everywhere than finding solutions to the problems of our cities."
"Solving the problems of the city obsessed him," said long-time Disney animator and executive John Hench.
Sklar said Walt's keen interest in technological advances fueled his desire to create something that could ultimately change the course of the human condition.
"The way he got excited about this whole idea was he would go around to the great laboratories of the big companies — Bell Labs and GE, DuPont and IBM — and when Walt Disney would come, they'd trot out the newest things they were working on and he would say, 'When can I buy that, something with that technology'? And they'd say 'Well, we don't know if the public would be interested'."
But Walt was keenly interested. And he knew getting corporate America involved in his dream would be crucial.
When the New York World's Fair closed its doors in October of 1965, all four of the Disney-created shows — it's a small world, Great Moments with Mr. Lincoln, the Carousel of Progress and segments of the Ford Magic Skyway — were trucked back to California to become featured new attractions in Disneyland.
The best part of the arrangement, from Disney's standpoint, was that the corporations who sponsored the four Disney Fair shows also paid for their transport to Disneyland.
Corporate America's sponsorship was pivotal
It was corporate America's sponsorship that would play a pivotal role in bringing Epcot to life more than a decade later.
When GE's Carousel of Progress, one of the Fair's most popular shows, opened in Disneyland in 1967, a model was displayed inside the show building to give guests an idea of just where the Walt Disney company's plans were headed.
"The model we created was for the second floor of the Carousel of Progress building in Tomorrowland when it was located at Disneyland," Sklar said. That model fascinated Disneyland guests for five years.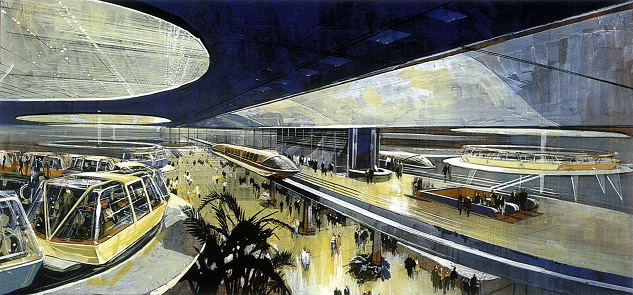 "It was basically a depiction of the Epcot community that is represented in Walt's Epcot Film." [Part of that model still can be seen today along the PeopleMover route in Tomorrowland at the Magic Kingdom in Walt Disney World.]
The concept for Progress City was destined to head to central Florida, where Walt's trusted colleagues, under a cloak of secrecy, had been using pseudonyms and inventing dummy corporations to scoop up land at bargain-basement prices to get the ball rolling on what was initially known as the Florida Project.
In the early 1960s, once Walt Disney was convinced that his brand of entertainment would be accepted by the perceived "more sophisticated" East Coast audience, elaborate plans were set in motion to bring the Disney brand east of the Mississippi River.
After an extensive search, the site chosen for the Florida Project was a few miles south of Orlando, Fla., then nothing more than a stop-off point for motorists headed to much more glamorous Miami.
There was a jetport [although at the time it served more military flights than commercial traffic] and two interstate highways close to Disney's barren, swampy property.
In purchasing the land, which ended up being roughly twice the size of Manhattan, Disney conducted something akin to a covert military operation.
Attorney Bob Foster and Walt's brother Roy, under the pseudonyms Bob Price and Roy Davis, were sent to Florida in April of 1964 — just as Disney's four World's Fair shows were opening to rave reviews — to begin buying as much property as they could, as cheaply and as anonymously as possible.
If word got out that Disney was behind the land grab, prices would have most assuredly soared. There was much speculation among Floridians as to which company was buying all this land.
With Cape Canaveral a little more than an hour's drive away, aerospace concerns were most everyone's first guess, followed by the automotive industry.
With speculators' imaginations running wild, "Foster," "Price" and Co. succeeded in purchasing more than 27,000 acres in Orange and Osceola counties before an ambitious reporter from the Orlando Sentinel named Emily Bavar caught wind. The paper proclaimed in a banner headline that "We Say: 'Mystery' Industry is Disney," on Oct. 24, 1965.
Once he was outed, Walt decided to hold a press conference on Nov. 15 in Orlando to formally announce the project. Walt and Roy Disney joined an enthusiastic Florida Gov. Haydon Burns at the dais.
Walt answered a barrage of reporters' questions with vague, often ambiguous responses. He said that the yet-to-be-named project would be divided into two communities, one named Tomorrow and the other called Yesterday.
Lands themed to Yesterday and Tomorrow
In retrospect, the themes of Yesterday and Tomorrow are very much on display today in the Magic Kingdom and Epcot. The Magic Kingdom — and in particular, Main Street U.S.A. — is a throwback to a Midwestern town at the turn of the 20th century.
Even the modes of transportation, such as horseless carriages, horse-drawn buggies, steam-powered trains and paddlewheel boats, reflect that bygone era.
Epcot, on the other hand, features a sleek, modern monorail running through the heart of the park and buildings far more futuristic in design. Some of those buildings even use photovoltaic cells to harness the sun's power and satisfy a portion of their electrical needs.
What would become the Innoventions part of the park in Future World touted futuristic gadgets such as cell phones, fax machines and computers to fascinated guests.
At the 1965 press conference, Walt Disney admitted that he had been thinking about building a model city for quite some time, but that such a city might be outdated before it could be completed.
He added that such a model city would be almost devoid of automobile traffic, which was a radical idea considering how cars had become so ingrained in the nation's psyche during the '50s and '60s.
In the weeks following Walt Disney's death and a year after the announcement of Disney's move to Florida, a suddenly rudderless Disney company was grinding relentlessly forward with Phase I of the Florida Project.
All of the company's resources were now concentrated on the creation of the Magic Kingdom theme park, a bigger, more elaborate version of the original in Anaheim, Calif.
Once the Magic Kingdom was up and running, it was hoped, Walt Disney World would be firmly entrenched as a major resort destination. At that point, the plans for Epcot could be revisited.
More than just the Magic Kingdom
The Magic Kingdom was a portion of the Florida Project Walt proposed. Also envisioned were an airport, an industrial complex, an elaborate entrance, resorts, recreational facilities and, of course, the model city, which Walt always considered the focal point of the project.
"Orlando had about 100,000 people in the whole urban area and nobody went there for vacation," Sklar said, "so we had to establish a reason for people to go there." It was vital to turn the sleepy town of Orlando and its surrounding environs into a place that folks from other sections of the country would want to visit.
"The whole focus at that point was on building a destination resort and the Magic Kingdom," Sklar added. "We had to do that first" before even thinking about building a city of tomorrow.
Donn Tatum, then-president of Walt Disney Productions, said prior to Walt Disney World's opening: "Our five-year program of development is very similar to the way Disneyland grew. What we are beginning here is a long-term program of growth in which the Phase I vacation complex represents the first five years."
Included in Phase I's blueprints were the construction of five hotels off Bay Lake and Seven Seas Lagoon — the Contemporary and Polynesian resorts, which opened with the Magic Kingdom in 1971, as well as the planned, but never built resorts which were to have Asian, Venetian and Persian themes.
Also in the plans were the Fort Wilderness Campgrounds, aimed at RVers, as well as championship golf courses and a variety of other recreational amenities, including fishing, boating, tennis, and horseback riding.
Phase II was to have been the realization of Walt Disney's greatest dream, Epcot.
Assuming the challenge of Epcot
"The research carried out and the experience gained in the construction and operation of Phase I will provide immense knowledge for our organization as it assumes the challenge of creating the Experimental Prototype Community of Tomorrow in future years," Roy O. Disney said in 1970 as he valiantly carried on for his brother.
The Magic Kingdom opened on time on Oct. 1, 1971, but not without a monumental effort by all concerned. When construction began, Disney's land was mostly swamps, barren fields, muddy lakes, thick brush, and meandering streams. Mosquitoes, alligators, snakes, and birds were the chief inhabitants.
To bring Walt Disney World from the drawing board to reality, land had to be cleared and a massive infrastructure needed to be put in place, including roads, bridges, electrical conduits, service facilities, levees, canals, and water control structures.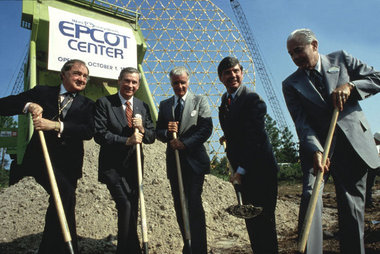 Construction of this infrastructure was made easier thanks to the creation of the Reedy Creek Improvement District, which allowed Disney to sidestep typical government morass.
"We had a lot of pointed stuff from Walt that he had done in the press conferences in November of 1965 with Gov. Burns and he said that the public would expect a lot of things from Disney, but he had a lot of new ideas," Sklar said. "Of course, those new ideas were mostly about Epcot."
When the Magic Kingdom swung open its doors, Disney had established its entertainment beachhead, if you will, and in short order, central Florida was the destination of choice for vacationers up and down the East Coast, as well as the Midwest and beyond.
And visit they did, with guests flocking to the Magic Kingdom in ever-increasing numbers during the first few years.
The question lurking in the back of many people's minds became: Whatever happened to Epcot?
Next time: Conceptualizing the "new" Epcot and getting corporate America on board.
Join the AllEars.net Newsletter to stay on top of ALL the breaking Disney News! You'll also get access to AllEars tips, reviews, trivia, and MORE! Click here to Subscribe!