It is with a heavy heart that we report on the passing of Kau'ihealani Mahikoa Brandt, more commonly known as Auntie Kau'i, one of the most beloved Cast Members at the Walt Disney World Resort.

An opening day Cast Member and a beloved fixture at the Polynesian Village Resort, Auntie Kau'i has brought countless moments of joy to guests at Disneyland and Walt Disney World over the course of her storied career.
Auntie Kau'i is a Disney Legend, personally greeting guests with hand-crafted leis and teaching guests the art of Hula dancing. Disney Historian Jim Korkis did an article on her amazing story for All Ears in 2017, from which much of the information in this article is taken.
Born in 1932 during a thunder and lightning storm, Kau'i Brandt's full name is Kaihealani, which means "thundering voice of heaven". A masterful hula dancer who trained since she was a child, she grew up in a period where speaking Hawaiian was forbidden and the traditional art of hula dancing was considered vulgar and limited to comedic performances featuring dancers in cellophane skirts.
Despite this, Kau'i was a prolific scholar of Polynesian dance, studying the music, motion, and story of Samoa, Tahiti, Tonda, Hawaii, and the Maori people of New Zealand. By the 1960s, when she was first approached by Disney, she was one of the most foremost dancers in Hawaii.
Kau'i famously refused Disney's offer of a job three times, out of the belief that once she left Hawaii she would never return. When she finally accepted in 1971 to perform at Disneyland's Tahitian Terrace, she had no idea that her belief would prove true. She would not live in Hawaii again… but she would bring the spirit of Hawaii to people around the world.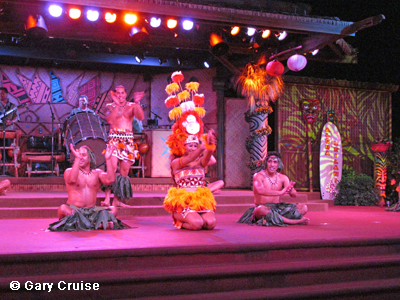 Kau'i and her husband Pono would later go on to open the Kau'i-Pono Polynesian Revue at Walt Disney World's Polynesian Village Resort, one of the most authentic luau performances outside of Hawaii. It was a love letter to the artistry and story of Polynesia; performed in authentic handmade costumes by dancers who understood and respected the history and stories they were conveying.
Even after she left the Luau behind, Kau'i remained a constant fixture at the Polynesian, giving handmade leis to guests celebrating honeymoons and anniversaries, and sharing the spirit of aloha with all she met.
In 2007, Kau'i returned to Hawaii to receive the prestigious Duke's Ko'kahiko award, presented by Duke's Waikiki restaurant to an individual who exemplifies the finest traditions of Hawaii.
"I think I have the greatest job on Earth", she said in an interview. "It is a lot of sharing, and that is what it is about."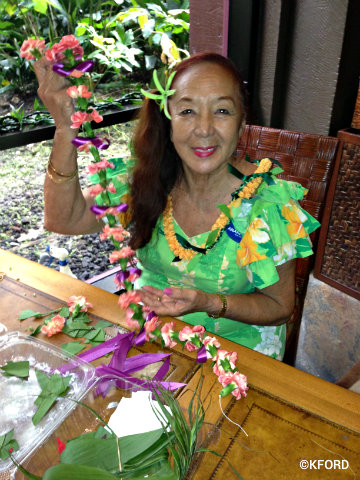 Kau'i was quoted as saying, "Guests ask us if we miss our islands, if we ever get homesick for our flowers, our waterfalls, mountains, and rolling waves. "I tell them that we bring the islands with us in our songs, in our dances, and especially in our spirit of aloha – the gift of the islands to all who enjoy life."
Kau'i was 88 at the time of her passing on Thursday.
Aloha, Auntie Kau'i. Thank you for bringing the aloha spirit to all of us here in Orlando. Until we meet again.