Trying to decide which Disney Cruise Line ship to choose, but don't know where to start? Well, if one of the activities you and your family are most looking forward to is waterslides and swimming onboard your boat (while you're riding the high seas in high style!) you'll want to know how the four current Disney Cruise Line ships stack up in terms of H20 fun!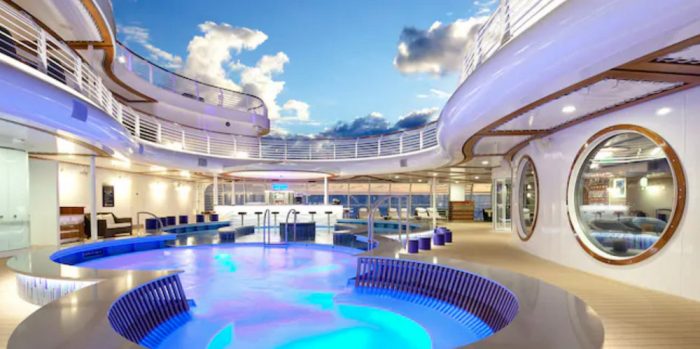 Note that no matter which Disney Cruise ship you pick, each vessel is equipped with pools and play areas that are designed specifically for adults, families, and little kids! That way everyone is guaranteed an opportunity to get their swim on if they want to!
We'll be starting with fourth place and working our way down to number one! Let's go!
Last Place: Disney Wonder
We're giving Disney Wonder last place because it has the fewest number of pools when compared to the rest of the Disney Cruise Line ships. While it does have a new AquaLab (water-themed play area), the Twist 'n' Spout waterslide it features isn't exactly a match for Disney Fantasy and Disney Dream's AquaDuck water coaster or Disney Magic's AquaDunk.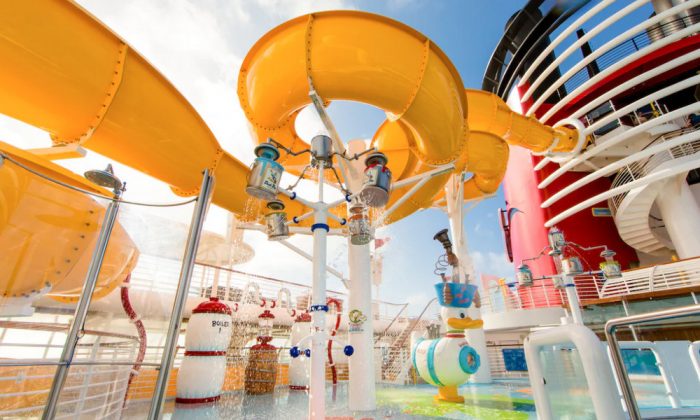 Other pools onboard Disney Wonder include Goofy's Pool, Mickey's Pool, Mickey's Splash Zone, and the adults-only Quiet Cove Pool (which can be found on all four ships).
Third Place: Disney Magic
Disney Magic is the only ship in the Disney Cruise line that has the Aqua Dunk — a three-story body slide through a translucent tube that goes out over the side of the ship!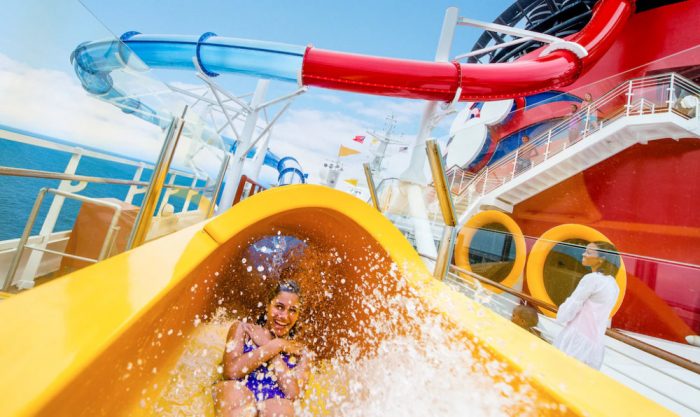 We're not sure if we're brave enough to attempt this daring feat, so if you need us, you can find us at the AquaLab, Goofy's Pool, Nephew's Splash Zone, or Quiet Cove Pool instead!
Second Place: Disney Dream
Remember the AquaDuck we let slip earlier? Well, here it is! You'll only find it on the Disney Dream and the Disney Fantasy. The 765-foot-long water coaster gushes up, down and around four decks of the ship, even going over the side! You'll see the ship (and the ocean!) as you've never seen it before — from the unique perspective of the uncovered and translucent sections of this state-of-the-art water coaster!
While aboard the Disney Dream, you can also dip your toes in Donald's Pool, Mickey's Pool, Nemo's Reef, the Funnel Puddle, the Quiet Cove Pool, and Satellite Falls — another exclusive adults-only pool area where you can sit behind a curtain of water and sip a delicious cocktail at the very tippy-top of the ship!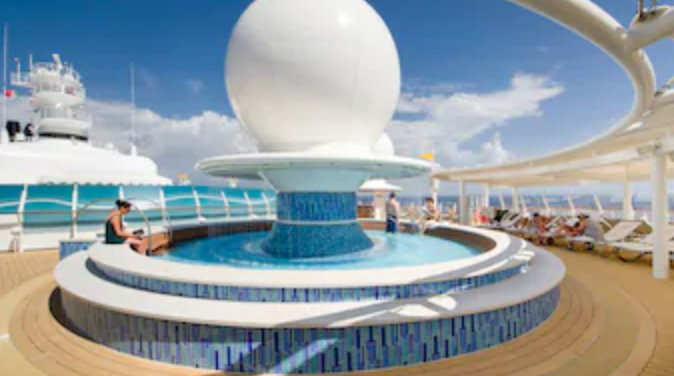 You'll only find the private paradise of Satellite Falls onboard Disney Dream and our number one cruise ship which is…
First Place: Disney Fantasy
Disney Fantasy is the winner in our ranking, although, to be perfectly honest, it could've just as easily have been a tie with Disney Dream! Disney Fantasy shares almost identical water features with its sister vessel Disney Dream (like that awesome AquaDuck water coaster!), but it also has the AquaLab play area (which Disney Dream lacks) so we're sayin' it's just a tad better!
Disney Fantasy also has Donald's Pool, Mickey's Pool, Nemo's Reef, Quiet Cove Pool, Satellite Falls, and the Funnel Puddle — a family wading pool which is also found aboard the Disney Dream.
What do you think of our ranking? Let us know if you agree or disagree in the comments below!