Walt Disney Studios will once more visit the world of fairies, spindles, and cheekbones this month with the release of Maleficent:  Mistress of Evil.
At a recent press conference, actors Angelina Jolie "Maleficent," Michelle Pfeiffer "Queen Ingrith," Elle Fanning "Princess Aurora," Chiwetel Ejofor "Conall," Ed Skrein "Borra," Harris Dickinson "Prince Phillip," Sam Riley "Diaval," and director Joachim Rønning met to speak about their journey to revisit everyone's favorite Mistress of Evil.
Panel highlights: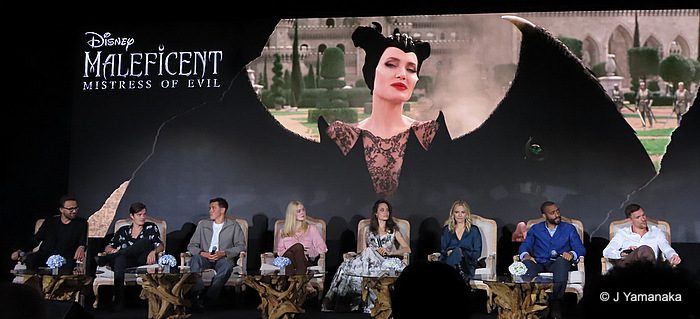 Rønning on expanding the universe of "Maleficent":  "…It's always like a fine line in regards of what to keep from this beloved universe–because you do want to keep a lot of that and what's important to the fans–and at the same time, for me as a filmmaker, it's important to make something original and take Maleficent to the next level…kind of make 'Maleficent 2.0.'
"But I do think that…I feel a huge part of the success of the first film was that it had such a strong emotional core.  And I think that was the most important thing for me to continue telling that story, the story about Maleficent and Aurora.  And that's definitely also something that I can relate to as a parent myself."
Pfeiffer on the women of the film and their different strengths:  "I think, in terms of strength and how it manifests itself, it's different in everyone…Aurora's character–in many ways, she is ultimately the strongest and the wisest of all of us.  I mean, my character is really brilliant and diabolical, but I wouldn't consider her terribly wise.  So I like the way it plays out.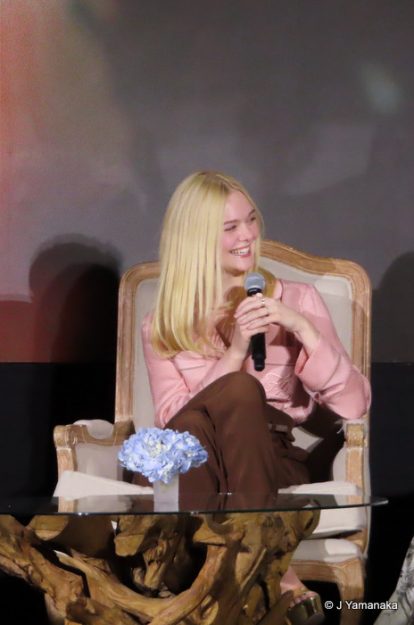 Fanning on Aurora's symbolism:  "In the second film, what's so great is that she's definitely a young woman now, she's grown up, she is stronger now, she has much more conviction in herself and she's learning how to gain her independence.
"…Aurora stands up to Maleficent, which is such a strong moment in the film.  I think it might be shocking for the fans to see that, because Aurora's taking charge of her own life–but with kindness, which is the most powerful of all.  We didn't want Aurora…a lot of films, they put her in armor and have a sword and she's fighting, and that makes her strong.  That's not Aurora's true nature…I love that she symbolizes that also for young girls, like I was that girl, and I was always soft and wanted to be a Mom and wanted to get married and very feminine and there's nothing wrong with that.  And so we get to show the strength in accepting your femininity.  And Aurora does it in a pink dress.  Very badass."
Jolie on what the film says about family: "It's about a few things to me.  It is about family…you know, Aurora and Maleficent were first brought together and became a family and they weren't really expecting it.  Maleficent was harmed in her life and she'd lost herself and lost her ability to be soft or feel love, and the love of a child (which certainly happened for me in my life–being a mother brought out something in me that completely transformed me.)  But we are different creatures in the film, and so there are metaphors in the film and not to be heavy about it, but always I think a good film for young people has these messages…
"We get pulled apart.  They tell us because you're not the same, you're not family.  Because you're not exactly like her, you're not her mother.  And that certainly strikes a chord with me.  And I think Maleficent questions whether she's good enough to be a mother and whether she is a mother and so in the middle of this film we go on different journeys…we go through this period in the middle of the film where everyone is really focusing on their differences.  How different we are.  And then there's a real push to say this is not how it should be and this is not how to live and diversity makes us stronger and there must be a better way forward and we have to come together…And I think that is a really important message."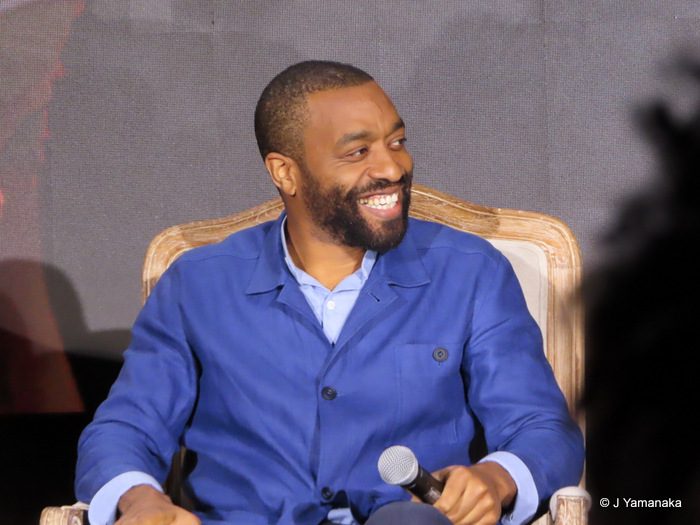 Ejofor on joining the Fey:  "All the looks were so individual and so detailed…but with this kind of central idea, this kind of tribe.  And you definitely felt that when you walked on the set.  You just felt part of this thing, and it was kind of exciting then, in terms of the story, to bring Maleficent into this world, into this kind of community.
"…You know, they're so defined by being in this conflict with humans, and so there's all this kind of psychological drama that's bonding them all, all the Fey, and it was just interesting to play.  It's interesting to think about.  It was just so easy to relate to, in the world as it is right now, and all of the kind of themes that we're all dealing with, just sort of outside of all of that, and to kind of explore that in this way was very freeing and also very grounding and exciting."
Also on display at the press conference were some of the film's elaborate costumes: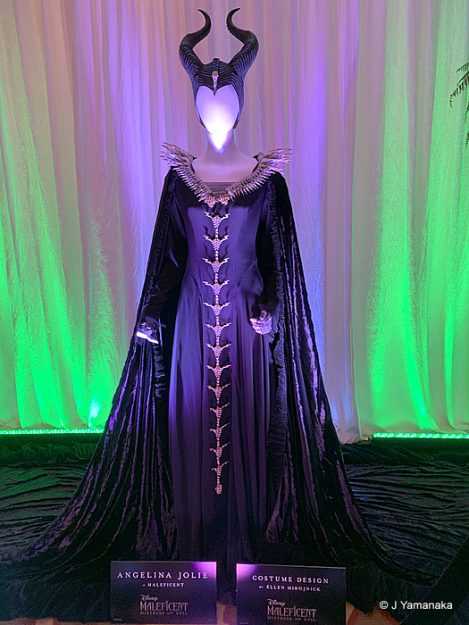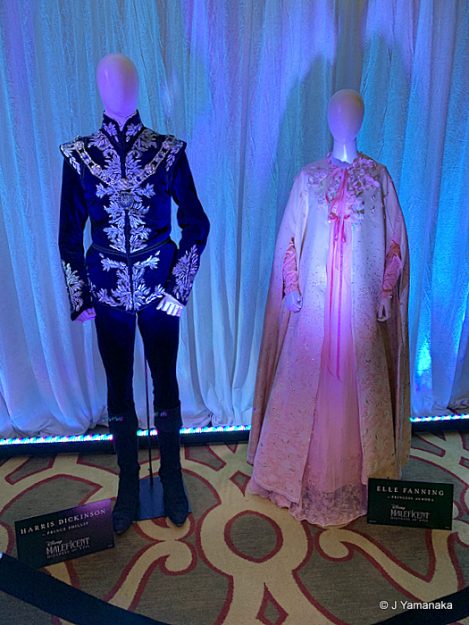 "Maleficent: Mistress of Evil" opens in U.S. theaters on October 18, 2019.
In case you've missed it, here's the trailer for the new film:
Questions?  Comments?  Suggestions?  Drop us a line below.
Be sure to follow @allearsnet on Facebook, Instagram and Twitter!
Check out our YouTube Channel for reviews, news, information and more!
Click below to subscribe to the AllEars® newsletter so you don't miss any of the latest Disney news!