There was a time when every great Disney attraction had an equally great theme song to go with it. These songs enhanced the storytelling that was so key to the attraction — they set the theme, helped define the characters, evoked emotion.
These days, it doesn't seem quite as important for an attraction to have a memorable song, but there are a few out there. And of course our beloved favorites endure.
Music-lover that I am, I thought I'd take a look at the songs from the rides and shows that make up the soundtrack of our Disney Parks experience. I have not included tunes from parades or nighttime shows, nor have I included songs that originally came from a Disney film — sorry, Laughin' Place, I really love you, but you don't fit the bill.
So without any further ado I present to you my thoroughly biased list of the Top 10 Disney Attraction Songs of All Time!
10. "it's a small world" AKA the song you love to hate… or hate to love!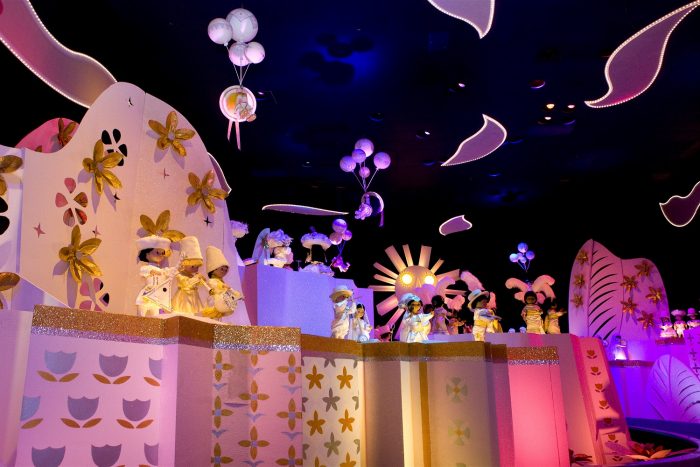 OK, you knew this would be on the list, right? Even though this earworm of a tune can drive you to distraction with its repetition and shrill children's voices,  it is quintessential Disney. The Sherman Brothers knew what they were doing when they crafted "it's a world of laughter, a world of tears…" for the 1964-'65 World's Fair. And now "that song" is stuck in your head, isn't it?
We'll move right along and try to dislodge it!
9. Tomorrow's Child — By the time I made my first visit to Disney World in December 1994, this song was no longer the closing of Spaceship Earth. But after hearing about it from so many people for so long, I had to listen to it and I agree — it may be a little dated, but it certainly captured the essence of Epcot.
Tomorrow's child
Showing us ways to explore
Helping convey
Ideas of today
Where we will find inspiration forever to
Reach for hope and desire
Building a world to inspire
Tomorrow's child
Charting a brand new way!
For the Future World is
Born today!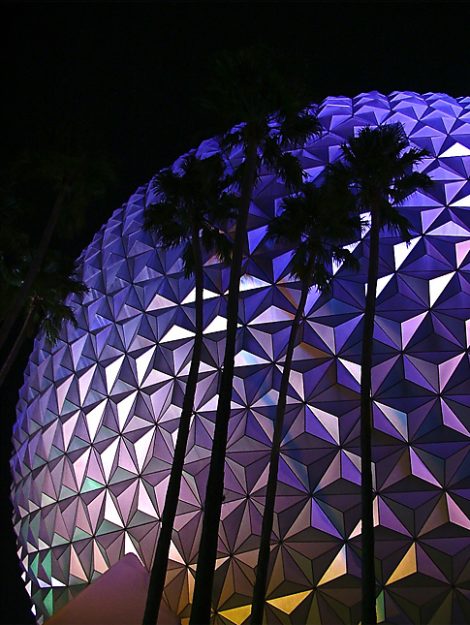 8. Veggie Veggie Fruit Fruit — This song hails from the old Epcot show Kitchen Kabaret in the Land pavilion — another show that I just missed, as it closed in January 1994. But I have listened to this whimsical song countless times on old soundtracks and compilations, and agree with those who think it should still have a place somewhere at Disney.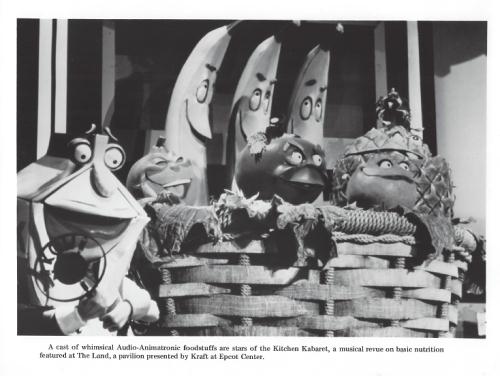 I mean, who can resist a little bit of Latin percussion performed by a group called Colander Combo and the Fiesta Fruit? After a minute or two, you too would be cooing, "Veggie Fruit Fruit, Veggie Veggie Fruit Fruit" along with the rest of the produce!
7. One Little Spark — The Sherman Brothers strike again! — this time for the original Epcot attraction Journey Into Imagination. After a few missteps that saw the song — not to mention the beloved purple dragon Figment — all but obliterated from the attraction, One Little Spark again charms guests as they visit the Imagination pavilion.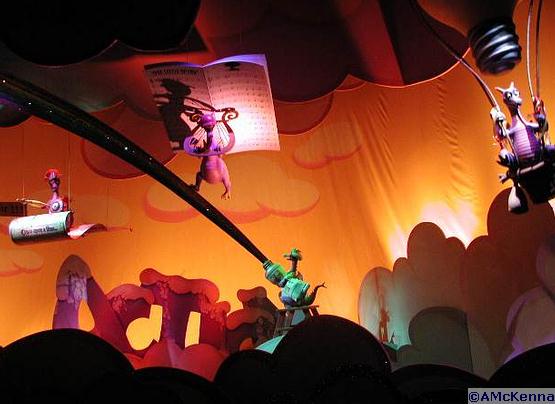 6. The Tiki Tiki Tiki Tiki Room – Another Sherman Brothers classic! It doesn't drive you crazy the way "small world" does, it just conjures up happy memories of listening to Fritz, Pierre, Jose and Michael and their many feathered friends.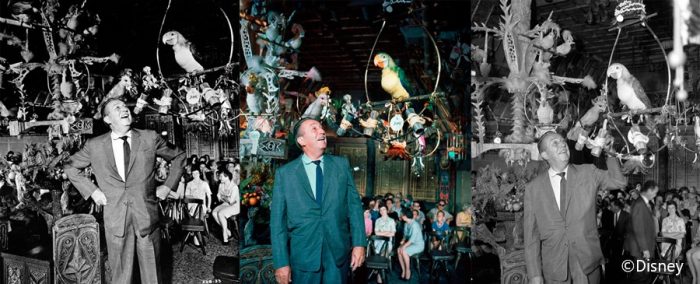 5. Yo Ho (A Pirate's Life for Me) — Whether this song is being sung by the Pirates on the Pirates of the Caribbean attraction or by a drunken Captain Jack Sparrow in one of the films, you feel compelled to join in, don't you? Written by George Bruns, with lyrics by legendary Imagineer X. Atencio, I think this sea shanty makes everyone want to be "really… bad… eggs." Or is that just me?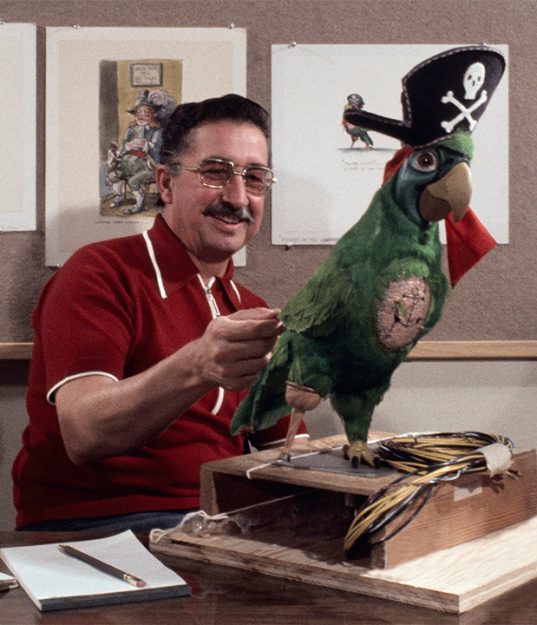 4. Go with the Flow — This laid-back tune from Finding Nemo – The Musical at Disney's Animal Kingdom is the newest song on this list. If you recall, the original animated film "Finding Nemo" was NOT a musical — the score was written expressly for this show by composer Robert Lopez and his wife, Kristen Anderson-Lopez (who subsequently went on to compose the music for a few other Disney projects you may have heard of: Frozen and Coco!).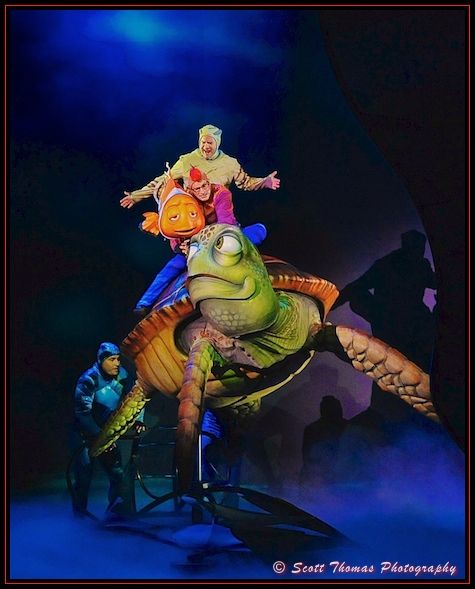 I love all the music from this show, but especially this philosophical tune, sung by the hippest sea turtle of all time, Crush. Duuuuuuuuude!
3. There's a Great Big Beautiful Tomorrow – How could any list of great Disney attraction songs not include this one? I know I'm sounding like a broken record, but good old Robert and Richard — AKA the Sherman Brothers — composed this tune as well! The song, like "it's a small world," was written for the attraction that was part of the 1964-'65 World's Fair. After being replaced for a time by other, less  impressive music, There's a Great Big Beautiful Tomorrow was restored to its rightful place, where it continues to charm audiences in what is known as the longest-running stage show in American theater! As our host John would say, "come on, sing it with me!" I bet you've been singing it in your head already!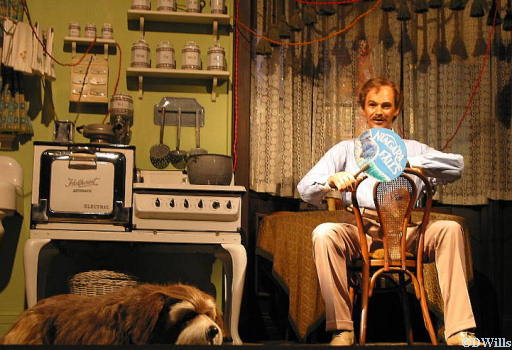 2. Grim Grinning Ghosts — In addition to enjoying the music of attraction songs, I'm also a sucker for a great lyric. I mean, how can you not love a song that uses the words "knell" and "requiem bell" followed by "restless bones etherealize"? It's great, right? Not to mention this tune was performed by one of the all-time best vocal groups, The Mello Men, with the amazing deep bass of Thurl Ravenscroft.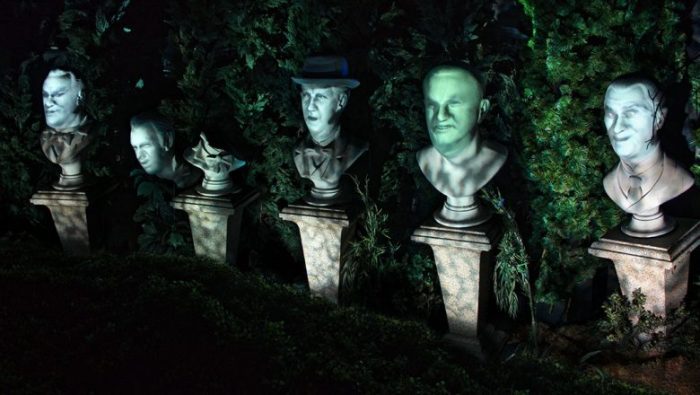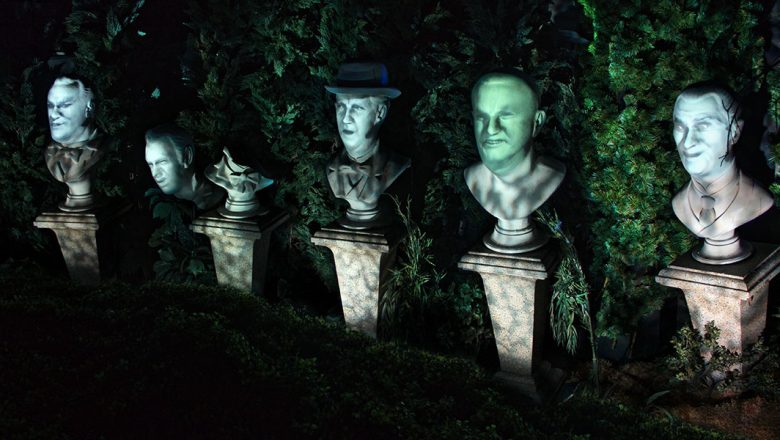 It was hard not to give this song top billing. It was close, but I had to go in a different direction…
1. Golden Dream — And finally here we are. In the Number 1 spot! What I think must be the BEST Disney attraction song of all time!

"Golden Dream," at the end of the American Adventure, is filled with emotion, a soaring melody that captures the passion of the American spirit. The music by Robert Moline and lyrics by show producer Randy Bright (with additional lyrics by Lynn Hart) are undoubtedly enhanced by the powerful vocals and the video montage that accompanies them on the show's screen.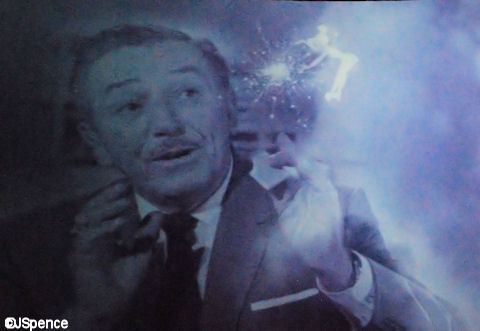 I don't know about you, but by the time they reach the familiar spoken words of President John F. Kennedy and Dr. Martin Luther King, I'm blubbering. And seeing all those famous faces whose lives made us what we are today as a nation… well… it gets me every time.
But don't think that it's just the visuals that make this song. If you've ever been lucky enough to hear the Voices of Liberty, Epcot's premier a cappella group, perform the song, you know what I mean. Check it out here at 4:15ish.
America, spread your golden wings
Sail on freedom's wind across the sky
Great bird with your golden dreams
Flying high, flying high
Flying high, flying high!
So there you have it! The Top 10 best Disney attraction songs of all time! What do you think? Did we get it right? Or did we leave your favorite out? Drop us note in the comments!
Want to read more of our writers' takes on all things Disney? Take a look at these recent posts:
Be sure to follow @allearsnet on Instagram and Twitter!
Check out our YouTube Channel for reviews, news, information and more!
Click below to subscribe to the AllEars® newsletter so you don't miss any of the latest Disney news!