Disney Imagineers are known for putting SO. MUCH. DETAIL. into their work. It's one of the many things that make Disney parks stand out among the crowd.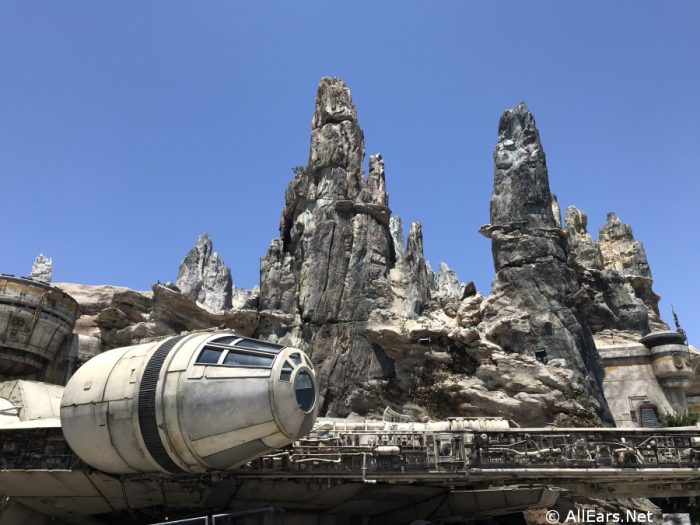 And of course a land more than 40 years in the making is going to have amazing details, secrets, and Easter eggs to look for! Here are some of the little things to look for in Star Wars: Galaxy's Edge — after you're done ogling the Millennium Falcon, of course.
1. Watch Out for "Tiny"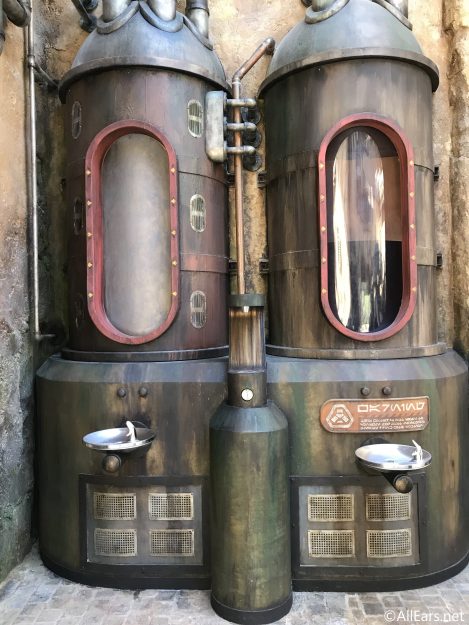 Visitors grabbing a sip of water in the Black Spire Outpost may have a run-in with the resident Dianoga – first seen in the trash compactor scene in "A New Hope." The locals call him "Tiny" and he's just "keeping an eye" on things. Look out for him in the tank over the right water fountain.
2. Leia's Necklace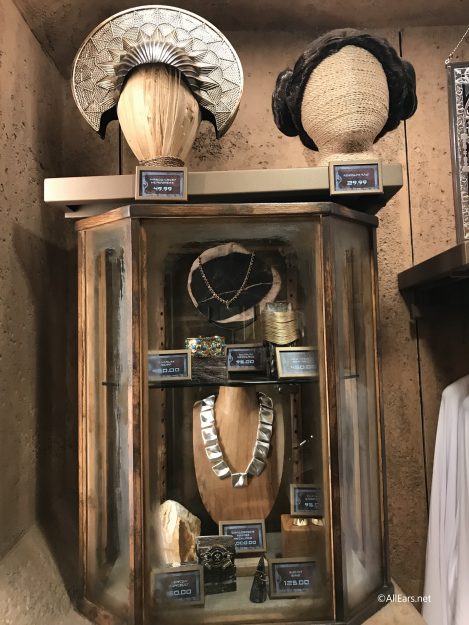 You'll find lots of props, replicas, and more in Dok-Ondar's Den of Antiquities, like this Princess Leia Necklace. The necklace is a replica of the one she wears at the end of "A New Hope." And it's an EXACT replica — Disney reached out to the original necklace's designer, and he happened to still have the molds. They were used to make this one — which you can purchase in Dok-Ondar's for $2000. (Or you can just go to admire it like we did!)
3. Racing Roaster Meat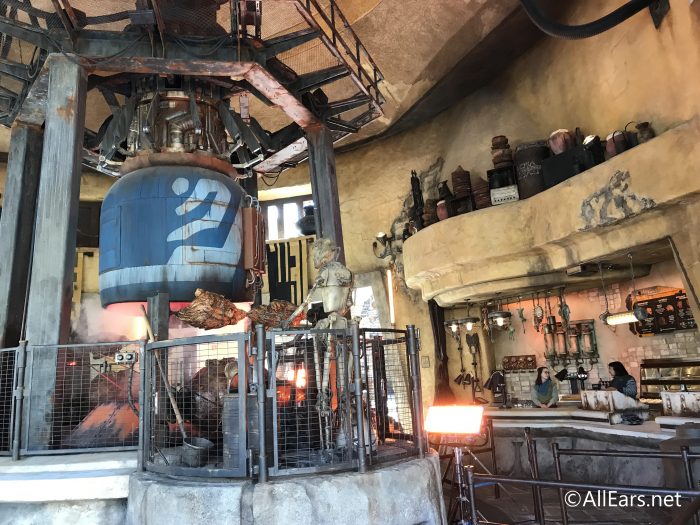 When you grab a Ronto Wrap at Ronto Roasters, make sure you check out the grill! It's a pod-racer engine that's been re-purposed to heat your meat. This is a nod to the pod-racing in "The Phantom Menace." You'll also see a droid working the spit, 8D-J8, who resembles Jabba the Hutt's droid in "Return of the Jedi."
4. Cargo Crates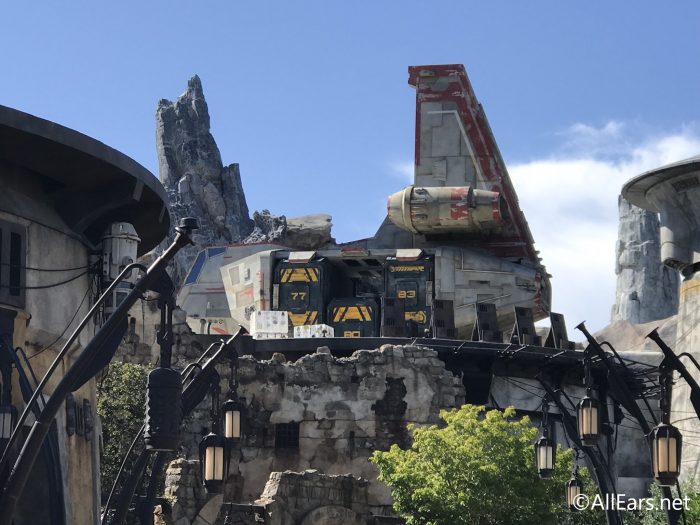 Look atop the roof at Docking Bay 7 Food and Cargo and you'll see three crates with the numbers 77, 80, and 83 on them. Does that ring any bells?
Those are the years the original trilogy movies were released! "A New Hope" in 1977, "The Empire Strikes Back" in 1980, and "Return of the Jedi"in 1983.
5. Wampa Attack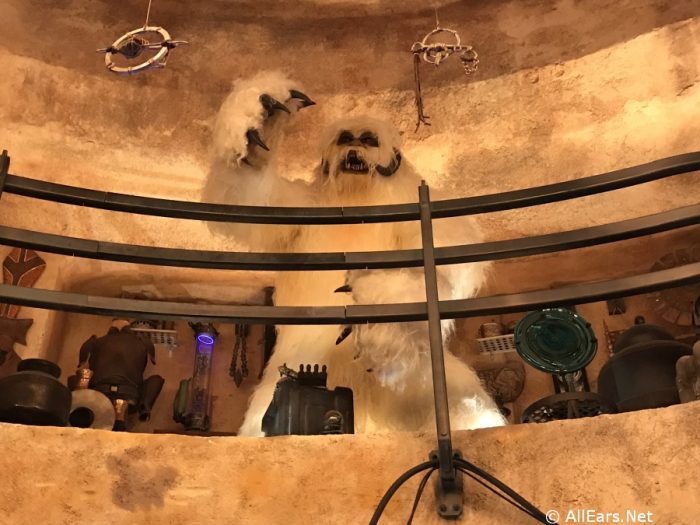 While you're going to be busy trying to barter with Dok in Dok-Ondar's Den of Antiquities, make sure you look up! You'll see lots of familiar creatures in the shop — including this horrifying Wampa. But don't worry, he's stuffed.
6. Droid Tracks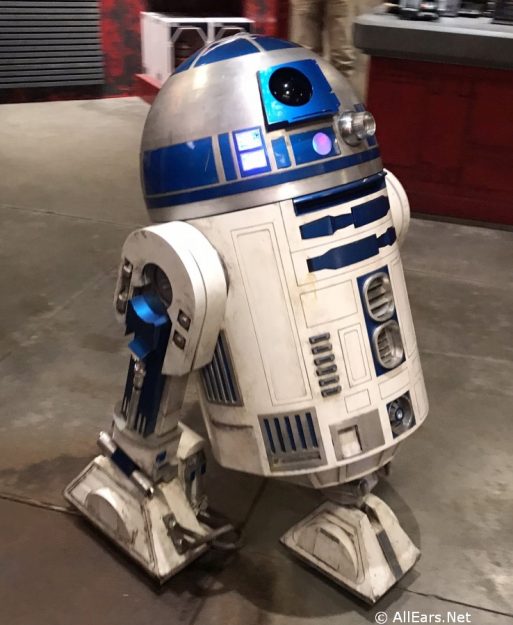 Disney Imagineers love to put details into the ground and floor as well. When walking through Galaxy's Edge, look down and you may notice some familiar tracks!
These were made by one of the original R2-D2s from "A New Hope!" The Imagineers made a mold of the droid's wheels and rolled it all over the land before the cement was dry.
7. The Land Itself
The Imagineers did a lot of research on how to create the land itself, not just the attractions and shops. They traveled to visit real open-air markets in Turkey and Morocco, as well as active film sets in the United Kingdom.
George Lucas also loaned the team original concept art drawings (by artist Ralph McQuarrie) from his personal collection. By using the inspiration for the films, in addition to real-life locations, the Imagineers were able to create this impressive, immersive land environment.
Which of these small details is your favorite? Have you found any others? Let us know in the comments!
Star Wars: Galaxy's Edge at Disneyland is NOW OPEN! Don't miss these posts about the new land:
Be sure to follow @allearsnet on Instagram and Twitter!
Check out our YouTube Channel for reviews, news, information and more!
Click below to subscribe to the AllEars® newsletter so you don't miss any of the latest Disney news!