This past Saturday, April 13, was the big panel dedicated to "Bringing Star Wars: Galaxy's Edge to Life at Disney Parks" at the Star Wars Celebration convention in Chicago. We learned a number of new things during that panel that we already shared with you over the weekend.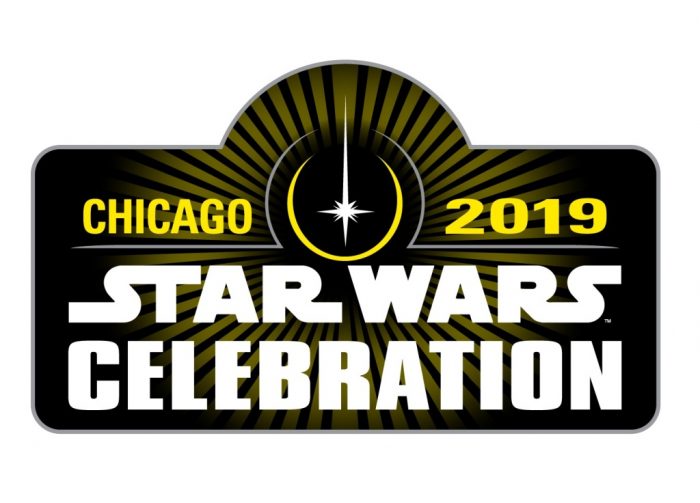 There will be special packaging for the Coca-Cola products that will be sold in the new Galaxy's Edge lands.  In addition, there will be lots of new toys and games sold in the lands' marketplace stalls, among them many new products from Hasbro. We also learned that Disney, Lucasfilm, and FIRST (a global robotics association) are teaming up as part of the Force For Change philanthropic initiative.
In addition to what we've already shared, here are what we feel were the most exciting takeaways from this informative panel.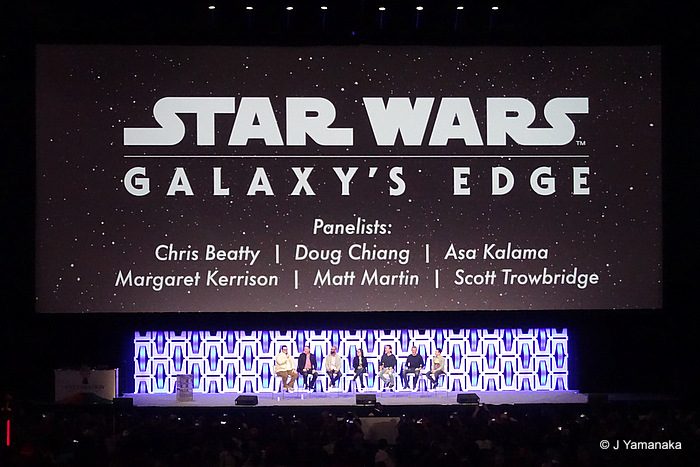 Hosted by actor Josh Gad (the voice of Frozen's Olaf!), the panel featured Scott Trowbridge (portfolio creative executive / studio leader at Walt Disney Imagineering), Asa Kalama (executive creative director of  Millennium Falcon: Smugglers Run at Walt Disney Imagineering), Margaret Kerrison (managing story editor at Walt Disney Imagineering), Chris Beatty (executive creative director in charge of Galaxy's Edge overall at Walt Disney Imagineering), Doug Chiang (vice president and creative director at Lucasfilm), and Matt Martin (creative executive, Lucasfilm Story Group).
They told us:
1. That Authenticity Was a Key Concern Driving the Lands' Development.  Trowbridge, Beatty and the others emphasized this point over and over, and the details that they revealed and/or hinted at seemed to bear this out. For example:
— We'll hear Yoda in the lands, and he will be voiced by none other than his originator, Frank Oz.
— The Imagineers traveled to Africa to seek out the young actor who voiced the character Nien Nunb in The Empire Strikes Back so that he could provide the charcter's voice in Galaxy's Edge.
— Composer John Williams, who created the original score for the Star Wars films, is involved with creating the music you'll hear in Galaxy's Edge.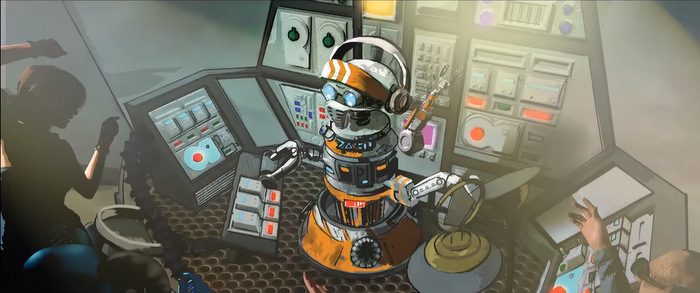 — And, possibly the most exciting detail, Paul Reubens voiced the droid Rex, or R3X, who will be the DJ in Oga's Cantina. Reubens originally provided the droid's voice on the Star Tours attraction.
2. Why Star Wars: Galaxy's Edge is on Batuu. This land has been placed on a brand-new planet, the planet Batuu, because this is supposed to be our adventure — not a continuation of stories that we've already seen in the films. The setting of Black Spire Outpost, somewhere on the edge of what the Imagineers call "wild space," allows us to experience somewhere completely new and unknown, that still feels somewhat familiar.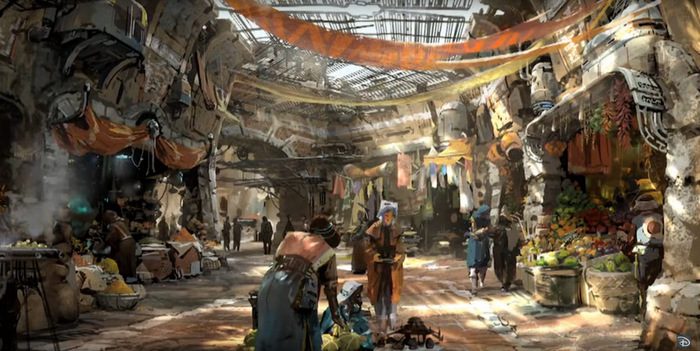 3. That the Backstory of Batuu Can be Found in a series of books and comics. Readers can find out what drink Padme has when she goes to Oga's Cantina, how the Resistance came to be on Batuu, and how Hondo Ohnaka came to have possession of the Millennium Falcon.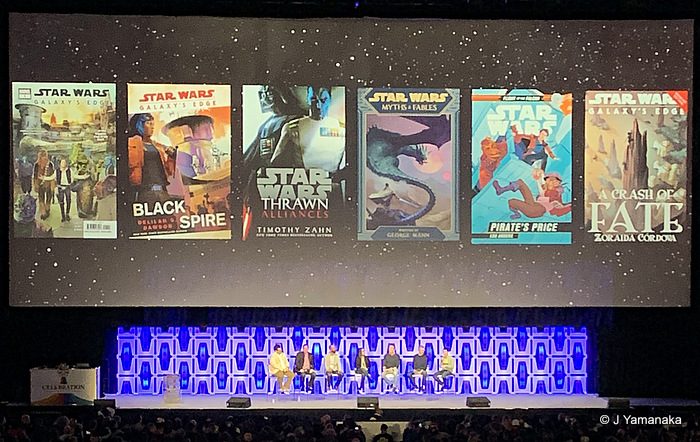 4. That There Are "Easter Eggs" from the Star Wars Films Throughout the Lands. In fact, Dok-Ondar, an Ithorian who heads up Batuu's black market, has a shop called Dok-Ondar's Den of Antiquities in Galaxy's Edge and there are "easter eggs" from every Star Wars film hidden there. By the way, Beatty pointed out that Dok-Ondar's character was first introduced in the film "Solo: A Star Wars Story." We need to go back and rewatch that!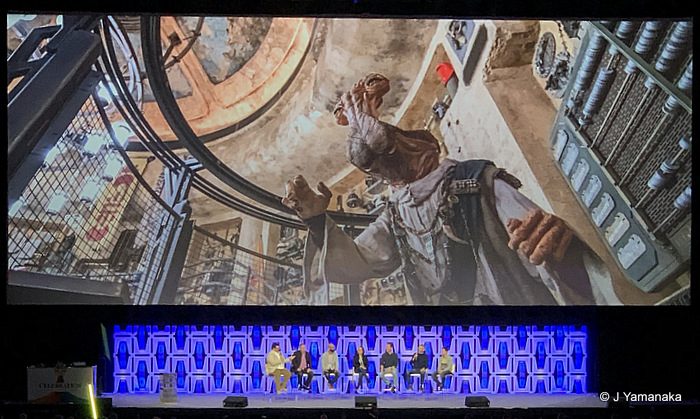 5. That We Can Own Our Own Light Saber — And There are Multiple Ways to Get One. Guests can try to barter for a light saber at Dok-Ondar's shop, or find a man named "Savi" and build their own in his workshop. There will be "legacy" light sabers that look like those of our favorite characters, or customized sabers that are as unique as we want to make them.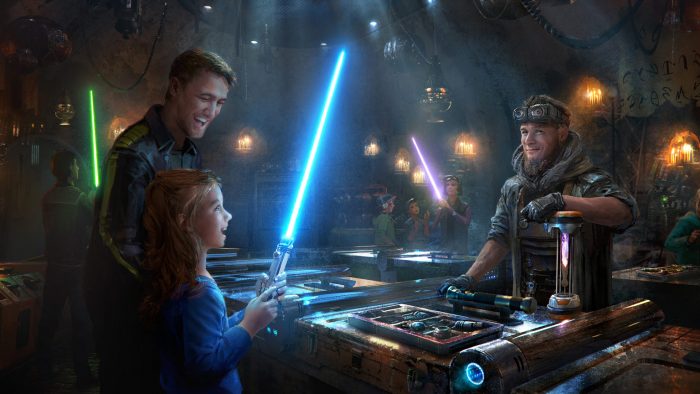 6. That the Animatronics Will be Absolutely Mind-blowing. OK, we already saw a short video snippet of the Hondo Ohnaka Audio-Animatronic several weeks ago that blew us away. But this panel gave us another exciting look at the character, which was created based on a sketch by Clone Wars director Dave Filoni:
This new A-1000 figure will be given voice by Jim Cummings (current voice of Winnie the Pooh!), who also portrays the animated version of the character in The Clone Wars series.
The panel very cagily avoided sharing any video of the Dok-Ondar animatronic, but we expect that to be similarly impressive!
7. That the Music in the Cantina Will be Somewhat Familiar, But Not. The cantina band (F'igrin Dan and the Modal Nodes) from the original Star Wars film won't be on hand in Oga's Cantina, but one of their other "hits" will be played. An excerpt of it was played at Star Wars Celebration and it's as catchy as the song we all know and love. The Imagineers played a bit of another song by an all-droid band — supposedly one of Rex's favorites — that he'll be playing in the new lands. We're not sure it will be as popular.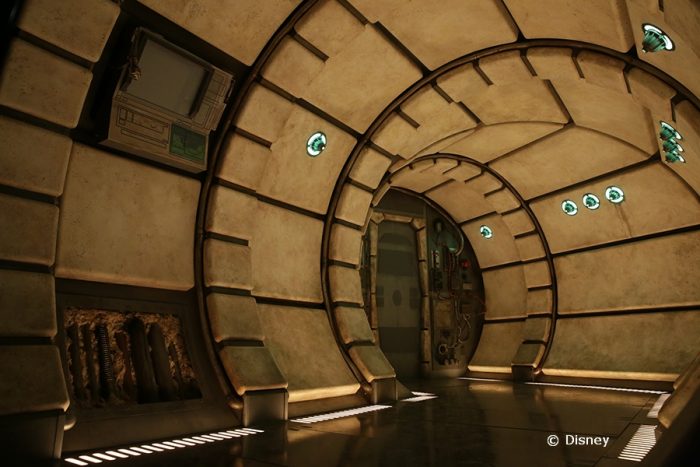 8. That the Millennium Falcon: Smugglers Run Attraction Will Have Different Outcomes. That's right! The ride may end differently each time you experience it. During the ride, each guest has a role — pilot, engineer, gunner. And if the team doesn't perform well, the Falcon might look wrecked as you exit its "iconic hallway", with sparks flying and lights broken. If, on the other hand, you succeed with your mission, everything will look just fine.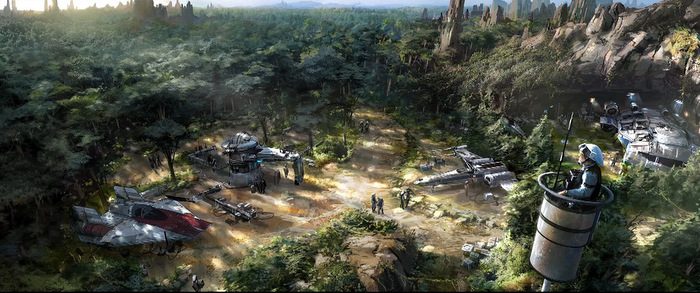 9. That Star Wars: Rise of the Resistance Will Feature Different Experiences, Also. Opening later this year, the second attraction of Galaxy's Edge, Star Wars: Rise of the Resistance, will also feature various experiences. As the story goes, just outside the outpost lies the Resistance camp. They are looking for new recruits — and you may be "volunteered." A wrong move could lead you to become a prisoner of the First Order on board a Star Destroyer.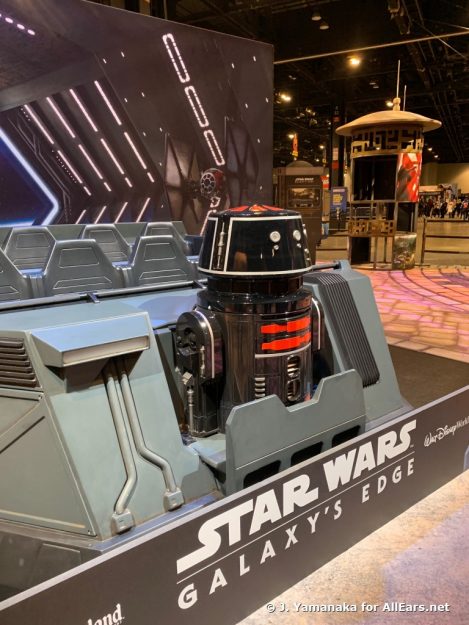 During your escape attempt, some familiar faces may pop up, such as Kylo Ren, Rey, Poe Dameron, and BB-8 (not Admiral Ackbar, however).  Succeed, and you'll be feted as a hero of the Resistance.  Failure… was not discussed!
10. The Play Disney Parks App Will be Integral to Your Galaxy's Edge Experience. We learned more about what you'll be able to do on the Play Disney Parks app when exploring Star Wars: Galaxy's Edge and how new adventures and personalized interactions will make your visit to Batuu even more fun. On your very own Star Wars Datapad (your mobile device transformed into an in-world tool), you will have four key functions:  Hack, Scan, Translate, and Tune.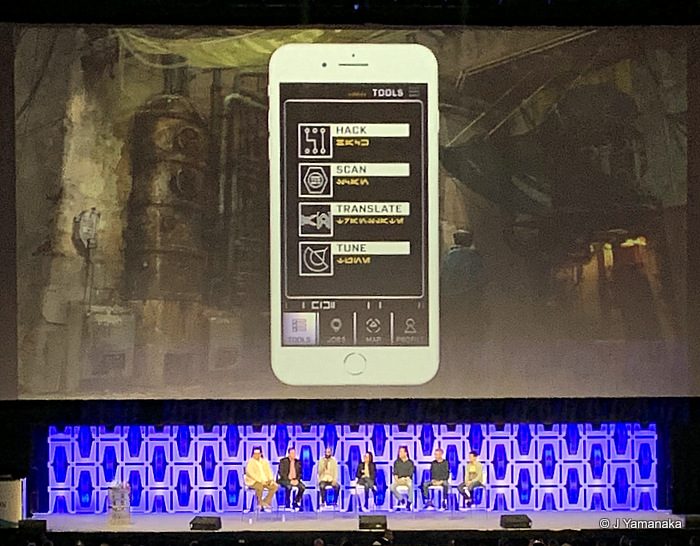 Hack enables slicers to interact with some of the droids you see around you, as well as light panels and ships. Scan lets you peek inside some of the cargo crates and other props throughout the land. Translate is for the Aurebesh-reading-impaired, and Tune lets you intercept broadcasts from various satellite dishes and antenna arrays and eavesdrop on different Black Spire Outpost background stories.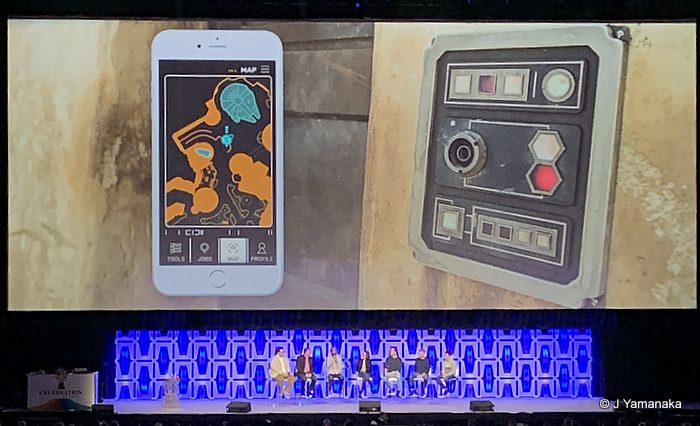 "Outpost Control" is a game in the app that guests can all play together and show their respective allegiance to either the Resistance or the First Order.  After picking a side, the app is used to control various surveillance devices and light panels around the land. The game ends when one faction is successful in controlling most of them, and then starts over again.
11. That Fans' Stories Will be Part of Galaxy's Edge. Fans attending the convention were given a special chance to record their own personal stories of their favorite Star Wars memories — from experiences watching the Star Wars films for the first time to sharing their love for Star Wars with friends and family. All of these memories were captured and saved in a "holocron" that will reside in Star Wars: Galaxy's Edge at Disney's Hollywood Studios.
So, those are the 11 (well, probably more than 11!) things that most excited us in this panel. The entire session is also available for online viewing, with music samples from Oga's Cantina and clips of Josh Gad unsuccessfully trying to sneak into Galaxy's Edge.
Did this get you even more excited for Star Wars: Galaxy's Edge? Will you be at Disneyland when it opens on May 31? Or at Disney's Hollywood Studios for the August 29 opening? Drop us a comment below!
Be sure to follow @allearsnet on Instagram and Twitter!
Visit our YouTube Channel for reviews, news, information and more! 
Click below to subscribe to the AllEars® newsletter so you don't miss any of the latest Disney news!