This month "Mickey's Mix Magic," a new nightly spectacular, was introduced at Disneyland, taking the place of the perennial favorite "Remember… Dreams Come True."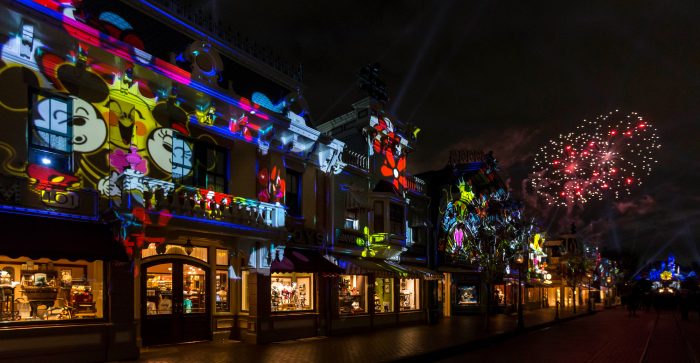 As a switch from the nightly fireworks of the past, "Mickey's Mix Magic" is primarily a projection show, currently viewable from Main Street and the "it's a small world" promenade.  Projections will also be shown on water screens in Rivers of America in March, when "Fantasmic!" returns.  Fireworks are added on select nights, mostly weekends.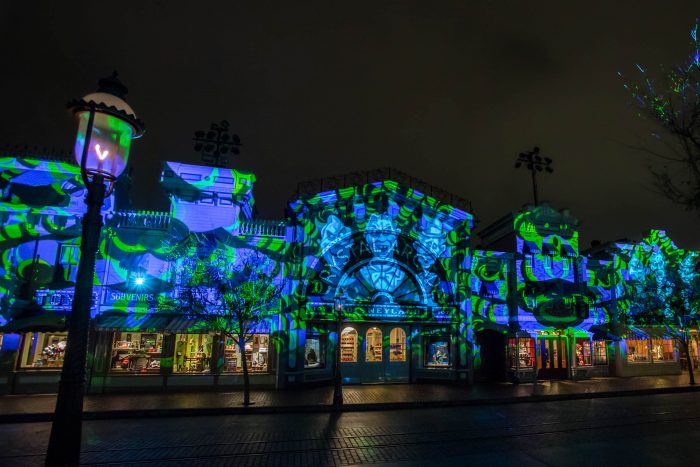 The original song that frames the show, "It's a Good Time," was designed to give it a dance party feel focusing on Minnie and Mickey Mouse as part of their "Get Your Ears On" 90th anniversary celebration.
The center of the show is made of songs from both classical and renaissance Disney Animation, such as "Ev'rybody Wants to Be a Cat" from The Aristocats, and "Friend Like Me," from Aladdin, to more contemporary numbers like "Let It Go" from Frozen, and "Un Poco Loco" from Pixar's Coco.  The parks are also represented with "Grim Grinning Ghosts" from the Haunted Mansion.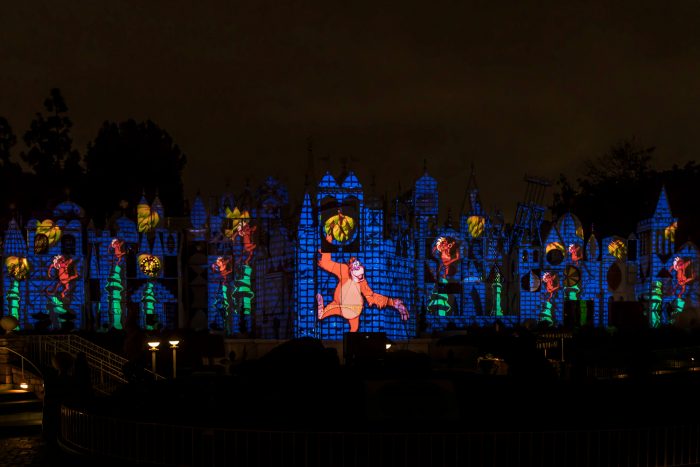 Having had an opportunity to watch it from both sites recently, I would say that there's clearly a better view of the projections at "it's a small world" and it's easier to find a location there than Main Street.  Main Street does have the fireworks centered around the castle, however, since the castle is currently walled off for "Project Stardust," that may be less of a factor.  There does seem to be more in the way of special effects on Main Street, such as snow and lasers, and a better feeling of immersion in the show as it happens around you, so where you go depends on your priorities.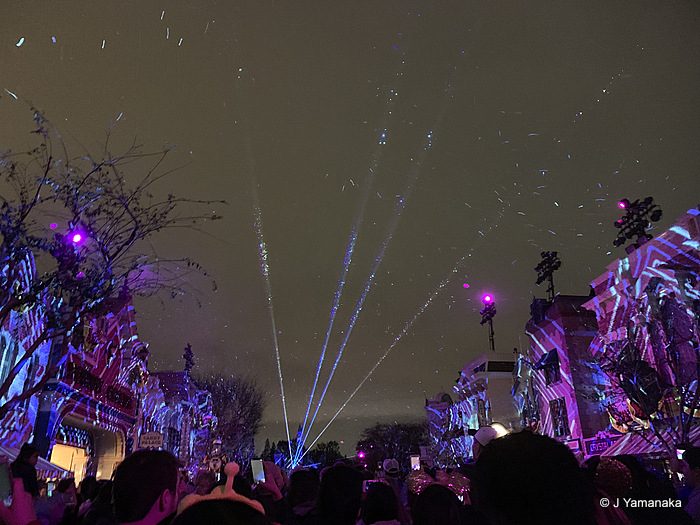 As an example of the difference in the views between Main Street and it's a small world, here's a small video of the show's finale I cobbled together.  Now, before you say to yourself, "Jeanine, why does this look like a 3-year-old stole their family's video camera and copy of iMovie?" I would only ask you to consider a) I didn't realize I would wind up using the footage for this when I shot it; b) The night I saw it on Main Street the fireworks cut out half way through and never started up again; and c) As far as videography is concerned,
So if you're ready to party, head on out to Disneyland to check out the new "Mickey's Mix Magic," now showing nightly.
Remember! When you're in Disney tag @allearsnet in your photos!
Want more AllEars.net? Be sure to check out our YouTube Channel for reviews, news, information and more! 
Subscribe to the AllEars® newsletter so you don't miss any Disney news!