In what may be one of Disney's most anticipated openings, Disney fans and guests are preparing for and getting anxious for the opening of Star Wars: Galaxy's Edge. Both Disneyland Park  and Disney World's Hollywood Studios will see an addition of these Star Wars themed lands this year.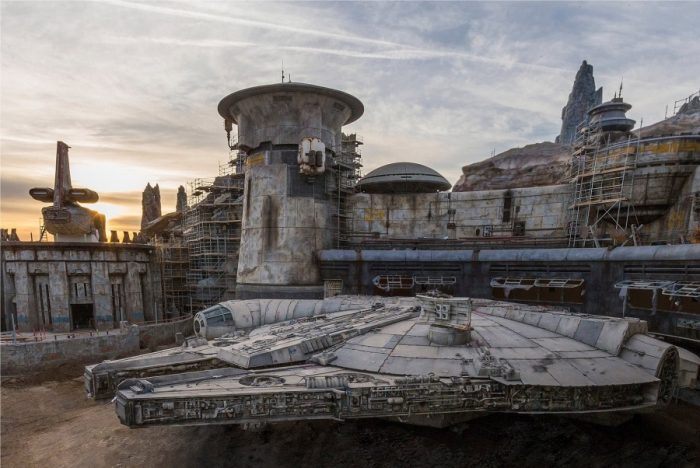 Officially, we know Disneyland's Star Wars: Galaxy's Edge will open this summer, and Disney World's Star Wars: Galaxy's Edge will open this fall. Very little has been shared before this past week about the new lands. But, Barron's Magazine was recently invited to tour Disneyland's Star Wars: Galaxy's Edge construction site and spoke with Bob Iger, Disney's CEO, and we learned some more unreleased details about the lands — including an opening month for Disneyland's Star Wars: Galaxy's Edge.
Entrance to Star Wars: Galaxy's Edge
Disneyland guests will enter Star Wars: Galaxy's Edge from one of three entrances in Fanstasyland, Frontierland, and Critter Country. The entry in each of these locations will be an enclosed passageway. This is done to give visitors a compressed, then expanded view of the land as they get closer. It was described by Barron's as similar to a movie fading in and out. This will give visitors a perfectly framed view of the land as they enter.
Where in the Galaxy is Star Wars: Galaxy's Edge?
When you are in Star Wars: Galaxy's Edge you'll be in the Black Spire Outpost on the planet Batuu. Black Spire was mentioned in last year's Solo: A Star Wars Story, and is featured in the Star Wars novel Thrawn: Alliances.
This area was selected as the destination for the land so that casual and devoted fans will both feel comfortable in the land. Casual fans won't feel they are missing a part of the story, and devoted fans will appreciate the detail of the location they have heard of in passing.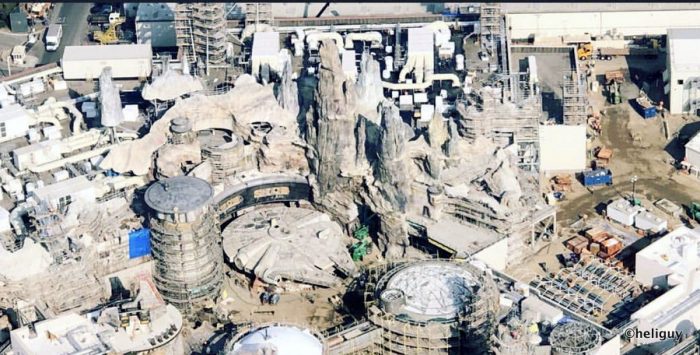 As with other lands, and dating all the way back to when Disney created films like Bambi, the Imagineers conducted immersive, real-world research. To complete their research and get inspiration, the Imagineers traveled to Morocco and Istanbul.  You'll also find the magic in the details, as always with Disney. There are rust streaks on the corners of metal grates, weathered looking buildings, and maybe even some doors coming off their hinges.
When Barron's was in the land they also saw a mix of real and "created" trees. The fake trees were designed with trees native to Southern California as their inspiration. Real trees have been sourced by Disney horticultural staff and they were chosen, sourced, planted — and they are now protecting those trees as construction continues. Barron's even saw a sign on a real tree that said "The cost to replace this tree is $9,000. Please respect all trees and keep this area clean."
What's in Star Wars: Galaxy's Edge
As we've seen in ads and featurettes, and learned in various D23 events, the Millennium Falcon is in the land. You'll be able to visit Oga's Cantina and there will also be an open-air market and aother retail space, in addition to the two new attractions Millennium Falcon: Smugglers Run and Rise of the Resistance.
Details on Millennium Falcon: Smugglers Run
Barron's provided a few more details on the Millennium Falcon: Smugglers Run attraction. You may need to look for the entrance to the ride as it is subtly marked according to Barron's, so it doesn't disrupt the storytelling and look of the land. We learned that the pirate Hondo Ohnaka has made a deal to use the Millennium Falcon with Chewbacca. Once in the Millennium Falcon you'll find familiar details including Chewbacca's 3D chess board!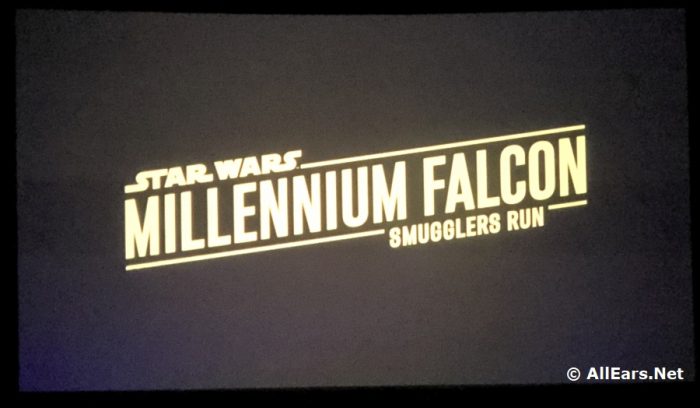 You'll board the Millennium Falcon in groups of six and be assigned roles, and you'll be able to see real-time results of your actions during the ride (like if you knock over a spire during take off).  The flight experience will be different for each visit, so no memorizing the ride or planning out what you'll do, as each experience will be different.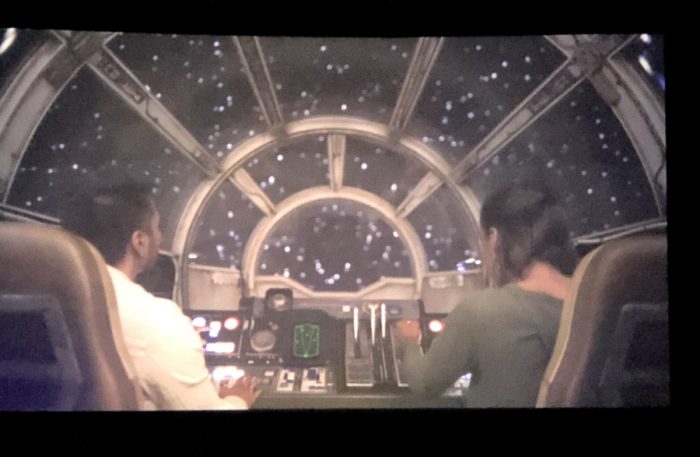 We have been hearing about this land being the most interactive one yet. An example of the interactivity is after your complete this ride when you stop at Oga's Cantina someone might tell you the boss isn't happy with the shape the ship is in after your return, or conversely someone may congratulate you on your performance. Don't worry, if the interactivity isn't for you, you can opt in or out of the interactive element of visiting the land.
Details on Rise of the Resistance Ride
The queue system for this ride will have you winding though rundown rooms that have been re-purposed by the Resistance to be a base for their operations against the First Order.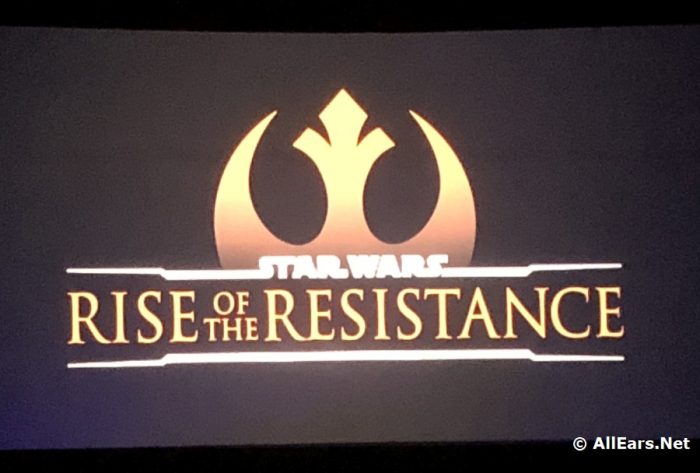 While you're waiting a group of guests may be "captured" and moved by the enemy before you escape on a trackless troop transport. Along the way you'll see various scenes and characters including Storm Troopers and Kylo Ren. Barron's even suggested you'll see an interrogation similar to one in Star Wars: The Force Awakens.  As you're in the transport you'll have to avoid or escape from war machines and AT-AT Walkers. Barron's promised the towering, metal AT-AT Walkers will not disappoint.
Details on Oga's Cantina
Oga's Cantina holds one big first for Disneyland: it will be the first public restaurant to serve alcohol in the park. By design and for aesthetic and story-telling reasons, the Cantina is small. To maximize capacity (and turnover) there will be only a handful of booths with seating. Most guests will stand in the Cantina.  No final decision has been made about if and how guests will be able to reserve tables in the Cantina according to Barron's.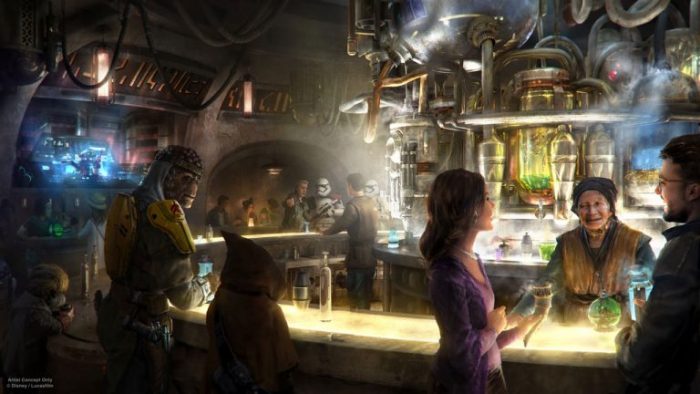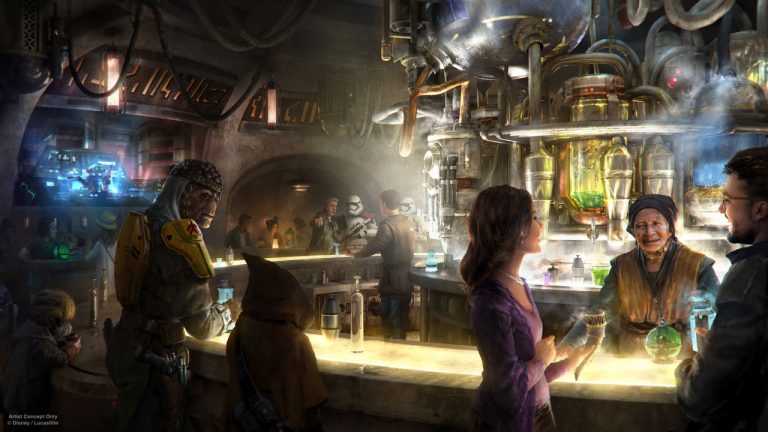 As you order a drink, be sure to look above the bar — there are tubes and vessels behind the bar that might make it look like your drink is flowing from the ceiling!
As for drinks, the famed Blue Milk will be available. This will be a non-dairy drink. Disney was not clear with Barron's on whether this would be sold exclusively in the Cantina, or also by a bantha farmer (likely in the outdoor marketplace). Barron's also heard them mention a Fuzzy Tauntaun — but they don't know if this a planned drink as menus are still in development.
Details on Shops, Stores, and Markets in Star Wars: Galaxy's Edge
Barron's learned that one of the shops in the land will feature customizable droids. They gave an example that if you make your droid to be afraid of a Storm Trooper it may signal fear when one comes close. Droids that are owned by the same family or group may recognize each other when they meet. No pricing was disclosed on these customizable droids. Barron's also hints a full-size R2-D2 may be available with a price tag in the thousands.
Dok-Ondar, from Solo: A Star Wars Story, will oversee the other shop in the land. Barron's suggests he may be an animatronic and even cast members will interact with him when they check if he's willing to let certain items go.
Guests will also find a bazaar-style outdoor market in the land, which may include a pod-racing engine used to roast meat, according to Barron's.
When is Star Wars: Galaxy's Edge Opening?
Officially, we know Disneyland's Star Wars: Galaxy's Edge  is opening this summer, and Disney World's Star Wars: Galaxy's Edge  in the fall. However, Barron's hints at an early June opening. They stated the major structures are in place and key set pieces are installed. The walkways and interiors were unfinished on the date of their visit.
In a separate interview with Barron's, Bob Iger, Disney's CEO, is quoted as saying; "When Star Wars opens in Anaheim in June and in Florida later in the year, that's adding capacity. You're adding 14 acres of land (each), more rides and more for people to do. It's the biggest land we've ever built."
A look at Disneyland's Blockout Calendar shows the Southern California Select Annual Pass with blockout dates from May 31 – September 2. The Deluxe Annual Pass has blockout dates from June 21 – August 18. Your guess is as good as ours right now as to an exact date in June for the opening of Star Wars: Galaxy's Edge in Disneyland.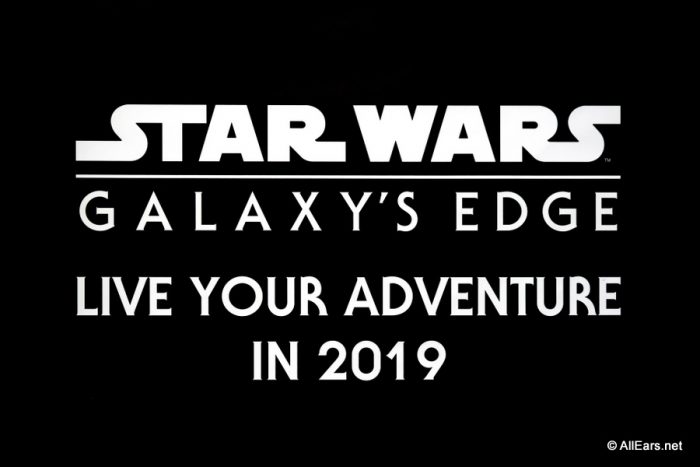 Are you planning a trip to DIsneyland or Disney World for Star Wars: Galaxy's Edge? Are you looking forward to these new lands, the interactivity, and other immersive elements? Let us know in the comments below!
Remember! When you're in Disney tag us @allearsnet in your photos!
Want more All Ears content? Be sure to check out our YouTube Channel for reviews, news, information and more! 
Subscribe to the AllEars® newsletter so you don't miss any exciting Disney news!