TOURING
AT A GLANCE...
Great Moments with
Mr. Lincoln
Gadget's Go Coaster
Minnie's House
ENTERTAINMENT
SPECIAL EVENTS
SPECIAL REPORTS
OTHER THEME PARKS
Star Wars Land

Disneyland
At the D23 Expo on August 15, 2015, Disney CEO Bob Iger announced that Star Wars-themed lands would be built in both Disneyland and Walt Disney World.
Only a few details were revealed:
-- Guests will be transported to a new Star Wars planet.
-- The lands will have two signature attractions, including the ability to take control of the Millennium Falcon on a secret mission, and a climactic battle between the First Order and the Resistance.
-- At 14 acres each, this will be Disney's largest single-themed land expansion.
The press release is HERE.
We will be updating this page with additional information on the Disneyland project, such as scheduling, press releases, etc., as it becomes available.
Updates
4/15/17: Additional details from Star Wars and Disney Parks Panel Discussion at Star Wars Celebration in Orlando.
8/4/16: Rivers of America Area Reopening Summer 2017 - All Rivers of America attractions are scheduled to return, including Fantasmic!, Mark Twain Riverboat, Sailing Ship Columbia, Davy Crockett Explorer Canoes, and Pirate's Lair. The Disneyland Railroad will also be back in operation.
---
7/11/16: Disney released this image of the new land as well as a few pieces of information. (Click on the image for a full-size version.)
Big Thunder Trail will be one of the entry points

This area represents a never-before-seen planet in the Star Wars galaxy.

The Millennium Falcon is visible and marks the location of the new attraction where "guests will get the opportunity to pilot the fastest hunk of junk in the galaxy."

The tip of Tom Sawyer Island and the railroad tracks are also visible. If you look at the original Rivers of America waterfront image below, you'll see some of the same waterfalls in the new image.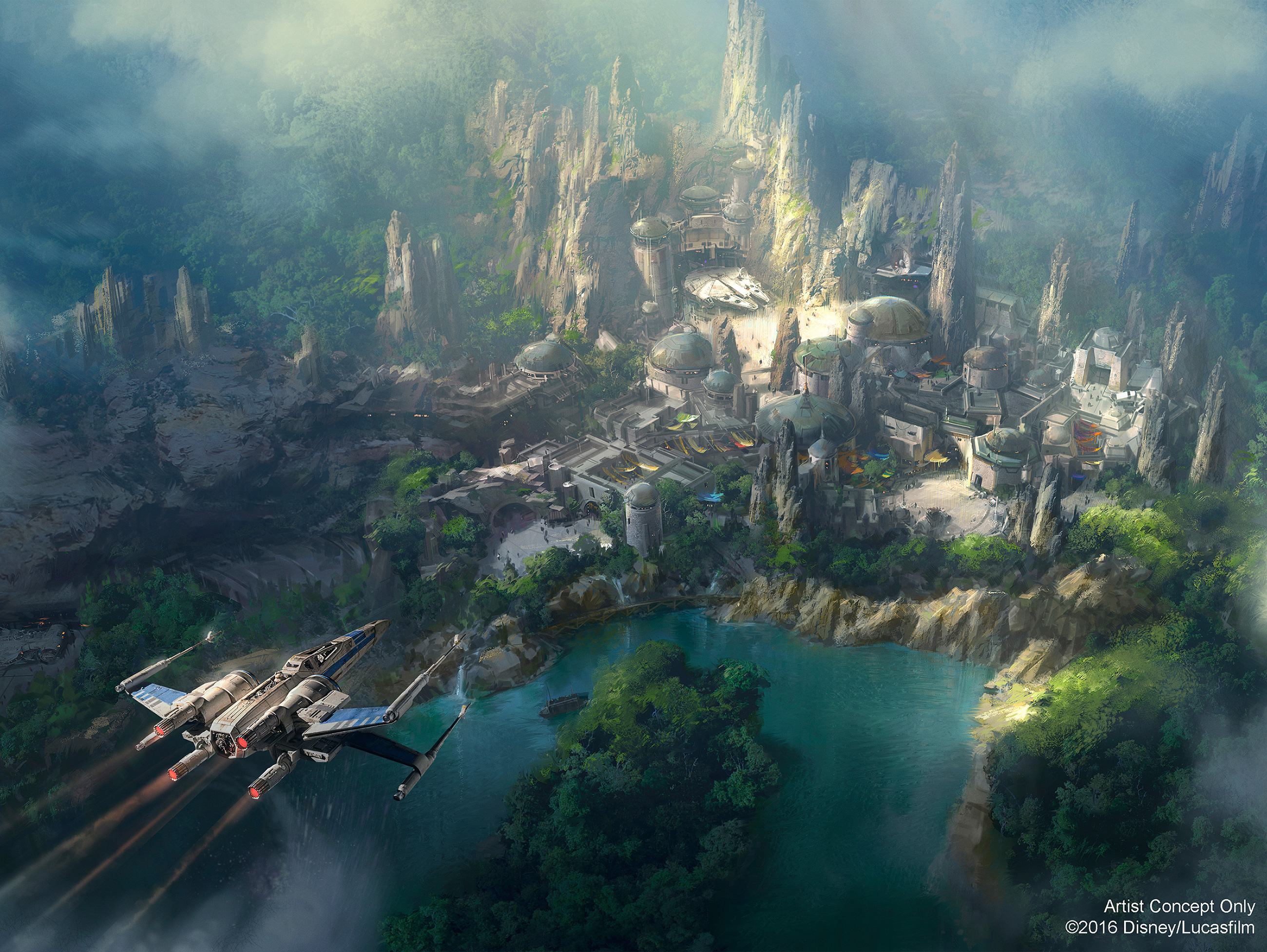 ---
4/14/16: The official groundbreaking took place at Disneyland and Disney's Hollywood Studios.
---
3/3/16: Groundbreaking in April
At the 2016 Disney Shareholders meeing in Chicago, Bob Iger announced that the groundbreaking for the new Star Wars Lands in both California and Florida will take place in April. He also said the original plans for the expansion have been "tweaked."
---
2/21/16: Additional Details
During the "Wonderful World of Disney: Disneyland 60" special, Harrison Ford shared new details on the Star Wars-themed lands coming to Disneyland and Walt Disney World.
-- Guests will be able to pilot the Millennium Falcon, including firing the laser cannons.
-- A second attraction immerses guests in a battle between the Resistance and the First Order.
-- Experience authentic locales: meeting droids and aliens, wandering a street market, trying local foods - even venturing into the local cantina.
-- Dine at an up-scale galactic restaurant.
---
1/11/16: Attraction Closures
The following attractions closed 1/11/16, and will re-open in 2017:
Disneyland Railroad
Mark Twain Riverboat
Sailing Ship Columbia
Davy Crockett Explorer Canoes
Pirate's Lair on Tom Sawyer Island
Fantasmic!
The following areas are closed permanently:
Big Thunder Ranch Jamboree
Big Thunder Ranch Petting Zoo
Big Thunder Ranch BBQ
---

1/12/16: In this press release, Disney revealed the following concept art of what the Rivers of America waterfront might look like when it re-opens.