TOURING
AT A GLANCE...
Great Moments with
Mr. Lincoln
Gadget's Go Coaster
Minnie's House
ENTERTAINMENT
Disneyland Marching Band
Together Forever...A Pixar Nighttime Spectacular
SPECIAL EVENTS
SPECIAL REPORTS
OTHER THEME PARKS
Peter Pan's Flight

Fantasyland
Disneyland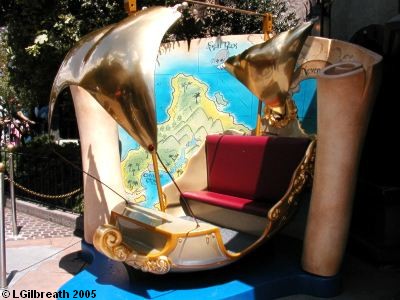 Introduction | Attraction | Touring Tips | Kids/Characters | Dining | Shopping | Interesting Facts
INTRODUCTION
You can fly, you can fly, you can fly! A flying pirate ship will take you soaring on a fantastic journey over Never Land.
ATTRACTION
Peter Pan's Flight is located next to Mr. Toad's Wild Ride. Most of the queue is under cover, but if the line is long, as it often is, the queue begins outside the building and is not shaded at all.
Peter Pan's flight is unusual in that the ride vehicles are suspended from a track above, which really does give the sensation of flying through the scenes that are below.
Each pirate ship will seat a family of four (two adults and two children), or up to 3 adults on the single seat. A lap bar provides additional security as the ship gently glides along the track.
Once aboard the ship, a little sprinkle of pixie dust from Tinker Bell launches it on its way to Never Land, leaving London and passing over Big Ben before travelling towards the "second star to the right". Flying above Never Land, the story unfolds in scenes below, culminating in the dramatic fight aboard the pirate ship where Peter Pan rescues Wendy and the Lost Boys from Captain Hook and his crew. Watch for the hungry Crocodile waiting below, hoping for another taste of Captain Hook!
Read about Walt Disney World's version of the attraction HERE.
TOURING TIPS
Peter Pan's Flight is one of the most popular attractions in Fantasyland, and the line gets very long. It is not a Fastpass attraction so it's best to ride it early in the day.
The ride is about 2-3 minutes long.
There is no height requirement.
Wheelchair and ECV users should enter at the far left, at the attraction's exit and must transfer to experience the ride.
The closest restrooms are located next to the Village Haus Restaurant, along the exit to Frontierland.
KIDS AND CHARACTERS
There's nothing especially scary or threatening about Peter Pan's Flight, but it is in the dark, though the scenes themselves are brightly lit.
Some of the characters from Peter Pan make appearances at the Coca Cola Refreshment Corner on Main Street or near the castle. In addition, Captain Hook, Peter Pan, Wendy, and Smee occasionally accompany guests on the Sailing Ship Columbia, located in Frontierland. During Fantasmic! the fight scene aboard the pirate ship is re-created aboard the Columbia, and Peter Pan swings from the masts and duels with Captain Hook.
DINING
Village Haus in Fantasyland serves burgers and pizza.
Disneyland Restaurants at a Glance
Menus Around the Disneyland Resort
SHOPPING
Bibbidi Bobbidi Boutique - Prince and Princess makeovers as well as Princess clothing, dolls, toys, and accessories.
Heraldry Shoppe - Get your family's coat-of-arms on personalized plaques and clothing.
Mad Hatter sells a variety of character hats, including Mickey ears and Peter Pan hats with personalized embroidery.
Stromboli's Wagon - This cart offers hats, postcards, candy and other small souvenirs.
INTERESTING FACTS
Peter Pan's Flight is an original Disneyland ride and opened with the park in 1955.
The alphabet blocks on the floor in the nursery spell out "Peter Pan" and "Disney."
Look below as you fly out the nursery window -- Nana is below in the yard outside.
In honor of Disneyland's 50th anniversary a golden pirate ship was placed in the ride.

If you have comments or tips to share with others about touring Disneyland, please email us. Thank you.