TOURING
AT A GLANCE...
Great Moments with
Mr. Lincoln
Gadget's Go Coaster
Minnie's House
ENTERTAINMENT
Remember...
Dreams Come True
Favorite Viewing Locations for
the Fireworks!
SPECIAL EVENTS
SPECIAL REPORTS
OTHER THEME PARKS
Fantasmic!

Rivers of America
Disneyland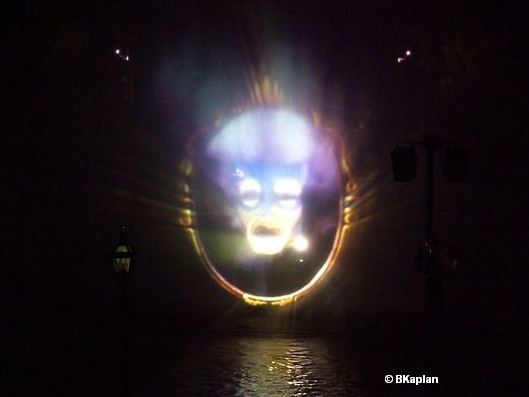 Introduction | Attraction | Touring Tips | Kids/Characters | Dining | Shopping | Interesting Facts
INTRODUCTION
Taking place on the Rivers of America, Fantasmic! is a nighttime show where the power of Mickey's imagination comes to life in an amazing spectacle of pyrotechnics, lasers, water screens, animation, fire and water effects and live action sequences featuring many favorite Disney characters and villains.
ATTRACTION
FANTASMIC! As the show begins the Rivers of America are dark and quiet. Mickey Mouse appears on the stage on Tom Sawyer Island and "conducts" the river to life in a blaze of lights, water fountains and fireworks. Three giant water screens rise from the river and a series of animations are projected on them.
The animated scenes shift to jungle images as fog rises on the river. Out on the stage Kaa, the huge snake from the Jungle Book, slithers across the island. On the river, floating barges carry King Louie and his cavorting day-glo-colored monkeys around the river.
Other scenes combining stage action and water screen animation include the pink elephants from Dumbo, Pinocchio and other huge dancing marionettes, and Monstro the whale.
There's the sound of cannon fire as the Sailing Ship Columbia, which has been transformed into Captain Hook's pirate ship, comes around the bend. It's an action-filled scene as Smee and the pirates swing on ropes and climb on the rigging as Captain Hook and Peter Pan pursue and duel each other. But following the ship is the giant crocodile, tick-tocking all the way as he attempts to get another taste of Captain Hook.
Mickey's dream continues as the "Imagination" theme plays and the "dream come true" couples float by -- Snow White and her prince, Ariel and Eric, and Beauty and the Beast.
Suddenly the Evil Queen from Snow White appears on stage, and the water screens reveal her animated magic mirror. The Evil Queen concocts a spell and transforms herself into the Wicked Witch who conjures up a series of villains to take over Mickey's dream. Ursula (with her pet eels, Flotsam and Jetsam), Chernabog and other nightmarish images appear on the water screens until there is a burst of flame on-stage and Maleficent appears. Pointing at Mickey she laughs and in an amazing transformation sequence she becomes a 40' dragon who breathes fire and sets the water ablaze.
But Mickey is equal to the task and in a burst of pyrotechnics he defeats the dragon, who vanishes in a shower of pixie dust.
The water screens again rise and Tinker Bell flies on screen, waving her wand. Amidst a flurry of fireworks the Mark Twain Riverboat comes into view, and a host of Disney characters wave banners as they float by, with Steamboat Willie at the helm.
As the riverboat disappears, Mickey appears on the island stage and conducts a series of lasers and fireworks, even shooting fireworks from his fingers. He says: "Some imagination, huh?", and on a final musical note the lights go out.
You can read about Walt Disney World's version of Fantasmic! HERE.
TOURING TIPS
Fantasmic! is a 25 minute show. It is presented seasonally -- every night during the summer and peak times. In the off-season it usually is presented only on weekends. There are usually two shows per night, and on very busy nights a third show may be added.
This show can be viewed from many areas around the Rivers of America, from the Mark Twain's dock to the raft dock. Unfortunately the show is very popular, and people start staking out spots in the prime viewing areas as much as 4 hours before the show starts. Because much of the action takes place in the air or on raised platforms it is usually possible to walk up not long before show time and still find a spot where you can see most of the show, and even from a distance it's quite impressive.
You may have a better chance of getting a good viewing spot by waiting for the second show, but will have to fight the crush of people that are leaving the early show.
If you're close to the water you may get sprayed with mist from the water screens.
The area around the Rivers of America gets extremely crowded and congested before and after Fantasmic! Before and during the show Cast Members maintain a walkway all the way around so that there is some flow of traffic, but afterwards the area can turn into complete gridlock where it's impossible to move. Keep your parties together as best you can and especially keep a tight hold on children - it's very easy to become separated.
Fantasmic! is free with park admission, but Disney does offer a Fantasmic! Dessert experience, which includes a reserved seat and a selection of desserts, for $59.00 (plus tax) per person. The reserved seating area is located on one of the terraced areas in front of the French Market. This area seats about 50 people in 3 rows of chairs. Guests receive a box containing a selection of dessert items, such as cookies, cupcakes, cheese and crackers and fruit, as well as their choice of beverage - sodas, coffee, or hot chocolate. The seats are excellent - located in front of one of the water screens, with a good view of the stage on the island. Those seated in the back row might want to stand in order to see over the people in front of them. Seating can be reserved 30 days in advance by calling 714-781-4400 beginning at 8 a.m. PST. A credit card is required and will be charged at time of booking. The tickets are non-refundable nor may they be exchanged for a different date or time.
Fantasmic! takes place during the night-time hours and is very dark in some places. Some scenes, especially those including the giant snake and the black dragon, and also the "nightmare" water screen sequence, may be too intense for children and some adults.
There are viewing areas set aside for guests in wheelchairs/ECVs and their parties - see a Cast Member for assistance.
Visitors with hearing impairments can arrange for a complimentary sign language interpretation of this show by calling Guest Relations at least a week in advance at 714-781-7290, or 714-781-7292 (TTY).
KIDS AND CHARACTERS
During the show, kids will be delighted to see Mickey in a few different costumes: in a tuxedo, as the Brave Little Tailor, and of course as Sorcerer Mickey. Some favorite Disney character couples -- Snow White and her prince, Belle and Beast, and Ariel and Eric -- drift by on brightly lit floats during one dreamy sequence. The pirate ship scene features Peter Pan, Captain Hook and Mr. Smee. During the finale, a parade of characters sail by on the Mark Twain, ranging from classic favorites like Donald Duck, Minnie Mouse, Geppetto and Pinocchio, to more recent faces such as Stitch and
Mulan.
As mentioned above, the area can be very dark -- parents of children with a fear of the dark should be aware of this. In addition, there are lots of people crowded into a relatively small area -- please be sure to keep your children near to you at all times.
DINING
There is a wide variety of counter service restaurants available in the New Orleans Square area. These restaurants get extremely busy and with the crowds it can be very difficult to get back to your party with food, so you might want to consider eating well before the show -- or before you stake out your spot for the show.
SHOPPING
Le Bat en Rouge in New Orleans Square sells some Fantasmic! merchandise.
INTERESTING FACTS
Fantasmic! premiered at Disneyland on May 13, 1992. The current version of the show, featuring the new Flotsam and Jetsam characters and the new crocodile, premiered on June 12, 2009.
It's estimated that 9,000 people can watch the show standing along the banks of the Rivers of America. The Florida version of the show opened at Disney-MGM Studios in October 1998 where it is presented in the specially designed Hollywood Hills Amphitheater which seats 6500 people.
Fantasmic! features a cast of 50 performers, most of whom have multiple roles. In addition there are 50 crew members.
Kaa the snake is 100 feet long, the crocodile from Peter Pan is 21 feet long and 12 feet tall, Flotsam and Jetsam are 37 feet long and the Maleficent dragon is 40 feet tall.
The three water screens are 35 feet tall and 50 feet wide.
Additional water effects include 21 fountains and six "whale tails" in the scene when Monstro the whale charges across the Rivers of America.


If you have comments or tips to share with others about touring Disneyland, please email us. Thank you.