TOURING
AT A GLANCE...
Great Moments with
Mr. Lincoln
Gadget's Go Coaster
Minnie's House
ENTERTAINMENT
SPECIAL EVENTS
SPECIAL REPORTS
OTHER THEME PARKS
King Arthur's Carrousel

Fantasyland
Disneyland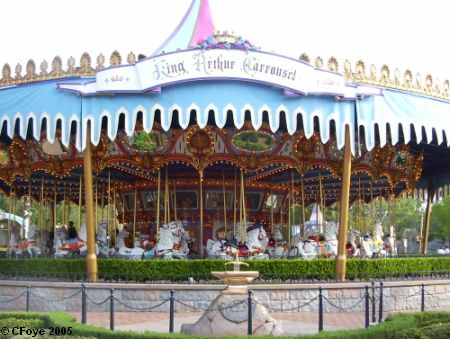 Introduction | Attraction | Touring Tips | Kids/Characters | Dining | Shopping | Interesting Facts
INTRODUCTION
On this beautiful classic carrousel, all of the horses go up and down as the carrousel revolves to the music of a calliope playing a classic Disney song.
ATTRACTION
King Arthur's Carrousel is located in the center of Fantasyland -- its lights are visible from Main Street through Sleeping Beauty Castle.
The queue forms a circle around the outside of the carrousel, and much of it is shaded by the carrousel itself.
There are 68 unique horses and four stationary "chariot" benches.
TOURING TIPS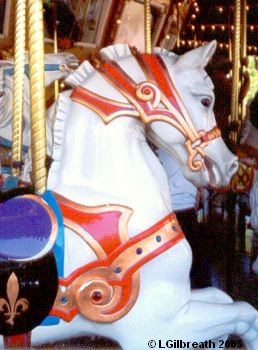 The wait is shortest early in the day, but generally the queue is not long and moves quickly.
The ride is about 2 minutes long -- the carrousel revolves 8 times.
There is no height requirement, and although there are belts to help secure riders to their horses, smaller children should be held on by an adult.
Wheelchair and ECV users enter through the regular queue, then proceed up a special ramp onto the carrousel.
The closest restrooms are located next to the Village Haus Restaurant, along the exit to Frontierland.
KIDS AND CHARACTERS
This is a fun ride for the young and the young at heart.
DINING
The Village Haus restaurant serves burgers and pizza.
Disneyland Restaurants at a Glance
Menus Around the Disneyland Resort
SHOPPING
Bibbidi Bobbidi Boutique - Prince and Princess makeovers as well as with Princess clothing, dolls, toys and accessories.
Heraldry Shoppe - Get your family's coat-of-arms on personalized plaques and clothing.
Mad Hatter sells a variety of character hats, including Mickey ears and Peter Pan hats with personalized embroidery.
Stromboli's Wagon - This cart offers hats, postcards, candy and other small souvenirs.
INTERESTING FACTS
King Arthur's Carrousel is an original Disneyland attraction and opened in July 1955. The carrousel was purchased from an amusement park in Canada, dismantled, and shipped to California where it was extensively madeover.
The carrousel reopened in March 2003 after an extensive one-year rehab in which it received a new motor, canopy, and paint job.
All of the horses are unique, and are repainted every two years.
Many of the horses have names. Jingles is often considered the lead horse (she was painted gold for Disneyland's 50th anniversary celebration) and has bells and flowers in her hair. There are also Avanti, Dante, Daisy, Flash, and King.
The horses were originally of all different colors, but they were all repainted white in 1975.

If you have comments or tips to share with others about touring Disneyland, please email us. Thank you.