TOURING
AT A GLANCE...
Great Moments with
Mr. Lincoln
Gadget's Go Coaster
Minnie's House
ENTERTAINMENT
SPECIAL EVENTS
SPECIAL REPORTS
OTHER THEME PARKS
Mickey's Halloween Party
Disneyland
ALL 2016 PARTY DATES ARE SOLD OUT!
2016 Dates
September 23, 26, 28, 30
October 3, 5, 7, 10, 12, 14, 17, 19, 21, 24, 26, 29, 31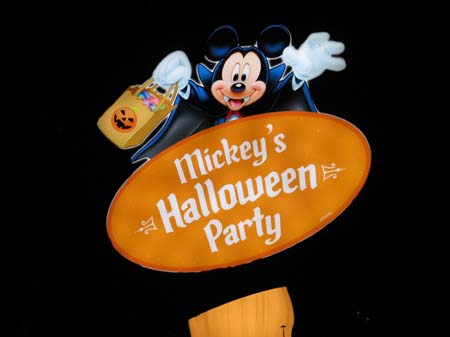 Mickey's Halloween Party is held at Disneyland Park on selected nights on September and October. This not-so-scary Halloween party is a fun-filled evening for the whole family. In addition to trick-or-treating around the park, the event also provides exclusive viewing of the Halloween Screams fireworks show, performances by the Cadaver Dans, and the Villains Square meet-and-greet. New this year: the Headless Horseman rides down Main Street on his black stallion carrying his flickering jack-o-lantern, in advance of the new Frightfully Fun Parade.
The party requires a special event ticket, but regular park admission is not required.
With their party ticket, guests will be allowed into Disneyland three hours prior to the start of the party: 3:00 p.m. for parties that start at 6:00, and 4:00 p.m. for those starting at 7:00.
2016 Dates:
September 26, 28, October 3, 5, 10, 12, 17, 19, 24, 26, 31 - 6:00 p.m. - 11:00 p.m.
September 23, 30, October 7, 14, 21, 29 - 7:00-12:00 a.m.
PRICES for Mickey's Halloween Party (parking is not included):
Discounted advance purchase price of $72 for Annual Passholders and $79 for the general public is available for the following dates: September 26, 28, October 3, 5, 10, 12, 17
Same day purchase price for anyone (subject to availability) for those dates is $89
Advance purchase and same day purchase price of $89 for September 23, 30, October 7, 14, 19, 21, 24, 26
Advance purchase or same day purchase price for October 29 and 31: $99
Advance Ticket sales for Annual Passholders, DVC Members, and Disney Visa card holders starts July 21. Ticket sales to the general public open on July 28.
Tickets will be available on-line at http://www.disneyland.com/party, or by calling 714-781-4400.
No charge for kids ages two and under.
Limit of 8 tickets per event.
Costume Guidelines
Please note that the costume guidelines have changed this year. While costumes are allowed for guests 13 and under, there are more restrictions than in past years for those ages 14 and older.
From Disneyland's web site:
While we encourage creativity, we also value safety and good judgement. Please take a moment to read over our latest rules and regulations:
Costumes must be family-friendly and may not be obstructive, offensive, objectionable or violent.

Guests who dress like characters may not pose for pictures or sign autographs for other Guests.

Costumes may not contain any weapons that resemble or could easily be mistaken for an actual weapon.

Costumes may not contain sharp objects, pointed objects or materials that may accidentally strike another Guest.

Layered costumes or costume props that surround the entire body are strongly discouraged and may be subject to additional security screening.

Costumes may not reach or drag on the ground. (e.g. full-length Princess dresses).
For guests ages 13 and under, costumes and some masks may be worn as long as the mask does not cover the entire face and eyes are visible.
For guests ages 14 and older:
Capes may be worn if the length does not go below the waist.

Themed T-shirts, blouses, sweatshirts and hats are acceptable.

Acceptable accessories include: transparent wings, plastic light sabers, toy swords and tutus. Headwear may be worn as long as it does not cover the face.

Masks of any kind may not be worn.
Guests who do not adhere to these guidelines may be refused entry into, and/or removed from, unless his or her costume can be modified to meet the above standards.
Read the most recent reviews or submit your own experiences to our Rate and Review area
Events

The Headless Horseman walks the length of the parade route prior to the start of the parade. There are two parades each night, and the Horseman begins his ride at 8:30 and 10:30.

Frightfully Fun Parade - New this year, the parade begins after the Headless Horseman completes his ride. It includes greetings from Halloweentown, a host of grim grinning ghosts, Dr. Facilier and his friends from the "other side", and the lair of the Disney villains.
Halloween Screams - Jack Skellington hosts this fiendish fireworks show and Zero flies around Sleeping Beauty Castle. You'll want a clear view of the castle for this one. The fireworks begin at 9:30.
Trick or Treat Stops - Treat stations throughout the park offer a variety of different candy as well as healthier snack alternatives. Most areas have been arranged into trails featuring multiple treat stations rather than individual standalone locations.
Character Greetings - Pose with many of your favorite characters who are also dressed up for Halloween. You'll find characters at the Frontierland Dock, Rancho del Zocalo, Town Square, Aladdin's Oasis, New Orleans Square, Frontierland, Critter Country, Fantasy Faire, and the Star Wars Launch Bay.
Jedi Training - Trials of the Temple - Several shows take place during the party. Sign-ups start at 5:00 in Tomorrowland.
Cadaver Dans - This acapella group performs their "spooktacular" music from a raft on the Rivers of America.
Disneyland attractions - most Disneyland attractions are open, including Space Mountain Ghost Galaxy and Haunted Mansion Holiday. Fastpass is not available.
Touring Tips
Please note that the Costume Guidelines have changed this year. In the past everyone, both kids and adults, were welcome to dress in costume. The language this year is not very encouraging for adult guests.
Guests may enter the park (in party attire) using their party ticket three hours before the party begins and enjoy the regular park activities until the party starts. Please note that there is a separate set of turnstiles for party guests to use - these are the ones all the way over on the right side. Guests must get a wristband upon entering the park - these will be checked multiple times during the party, especially at the beginning.
A special "Mickey's Halloween Party" guide map is available at the turnstiles, which gives the times of the fireworks and parade, as well as the locations of the treat stations and character greeting areas. Guests should also pick up a treat bag upon entering the park.
Most of the park is accessible, with most attractions operating, including Space Mountain Ghost Galaxy and Haunted Mansion Holiday. Various dining locations will be open as well as popcorn, pretzel, churro, and drink carts. In addition to quick service dining, full service dining is available at Blue Bayou and Carnation Cafe.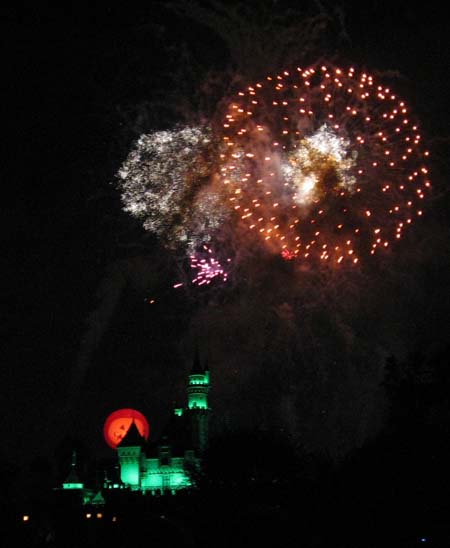 The only way to see the Halloween Screams fireworks is to attend one of the Mickey's Halloween Parties - the fireworks will be displayed only on party nights. The fireworks will be shown at 9:30 p.m. on all party nights.
There are character greeting areas throughout the park, with a backdrop and a Disney PhotoPass photographer. PhotoPass photographers will also be available in several areas throughout the park to photograph guests.
Character Photo Locations:
Pirate Wharf at Frontierland dock
Piratepalooza at Rancho del Zocalo
Frontierland - Toy Story Pals
Aladdin's Oasis - Friends from Aladdin
New Orleans Square - Jack and Sally
Critter Country - Winnie the Pooh & Friends
Town Square - Mickey & Minnie
Main Street Train Station - Disney Villains
Princess Fantasy Faire - Disney Princesses
Star Wars Launch Bay
If you have comments or tips to share with others about Mickey's Halloween Party, please email us. Thank you.