TOURING
AT A GLANCE...
Great Moments with
Mr. Lincoln
Gadget's Go Coaster
Minnie's House
ENTERTAINMENT
Disneyland Forever
Disneyland Marching Band
Paint the Night Parade
SPECIAL EVENTS
SPECIAL REPORTS
OTHER THEME PARKS
Mickey's Halloween Party
Disneyland
2015 Dates
September 25, 28, 30
October 2, 5, 7, 9, 12, 14, 16, 19, 22, 23, 25, 27, 29, 31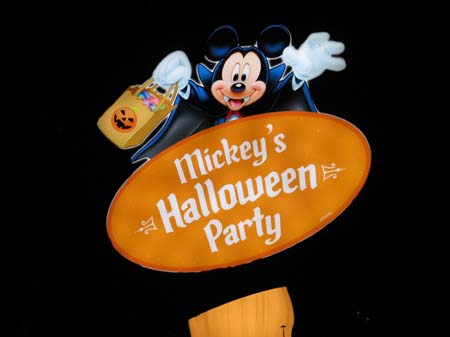 Mickey's Halloween Party is held at Disneyland Park on selected nights on September and October. This not-so-scary Halloween party is a fun-filled evening for the whole family. In addition to trick-or-treating around the park, costumed character greetings, and Halloween crafts, the event also provides exclusive viewing of the Halloween Screams fireworks show. In 2015, the Paint the Night parade will take place on party nights instead of Mickey's Costume Party cavalcade.
The party requires a special event ticket, but regular park admission is not required.
With their party ticket, guests will be allowed into Disneyland starting at 3:00 p.m. for parties that start at 6:00, and at 4:00 p.m. for those starting at 7:00.
2015 Dates:
September 25, October 2, 9, 16, 23, 31 - 7:00 p.m. - 12:00 a.m.
September 28, 30, October 5, 7, 12, 14, 19, 22, 25, 27, 29 - 6:00-11:00 p.m.
PRICES for Mickey's Halloween Party (includes parking):
Discounted advance purchase price of $63 for Annual Passholders/DVC Members and $69 for the general public is available for the following dates: September 28, 30, October 5, 7, 12, 14, 19, 25
Same day purchase price for anyone (subject to availability) for those dates is $77
Advance purchase or same day purchase price for October 29 and 31: $84
Tickets available on-line at http://www.disneyland.com/tickets
Or by calling 714-781-4400. $5.00 shipping charge.
Discounted tickets available for selected dates to Annual Passholders on Disneyland's Annual Passholder web site: http://www.disneyland.com/APParty
DVC Members may purchase tickets by calling 714-781-4400. There is a $5.00 shipping charge.
Ticket sales to the general public begin on July 29.
No charge for kids ages two and under.
Limit of 8 tickets per event.
Costume Guidelines
Guests of all ages may wear costumes only to the Mickey's Halloween Party event for which their ticket is valid. Otherwise, costumes are only permitted at either theme park for Guests ages 9 and under. All costumes must adhere to any guidelines as determined solely by Disney. Please choose costumes that are not obstructive, offensive, or violent. Guests may wear masks, but masks must not obstruct vision and the eyes must be visible at all times. Guests dressed as Disney characters may not pose for photos or sign autographs for other guests. Costumes should not drag on the ground, and should not contain sharp or pointed objects that could strike other guests. Costumes should not contain weapons or objects which could be mistaken for weapons.
2010 Photo Gallery:
General Photos
Parade, Characters and Activities

2010 Schedule of Events | Special Guide Tips

Read the most recent reviews or submit your own experiences to our Rate and Review area
2010 Schedule of Events
(The 2015 event schedule will be posted when available.)
Party Hours: 6:00 p.m. - 11:00 p.m. October 5, 12, 19, 26
7:00 p.m. - 12:00 a.m. October 1, 8, 15, 22, 29, 31
Trick or Treat Stops - Treat stations throughout the park offer a variety of different candy and snacks.
Character Greetings - Many of your favorite characters are also dressed up for Halloween, and the villains enjoy a night out, too.
Live Entertainment - Boogie with the characters at multiple locations throughout the park.
Disneyland attractions - including Space Mountain Ghost Galaxy and Haunted Mansion Holiday.
Halloween Screams Fireworks Spectacular - Viewing is available exclusively for party guests. The show begins at 9:30 p.m.
Special Touring Tips -- Some Spoilers
Everyone, kids and adults alike, is welcome to dress in costume. Costumes must be "kid-friendly". Masks are ok as long as vision is not obscured. Dressing as a Disney character is permitted, but guests may not pose for photos or sign autographs as that character.
Guests may enter the park (in costume) using their party ticket three hours before the party begins and enjoy the regular park activities until the party starts. Please note that there is a separate set of turnstiles for party guests to use - these are the ones all the way over on the right side. Guests must get a wristband upon entering the park - these will be checked multiple times during the party, especially at the beginning.
A special "Mickey's Halloween Party" guide map is available at the turnstiles, which gives the times of the fireworks and parade, as well as the locations of the treat stations and character greeting areas. Guests should also pick up a treat bag upon entering the park. There will be 8 Hide-and-Go-Treat Trails with about 50 treat stations. In addition to a variety of chocolates and other candies, healthy treat options include apple slices, carrots, raisins, and fruit crisps.
Most of the park is accessible, except for Toontown and Tom Sawyer Island, with most attractions operating, including Space Mountain Ghost Galaxy and Haunted Mansion Holiday. These dining locations will be open:
Blue Ribbon Bakery
Gibson Girl Ice Cream Parlor
Plaza Inn
Refreshment Corner
Royal Street Veranda
The Golden Horseshoe
Stage Door Cafe
Bengal Barbecue
Tomorrowland Terrace

A number of popcorn, pretzel, churro, and drink carts are also open during the party.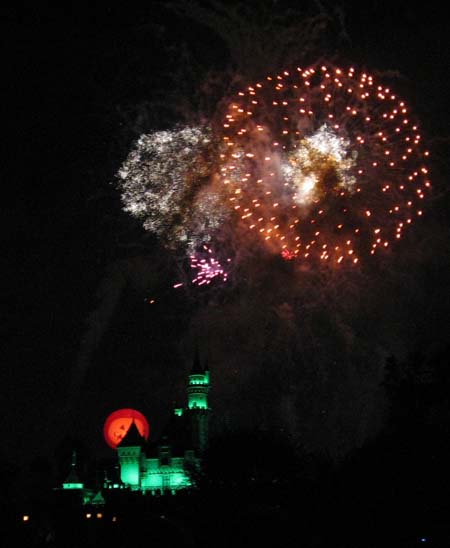 The only way to see the Halloween Screams fireworks is to attend one of the Mickey's Halloween Parties - the fireworks will be displayed only on party nights. The fireworks will be shown at 9:30 p.m. on all party nights.
There are character greeting areas throughout the park, with a backdrop and a Disney PhotoPass photographer. PhotoPass photographers will also be available in several areas throughout the park to photograph guests.
Character Photo Locations:
Pirate Wharf at Frontierland dock
Aladdin's Oasis - Friends from Aladdin
French Market - Jack and Sally
Splash Mountain - Critter Pals
Critter Country - Winnie the Pooh & Friends
Big Thunder Ranch - Mickey and Minnie
Big Thunder Ranch - Toy Story Pals
Small World Mall - Disney Villains
Princess Fantasy Faire - Disney Princesses
Pixie Hollow - Disney Fairies
There are two dance parties, featuring a DJ and characters who are out dancing with the guests: Buzz Lightyear's Intergalactic Space Jam at the Tomorrowland Terrace and Club Skellington at the French Market.
If you have comments or tips to share with others about touring Disney's California Adventure, please email us. Thank you.