2019 Epcot Flower & Garden Festival Garden Rocks Concert Series
This year, the Epcot International Flower and Garden Festival features an expanded "Garden Rocks" concert series.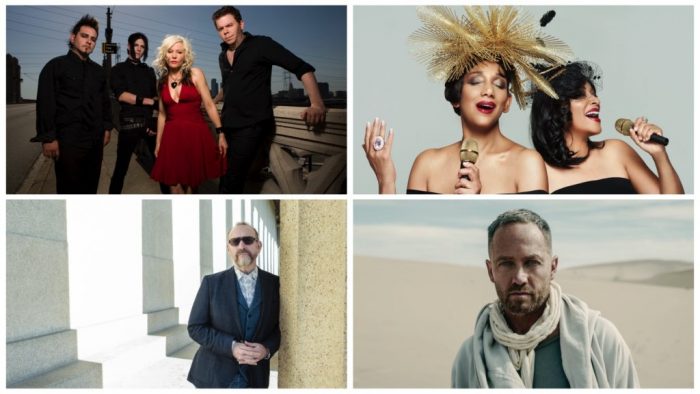 Performances are at America Gardens Theatre at 5:30, 6:45 and 8 p.m. every night during the festival, which runs March 6 – June 3, 2019.
Here's the line-up so far, subject to change.
March 6-8: Journey former lead vocalist Steve Augeri (NEW to Garden Rocks)
March 9-10: Glass Tiger "Don't Forget Me (When I'm Gone)"
March 11-12: John Anderson of YES (NEW to Garden Rocks) "I've Seen All Good People"
March 13-14: Tony Orlando "Tie a Yellow Ribbon"
March 15-16: Wang Chung (NEW to Garden Rocks) "Everybody Have Fun Tonight"
March 17-20: Simple Plan "Welcome to My Life"
March 21-22: Ambrosia (NEW to Garden Rocks) "You're the Biggest Part of Me"
March 23-24: Magic Giant (NEW to Garden Rocks) "Let It Burn"
March 25-27: Air Supply (NEW to Garden Rocks)"All Out of Love"
March 28-29: Berlin featuring Terri Nunn "Take My Breath Away"
March 30-31: The Smithereens (NEW to Garden Rocks) "Top of the Pops"
April 1-2: Rick Springfield (NEW to Garden Rocks) "Jessie's Girl"
April 3-4: Christopher Cross (NEW to Garden Rocks) "Sailing"
April 5-7: The Spinners "Working My Way Back to You"
April 8-9: Dennis DeYoung, original member of the group Styx "Babe"
April 10-11: John Michael Montgomery (NEW to Garden Rocks) "I Swear"
April 12-13: Sister Sledge (NEW to Garden Rocks) "We Are Family"
April 14-16: Night Ranger "Sister Christian"
April 17-19: Sister Hazel (NEW to Garden Rocks) "All For You"
April 20-21: Steven Curtis Chapman (NEW) "Cinderella"
April 22-23: TobyMac (NEW) "The Elements"
April 24-26: Lonestar "Amazed"
April 27-30: The Orchestra starring former members of ELO "Evil Woman"
May 1-4: Herman's Hermits starring Peter Noone "I'm Henry VIII I Am"
May 5-7: Don Felder, Formerly of the Eagles "Hotel California"
May 8-9: A Flock of Seagulls (NEW to Garden Rocks) "I Ran"
May 10-11: Marshall Tucker Band (NEW to Garden Rocks) "Heard It In A Love Song"
May 12-13: Peabo Bryson (NEW) "If You're Ever In My Arms Again"
May 14-15: Richard Marx (NEW to Garden Rocks) "Right Here Waiting For You"
May 16-19: Starship featuring Mickey Thomas "We Built This City"
May 20-21: Colin Hay of Men at Work (NEW) "Who Can It Be Now?"
May 22-23: WAR (NEW to Garden Rocks) "Low Rider"
May 24-27: The Guess Who "American Woman"
May 28-29: John Secada "Just Another Day"
May 30-June 1: Blood Sweat and Tears "Spinning Wheel"
June 2-3: Eddie Palmieri (NEW) "Vamanos Pa'l Monte"
The complete list of acts for the Garden Rocks Concert Series will be announced soon.
If you'd like to arrange guaranteed seating for these concerts, you can reserve a Garden Rocks Dining Package for breakfast, lunch or dinner at select Epcot restaurants. Reservations for concert dining packages opened Dec. 13, 2018.
For more info or to make a reservation, call 407-WDW-DINE (407-939-3463).
Garden Rocks performances are included with Epcot admission.