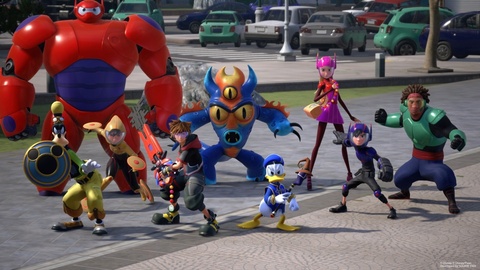 Did you love Baymax, the robot companion of Disney's animated film "Big Hero 6"? Who didn't, with his childlike innocence and ability to keep his friends healthy and safe.
Baymax is back, along with the super crew of Hiro Hamada, Honey Lemon, Go Go Tomago, Wasabi No-Ginger, and Fred, as they continue Big Hero 6's story of friendship. This time they fighting "the darkness" in a new adventure together with Donald Duck and Goofy in the upcoming action RPG (role-playing game) Kingdom Hearts III.
In the Kingdom Hearts series, video gamers can join forces with well-known Disney characters to experience challenges and adventures in Disney worlds. The newest entry in the series, Kingdom Hearts III, includes Donald and Goofy traveling across worlds based on films like Disney-Pixar's Toy Story, and Monsters, Inc., and Walt Disney Studios' Pirates of the Caribbean, Big Hero 6, Tangled, Frozen and more.
You can get a glimpse of Baymax and the world of Big Hero 6, in the futuristic city of San Fransokyo, in the following new trailer from Kingdom Hearts III. The trailer also shows off new footage from the Disney and Pixar worlds of Frozen, Monsters, Inc., Tangled and Pirates of the Caribbean, while shedding new light on the Kingdom Hearts storyline, as well as a first glimpse of a fan-favorite character.
Additionally, the trailer, which you'll find below subtitled in English, introduces a new way the character of Sora will use his Gummiphone, which has the ability to take selfies with his new friends along his journey.
Kingdom Hearts III will be available on Jan. 29, 2019 for the Xbox One family of devices including the Xbox One X, and the PlayStation®4 computer entertainment system. [Kingdom Hearts III is not yet rated.Visit the Entertainment Software Rating Board (ESRB) website at www.esrb.org for more information about ratings.]