LEGOLAND Florida is offering Star Wars fans a unique way to celebrate May the Fourth (May 4) with a special unveiling and the kickoff of its Star Wars Days this month.
Visitors can see the intricate LEGO Star Wars: The Force Awakens MINILAND model display, which will feature memorable moments from Episode VII of the popular Star Wars saga enhanced with lights, sound effects and animation. The model addition includes the 16-foot-long Star Destroyer Finalizer, made of more than 350,000 LEGO bricks.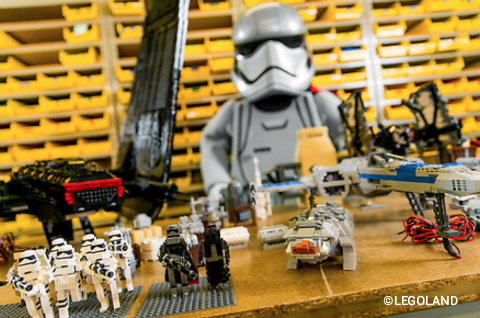 LEGO Star Wars: The Force Awakens MINILAND model display includes six exciting scenes set on the planet of Jakku, from Star Wars: The Force Awakens: Kylo Ren's capture of Poe; Rey's rescue of BB-8; Poe and Finn's escape from the Star Destroyer Finalizer; The wreck of Finn and Poe's TIE Fighter; Rey, Finn and BB-8's escape from Niima Outpost; and the escape from the Starship Graveyard.
Plus, a new Star Wars character has arrived at LEGOLAND Florida. The fearsome First Order Stormtrooper, LEGO Captain Phasma, was spotted inspecting the model to ensure perfection ahead of its installation. She will be meeting guests during Star Wars Days.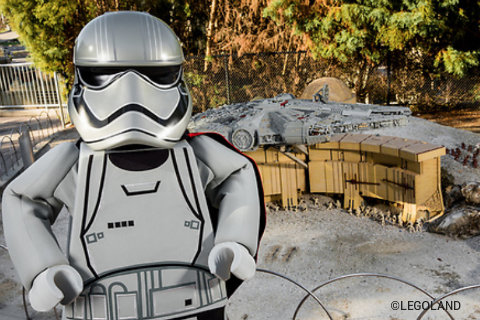 The giant new model is the highlight of LEGO Star Wars Days, which begin May 5 and run for three consecutive weekends — more event days than ever before. All activities are included with all forms of park admission.
Event activities include:
** Tour the newest addition to the LEGO Star Wars area in MINILAND USA with a Master Model Builder and learn exclusive model tips and insights.
** Meet-and-greet opportunities with LEGO characters Captain Phasma and Darth Vader.
** Find the missing LEGO lightsabers throughout Imagination Zone for a chance to win LEGO prizes.
** Use The Force and build a Star Wars-themed model during the Galaxy Competition Build.
** Snap a photo with the world's largest LEGO Yoda model, LEGO Chewbacca and LEGO Rey.
** Explore the LEGO Star Wars universe through the lens of talented fan photographers in an exclusive exhibit. Then enter for a chance to win a photo.
LEGOLAND Florida features more than 50 rides, shows and attractions inspired by popular LEGO and DUPLO brands, including experiences based on "The LEGO Movie," "LEGO NINJAGO: Masters of Spinjitzu," LEGO NEXO KNIGHTS, LEGO City, LEGO Technic and LEGO Friends, plus LEGOLAND Water Park and on-site accommodations at the 152-room LEGOLAND Hotel and the 166-room LEGOLAND Beach Retreat.
Throughout the year, LEGOLAND Florida has many special events including Brick or Treat (select dates in October), KIDZ BOP Weekend (Nov. 10-12), Christmas Bricktacular (select dates in December) and Kids' New Year's Eve Party (select dates in late December).
Want to experience it all? The LEGOLAND website is advertising that on May 14 an annual pass offer will be revealed.