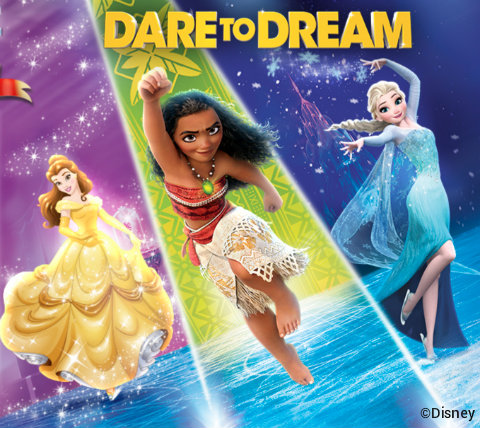 Disney on Ice returns to Orlando for six shows on Sept. 8, 9 and 10 — that's next weekend! — and tickets are still available. This time, it's a revamped version of the popular "Dare to Dream" production, which will be the first Disney on Ice show to feature Moana.
According to the official description from Feld Entertainment: "Celebrate what's possible as the adventures of five daring Disney heroines spark the courage inside us all at Disney On Ice presents Dare To Dream! In her Disney On Ice debut, see how far Moana will go when she embarks on an action-packed voyage with mighty demigod Maui in a quest to save her island, become a wayfinder, and find her own identity. "
Typically, Disney on Ice shows feature a large cast of characters in various vignettes to appeal to a spectrum of fans, and "Dare to Dream" is no exception. The new production includes characters from "Frozen," "Tangled," "Beauty and the Beast" and "Cinderella." In addition, Mickey and Minnie host the show. Here's how Feld Entertainment describes the rest of the production:
"Anna's devotion to her estranged sister Elsa sets her on a perilous journey to mend their bond, and stop an eternal winter. Rapunzel breaks out of her tower and teams up with an unlikely companion, Flynn Rider, as she goes to great lengths to realize her dream. Armed only with courage, Belle befriends the enchanted castle staff and learns to look beyond the Beast's rough exterior. With help from her friends and a little magic, Cinderella is determined to make the wish in her heart come true. Hosted by Mickey and Minnie, discover why no dream is too big when we find the strength to shape our own destiny at Disney On Ice presents Dare To Dream!"
Disney on Ice "Dare to Dream" debuted in 2011. Previous versions of the production included segments and characters from "The Princess and the Frog" and "Snow White and the Seven Dwarfs."
I have been to several Disney on Ice shows over the years, and I am still amazed at the new ways Feld finds to present the classic Disney stories. Although the choreography and costumes certainly are the main draws for a Disney on Ice show, the productions make good use of movable sets, special effects and unique props to keep audiences entertained. Changing patterns and colors of lights on the ice — and over sections of the audience in the arena — help set the mood of each Disney story.
Disney on Ice productions often use small stages along the perimeter of the rink that allow characters to step up and interact with audience members, which thrills the children watching. The characters alternate locations, engaging different segments of viewers.
Every Disney on Ice production has a brief intermission (15 to 20 minutes) after the first hour. There is plenty of Disney merchandise to peruse during this time, or kids can have their faces painted or their photos taken with special backdrops. If the concession stand takes precedence during intermission, all of these booths are open before and after the show, as well.
Central Florida residents and visitors will be among the first to see the re-imagined "Dare to Dream" For years, Ellenton, Fla.-based Feld has used Lakeland and Orlando as a starting point for new Disney on Ice productions, and this tour is no exception. From here, the production travels south to Sunrise and Miami.
Tickets are on sale at the Amway Center box office or through Ticketmaster. Seats range from $16 to $100 plus fees per seat. Every audience member 2 years and older is required to have a ticket. Show times are 7:30 p.m. Sept. 8; 11 a.m., 3 p.m. and 7 p.m. Sept. 9; and 1 and 5 p.m. Sept. 10.