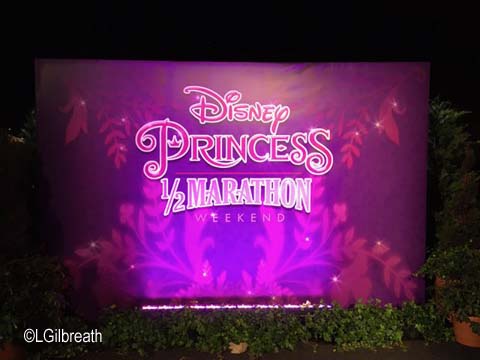 Sunday, February 26 – Princess Half Marathon
With almost twice the number of runners there had been in the 10K, we knew we needed to arrive early at the start area. We met our friends Kim and Charlie in the lobby of Kidani Village at 3:15 and drove to Epcot. The buses had started running at 3:00, and already there was a whole lot more traffic than there had been the day before.
Still, we were on the early side and it didn't take too long to drive to Epcot and park. We learned a long time ago that driving ourselves is not an excuse to sleep for an extra hour. We really need to leave about the same time as we would if we were taking a bus. The main advantage to driving is that if the weather is bad, we have a place to stay inside where it's warm for a while!
We had no bags, but bag check really wasn't backed up anyway. I wanted to do character photos again – the choices were Tiana/Belle and Merida/Pocahontas. Both lines were already very long, and it was only 3:50! I chose the Merida/Pocahontas line. The line was so long that it was Merida when we got in line, swapped to Pocahontas, then swapped back to Merida before we reached the front! We were in line for almost an hour…I had no idea it would take that long.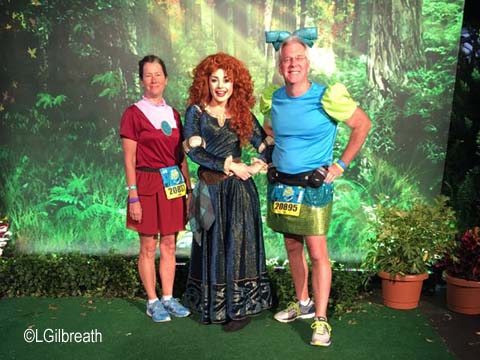 The weather was just about perfect. It was a little cooler than the day before – about 57. But most importantly, the humidity was way down, so it was really so much more comfortable for running than it had been on Saturday. I had a large trash bag that I wrapped around me – I needed just a little something to block the breeze and help me stay warm.
Lee and I were running with two other people, Eddie and Liz, who were coming from two different resorts. Liz texted us that she had a long wait for a bus, and then the bus was stuck in traffic. And Eddie was driving, and he was also stuck in traffic. We weren't all able to meet up until almost 5:00 – and the race started at 5:30!
And then we had the 1/2 mile walk to the start corrals…which was still very crowded, even with less than half an hour to the start of the race. As we were walking, Eddie got a text that the start had been delayed because of traffic. Given the experience of our other two runners, we were not surprised! Even with the delay we were still walking to our corral when the cast member sang the national anthem. I think we made it into the corral just after Corral A started, so we were barely in time.
The corrals were further up on World Drive this year, so it was a slightly longer walk. We knew the course had been modified through Magic Kingdom, so assumed that was the reason for it.
We again ran as a Cinderella group this year – but this time there were four of us. Lee and Eddie reprised their Drizella and Anastasia costumes, Liz was our Cinderella, and I was Lady Tremaine. (Most people didn't seem to know who I was, and it occurred to me in the first mile that I should have brought a stuffed gray cat with me.) Not surprisingly, the guys got all of the attention again, and had lots of people who wanted photos of them or photos with them. 🙂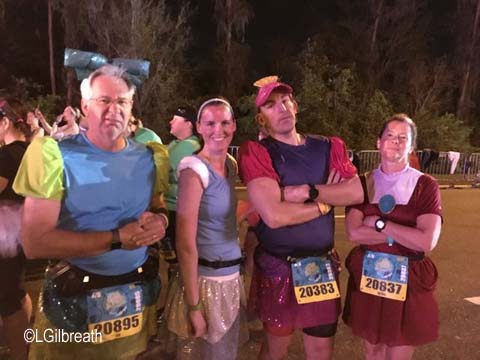 The corrals again were being sent off in waves. We were in the back of corral D, and went out about 9 minutes after the official start of the race. My understanding is that there was 62 minutes from the start of the race until the final wave of the last corral. Yikes.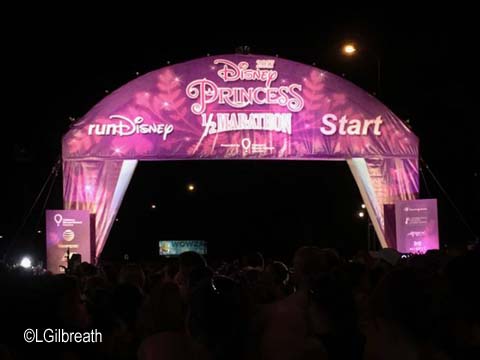 The waves did seem to help – the one-lane sections of road we had around miles 1 and 2 did not seem as bad this year. Still, it's always good to get onto World Drive where there are four lanes to run on!
It was very nice to see my friends Gail and Julian cheering on the overpass about mile 1.4 and stop for a quick hug.
The first character stop was the pirates about mile 2. Loooong line already and we didn't stop. Followed by the heroes a little later with another long line.
The mile markers were very popular photo stops, so I took very few photos of them, but we had to stop at mile 3 since it was Cinderella!
I think Mrs. Incredible was the next character we saw, near the speedway. The line didn't seem too long, but took longer than I expected. There were villains later, but they always have a huge line and we didn't stop.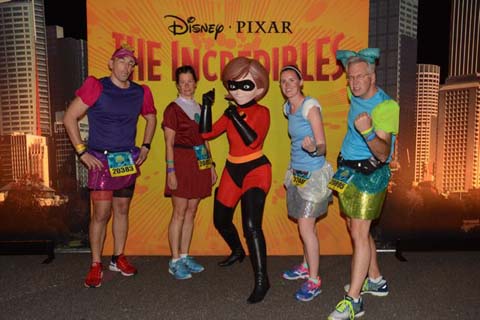 With the change in the course, the mile 5 sign wasn't at the corner past the Contemporary Resort where we turn left to go into the Magic Kingdom – I think we were almost backstage before we saw it.
And then we were on Main Street. Lee and Eddie delighted the spectators by having a hand fight as they ran down Main Street. Unfortunately the PhotoPass photographers didn't catch them in action, but it was really funny.
We did stop for a photo near the castle where Sam and Chuck from Mickey Milers were cheering.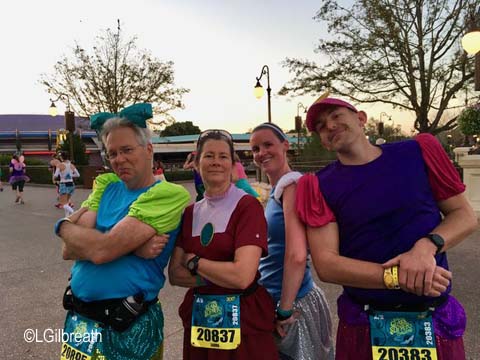 Buzz Lightyear was in Tomorrowland, and the Queen of Hearts was next to the Mad Tea Party, but we didn't stop.
This year the course went back into the new part of Fantasyland, past the Storybook Circus and Beast's castle. Gaston was posing near his tavern, and we HAD to stop. The line wasn't too long, but when we were about 6 people from the front, Gaston had to go on a break. The cast member told us it would be about 5 minutes, but it was over 10. I get it…since Gaston is a face character they can't just swap in a different one like they do with the others. We were seriously debating moving on when he came back.
He was really an excellent Gaston – I wish I'd taken video of him. So fun to watch him with the ladies – especially those dressed as Belle. But he really wasn't sure what to make of the guys in the stepsister outfits. 🙂 He shook their hands as we were leaving and said something like: "Good job."
We were hoping to meet the stepsisters and stepmother again this year, but with the focus on Beauty and the Beast this year, the next character stop was the Beast. Since we'd already waited about 20 minutes we weren't really interested in another long line.
I was surprised when we ended up running through the castle. The course map seemed to indicate that we would loop around past "it's a small world" and Peter Pan's Flight into Liberty Square. Anna, Elsa, and Kristoff were up on the balcony at the back of the castle. We were able to run through the castle. There were a couple of photographers, but the main photo stop was at the bottom of the ramp and off to the left, where multiple PhotoPass photographers were taking posed photos. Very popular, but we ran on through Liberty Square. Woody was greeting guests in Frontierland not far from the Mile 6 sign.
We ran backstage next to Splash Mountain, and that's where the princesses were. One line got us two photos – with Cinderella and Prince Charming, and with Snow White and her prince. (But aren't they both named "Prince Charming"?) Another long line…15 minutes, I think. Cinderella didn't quite know what to make of us – she said something like: "I love to see families together", but her prince was more in the spirit of it.
Snow White and her prince got more of a kick out of us.
We'd lost a lot of time because of the two very long character stops, and were really dreading "Cone Alley", the one lane stretch from the exit of Magic Kingdom until we were past the Polynesian. It wasn't too bad, though.
We passed character stops with the penguins from Mary Poppins and the Genie, but had to stop with the "bachelors" in front of the wedding pavilion – because they had the glass slipper. The guy on Eddie's left looks very worried! Too funny.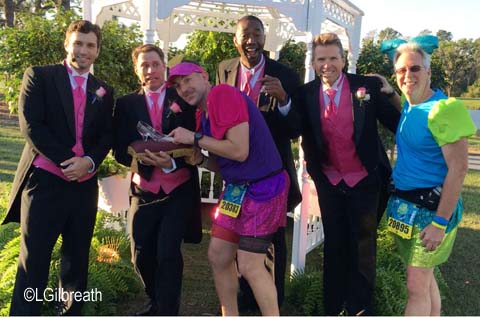 It was nice to get back on the four-lane part of World Drive again. The sun was up and it was a beautiful morning – but it was clear and sunny, which can mean pretty warm conditions for running. Fortunately it stayed cool and there was a little bit of a breeze. And as I mentioned before the humidity was way down. It was really just about as good as it gets!
There was a long line for the heroes but a short line for the pirates. No PhotoPass photographer there, but there was a cast member to take photos. Jack Sparrow certainly took a long look at the sisters.
Yay…mile 10!!! Just 5K to go. Sarge was encouraging runners as we took the cloverleaf up onto the overpass above World Drive and back towards Epcot.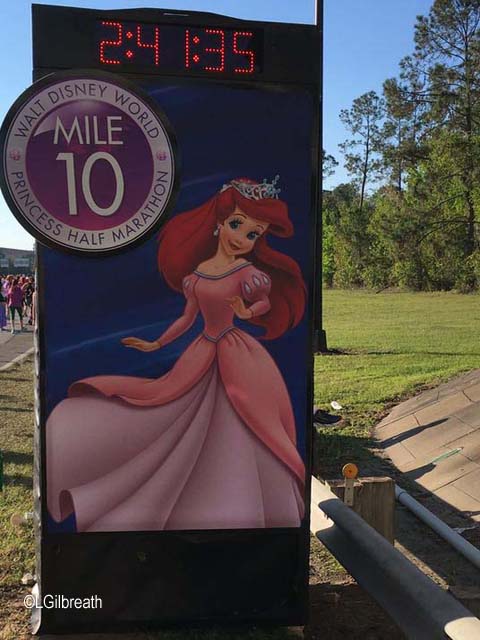 No characters on the return to Epcot, though I saw Gail and Julian again about mile 11. Liz's mom, Molly, was waiting for us outside the entrance to Epcot and took this photo.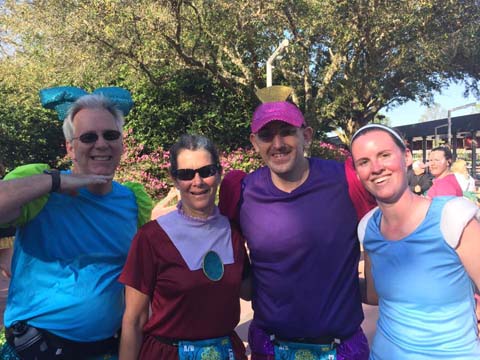 There was a character just backstage at Epcot, but I don't remember who it was…except that it wasn't one we cared about. 🙂 We popped into Future World with about 3/4 of a mile to go. Princess Daisy was waiting at the turnaround point near World Showcase Plaza with no line, so we got a nice photo.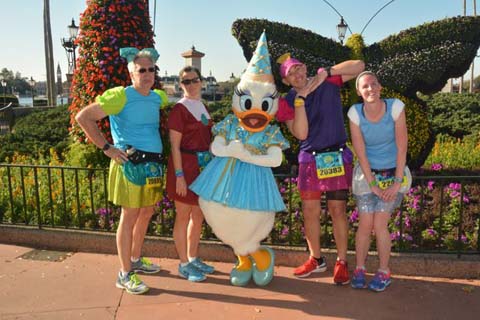 We stopped for a photo in front of the fountain, too.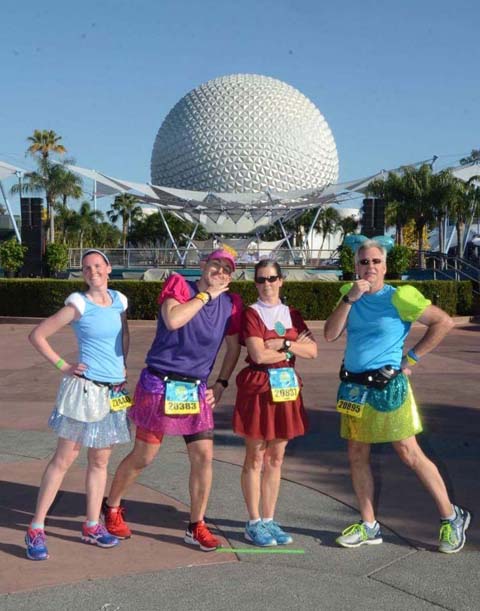 The PhotoPass photographers took a couple good ones of us as we ran through Future World towards the finish. The one of Lee is my favorite from the entire race weekend.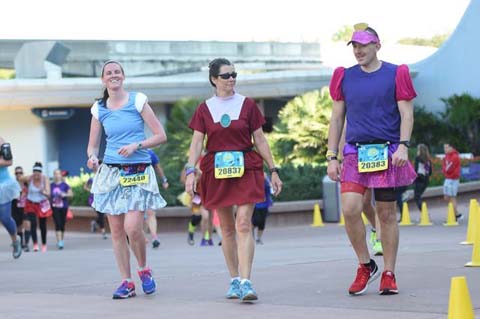 As we approached the finish line, Eddie and Lee were again "fighting" – so engrossed in beating the other to the line that they didn't notice Cinderella blazing by them to finish ahead of them. 🙂 The race announcers got a big kick out of it.
We finished in 3 hours, 10 minutes – those two long photo stops really slowed us down. But it was about having fun and not getting a good time. And we had fun!
We got our half marathon medal (sooo pretty!), our Glass Slipper Challenge medal, and our Coast-to-Coast medal. It's the 10th year for Coast-to-Coast, so it received a slight re-design this year. It's larger than in previous years.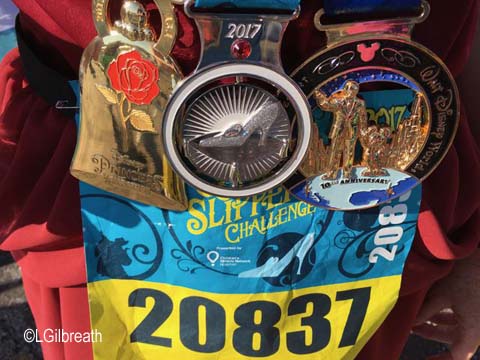 We all had finisher photos taken together for the half and the challenge.
Lee and I had a third photographer to visit because of the Coast-to-Coast medal.
Once we exited into the finish area we got into yet another line to get beer and champagne. Fortunately that didn't take as long as the character lines!
We munched on some of the contents of our runDisney boxes (sigh) while we were waiting. The boxes were slightly different between the 10K and the half. The open box is the 10K box. The bar and apple berry medley were substituted for the Builder's Protein bar and the dried cranberries in the half marathon box.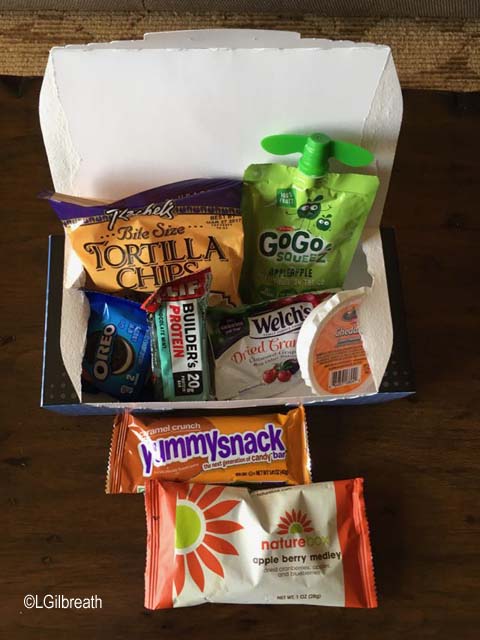 Oh, and that reminds me…one of the things I really like about the Princess and Tinker Bell half marathons is that they give us a bag after we finish to put our drink bottles, food boxes, etc. into. That makes everything so much easier to carry. Why don't they do that for the other race weekends?
Our friend Charlie finished and met us at the beer line…after the guys finished their beers we went back to the car. But the traffic to get out of the parking lot was awful – it took us about 30 minutes to get out of the parking lot. They really needed some cast members directing traffic in that area. That was the only real negative of the day, though.
The next day we went to Epcot – I wanted to get a picture with Belle and my race medals. We were waiting for rope drop at Chefs de France for the 11:00 meet and greet with Belle. There were a number of other people with the same idea – there were more adults than children!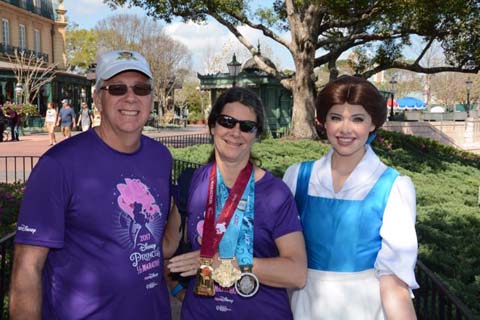 We saw a couple of people ahead of us who had Belle sign the back of their half marathon medal, and I thought that was a great idea!
It was another really fun race weekend. While I think the Star Wars Half Marathon Weekend at Disneyland is my favorite set of races, Princess Half Marathon Weekend might be the most fun I have at a race weekend. It's such a fun atmosphere, and despite not being a girly girl, I still love the Disney princesses.
Next year will be the 10th Princess Half Marathon and the 5th Glass Slipper Challenge, so it will be interesting to see what the theme is for that. And how much bigger the race is. There were 20,595 finishers this year – 18,499 women and 2096 men. That's about the same total it's been the last few years, though this year there were more men than in any previous year. The biggest year was the 5th anniversary, when there were 22,739 finishers, and it seemed very crowded that year…I hope it won't be that big next year, but I'm afraid it will be since it's an anniversary year.
Thanks for reading!