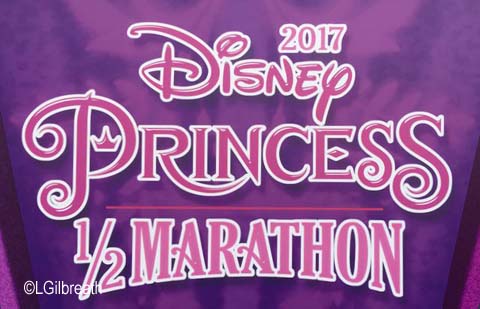 This is the 9th year for Disney's Princess Half Marathon Weekend. It's always a fun one for me. Even though I don't like the 10K and half marathon courses I still have a really good time!
Disney figured out yet another way to capitalize on the upcoming live action "Beauty and the Beast" movie by making it the theme of the race weekend this year. Besides, it really was Belle's turn – Ariel got it last year, and Anna and Elsa the year before that. 🙂
As usual, the Expo was held at the Wide World of Sports complex. I went on Friday afternoon – the Expo had opened Thursday morning.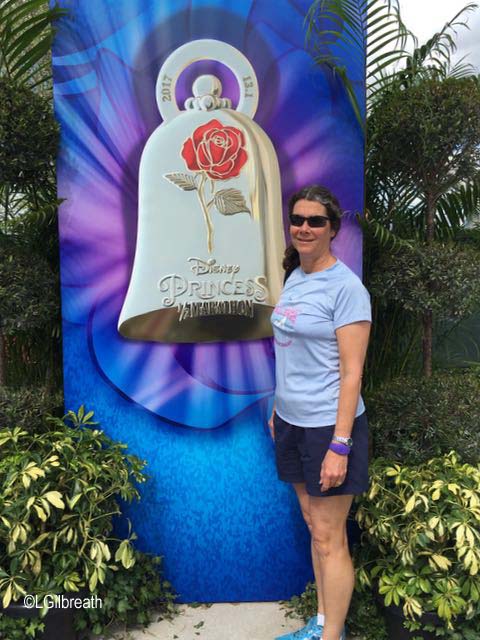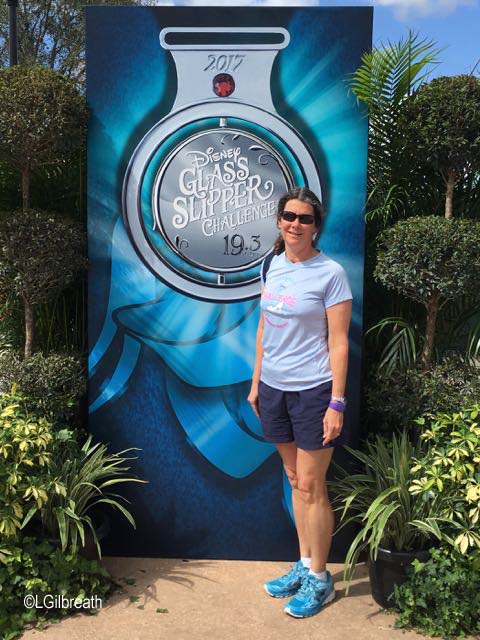 Bib pickup was in the HP Field House. There was a nice backdrop just inside the entrance.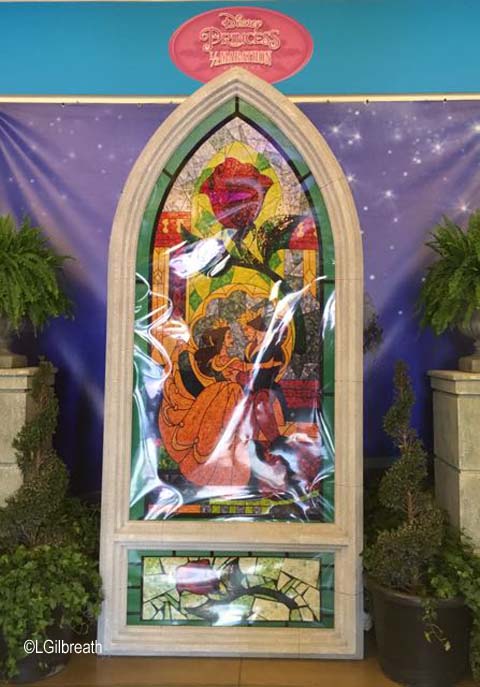 If you have your race waiver already printed (which I did), then bib pickup is almost always an easy process, and this year was no different. There are printers available for those who don't have their waivers. Sometimes there are lines for those, so it's always better to just bring the waiver with you.
Shirt pickup for those of us running the Glass Slipper Challenge was also in the Field House. I really love the blue and purple shirts! But the VERY pink Glass Slipper Challenge shirt? Not so much. I was having flashbacks of the 25th anniversary "Cakestle" nightmare they did for Magic Kingdom. <SHUDDER>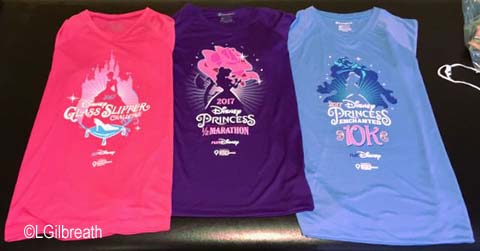 No gray shirt for me this time – yay! But those who ran the 5K ended up with a gray one. 🙁
Belle and Rapunzel were posing for photos in the Field House. Belle's line was quite long, but Rapunzel had just come out, so the line was still pretty short.
The main expo was in the J Center (formerly Jostens Center), but there were plenty of cast members to direct us and some signs to entertain us as we left the Field House.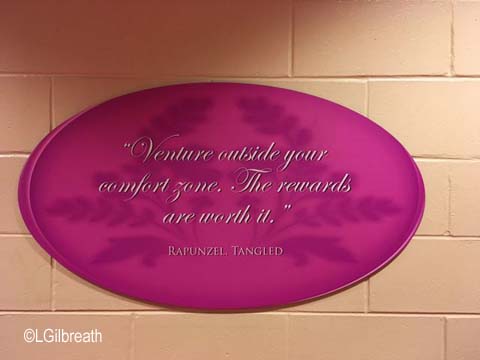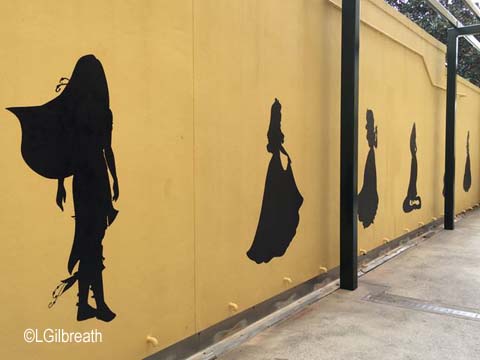 I was there about 1:30 in the afternoon. It was busy, but not super crowded.
Since I already had my shirts I went straight for the Official Merchandise area. I was somewhat surprised that there was no line to get in. Though there were plenty of taped queue lines on the floor to indicate that there had been lines! Once inside, it seemed to me like there was an excellent variety of merchandise still available. Maybe Disney has finally gotten a better idea of the quantity they need to order of certain very popular items.
For example, there were still LOTS of wine glasses – and those are usually gone early on the first day.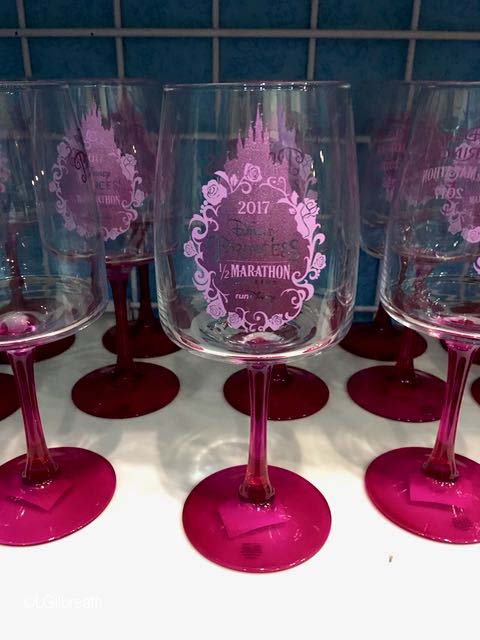 The Princess Weekend runDisney shoe ornament was also still available.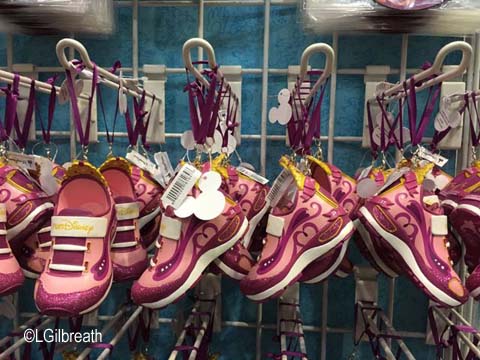 As were all of the mini-medal and race pins.
Plenty of magnets, too.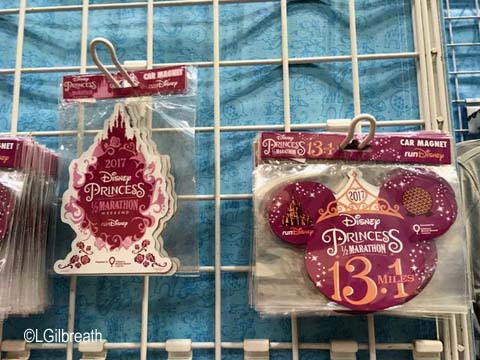 There was some 5K merchandise.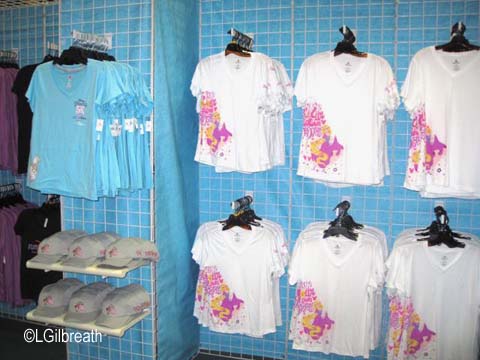 With something in the neighborhood of 24,000 people registered for the half marathon, there was lots of half marathon merchandise.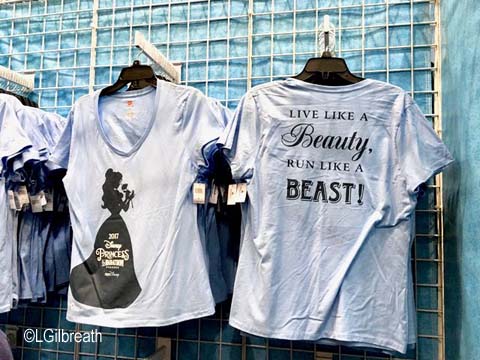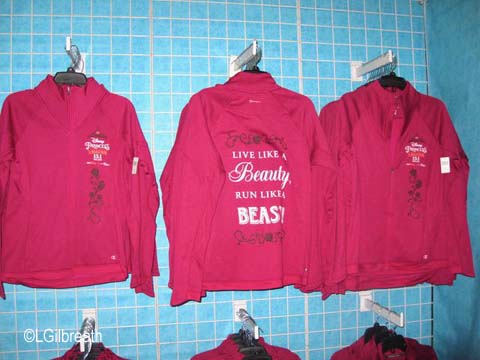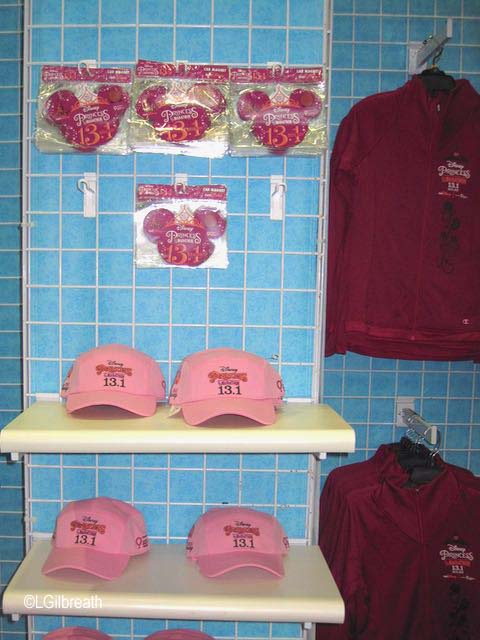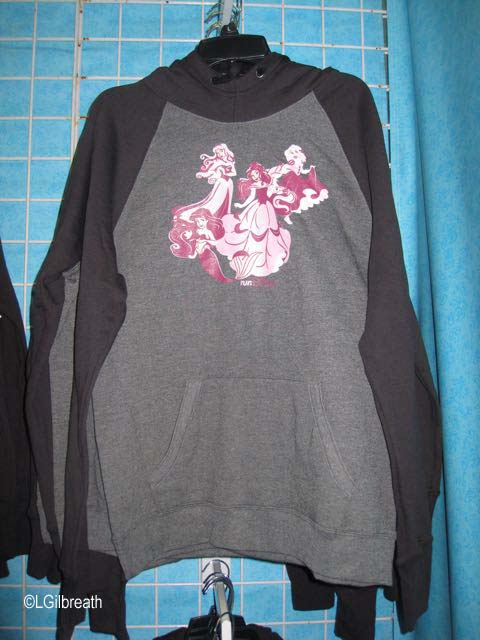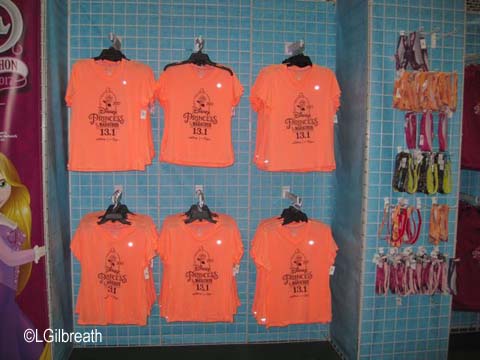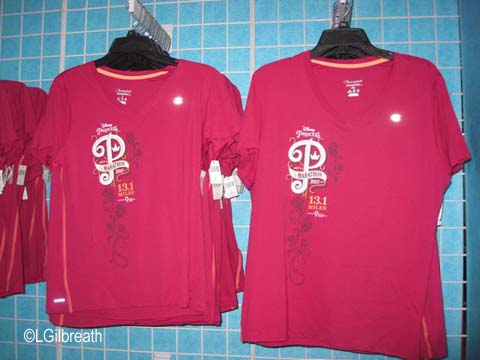 A number of Glass Slipper Challenge shirts and jackets.
A few items that I'd seen at previous expos.
More generic runDisney merchandise.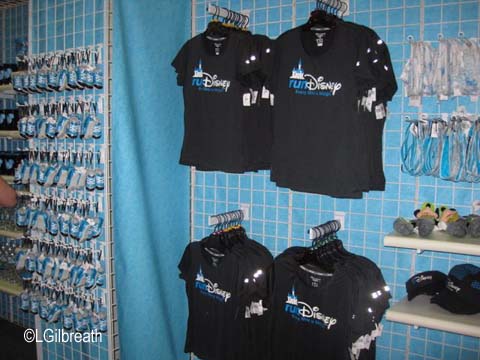 I think these mugs are probably available around the resort, but I thought they were really cute – and definitely matched the weekend's theme!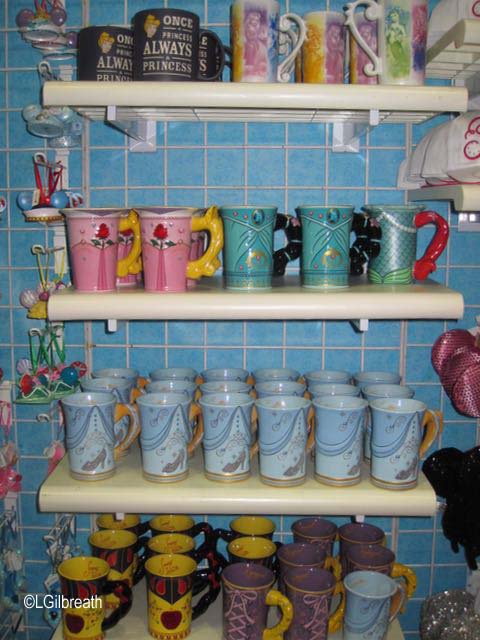 The "I Did It" shirts were all very nice – but while the 5K and 10K shirts were unisex, the half marathon and Challenge shirts were women's cut.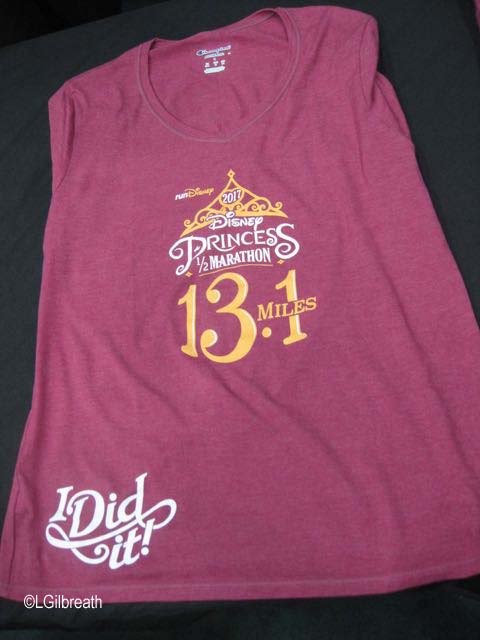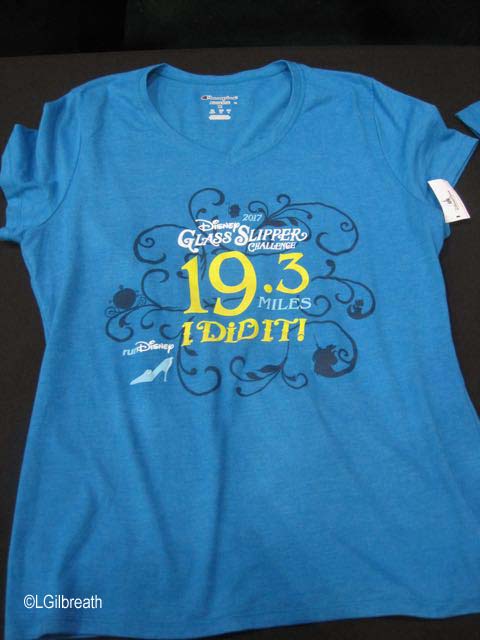 There were still a lot of Dooney and Bourke bags left. The only thing that I know of that was sold out at that time was the pink Tervis tumblers.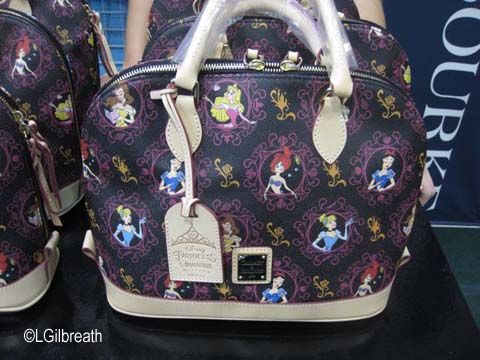 I wandered around the Expo a bit – it was most of the usual exhibitors. I must admit that seeing the new medals for Tinker Bell weekend almost makes me wish we were running that this year.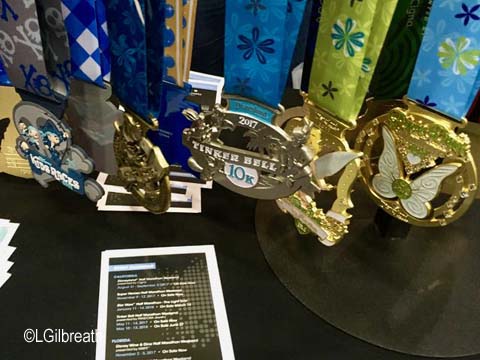 Upstairs, in the area where the speaker series used to be (there did not seem to be any speakers this year!), there was a Beauty and the Beast set up with the rose. Very long line for that.
Off to the side was the magic mirror, and it displayed various characters.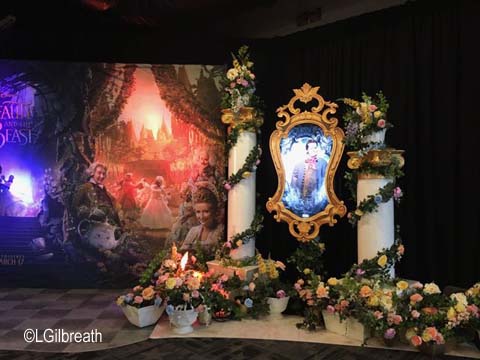 A new (to me) exhibitor was Sparkly Soul, which offered a variety of headbands and hair ties themed to different princesses, and I bought a couple of items. I also took a couple of the GoGo SqueeZ applesauce packets that were offered – I like those. So below is my Expo haul: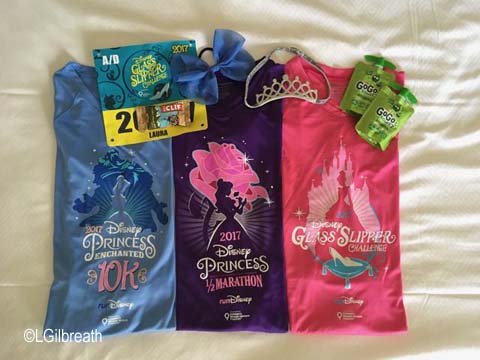 We went back to the Expo on Saturday afternoon. I was surprised at how crowded it was – much more than Friday afternoon. But apparently there were about 17,000 people running the half marathon only, and many of them didn't pick up their bibs until Saturday. There was a significant difference in the availability of merchandise by then – the wine glasses and ornaments were gone, and so were a number of other items. We have a friend who is an exhibitor, and a lot of her stock was running low. Which is a good thing! She'd much rather sell it than take it home. 🙂
I was much more pleased with the Expo overall this year than in previous years. While I didn't really buy merchandise, it was really nice to see that it was available, and that there was still a very good selection on the second day of the Expo.
Saturday, February 25 – Princess Enchanted 10K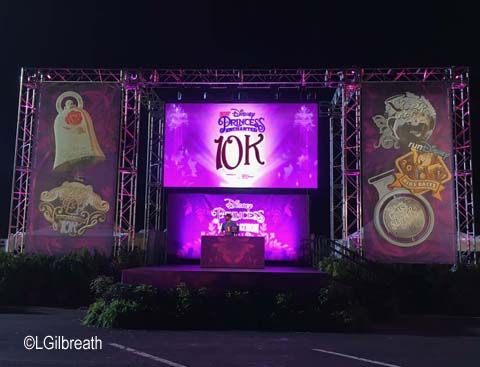 Ahh…another race morning, another much-too-early wakeup call. 2:30. I was targeting a 3:15 departure. Though I miscalculated – I thought the buses started running at 3:00, but they didn't start until 3:30. Otherwise I would have said we should leave at 3:45.
We drove our rental car from Animal Kingdom Lodge. Since we were quite early there was no traffic at all, and I think we were parked by 3:30. We were so early that they weren't letting people through the security check yet! But that opened after we'd stood there for a minute or so.
The really nice thing about being there so early is that there were very short lines for the characters! I think there were maybe eight people in front of me for Aurora.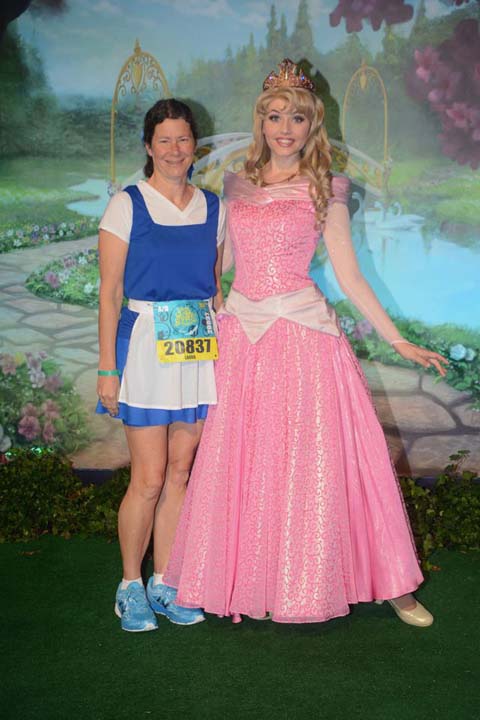 But the lines built quickly, and by the time I'd had my photo with Aurora the line for Jasmine was 5 minutes long. As you can see, I wore my Belle costume again. Lee put together his Maurice costume at the last minute, but it turned out well, I think! Jasmine was very good – she was engaging with the runners and doing different poses with them.
The character lines were getting very long already. I believe that Cinderella and Snow White were alternating with Jasmine and Aurora but we didn't get back into line…just waited around for friends to arrive. We'd lucked out and had a bench to sit on. So there are some advantages to being early! We had fun watching all of the people and all of the different costumes. Not surprisingly, Belle, either in the blue dress or yellow dress, was a VERY popular choice, but most of the other Disney princesses were well-represented, also. A few people dressed as Mrs. Potts and Chip, or Lumiere and Cogsworth. And quite a few as Gaston.
It was a great temperature for running – about 60 degrees, though it was quite humid. I had a mylar sheet to wrap around me – I was a little chilly just sitting around without it.
I believe this was the largest 10K I've been part of. There were about 14,000 registered, and 11593 finishers. We've learned from previous experience that there are lots of porta-potties with shorter lines once we go into the "runner's only" area near the corral, so we did that, and entered our corral about 5:10. We were in Corral A.
One thing I really enjoy about the 10K is that it isn't a long walk to the corrals and the start. Maybe 10 minutes before the start of the race they walked us to the actual start line. The current Miss America and a representative from Children's Miracle Network Hospital spoke, and then a Disney cast member sang the national anthem. It was nice to see race announcer Rudy Novotny again – we miss him at the Disneyland races. But we're very happy to see him in Florida!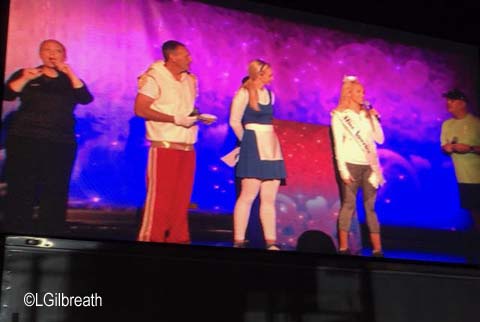 And then it was time for the race to start! I was surprised that they separated the corrals into waves – we were in the second wave of Corral A, which started a minute after the first wave. Maybe it was to introduce even more separation. The race starts on a nice wide road for the first mile, so it really wasn't much of an issue.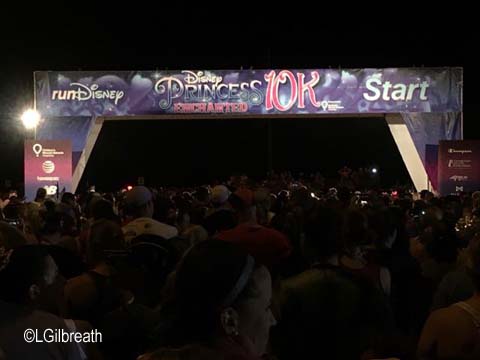 I hadn't decided if I was going to run this race for time or take photos, but I started off running for time. So I didn't take a photo of Moana on the overpass, shouting encouragement to "voyagers". I would have stopped for Elena of Avalor at Mile 1, but the line was already long. Tinker Bell and friends were between mile 1 and 2. But I did stop for the Hag just past mile 2. The line didn't look too long (though it took longer than I thought it would), and I've never had my picture with her before! I think it turned out well. The Disney PhotoPass photographers again did an excellent job throughout the weekend. That has been a huge improvement over the previous third party vendor. And since we are AP holders, all PhotoPass photos are included as an AP benefit, which includes race photos!
OK…so now I was apparently running the race for fun and not time. 🙂 There are a lot more character stops than there were when Disney originally rolled out the first 10K on this course. The course itself is still very boring, since it's on roads and backstage at Epcot for the first 3.5 miles. It's always really nice to finally come into Epcot between Norway and China and see the torches around World Showcase Lagoon and hear the music!
Dopey was out at Germany and Pinocchio at Italy, but the lines were a little long. Marie at France had a short line, but I didn't stop. Lee did, though.
We ran out of Epcot and around the Boardwalk. I was very surprised that there was no character in front of ESPN Club, as there usually is. It turned out that I was too early – the Genie was there a couple minutes later when Lee went by. There were lot of PhotoPass photographers on the Boardwalk, though, so they got some shots of us. Lee always looks happier when he's running than I do. 🙂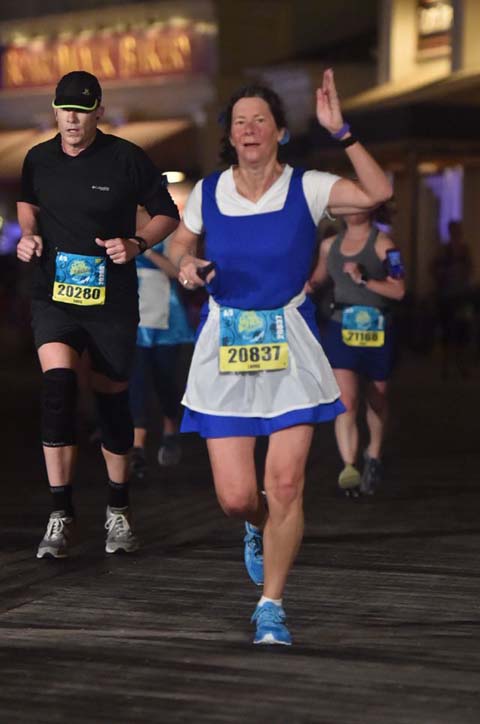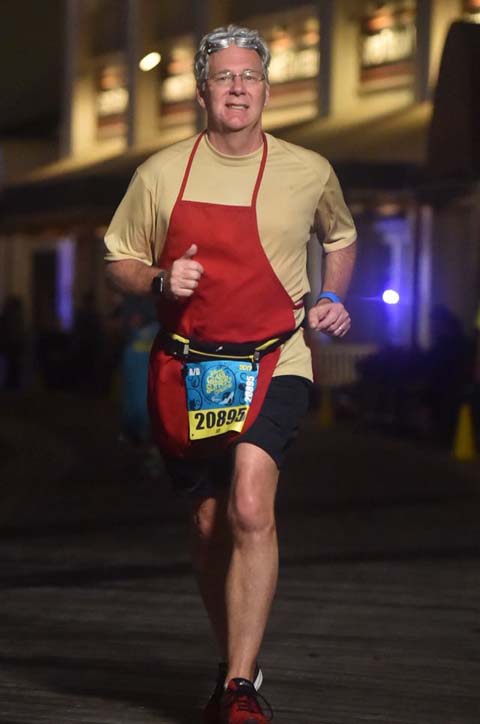 At the International Gateway was Princess Minnie, and the line was fairly short so I stopped.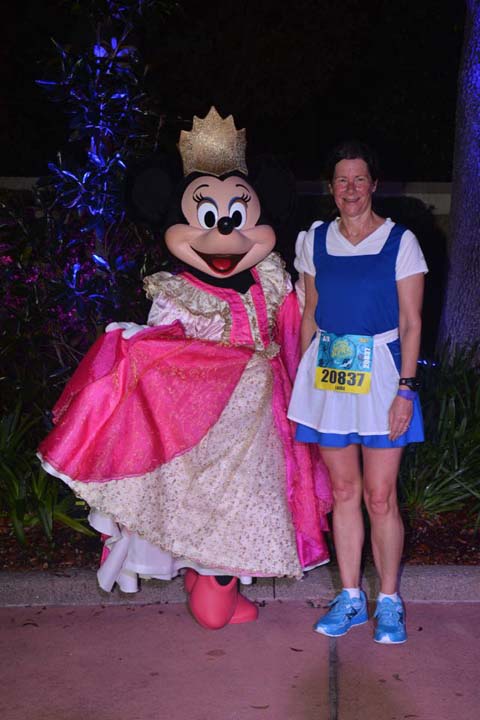 From there it was less than a mile to the finish. PhotoPass got an excellent shot of Lee in front of Spaceship Earth…though I think he forgot which character he was portraying, as that pose is more Gaston than Maurice. 🙂
I finished in 1:02:28. Not a PR, but since I had a couple of character stops that was still pretty good. 20th in my division and 917 overall, so in the top 10%. I was happy with that.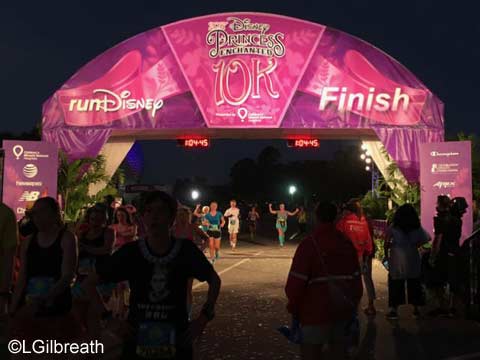 Lee had a good race and finished in 1:06:44.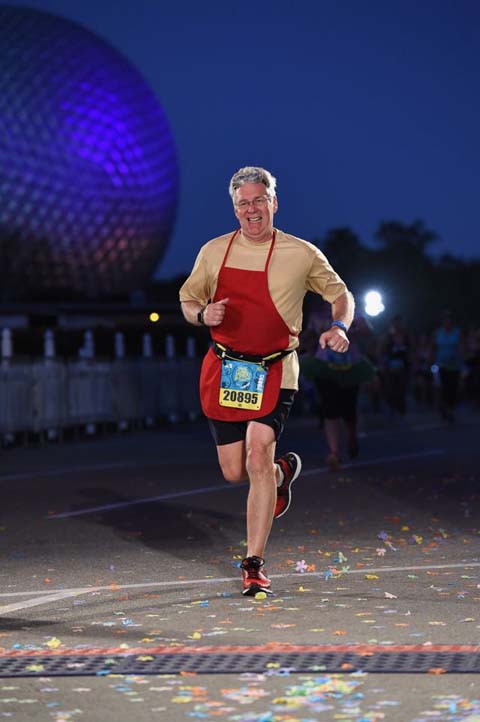 Our friends Eddie McCoy and Phill Vanderpool ran together and finished second and third in their age group, respectively. Congratulations to them!
The medal is very nice – keeping with the Beauty and the Beast theme.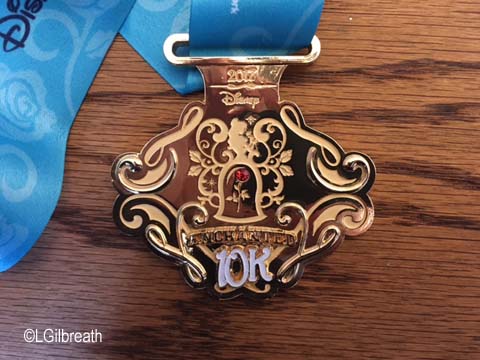 After the race we got in one of the character lines – it was Mulan when we got in line, but Jasmine again when we reached the front of the line. Oh well.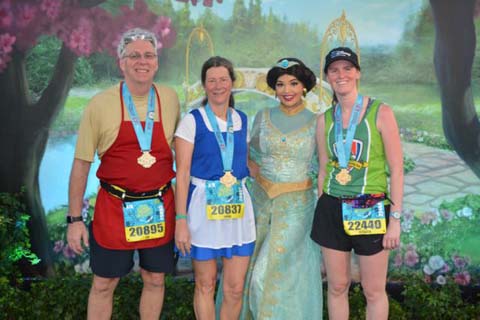 We walked to our car and had no problems getting out of the parking lot – easy drive back to the hotel.
It was a fun race. Even though I don't like this course very much I still enjoy the race. It's a great atmosphere and everyone has a good time. I'm glad that Disney is continuing to change the theme of the 10K each year. Though it would be nice if they would announce the theme BEFORE the race actually went on sale!
Next up: The Disney Princess Half Marathon