Sunday – January 15, Star Wars Half Marathon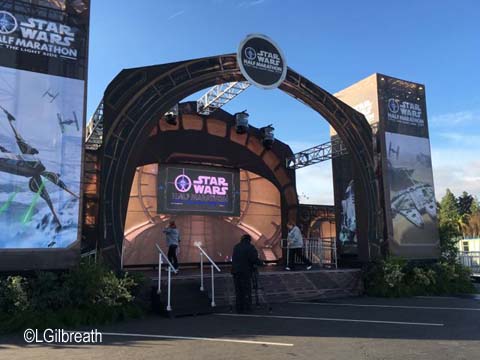 We'd scheduled a wakeup call for 4:00 – but we never got it. Fortunately Lee is a "belt-and-suspenders" guy and had also set the alarm on his iPhone, so we were still up at 4:00.
Since we knew from the day before that security wasn't going to be an issue we didn't leave the room until 5:00. I was still in my corral my 5:17 – plenty of time. I was in C, Lee was in E, so we again ran separately…I wanted to try to stop for some character photos this time, so wanted to be further forward so the lines maybe wouldn't be quite as long.
Running costumes for us that morning, also – X-wing pilot for Lee, and Rey for me. The arm wraps were quite welcome since it was another cool morning. A little warmer than the day before – 50. I had a mylar sheet to wrap around me while I was waiting, and that was really all I needed. I had gloves, but I never actually put them on – finally just put them in my pocket. Again, it was just about perfect conditions for running a race.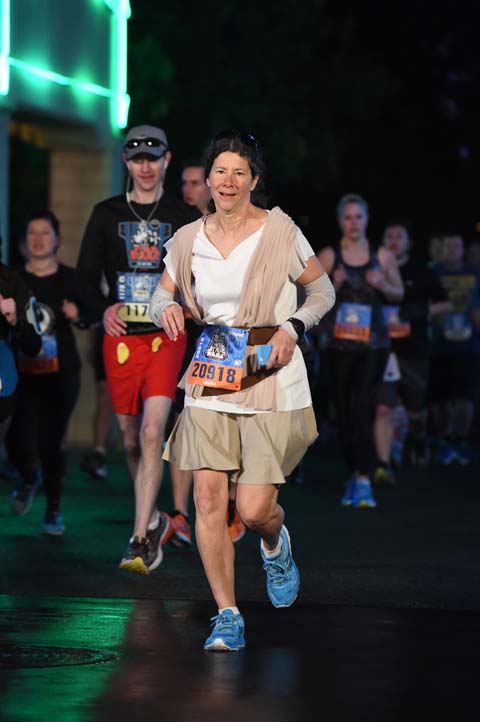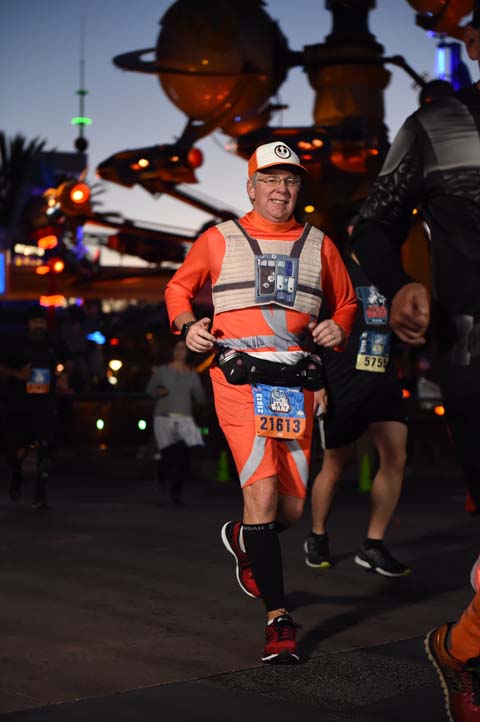 While we were waiting for this race to start we saw scenes from Rogue One – A Star Wars Story. We saw that in December – good movie.
Again, not much of a "show" from the race announcers while we were waiting. But that's ok. The race started right on time. There were 5 minutes between corral releases, so my corral started 10 minutes after the official start.
The first four+ miles of the course were almost identical to the 10K the day before. But that was ok – since I wasn't running for time I was able to observe my surroundings a little more. I liked this sign backstage at DCA. 🙂
The line at R2 and Threepio's character stop was long, but there was a short line for the Rebels at Paradise Pier.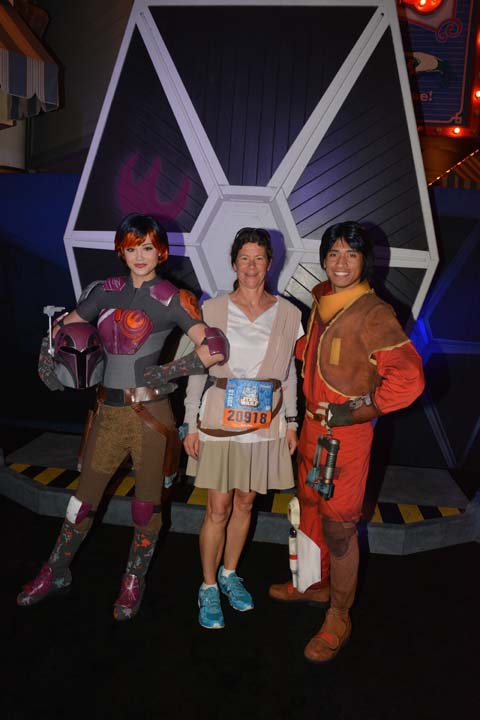 One thing that I don't think I've mentioned in my blogs, which I should, is restroom stops in the parks. I always try to have some idea of what the race course is inside the parks so that I know where there restrooms next to the course. I only need to find one, but it's really nice to be able to use a REAL restroom instead of a porta-potty. This time I went to the large one between Ariel's and Grizzly River Run, but I would have had a lot of other options.
There was a set of Jedi performing a light saber training exercise in Hollywood Land.
And the speeder bikes were placed outside the Tower of Terror just before mile 2. Lengthy line for that, too.
When we ran through the tunnel under the bus area I noticed some new special effects – in addition to the Star Wars music that was playing there was the sound of lasers firing, and on the walls were red and green laser trace fire lines. Hard to see in this photo, but I thought it was a really neat effect!
We passed the mile 3 sign backstage at Disneyland, and then entered the park back at Toon Town, then ran by "it's a small world". It's nice that Disney leaves it in holiday mode through this race weekend. It's decorated for Avengers weekend in November and for Star Wars weekend in January.
There was a Storm Troopers character stop along "small world way" before we turned left to go around the Matterhorn.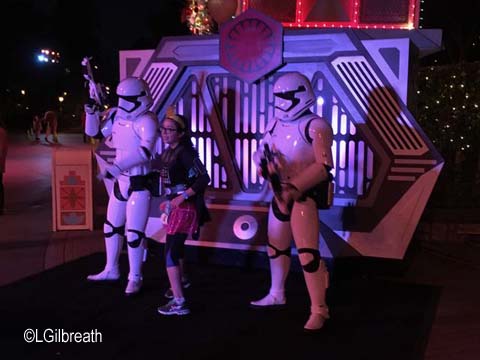 There were more Storm Troopers on the ramp of the Launch Bay. The BB-8 photo stop was near Star Tours. The line wasn't too long so I stopped.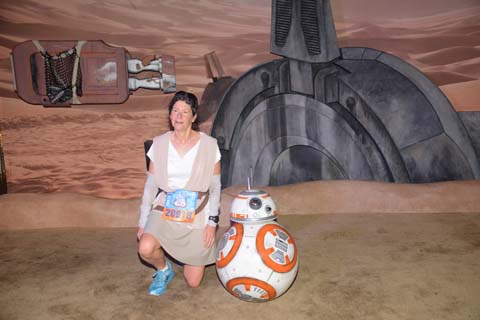 We again ran back towards Fantasyland. Kylo Ren was engaged in a light saber battle with some Jedi near Pixie Hollow. (Five against one doesn't seem exactly fair, though, does it? There should be at least ten Jedi.)
From Fantasyland we ran through the castle, but instead of taking the loop out through Frontierland and Adventureland like we did for the 10K we went straight down Main Street.
Two of the horses were out and posing for photos. They seemed to like the runners – the one on my left nuzzled me lightly on the shoulder. Such beautiful gentle giants!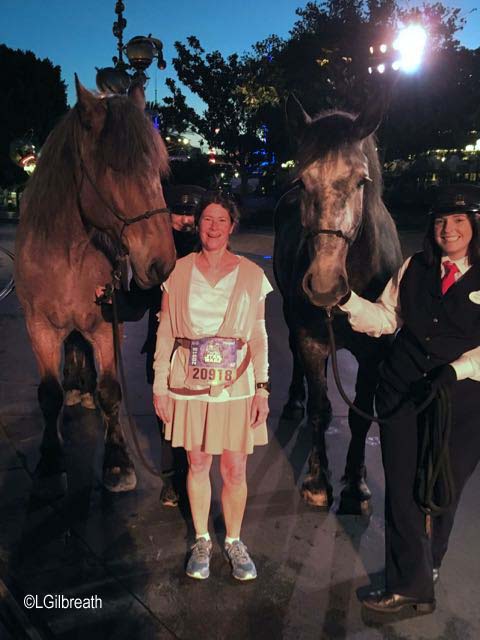 The Mile 4 sign was along Main Street, and Chewbacca's photo stop was in the same location as the 10K – next to the Disney Showcase store. Longish line, so I didn't stop. While this was "The Light Side" half marathon, there were a few Dark Siders who showed up to spoil the party. I already mentioned the Storm Troopers and Kylo Ren, but Captain Phasma was also there, on the bridge next to the train station.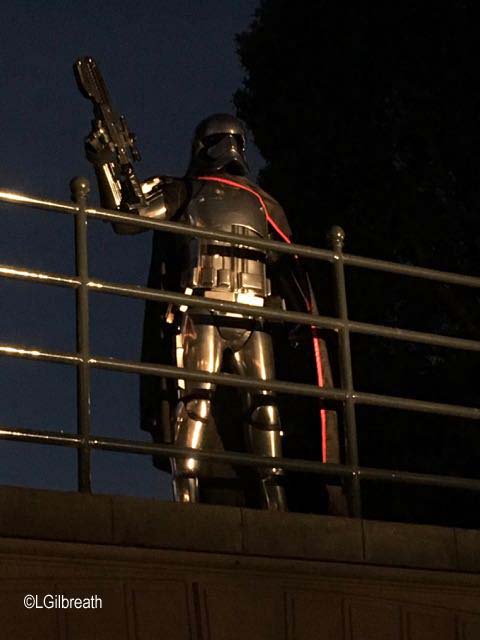 After we ran out through Disneyland's main entrance we went through the east tram area and out to Harbor Blvd – the rest of the course was outside the parks. But about 4.5 miles in the parks is a pretty good – better than some of the other race courses.
On the other side of Harbor I could see some of the early runners who were already returning. The winner had already gone by, but I saw some of the higher finishing men as well as the female winner.
By mile six it was starting to get more light out as the sun came out. There were a few clouds with color, but it was a fairly clear morning.
The course took us down Harbor Blvd into the city of Garden Grove, where we turned right on Garden Grove Blvd. There were a number of bands and cheerleaders who had come out to cheer us on. And we even had a feline cheerleader! This cat was not at all bothered about being in a harness and watching all of these crazy runners go by him. I'm guessing he has some Dark Side leanings. 🙂
One of my favorite things about this course is that it crosses Newhope Street. How appropriate for a Star Wars-themed race! That's after the halfway point – about mile 7.5, and just before we turn north to go back towards the finish.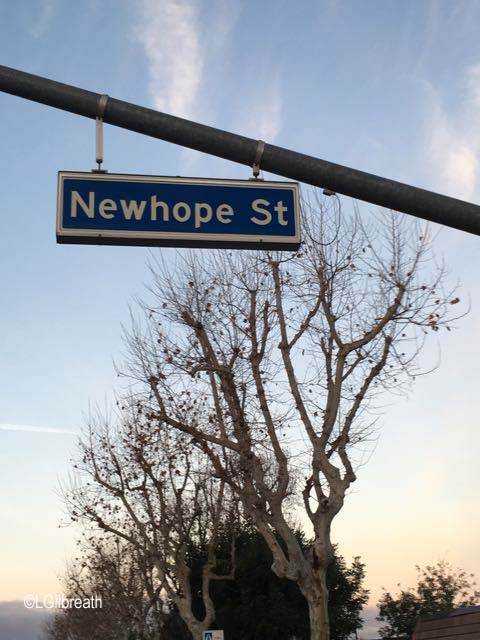 But my favorite thing about this course is around mile 8 and mile 9 – the two areas where there are Cosplayers who come dressed in their Star Wars costumes to cheer us on. They are so amazing! They love having their photo taken with runners, and there's usually no line to do that. I can't say enough about their wonderful enthusiasm and support. Their placement on the course is really good, because it's when runners are getting tired, but still have a ways to go to the finish. They really help give us an extra boost to keep us going as we get a lift out of all of their energy.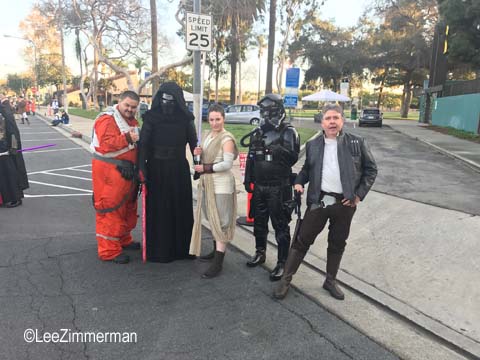 There are lots of heroes: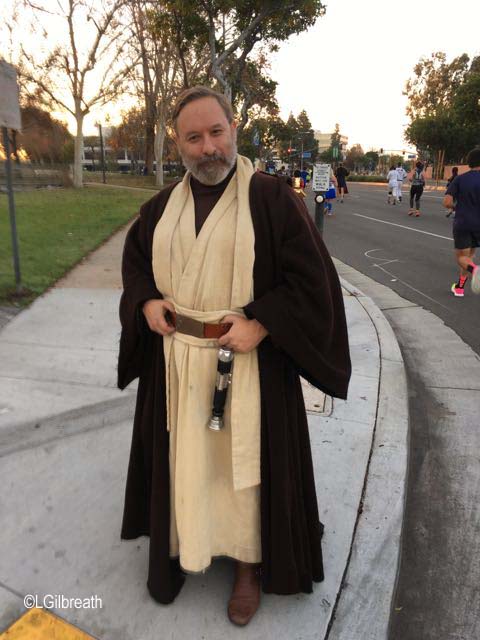 And villains:
And even cars and droids!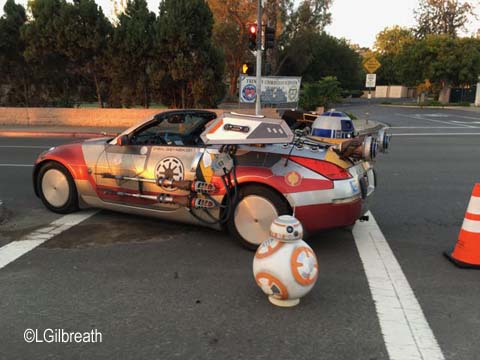 Lee found his fellow X-wing squadron pilots.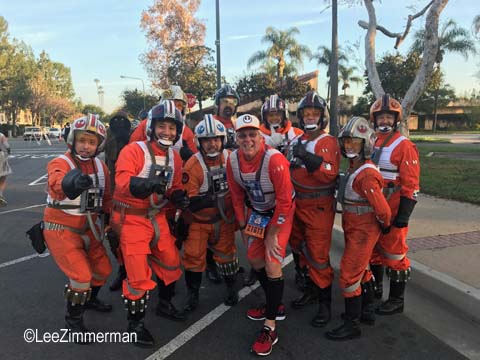 This video shows most of both sets – as you can see there was really an extensive variety of costumes from all of the different movies.
After the excitement of the cosplayers, mile 9-10 of the course is pretty quiet. It's largely in a residential neighborhood, so in the interest of keeping the noise down early on a Sunday morning there are no bands or other entertainment. Though there are residents and groups, like my friends Colin and Richard, who come out to cheer on the runners in that area, and it is greatly appreciated.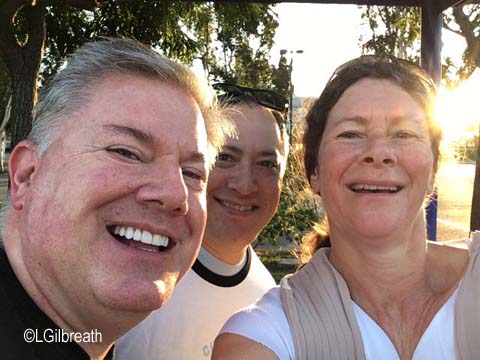 Just before mile 10 the course goes right on Chapman Avenue for about a mile. There's a lovely pond there, and it always has nice reflections in the morning. Thanks to all of the recent rain the water level was higher than normal, and on this race morning there were lots of ducks enjoying the pond.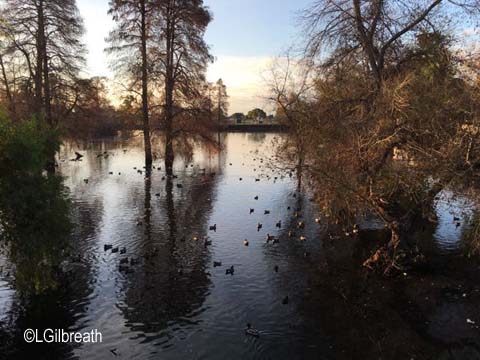 My legs were a little tired after my hard run the day before, but I'd managed to mostly stick to my usual run/walk pace. But by about mile 10.5 I started to feel it and had to slow down a little more. I was very happy when we turned left onto Harbor Blvd since I knew I had just about 2 miles left. I could see runners at the back of the pack still coming towards us. It was just before mile 12 that I saw the balloon ladies.
The last mile of the course took us down Katella to Disneyland Drive, and then around the Paradise Pier Hotel to the finish line at the Disneyland Hotel. I finished in JUST under 2:22 – 2:21:59 to be exact. 🙂 Considering photo stops, a restroom stop, and tired legs I was VERY happy with that.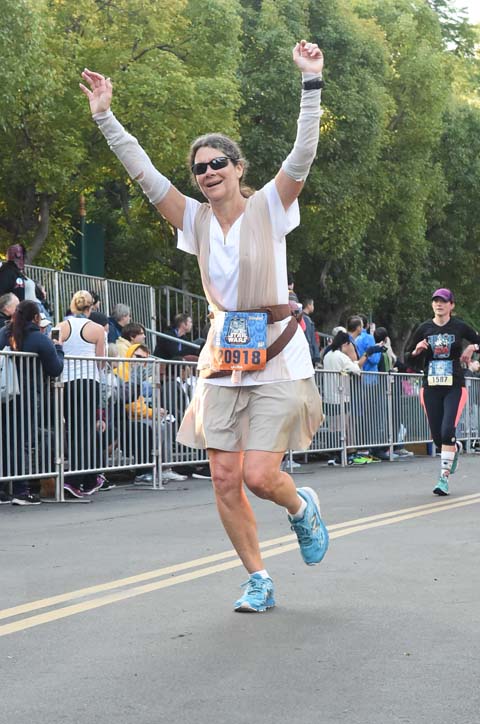 I got my race medal – it's a spinner with Han and Leia (awwww) on one side and the Medal of Yavin on the other. And my Rebel Challenge medal. That's a new design this year. I'm not really sure I like it.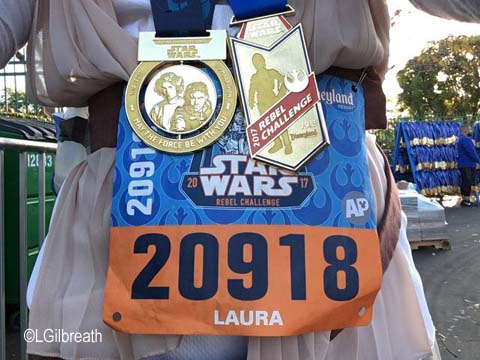 I didn't talk about the runDisney snack box after the 10K…we received the same assortment after the half. It had a slightly different variety than what I've seen before. The best part is that it has a small container of Nutella!!!! Yum. I guess I'm resigned to the fact that it's what we're going to get after any Disney race from now on. Most of it is stuff I'll eat except the Builder Bar – yuck.
In the finish area there was a Nesquik van, and they were handing out chocolate milk! Yay!!! Or "Protein Enhanced Milk Beverage", as they called it. There was a choice of chocolate or vanilla. I didn't hear anyone ask for vanilla.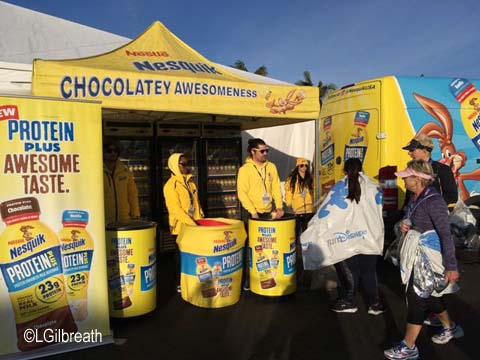 The "trash compactor" photo backdrop had a short line, so I had my photo taken there.
Lee was still somewhere behind me (though it turned out he was closer than I thought – apparently he was flying down the course!), so I walked back to the room before I started to get cold. The sun was out, and it was slightly warmer than it had been for the 10K, but still. I was ready to get back and take a hot shower! Lee also had a good race – took it easy and stopped for some photos.
Final Thoughts
I still really love this race weekend – it's definitely my favorite of the Disney race weekends. And I think this half marathon course has now overtaken the Tinker Bell course as my favorite half marathon course. The roads are nice and wide so it doesn't feel crowded. The course is mostly flat, also. A few slight inclines – the only hill is the tunnel under the tram area. No overpasses!
The race medals are always a highlight. The BB-8 medal is really cute, and I really liked the re-design of the half marathon medal.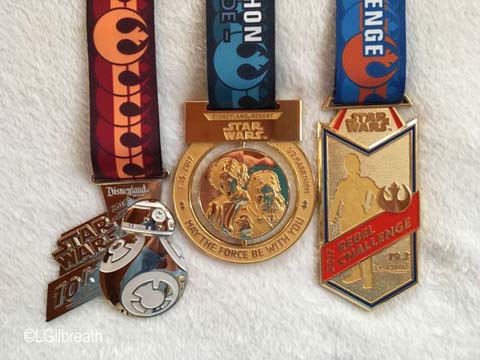 I still wish there were more characters on the course…or in the finish area.
I was surprised that the half marathon and 10K didn't sell out this year. There were about 15,000-16,000 entered in the half, and 12,434 finishers. This is a PERFECT time for running in southern California. I don't want to jinx it, but in the five years that runDisney has held a race weekend at Disneyland in January, we've always had great weather for running.
We will be back for this race weekend next year.
Good luck to all of you running Dark Side in April to complete the Kessel Run Challenge! We will not be there this year.
Thanks for reading.