Saturday – January 14, Star Wars 10K
I know I've mentioned this before, but it's so much easier to run races at Disneyland! The start area and all of the hotels are all walking distance, so we don't have to get up really early to catch a bus to the start.
The race started at 5:30, and we set a wakeup call for 4:00. That's pretty much sleeping in by runDisney standards. 🙂 We left our room about 4:45.
Both of us were in costume. Lee wore his black Luke Skywalker Jedi outfit – complete with one black glove. 🙂 I didn't go with a Star Wars costume this time, and just wore my trusty Cinderella costume. Though really, I think she's a Jedi at heart.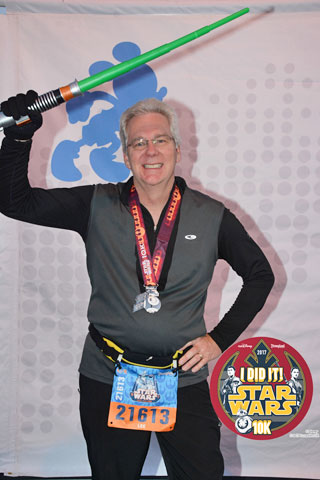 This year the new variable was Disneyland's new security perimeter. Since Downtown Disney is within a "secure zone" now, we were pretty sure we would have to go through security from our hotel into Downtown Disney, but weren't sure how long that would take. As it turned out it was very fast. It was quite easy for the security personnel to see that most runners weren't carrying anything. We did not have to go through a secondary screening at what was the race checkpoint in the past. But there were still security people patrolling, some with dogs.
By the time we arrived in the pre-race area a lot of people had already gone to their corrals. So we couldn't tell if it seemed more crowded this year now that there were 12,000-13,000 runners in the 10K as opposed to under 10,000 as in previous years.
Both Lee and I were planning to run the 10K for time and not stopping to take photos. We were in different corrals, so I went to B and he went to C. Most of the photos below were taken by the PhotoPass photographers. As Annual Passholders we can download them for free. Disney started using their own photographers rather than MarathonFoto at the Dark Side weekend at WDW last April. The information on how to turn your bib nunber into a PhotoPass ID is on the back of the race bibs. It's really been a MUCH better service than MarathonFoto ever was. The photographers seem to get a lot more photos, AND some of the photos are available on race day – usually by the next day they are all there.
It was really a perfect morning for running. It was 48 degrees at the race start, with little or no wind. I had gloves, arm sleeves, and a throwaway sweatshirt, and I was actually pretty comfortable while waiting for the race to start.
There really wasn't much of a pre-show with the race announcers in the 15-20 minutes before the race started. No Storm Troopers or Darth Vader on stage. We saw a couple of different sets of scenes from The Force Awakens.
At 5:29 the wheelchairs started.
Corral A was a minute after that, and Corral B was five minutes later.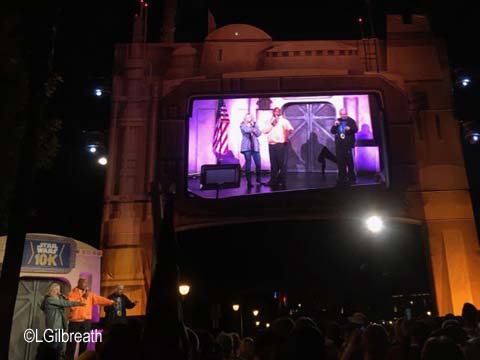 There were new courses for the 5K, 10K, and Half Marathons this year. The biggest change was that from the starting line the race courses went south on Disneyland Drive rather than north as they have the previous two years. All three courses went through both parks – DCA first and then Disneyland – with varying routes in the parks depending on the race distance.
I really liked the new 10K course. The designers absolutely maximized the park time. Unlike previous 10K courses that have been outside the parks for the first mile or so, this one was all on property – if you consider the first .3 miles on Disneyland Drive to be on property, which I do.
After that first .3 miles we turned left in front of the Paradise Pier Hotel and went backstage at DCA. This part of the course was a little too dark, and could have used some additional light. Fortunately the pavement was smooth, so there wasn't really much danger of tripping, but it still made me a little more cautious. There were projections on some of the buildings, like the Rebel Alliance symbol, the Millennium Falcon, or an X-wing fighter.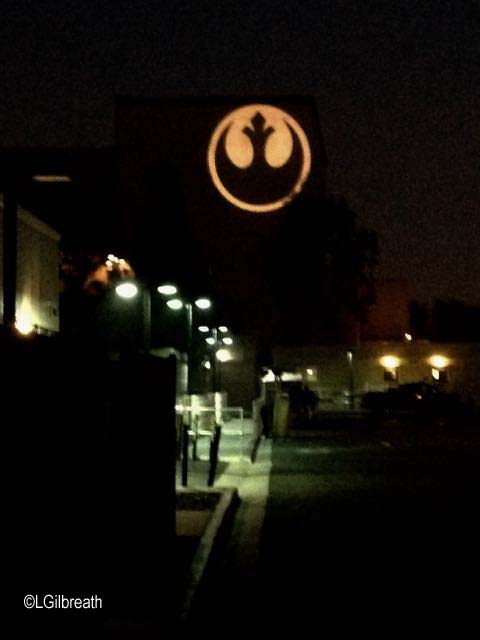 We went into the park near the Pacific Wharf where we ran through Radiator Springs past Radiator Springs Racers (so pretty at night with all of the light on the Cadillac Range) and Luigi's Rollickin' Roadsters.
We ran through Flik's Fun Fair past the Mile 1 sign and out to the parade route. The first character stop was Threepio and R2-D2 by the Cars Land sign – I was surprised at how long it was that early in the race. I wasn't planning to stop anyway, though.
We ran clockwise around Paradise Bay. As I mentioned I was wearing my Cinderella costume, and I heard a cast member say something like "Go Cindy! Oh, it's ok, she still has both her shoes." I cracked up at that – which was when the PhotoPass photographer snapped the picture below. 🙂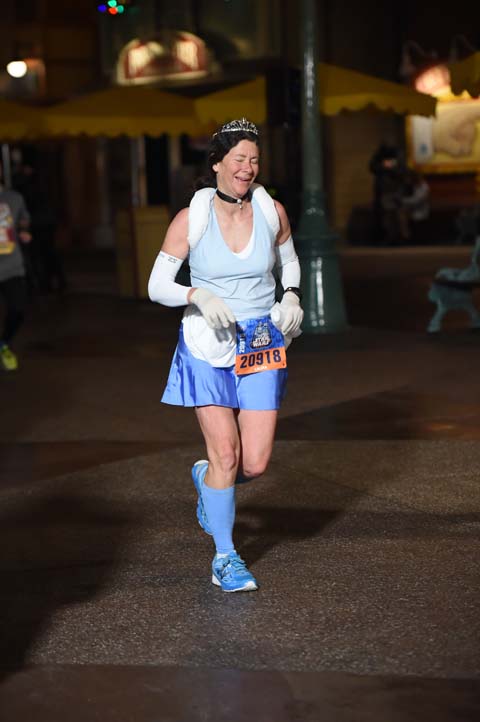 At Ariel's we turned left towards Grizzly River Run, past Soarin' and into Hollywood Land to the Tower of Terror. There were Jedi and Storm Troopers next to the Tower. We went backstage behind the Tower and passed the Mile 2 sign.
We took the tunnel down and up under the east tram area over to Disneyland. This was really the only significant hill on the course. That took us backstage at Disneyland for quite a while – past the Mile 3 sign. The BB-8 photo stop was back there, but I completely missed seeing it. This was another area where it was a little dark in places. We'd had great Star Wars music playing most of the time, but once we reached this point it got a little quiet until we emerged into Toon Town.
We ran past "it's a small world", which was still lit up with all of the holiday lights.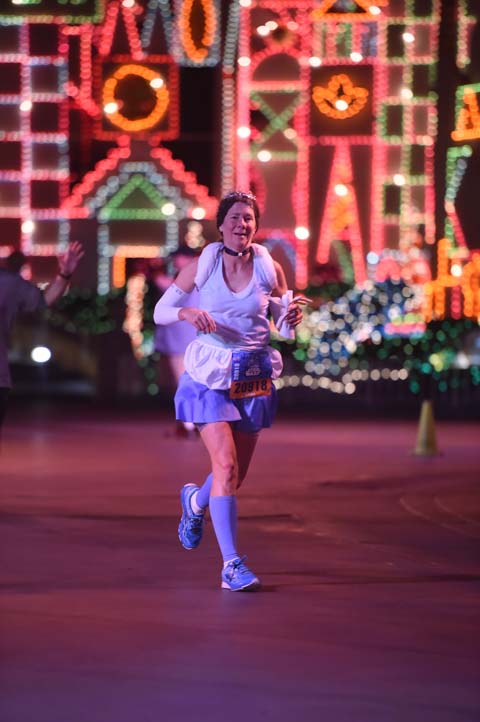 We turned left at the Matterhorn and ran towards Tomorrowland. Kylo Ren was somewhere in there – between the Matterhorn and the Tomorrowland Terrace, as I recall. The course took us past the Launch Bay, where there were Storm Troopers above us. We ran past Star Tours and out to the hub.
Once we reached the hub we did a 180 onto Matterhorn Way past Alice in Wonderland, then made a left at the tea cups and passed the Mile 4 sign. I was happy to see that I was on pace – maybe slightly ahead of pace. This year the Star Wars 10K course went through the castle to the hub, which it's never done before.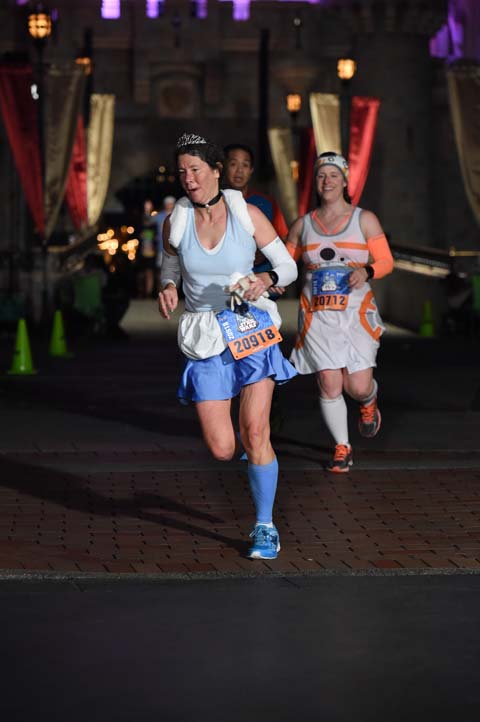 We went through Frontierland and New Orleans Square, then the course did a hard 180 just in front of the Haunted Mansion and went back to the hub via Adventureland. We had quite an extensive tour of Disneyland and visited all of the lands except Critter Country.
We ran down Main Street. Chewbacca's photo op was at the end of the street by the Disney Showcase shop.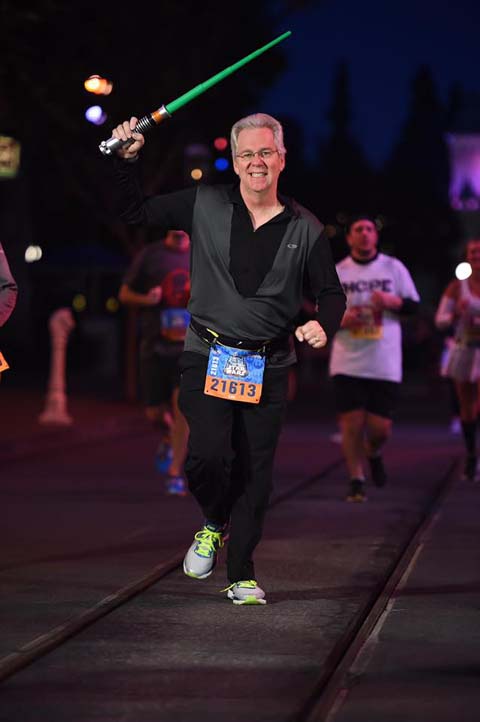 After we went out the park entrance we ran into the Esplanade and to the left to go backstage at DCA again. We passed the Mile 5 sign on a perimeter road that took us around the back of Radiator Springs Racers and Paradise Pier. For about a tenth of a mile we could see some of those in the last corral coming towards us – only about .4 miles into their race whereas we were 5.8 miles into ours! I saw the balloon ladies at the very end of the race.
After we crossed Disneyland Drive we went around the back of the Paradise Pier Hotel (and the Mile 6 sign), and then it was just .2 miles to the traditional finish line near the Disneyland Hotel. It was still dark!
I finished in 56:41, which is a new personal best 10K time for me. I was very happy with that. I was hoping to crack the top ten in my division, and I finished 8th! 10K is definitely my favorite distance.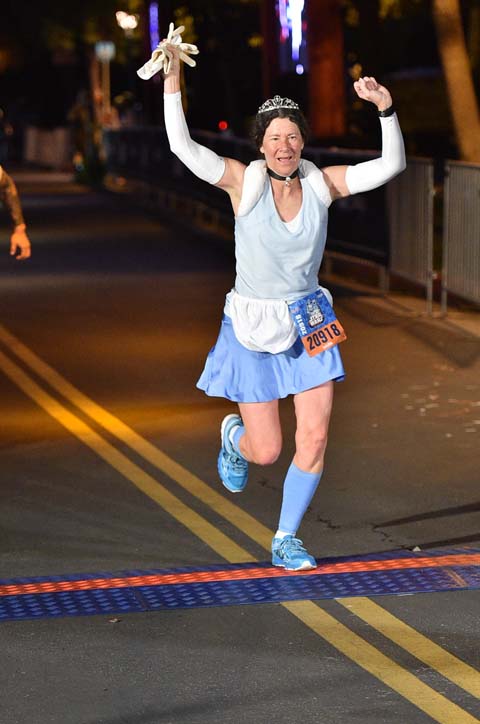 The BB-8 medal is really cute. It spins!
I exited into the finish area and talked to Lisa (Hi Lisa!) for a while I waited for Lee to finish. Fortunately the volunteers had handed out mylar sheets at the finish (they sometimes don't do that for 10Ks), because it was still only 48 degrees and I was starting to get a little chilled.
There was a vendor selling Death Star balloons (that's what the balloon ladies had been carrying, too).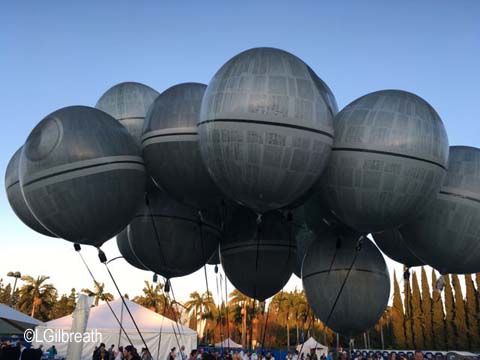 Once Lee finished we went over to the Annual Passholder tent. We showed our passes and they gave us an Annual Passholder string bag – it was nice for carrying our snack boxes and water bottles back to our room. There was a photo backdrop and a photographer there, too.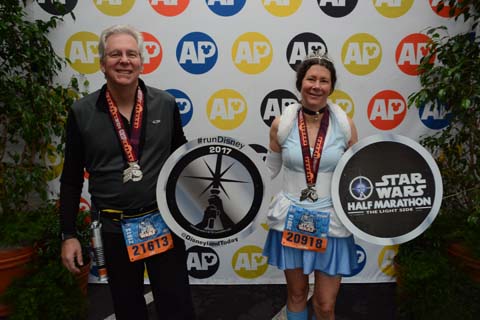 Another change in the course this year: in previous years the 10K has finished by going all the way through Downtown Disney. While it's been kind of thrilling to run by all of the cheering crowds, it's been a nightmare after the race when trying to get back to the hotels, because you have to cross the race course at least once, and usually more than once. This year we didn't have to do that, and it was much easier to get back to our hotel.
I really enjoyed this course – I think it's now my favorite of the Disney 10K courses. And not just because I ran it for a personal best. 🙂 With all of the Star Wars Land construction in Disneyland I expected that we might have less park time this year, but instead I'm not sure how they could have given us any more! While yes, we had a fair bit of time that was in not-so-exciting backstage areas, I still enjoyed being on property for the entire race.
There were 11,606 finishers this year as opposed to 8,994 last year, so quite a few more runners out there. Since I was at the front it was not congested for me, but I can't speak to how it might have been further back. Certainly the first mile of this course was narrower than the first mile of the former course, which was all on wide city streets, and that might have been an issue. If you ran the race and experienced congestion, please leave a comment and let me know how it was for you.
The characters…still not a strong point, especially compared to our experience at Disneyland Paris last year. (Over 10 character stops in a 5K!) For this 10K there were four character stops, plus a couple of unattended backdrops and "run bys" like the Storm Troopers and Jedi. I would still so LOVE to see the Disney characters in their Star Wars attire out on the course! In Florida there are character meet and greets in the pre/post-race area, and I'd like to see them do that in California, also. Though there were a couple of photo backdrops (with photographers) in that area – the Wampa cave and the trash compactor.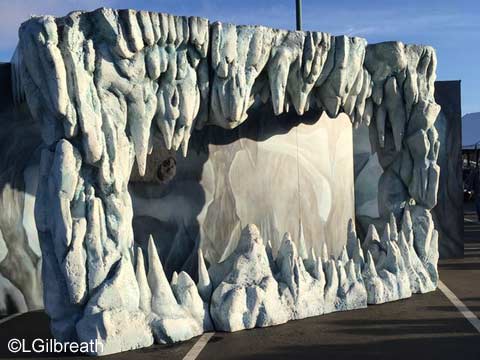 Coming next: The Star Wars Half Marathon