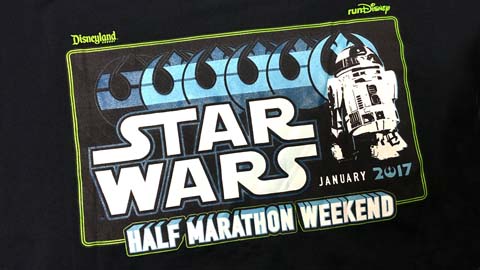 For the third year Lee and I participated in the 10K and half marathon races at Disneyland's Star Wars Half Marathon. Or Star Wars Half Marathon – the Light Side as they now call it, to distinguish it from the Star Wars Half Marathon – the Dark Side at Walt Disney World. 🙂
Unlike previous years, the 10K and half marathon races did not sell out, and runDisney was still selling race registrations at the Expo. That was a surprise. Of course part of the reason is that they raised the race capacities: the 10K had almost 13,000 spots, as opposed to 10,000 last year, while the half had 16,000 instead of 14,000. Of those numbers, about 6,000 were those running the Rebel Challenge. There were 5,000 entered in the 5K, and 1,500 in the Kids Races.
We arrived at the Expo on Friday afternoon – it had opened on Thursday. As usual, bib pickup was downstairs in the Disneyland Hotel Convention Center. This is the first time I remember that there wasn't a specially designed rug on the ramp going down to the pickup area. But we've had a lot of rain recently (and it rained on Thursday) so the rug would have been soaking wet. This photo is from last year.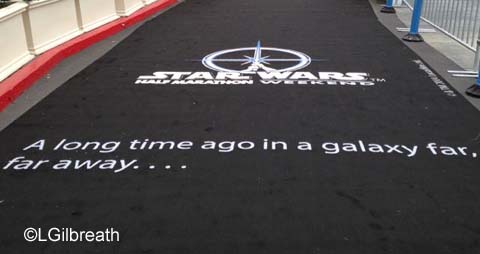 We had printed out our race waivers in advance, so all we had to do was go to the correct counter to pick up our Rebel Challenge bibs. There are computers and printers available for those who don't bring waivers with them. I think this was the most people that I've ever seen in bib pick-up, but it still was a fast process for us.
As Rebel Challenge runners we had to get our photo taken with our bib number – that's how they verify after the half marathon that we 1: completed the 10K, and 2: are the same person who picked up the bib. They used to give us wristbands at the end of the 10K – this is a nice alternative to not having to wear the wristband.
The race brochure was again condensed down to a "Final Race Instructions" pamphlet. It has all of the essential information like course maps, road closures, times, transportation, and viewing, but without all of the ads. I prefer this format – "just the facts, ma'am." (Am I showing my age there or what?) What I *don't* prefer is the new "on-line magazine" format for the official race guide – I can no longer download it as a PDF like I used to. And I find it very cumbersome and slow – really useless.
Once we picked up the bibs we went back upstairs to the main expo in the Disneyland Hotel Convention Center. I always enjoy seeing how they have decorated the entrance. The different banners are nice photo ops!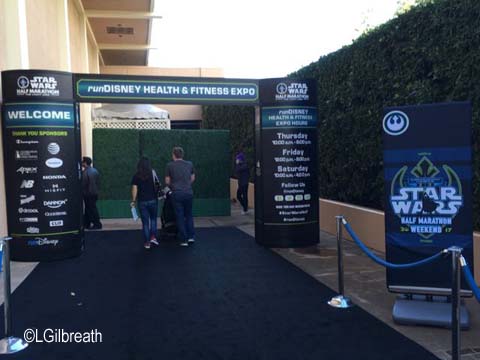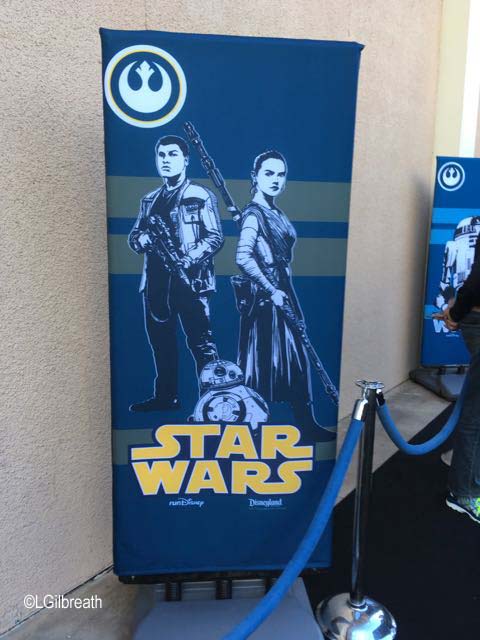 We picked up our race shirts. I liked this year's designs, but a gray shirt AGAIN????? I wish they would do more white shirts. These are long sleeve shirts – typical for January races. This particular weekend they felt pretty good since the weather was cooler than usual – highs in the low 60s, lows in the upper 40s.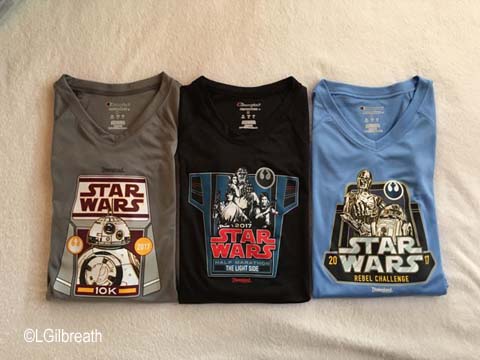 There was a shirt exchange available, but neither of us needed to get a different size. It's very nice to have that option, though. I've found Disney sizing to be consistent in recent years, but that wasn't always the case.
Usually when we arrive on Friday afternoons there is either a short line or no line to get into the Official Merchandise area. This time the line extended out into the foyer, and it took 15-20 minutes to get into the area. The line moved pretty consistently so it wasn't too bad. But still, I was surprised to see it that long.
Once we went inside, it seemed like there was still plenty of merchandise left. A few things were sold out, like the special edition runDisney Star Wars Weekend Christmas tree ornament, and the Star Wars Weekend wine glasses. I believe the Dooney & Bourke bags were sold out by then, also.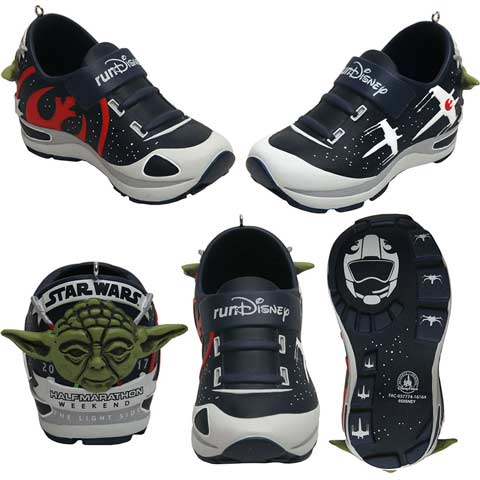 There were already only limited sizes available on a few of the shirts. Lee bought this one. They were out of size large, so he had to get an XL, which is a little big.
Race weekend logo:
All of the pins, mini medal pins, magnets, water bottles, mugs, etc. seemed to be available.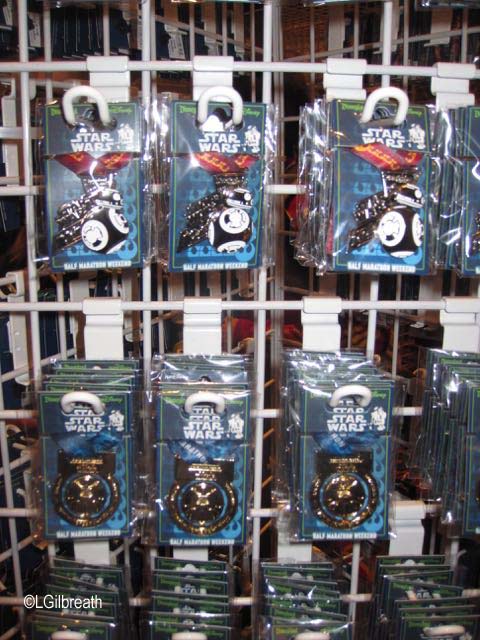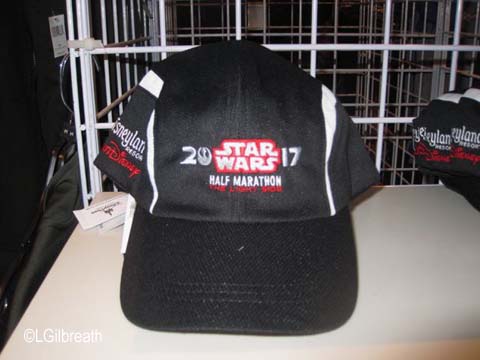 I thought there was a very nice selection of shirts available for the Rebel Challenge and the Half Marathon.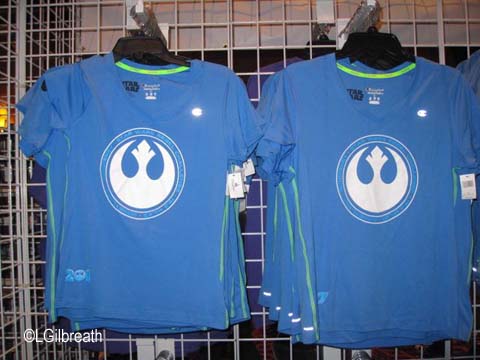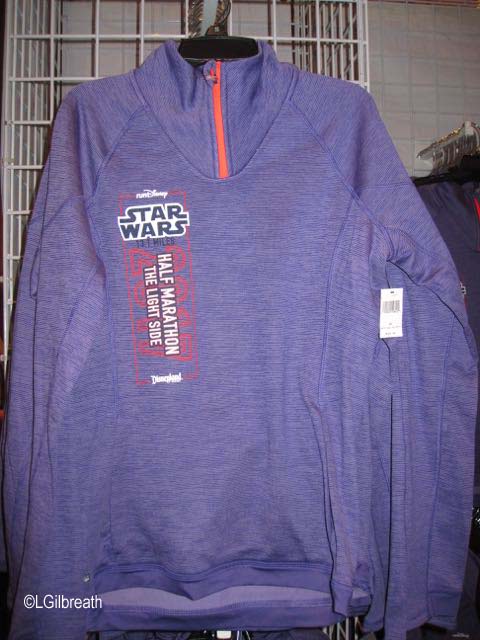 The Han/Leia graphic on this one is especially poignant right now.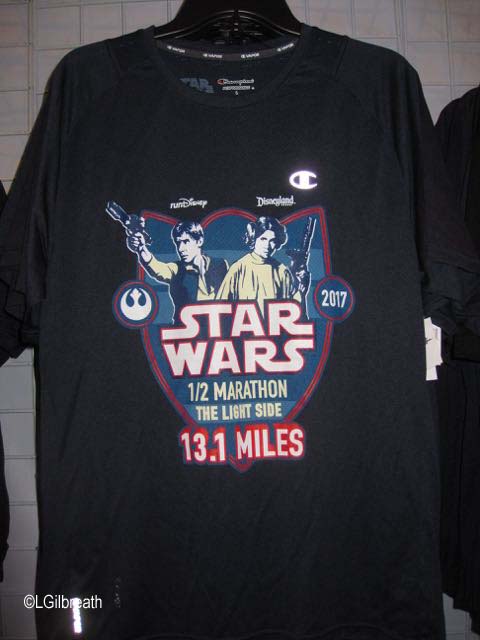 But for the 5K and 10K, there seemed to be only one shirt plus the "I Did It" shirts. With BB-8 as the theme for the 10K, I was surprised that there wasn't more merchandise available for the 10K.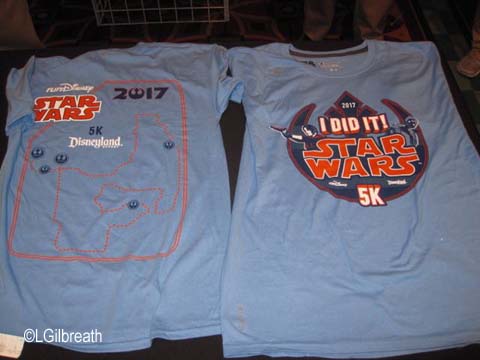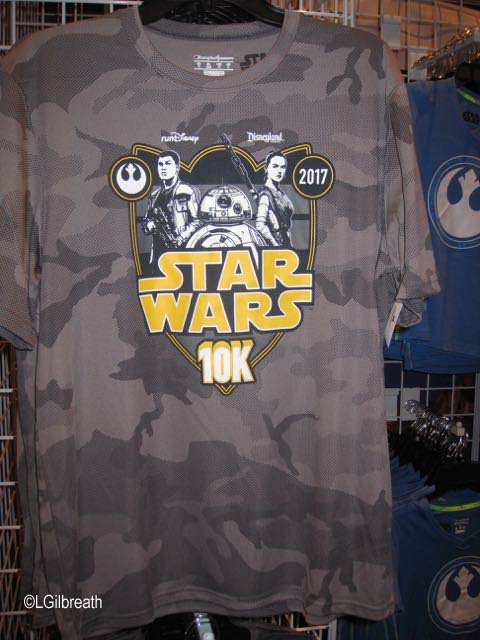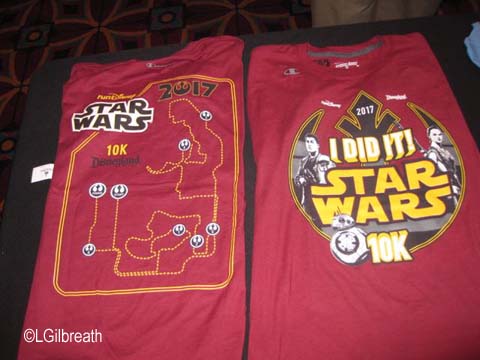 There were some other fun Star Wars items that weren't themed to any specific race.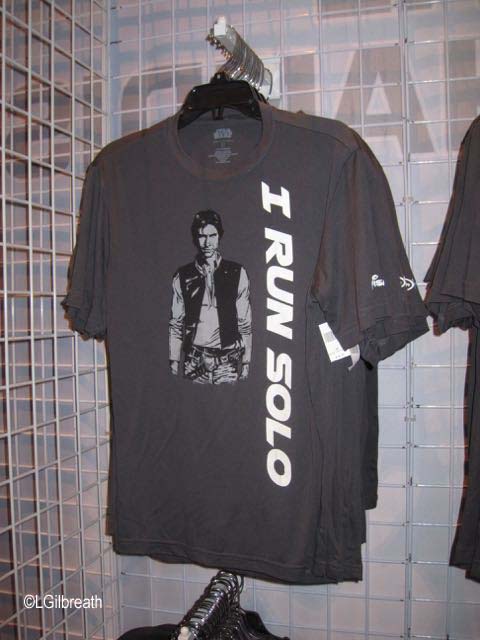 There's a new design for the Coast-to-Coast merchandise this year. The shirts are available in men's and women's cuts. I bought one of these.
The rest of the Expo seemed about the same. Honda was a major sponsor and they had a special pace car. We weren't sure how a pace car would be used in a half marathon, but I guess there was one.
There were Star Wars-themed Stance socks.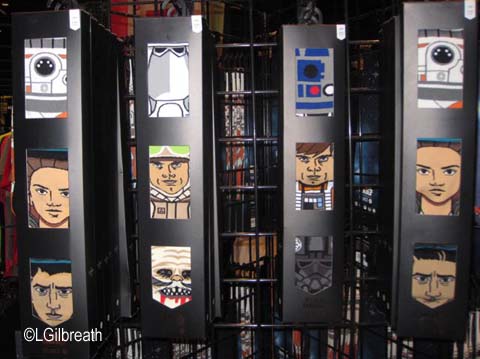 The latest versions of New Balance Disney running shoes were available. This time they represent Disney attractions rather than characters. The women's shoes are Haunted Mansion and Mad Tea Party.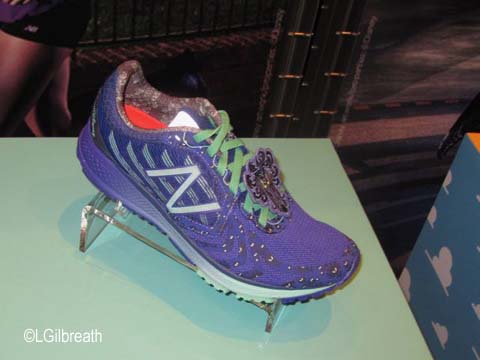 The men's shoes are Star Tours and Toy Story Mania.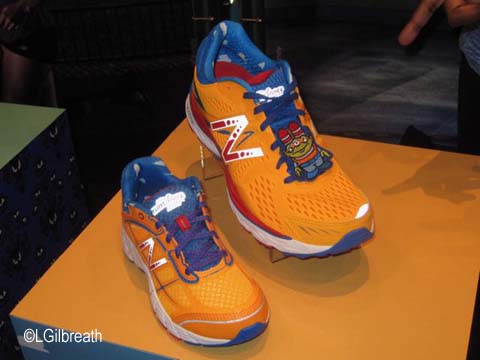 I don't know if I'm mentioned this before…Runner Tracking is available for the races. You can track runners of your choice, or you can provide the information for others to track you. My parents always like to know how we're doing, so I set up tracking to send them an email or text message. And if Lee and I aren't running together we track each other.There's typically a link on the event page under the "Spectators" tab. Sometimes you need a log in to set it up, sometimes not. There's usually options to have your times sent via text message or email, or to have it automatically post to Facebook, Twitter, or Instagram.
As we wandered through Downtown Disney we saw several signs advising guests that various businesses would be open at 4:00 a.m. on race mornings, like Starbucks, Jamba Juice, and Haagen Daz. That's a nice service for runners and spectators!
Coming next: The Star Wars 10K