By Guest Blogger: Kay Belin
The 2016 holiday season in Hollywood Studios was going to prove to be a bit sad this year. With the closing of the Osborne Family Lights spectacular show it sounded like the holiday draw to this park was going to be non existent. But hold on to your Mickey ears as Disney has pulled another great show out of their hat to please the guests this holiday season.
The new show is the Jingle Bell, Jingle Bam! projection and firework show held nightly now through the end of the month in front of the Chinese Theater. To add to that excitement there is also the opportunity to enjoy a dessert party for this event. When it was announced the reservations went quickly but check back to see if there are any openings during your visit.
The dessert party is held at different times each night due to the change in time of the show. My husband and I were able to grab reservations for the second night of the party and were told to check in at 5:30 and the party would begin at 5:45 with the show at 6:30.
We came to the park early and realized that around 5pm that a line was forming in front of the Chinese Theater where the party is held. It was a bit confusing and unorganized as you had to be in one line to check in to get your special glasses and then line up in another line to get your wristband. I am confident this will become easier as they get more experience in logistics. If you wish to have one of the few tables with chairs it is wise to be up front in this check-in line but there is plenty of space and many stand up tables so you don't have to arrive until later if you wish to enjoy the park.
The party is held outside in front of the Theater.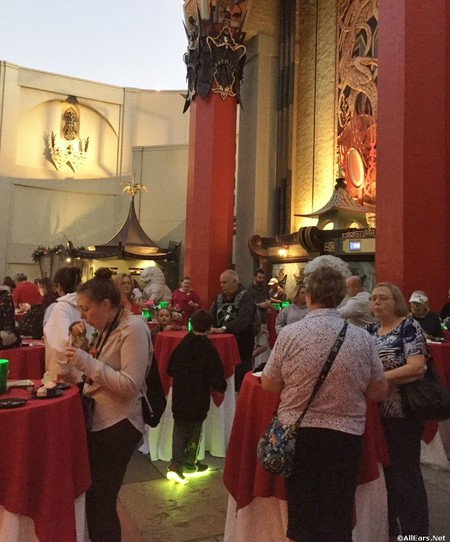 The first area is quite large and that is where the main food stations are located. There is a bar which served wines and beer and also specialty holiday drinks….the Apple Cinnamon Cocktail and the Gingerbread Martini. I have to admit I tried them both and found them quite yummy! There was also water,sodas, coffee, tea, and hot cocoa offered for drinks so I felt they covered everyone's needs.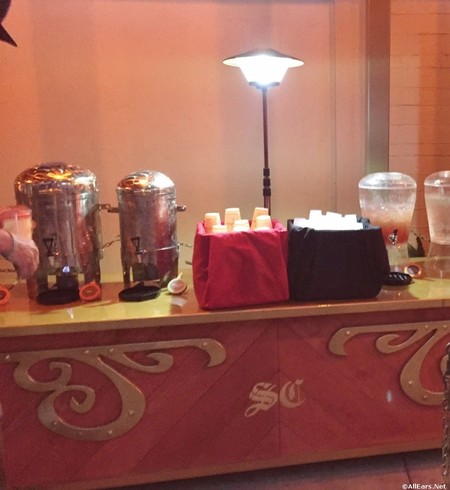 Since this is called a dessert party of course they had a table full of sweets to choose from. The choices we had during our party included chocolate cupcakes with mint frosting and peppermint bark, gingerbread almond chocolate cookie, lemon meringue tart, and holiday crispy bonbons. They also offered an interesting dessert called the liquid nitro frost bites. This was a duo of white chocolate and wintergreen mousse covered with dark chocolate sauce and Mickey sprinkles. The jury is still out on this one but I loved watching them make it and it's worth trying!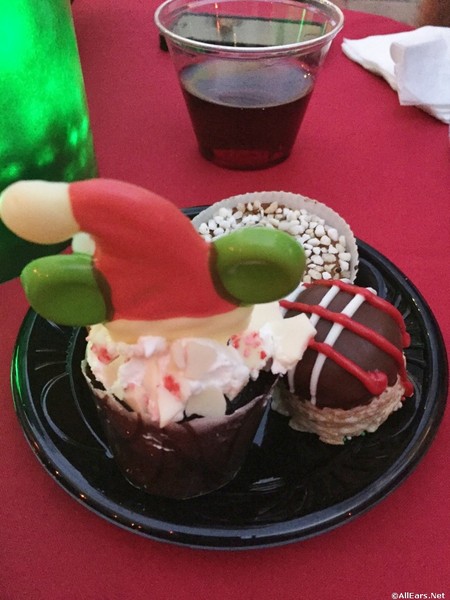 Although this is considered a dessert party they also offered guests some other culinary treats. These included a holiday antipasto, kale collard and pomegranate onion slaw, pineapple sweet and sour meatballs, and grilled flatbread with spinach artichoke dip. Personally I found the dessert choices better then these options as the meatballs were lacking in taste and the spices on the flatbread were strong. But I feel that as time moves on they will tweak and improve the food. I also observed cast members serving a young boy a special dessert plate who apparently had some food allergies. They were going out of their way to make this special for him as you would always expect at Disney.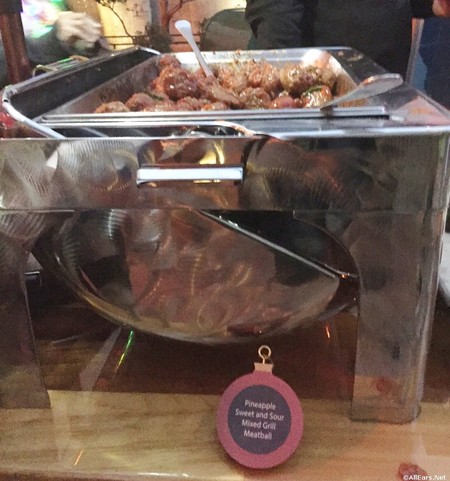 It was nice to know that during the party every guest had the opportunity to have a photo with the special guest, Christmas Goofy. He moved from table to table and I will say that it was very organized and well done.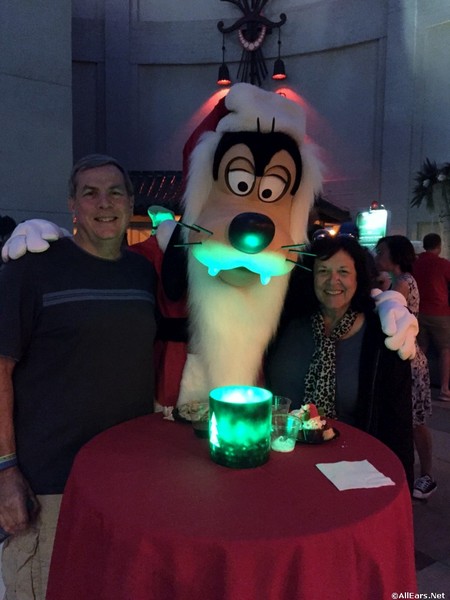 About fifteen minutes before show time you are then escorted to a special viewing area. Although you had blue lights held by the guides it was still difficult to manage your way through the crowds. Make sure you keep your family together and follow those blue lights closely or you will easily get lost. Wheelchair and ECV guests will have a separate section for them but everyone will have space to watch this show. The best spots will be as close to the center viewing of the theater as there are trees on either side that can and will block some of the show once it begins.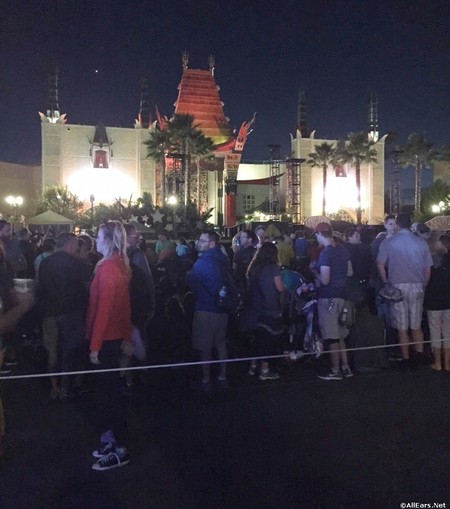 The show is cute and worth a visit to watch. Many familiar Disney characters take a part in finding and rescuing Santa for the holiday season. The projections were fairly clear and fireworks are added throughout the show making it even better. Of course what Disney show can end without spectacular fireworks and this show does not disappoint you. Have your cameras ready as you have some awesome shots of the finale.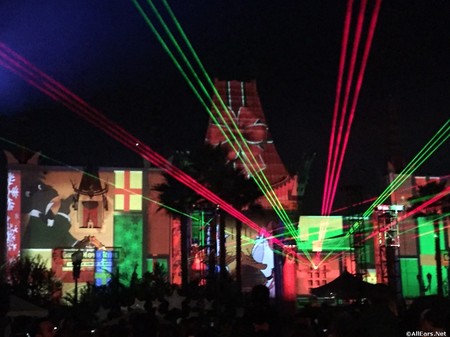 The cost for the Jingle Bell, Jingle Bam Dessert party is $69 for adults and $39 for children 3-9 until December 17 and from December 18-31 it is $79 for adults and $45 for children.
I enjoyed my evening but not sure I can honestly say it is worth the cost. Guests can find a good spot out front to watch the show without the dessert party during most evenings. The party does give you a chance to enjoy some sweets and drinks and a secured spot for viewing but the price is high if you are not that interested in drinking or eating that evening. Children usually don't eat that much and with a very limited seating area I observed many young ones just sitting on the ground and a bit bored. Each family would have to determine the worth for their family for this evening event.