Is it possible to go on a Disney cruise vacation and not spend a lot of money on extras and still have a great time? Yes! Disney cruises are packed with activities and options, and you most definitely can have a great time and keep your budget intact. To do so, it's important to know what is included and what costs extra. Here's a breakdown:
** Gratuities. It is customary to tip your room stewart, head server, server and assistant server. Tipping is, of course, not mandatory, but most people do tip the suggested amounts on their cruises for the excellent service they receive on a Disney cruise. Disney does allow you to pre-pay these tips if you would like for convenience and budget reasons. Know that the ships now automatically add the recommended amounts to your onboard account, but you can have them removed if you choose. In my mind, tipping is just part of the cruise, not an "extra," but I'm including it here because it is something that is not part of your initial cash outlay.
** Alcohol and specialty beverages. These drinks can add up quickly. If you don't want to blow your budget, bring the allowable amount of alcohol per adult (six cans or bottles of beer OR two bottles of wine no larger than 750 ml) onboard and at each port. If you received an onboard credit, use that for your bar tab and do not go over the amount. Finally, if you like specialty drinks, check out the Drink of the Day, which will be less expensive than ordering your usual at the bar and you can use the souvenir cup for additional discounted drinks. There also is a refillable beer mug program.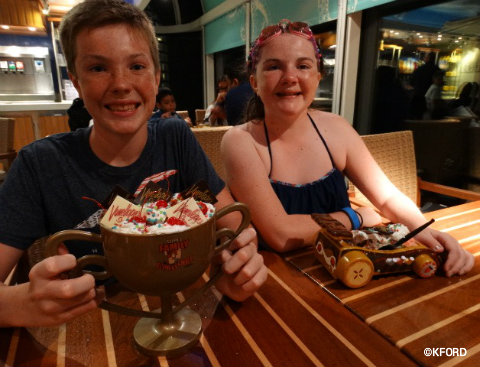 ** Food. Food in the main dining rooms, quick service on the pool deck (including sodas), and room service is included in your cruise fare. What is not included: Sodas and tipping for room service; the upcharge for dining at adult-only Palo and Remy restaurants; and Vanellope's Sweets & Treats on the Dream. On our first cruise (and our last), my husband and I did not go to Palo or Remy because we wanted to experience all three main dining rooms. We did try the new Vanellope's Sweets & Treats this time, but visiting the complimentary soft serve ice cream station on the pool deck has been a favorite memory on every cruise for both of my children so I don't think they would have been hugely disappointed if we skipped it.
** Excursions. On shorter cruises, especially the three- and four-night Bahamian voyages, there is no need to sign up for expensive excursions. Sure, they are fun if you have the time and money to spend, but there is so much to do on the ship that it is a destination in itself. You will not be bored if you do not book excursions, I promise. We never get off the ship in Nassau and instead use the day as a pool day, but you could just as easily do many other things during that time. Honestly, my children have never complained about not going to Atlantis or another destination.
** Castaway Cay. There are opportunities to spend more money on Disney Cruise Lines' private island, but again, you do not have to. If you get off the ship early, you can participate in the free runDisney Castaway Cay 5K (with a bib and medal) or grab prime lounge seats with umbrellas. Lunch on the island is included; drinks at the bar are not (see above). Snorkeling gear can be rented, but you also can bring your own if you don't mind a little inconvenience, and the use of life vests and the snorkeling trail is free. There are excursions and water sports rentals, which cost extra, but there also are water slides, water rope climbing, a splash zone and life-size sidewalk games that are included at no charge.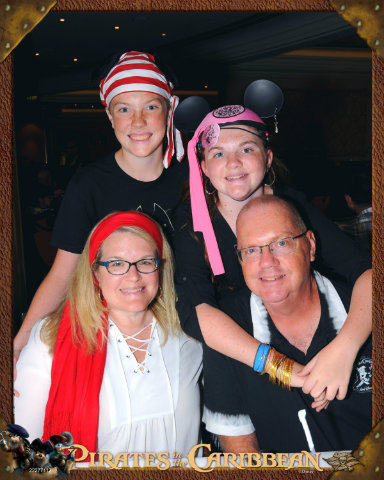 ** Costumes. Want your family to dress up for pirate night or your little one to wear a fancy Disney Princess dress? Bring them with you. You do not have to go to the Bibbidi Bobbidi Boutique (
as much as we loved it
) or The Pirate's League to feel special. Or just use some makeup and the pirate bandanas that are provided.
** Photos. There is no getting around it — purchasing your professional cruise photos is expensive. If you can be happy with images taken on your camera or mobile phone, you will save a bundle. Me, not so much. I have bought different photo packages on every cruise we have sailed — and not regretted it at all. I think this is largely due to my desire to capture my children's experiences, but if it were just my husband and I sailing, I might be less inclined to buy the packages.
That said, if you are planning to buy photos, there are a few ways to save. First, pre-order your package at mycruisephotos.com and save 15 percent. The discount is not available on the ship, but you can get a refund if you find you haven't taken enough photos or don't like the images as long as you do so before you leave the ship. Then, make the most of your package, especially if you purchased unlimited digital copies or prints. More photos equals a lower cost per photo. So, we took advantage of many of the photo opportunities, including two that I normally would pay for at a local studio. I made sure to get the pro shots of my children in their Halloween and pirate costumes, and we all dressed for a family portrait and individual images of the kids. This means I don't have to pay for family photos for Christmas cards nor do I have to buy school photos, which I never like anyway. Win!
** Souvenirs. This is the other downfall for me. I'm happy to skip the bar tab in order to be able to shop. Having souvenirs that remind me of my vacation make me happy during my regular, routine days at home. If you're like me, you've got to set a budget or find ways to stash extra cash before your trip.
If you're not a big shopper, you can still come back with some nice complimentary mementos from the voyage: Castaway Club members receive a gift in their staterooms (usually is a tote or backpack); postcards are in the desk in each stateroom; bandanas left in the stateroom for pirate night; H2O bath products for the stateroom; collectible pins you trade with the ship's officers; magnets that you made for your stateroom door you now can hang in the fridge; souvenir cups from specialty drinks; birthday pins from Guest Relations; and the above-mentioned Castaway Cay 5K bib and medal.
Bon voyage!