The Orange County Register confirmed Thursday that Disney Dollars will no longer be sold at Walt Disney World or Disneyland after today, May 13. The California newspaper cited a statement from a Disneyland spokesperson, although The Walt Disney Co. did not make an official announcement. There is no expiration date on Disney Dollars, so bills that already have been purchased still can be used.
NOTE: A cast member at Guest Relations at Disney Springs said that location will still sell Disney Dollars on Saturday, if they still have some.
Disney Dollars are a form of currency that has been sold at Walt Disney World and Disneyland and can be used for purchases in the theme parks and Disney Store locations in the United States and Puerto Rico. They are sold in denominations of $1, $5, $10, $20 and $50 and feature Disney characters, such as Mickey Mouse or Dumbo, on the front. The backs of the bills usually depict a scene from a Disney anniversary or historical moment. Fittingly, the bills are signed by Treasurer Scrooge McDuck.
Jack Lindquist, the first president of Disneyland, created Disney Dollars, and they first went into circulation in 1987. After 29 years, though, it would appear that gift cards and electronic payments with the company's MagicBand technology have edged the paper money out of vacationers' wallets.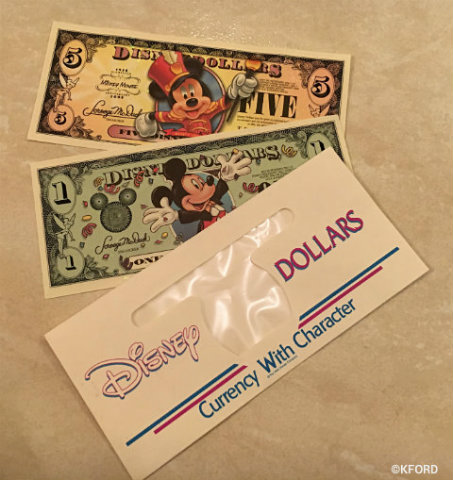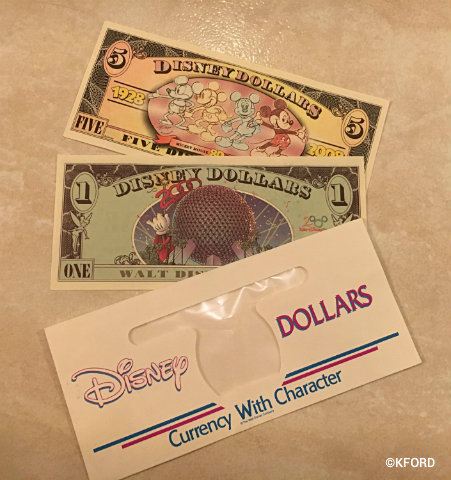 Still, Disney fans, and even casual travelers, have enjoyed purchasing and saving Disney Dollars as souvenirs over the years.
"It's a testimony to the enthusiasm and heart of Disney guests and collectors that Disney Dollars remain collectible today," the Disneyland statement said, according to The Orange County Register. "We continue to offer many ways to collect cherished Disney memories in tangible ways."
My daughter, who is now 11 years old, cherishes her Disney Dollars because of her memories of the special occasions when she received them. Both times, my family and I happened to be staying at a Disney resort — once at Walt Disney World and once at Disneyland — when my daughter lost a tooth. When that happens, Disney's own fairy, Tinker Bell, takes over for the Tooth Fairy. My daughter was quite excited about those particular lost teeth, and we had hours of speculation about what Tinker Bell might bring her that night. She was very pleased to find the Disney Dollars in the morning (instead of the usual currency), as well as a gift with Tinker Bell's likeness on it.
The seemingly abrupt discontinuation of Disney Dollars prompted discussions and speculation on Twitter on Thursday, and there were some reports of cast members selling more bills in one day than they had all month. Great marketing strategy, right? If you have a story about what Disney Dollars mean to you, tell us in the comments, please.