To all who come to this photo trivia game, Welcome! Along the way, the photos can make us relive memories and see details Walt's Imagineers put into everything we love in Walt Disney World!
Chris Kelly, that's a beautiful area where you live. I almost moved up there years ago. Here's hoping for the end of the cold weather!
Now for Challenge #421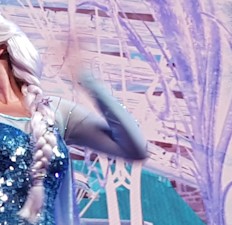 And here's the answer: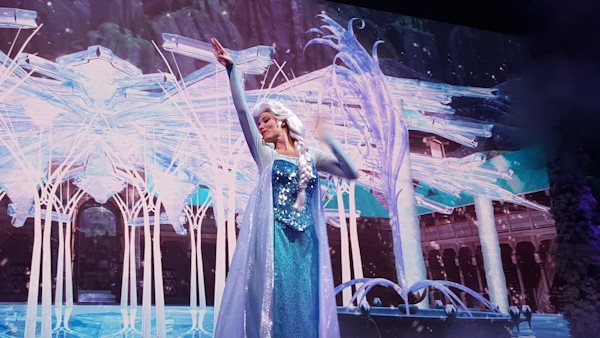 Copyright © Erin Blackwell
Queen Elsa in one of her two locations: the finale for the "For the First Time in Forever: A Frozen Sing-Along Celebration" in Disney's Hollywood Studios.
Little story: My husband and I sat up by the front and when I saw the snowflakes are cloth or something like it, I had an idea: I scooped up big handfuls of them. I then went towards the back to the kids where the snowflakes don't fall, and asked them if they would like one of Elsa's snowflakes. The castmembers nicely gave us a little more time so kids could get them. Thankfully, my husband noticed a little girl following me everywhere who was too shy to say anything. She was the last child there; she got two. 🙂
It happened to be Christmas day, so double magical experience. Thank you, kids. You made it a great Christmas night! (I kept a snowflake for me, by the way. Hey, I'm in touch with my inner child.)
Mickey Eckert! That video was the best! I almost didn't go see it, because I thought you were just sending a clip from the movie or this show. I really did laugh out loud through the whole thing, and then, "Give up! Give up!" I ROARED! My husband ran in, so I showed it to him. Same reaction. Thank you! That was brilliant!
Jim & Lorie Sonnen were the first to send in the correct answer! Congratulations to Jim & Lorie Sonnen and to all our winners this week! !The Olszak Family, Mary Beth Tarbet, Linda Ranatza, Donna Frank, Susie Howard, Robert Wescovich, Kristi Strembicki, The Kertes Family, The Modecki's, Theresa Rucando, Eric Berger, Margaret Convery, The Gunnels Gang, Elaine Kleinhenz, Linda College, Christi Ison, Russ Morgan, Mike O'brien, Michaela O'brien, Carol Ney, Gloria Martin, Evanna Huda, Bethann B, Phyllis, Tammy Warmouth, Hunter Armstrong, Carol Wickware, Hoekzema Family, Jennifer Rowell, Vicki Britt, Bruce Hinterleitner, Linda Scrivano, Tricia Petty, Claire Gregory, Sandie Albrecht, Kathy,brooke And Kennedy, Team Hill, Mickey Eckert, Adolph And Kimberly Timm, Barbara Ajak, Leach Family, Nan Amor, Vera And Izzy Williams, Carla C, Mk Krusher, Beth Mcmeekin, Belicia Cullen, Scott Cullen, Tim Johansen, Joseph M. Zafia, Wendy T Faler, The Tisdale Family, Les Stewart, K Beasley, Pollyanna Buff, Sarah And Chris, Duskin Henard, Deb Ragno, Chris Kelly, Ruben O'meara, Sands Family, Martha Collins, Andrew Carrieri, Ken Maikowski, Steve Knapp, Dee Dee Kenney, Jim Finley, The Rider Family, The Parker Family, Janet T Thorn, Lori Rienhardt, Ken Savage, Arlene Vicek, Jeremy Hardy, Lee Anastasi, John Bickers, Grumpy's Groupies, Sharon Powell, Mark Hardy, Double Family, Tom Koval, Jodi Cook, Ron Nufranick, Carolyn Como, Pam Lorenz, Bonnie Jean, Kyran Smith, Kerri Coggins, Judy Simonsen, Jennifer Pichert, Bill & Kathy Mckim, Danielle Murgia, Les Whitten, Chris, Gretchen, And Katie Barnes, Hillary Waldroop, Larry Sprenkle, Maureen Handy, Team Bonnie Sue, Diane Curfman, Sarah Thomas, Kyra, Jeff Blank, Theresa Maradei, Mike Malampy( Malampy Benco Family), Axel Beer, The Otts Family, The Long Family, Blake, Lilly Ryall, Brenda Strohmeyer, Mike Mondoux, Eric Johnson, Luis Rodriguez, Jeremy Bell, Linda Lundsten, Becky Adams, Adam Lucas, Lyn Johnson, Carol Baranowsky, Liz Moreau, Ronalyn Birnbaum, Mark Donahue, Jeannine Freeborn, Erin Loring, Melodi Clark, Alex Gamill, Mike Rotkiske, George Mundy Jr, Jillian Lassiter, Mary Coleman, Kelly Smith, Matt Holley, Tricia Noble, Mike Haeberle, Paul Ignudo, Melody Odonnell, Josh Weiss, Dave Carriere, Smitty, Chris Bauman, Matthew Frey, Rob Blundin, Bob Hendrix, Joyce Shipman, Stefanie Vandiver, Andrew Pettit, Randy T., Jason Hocker, Karen Bellamy, Carri Marotto, Maureen Tavrell, Kathryn Hughes, Jeremy Reichelt, Beth Paczkowski, Erin Hammer, Jamie Poynton, Rich Krull, Robert Hildebrandt, Lisa Edens, Alison Foster, Stefan Owens, Michael & Jackie Mclucas, The Harper Family, Nancy Doty, Maryann Eckenrode, Jennifer Fekete, Matt Wildey, Maryann Romagnano, Katie Bray, Nadine, Matt Earl, Scott Sangston, Tj, Scott Greenbaum, Jason Skow, Barclay Bakkum, Sheila Bagg, Colleen Ringer, Paul Dickson, Robert P. Flaherty, Mary And Damian Dieuliis, Jessica Gruhlke, Jo Ann Bailey, Thomas Higbee, Jackie Graebel, Mark Proper, Jim Thompson, Alan Mize, Shirley Garcowski, Caroline Burmester, Jane Johnson, Don Purney, Stacy Guarracino, John Warner, Jackie Klafeta, Jodie S., and Andy Hickey!
__________________________________ _____________________
Challenge #422 Where in the world is this?
Wow, it's time for the last Challenge in February already.
Do you know? Do you have a guess? Please send in your answer, before the end of the day on Thursday, March 3rd, by clicking on the blue box below.
Please do not post answers using the Feedback Form link at the bottom of this post.
See you soon, Players!


_______________________________________________________________________
Everyone who sends in a correct answer to a Where in the World Challenge this month will be entered in a drawing at the end of the month for some special AllEars® goodies!