Contributing photographer Jason of disneygeek.com sends us these photos.
In early December I wrapped up my 2015 Disney Parks World Tour back where it all began for me: at Walt Disney World. During 2015 I was able to visit all 11 Disney theme parks in Anaheim, Hong Kong, Tokyo, Paris and Orlando.
It had been a year since my last trip to WDW and as I walked around I looked for changes as I always tend to do. I have put together a series of posts for AllEars.net of some of the changes that stuck out to me as I roamed the parks, resorts and Disney Springs. As always if you want to see my full picture & video sets and read my thoughts & observations visit my site disneygeek.com. This first set of photos covers Animal Kingdom.
Let us start off as you enter Discovery Island. The entrance area has been renovated to be more open with the removal of the wait time area, kiosks, and planters. Ongoing pavement replacement was still happening while I was there.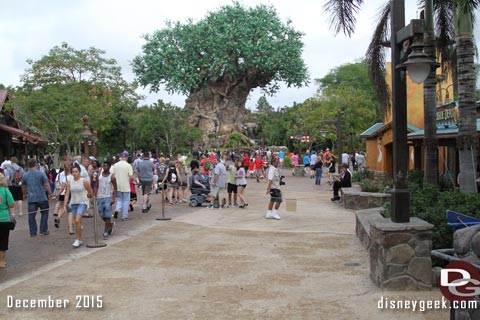 At the Tree of Life many of the trails are still closed but the roots have been extended with some new animals.
To the right as you enter Discovery Island is a new store, the Riverside Depot.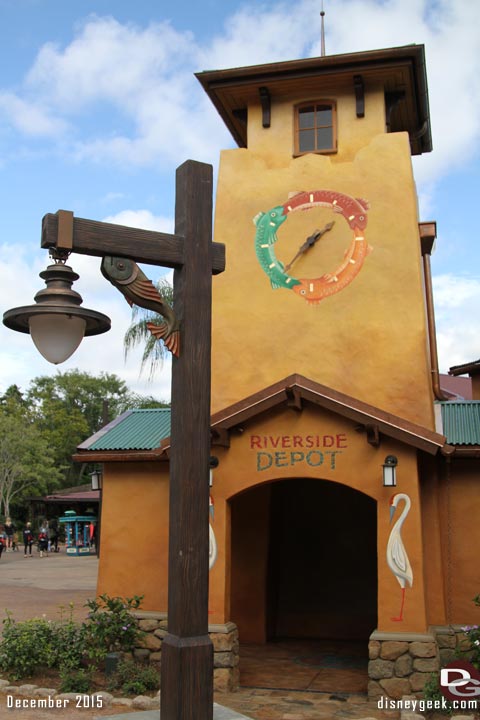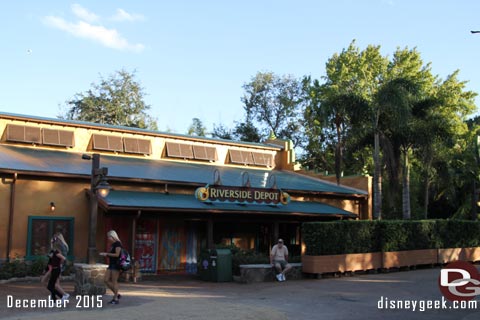 A look inside the Riverside Depot
As with most Disney Stores Star Wars has taken over. Same is true here in Animal Kingdom.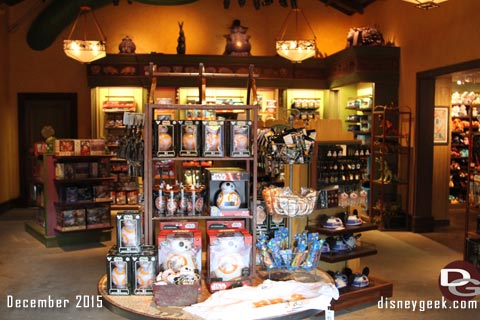 A new animal experience called Winged Encounter takes place several times a day. It features a flock of parrots flying in as cast members talk about them – and then they fly away.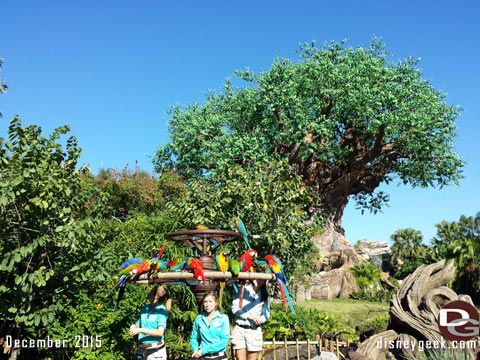 Elsewhere on Discovery Island a new stage across from Flame Tree BBQ.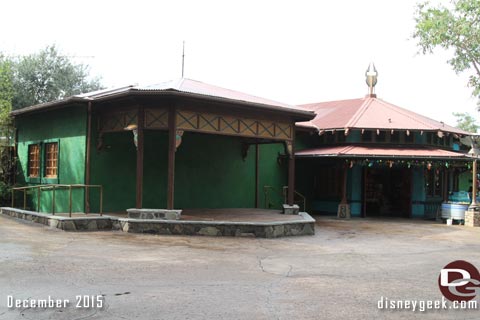 Pizzafari now serves a new type of pizza and has reduced seating due to construction of the new Tiffins restaurant on the back side of the location.
Behind this wall featuring Avatar artwork you can see the restaurant construction behind Pizzafari.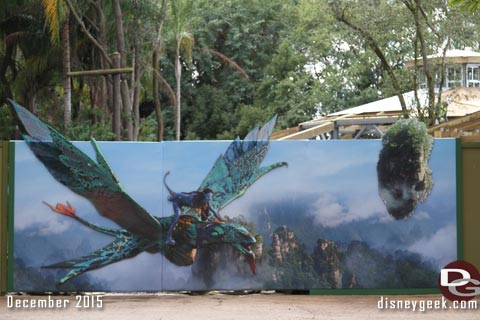 There seemed to be more Christmas decorations in Harambe this year. Here is a wreath as you cross the bridge.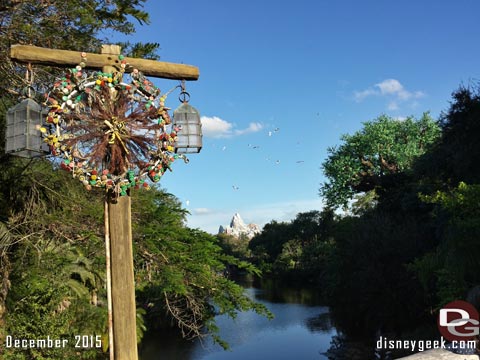 Harambe has grown since last December with the addition of the Harambe Market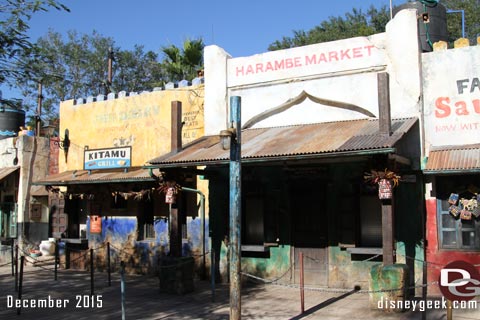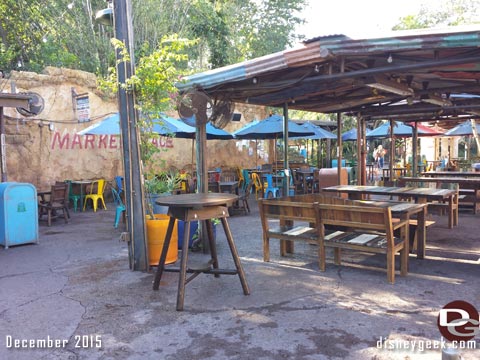 On the Kilimanjaro Safari some new animals. First up a young giraffe
And white rhino
African Painted Dogs have been added too.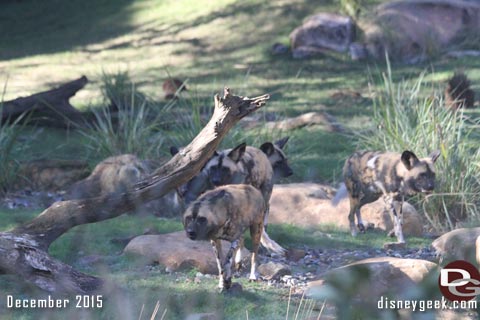 In Asia a new food location has opened, the Thirsty River Bar and Trek Snacks, in the former Expedition Everest FastPass distribution space.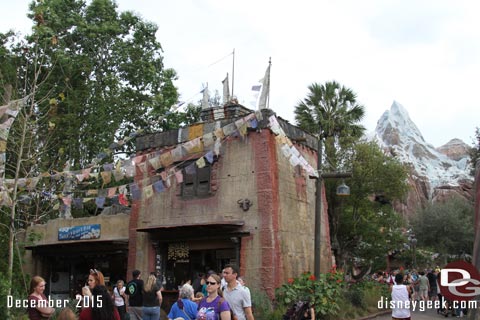 The location features two sets of counters.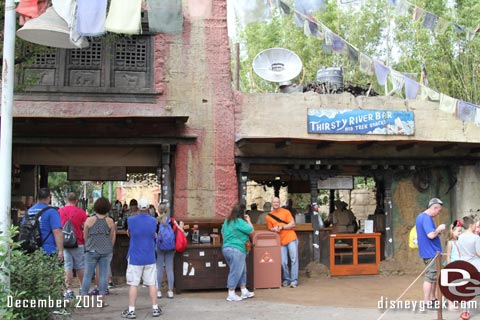 The bar half
And snack half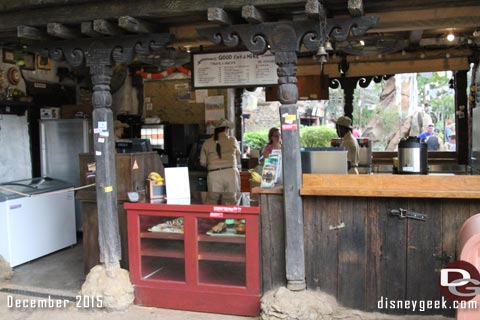 Work continues on the Rivers of Light viewing area and show installation. The show is scheduled to debut in Spring 2016.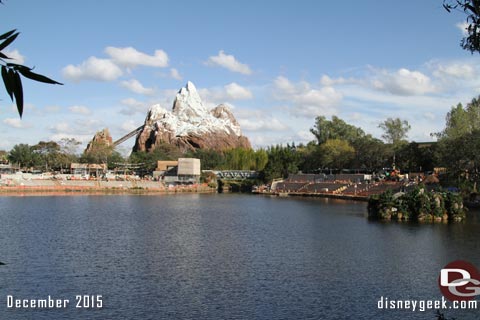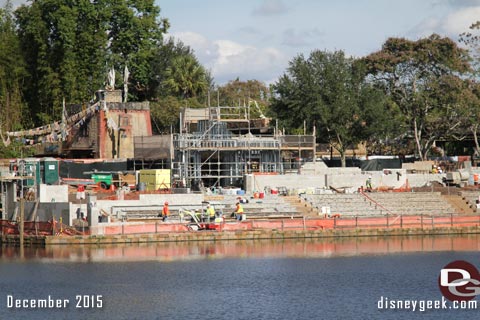 Some fountain testing was going on during my visit.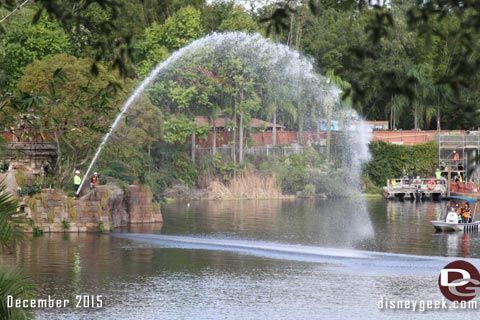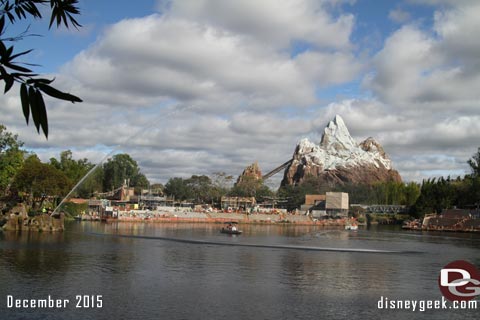 The biggest project is Pandora – The World of Avatar that is being constructed in the former Camp Minnie Mickey area. No official opening date has been announced yet but a 2017 date is expected. Here is one of the large show buildings seen from a bus entering the park.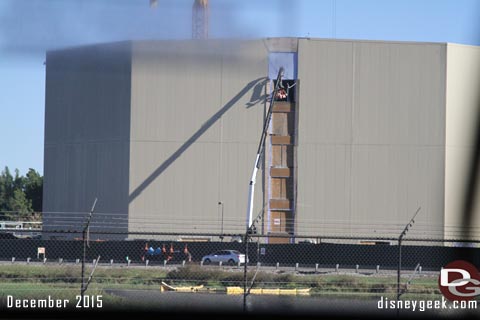 As you enter the park you can see the floating mountains and other rock work taking shape.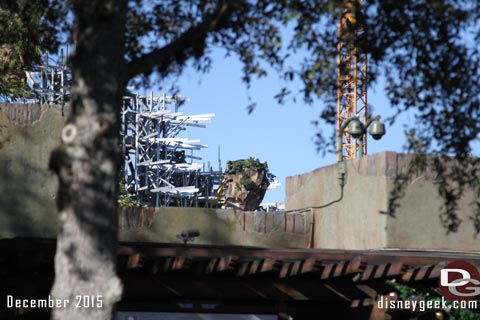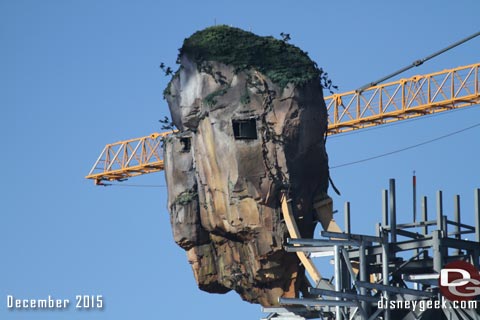 One last picture of a sign featuring the 2016 marketing slogan…Unforgettable Happens Here…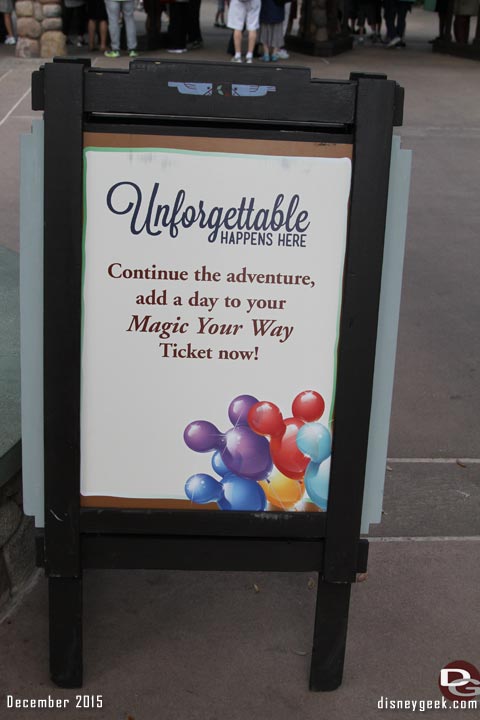 Hope you enjoyed this highlight tour of some of the changes I noticed at Disney's Animal Kingdom since my last trip in 2014. For additional photos and details from this trip you can check out the full picture sets I posted on my site, http://disneygeek.com Also be sure to follow me on twitter @disneygeekcom for pictures from the parks.